Už za necelé dva mesiace vtrhne do kín bývalý mariňák Weisner v podaní Ondreja Sokola, jeho klient fotograf Pavel alias Jakub Prachař, ktorý absolvuje Weisnerov kurz pre skutočných chlapov, a Tereza Ramba ako žena, ktorá to celé ide do hôr zachrániť. Výnimočný termín 23. 3. 2023 tak prinesie výnimočný film, ktorý vznikal v skutočne unikátnej prírode Vysokých Tatier. "Ostatní nakrúcajú skôr s Tatrami v pozadí, my sme sa ale vydali s hercami, štábom aj technikou do miest, kam sa odhodlá máloktorý filmár," povedal režisér Michal Samir.
"V Tatrách to bolo skvelé, aj keď dosť náročné. Ale ja som si dla do zmluvy, že Kuba Prachař to musí mať vždy náročnejšie ako ja. Takže napríklad ak voda v rieka bola pre mňa studená, tak štáb musel zariadiť, aby pre Jakuba bola ľadová ," okomentoval so smiechom špecifické natáčanie Ondřej Sokol. "Budem dlho spomínať na to, že sa dá zamrznúť v rieke alebo pošmyknúť na snehu aj v máji, na to sa nedá nikdy zabudnúť," potvrdil obtiažnosť podmienok na pľaci Jakub Prachař.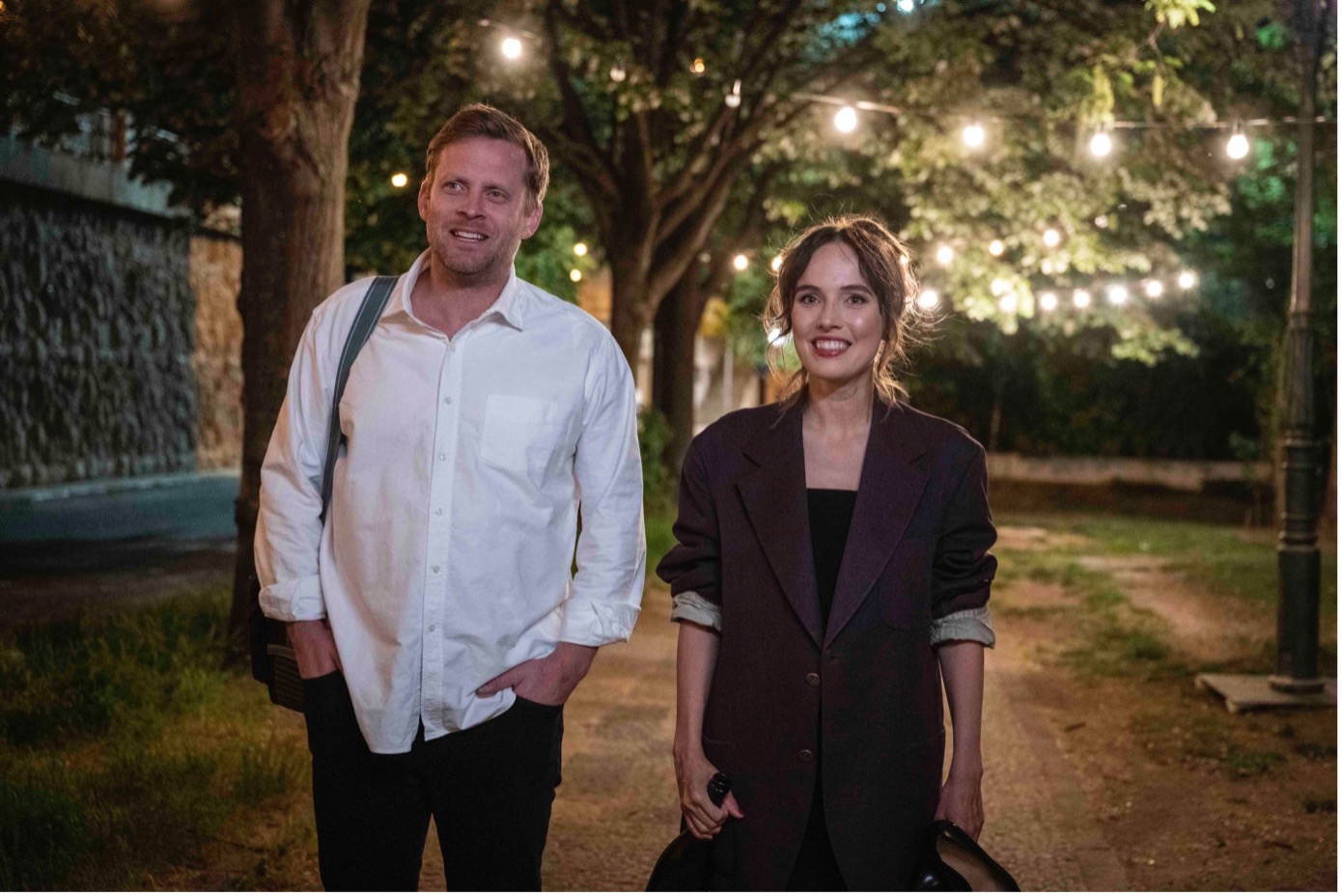 Podobne sa cítila aj Tereza Ramba. Kvôli jej postave sa "mamičkin maznážik " Pavel rozhodne stať skutočným chlapom prostredníctvom špeciálneho kurzu v horách. Keď Tereza zistí, že Pavel sa vydal ďaleko od domova sám, odmietnutý a nereaguje na jej správy, rozhodne sa vyraziť za ním. "Ocitla som sa v studenom rašelinisku, kam ma muselo niekoľko ľudí dostať najprv dnu a potom von, dolievali mki tam horúcu vodu, aby som úplne nepremrzla. Po rašeline som sa vysypala.. Medveď, ktorý si prišiel s nami zahrať až z Maďarska, sa vraj bál elektrického prúdu v drôtoch okolo nás. Len nám nikto nepovedal, že v tých drôtoch žiadny elektrina nie je. Cez to všetko ma to veľmi bavilo, chcela som byť pri tom a myslím, že by to mohol byť po dlhej dobe veľký úspešný film pre každého," popísala svoje pocity herečka.
Snímka režiséra Michala Samira (Iveta) a producentov Moniky a Jana Schwarczových (Matky) má v obsadení aj mnoho ďalších zaujímavých mien. Pavla v detskej verzii si zahral dnes jedenásťročný Jakub Jenčík, ktorý sa od svojej prvej role v snímke Vyšehrad: Fylm vydal na hereckú dráhu a má za sebou už mnoho ďalších projektov. Pavlovho otca si zahral jeho skutočný David Prachař. "Hrali sme spolu štyri roky divadlo, bol som jeho otec vo Vyšehrade a tu som otec jeho mladej verzie v retrospektívach, takže som veľmi rád, že sa môžeme vídať aj pracovne," zveril sa David Prachař s prepojením so svojím synom Jakubom.
Jakubova postava má aj ženskú časť rodiny, ktorú tvoria jeho mamička (Naďa Konvalinková) a sestry (Sabina Remundová a Ester Geislerová) s deťmi. "Veľmi sa mi tá predstava, že budeme hrať súrodencov s Kubou Prachařom a Sabinou Remundovou, páčila. Bavilo ma, že sa k sebe vizuálne hodíme, že sme všetci takí do ryšava, mala som z toho intuitívny pozitívny pocit a bolo mi s touto skupinou fakt krásne," povedala predstaviteľka Martiny Ester Geislerová.
"My sa vlastne všetci poznáme, s Ester som mala jednu dobu deti v rovnakej triede, s Nadenkou už sme sa tiež niekoľkokrát videli, a s Kubovou mamičkou hrám v divadle. Prekvapilo ma, že je z neho taký chlap, a aký je milý a nežný," dodala Sabina Remundová o svojom filmovom bratovi, sestre a mamičke.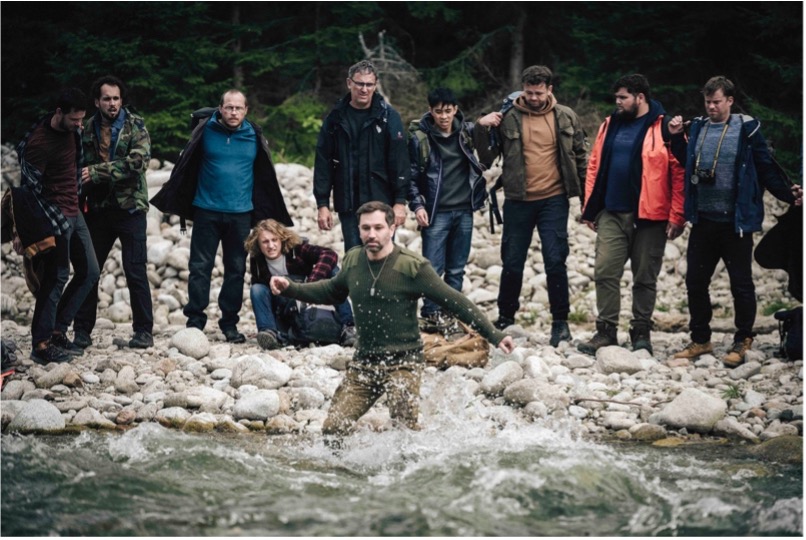 "Sme taká rodinná lavína, ktorá vždy vtrhne do nejakej situácie. Mám výborné dcéry a roztomilého, ale trochu rozmaznaného syna. Takže je najvyšší čas, že sa rozhodne stať chlapom," uzavrela s úsmevom Naďa Konvalinková.
Vo vedľajších rolách sa vo filme predstavia napríklad aj Ivana Chýlková a Igor Bareš ako rodičia Terezy, či Ondřej Veselý ako jej snúbenec. Slovenský objav Filip Novák si zahral Karola – parťáka kapitána Weisnera a účastníka kurzu, rovnako ako napríklad Jiří Navrátil či Lukáš Tran.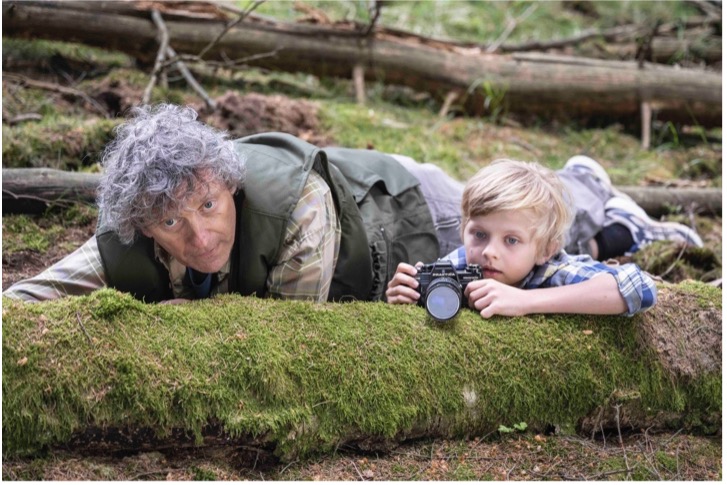 Film Buď chlap! produkujú Monika a Jan Schwarczovci zo spoločnosti Up&Up production a do kín ho uvedie 23. 3. 2023 distribučná spoločnosť Magic Box Slovakia. Koproducentami filmu sú spoločnosti Europeana production, B3F a Innogy. Hlavným partnerom je VOYO.
Synopsa: Pavlovi síce ťahá na štyridsať, ale stále ešte úplne nedospel. Býva s mamou a chýba mu odvaha robiť v živote to, čo by ho skutočne napĺňalo. Tú získa až vo chvíli, keď stretne svoju detskú lásku Terezu a prežije s ňou dobrodružnú noc. Tereza však nie je pripravená opustiť svoj doterajší život pre niekoho, kto podľa nej nie je skutočný chlap. Pavel sa teda rozhodne takým chlapom stať. Prihlási sa na výcvikový tábor v Tatrách vedený Weisnerom, ktorý vyučuje všetko od rúbania dreva po zvádzanie žien. Podarí sa Pavlovi prekonať samého seba a stať sa chlapom, po ktorom Tereza túži?
Obsadenie:
Pavel | Jakub Prachař
Tereza | Tereza Ramba
Weisner | Ondřej Sokol
Roman | Ondřej Veselý
Jitka | Sabina Remundová
Martina | Ester Geislerová
Karol | Filip Novák
Jana | Ivana Chýlková
Miroslav | Igor Bareš
Maminka Pavla | Naďa Konvalinková
Pavlíkov otec | David Prachař
Pavlík | Jakub Jenčík
Tvorcovia:
Producenti | Monika Schwarcz, Jan Schwarcz
Režisér | Michal Samir
Kameraman | Milan Chadima
Architektka | Eliška Ouředníčková
Hudba | Jiří Burian
Kostýmy | Jana Groenendijk
Masky | Gabriela Přibišová
Zdroj: TS