Medzinárodný, hravý (nielen) jazzový. Festival Zvuk for Štiavnica tento rok predstaví štvoricu talentovaných hudobníčok, speváčok a skladateliek. No ani páni nezostanú pozadu. Dámam budú kontrovať v rytmoch funku a jazzu okorenených elektronikou a improvizáciou. Hudobný maratón v najkrajších zákutiach Banskej Štiavnice štartuje už 27.-29. augusta.
Šiesty ročník medzinárodného hudobného festivalu Zvuk for Štiavnica prinesie aj tento rok prierez toho najzaujímavejšieho zo žánrov jazz, fusion a crossover. Program je plný mladých slovenských talentov, obohatený o pár hudobných talizmanov z rakúskej a českej scény. Spoločne za ZVUKOV (nielen) jazzu navštívime niekoľko jedinečných štiavnických priestorov. Už k tradičnému Kultúrnemu centru, Art Cafe a Čajovni Klopačka, sa opäť pridá Starý zámok, Evanjelický kostol a nový priestor Veža Hookah bar.
Piatok sa bude niesť v znamení dvoch výnimočných českých zoskupení. Festival otvorí v sakrálnych priestoroch Evanjelického kostola jeden z najvýraznejších inštrumentalistov česko-slovenskej scény. Trio českého basgitaristu a kontrabasistu Roberta Balzara poteší aj najnáročnejších divákov.
Festival bude pokračovať v priestoroch Kultúrneho centra. Talentovaná česká klaviristka, skladateľka, aranžérka a producentka Beata Hlavenková predstaví v Štiavnici svoj najnovší album s poetickým názvom Sně. Po prvý krát vo svojej kariére sa zhostila role speváčky. Jej hudobnými spoluhráčmi budú trubkár Oskar Török, ktorý sa netradične posadí aj za bicie a gitarista Patrick Karpentski. Spoločne predstavia kolekciu skladieb s osobitým rukopisom a jemným ženským pôvabom.
Sobotné festivalové ráno, počas obľúbených jazzových raňajok v Art Cafe, bude patriť sólo vystúpeniu Ľubomíra Gašpara a jeho nekonvenčnému prístupu k hre na cimbal.
Pravý štiavnický hudobný maratón sa rozbehne v skorých poobedných hodinách. Festivalový sprievodca návštevníkov zavedie do nových priestorov Veža Hookah baru. The Ambient Shrine. To je live, ambient, impro projekt Martina Hubu, v ktorom sa rôzne sample a samplované zvuky prírody prelínajú so živou loopovanou gitarou. Doprajte si poobednú kávu či drink v obklopení príjemných tónov.
Pokračovať môžete v Čajovni klopačka s Luciou Lužinskou a jej novým projektom Colorful Voice. Ide o výsledok minuloročného tvorivého obdobia v podobe farebnej zmesi piesní vo vlastných úpravách a aranžmánoch, zhudobnených len pomocou hlasu. Každá pieseň vzniká postupne priamo pred divákmi na princípe loopovania od zvuku bicích, cez zvuky basových tónov, harmónie, vedúceho hlasu a background vokálu spolu s improvizáciou.
V Kultúrnom centre sa predstaví talentovaný klavirista Miloš Biháry & Jazz Funk Brothers. Trojčlenná mladá kapela spoločne vytvára vlastnú osobitú koncepciu svojich autorských skladieb a symbiózu, medzi klasickou a jazzovou hudbou. V roku 2019 vydali debutový album "Don't Worry, BIHARY" vďaka podpore Hudobného fondu.
Z Kultúrneho centra si odbehnite do blízkeho Art Cafe. Poteší vás tu hudba mladého Quinteta flautistky a speváčky Márie Rehákovej a saxofonistu Sama Knighta. Mária vyštudovala jazz v Londýne na prestížnej Guildhall School of Music. Tu stretla svojho spoluhráča (a teraz aj manžela), britského saxofonistu Sama Knighta. Aktuálne spoločne pôsobia na londýnskej jazzovej scéne kde pravidelne koncertujú v rôznych kluboch. So svojím československým kvintetom v Štiavnici predstavia vlastnú tvorbu popretkávanú ich obľúbenými jazzovými štandardami.
Ženskú energiu prinesie do priestorov Starého zámku rakúska speváčka Sara Filipova. Jej piesne čerpajú z R&B, jazzu a klasickej hudby, ale duchom sú bližšie k veľkým spevákom a skladateľom, ako Joni Mitchell a Paul Simon. Pri klavíri sa zamýšľa nad pominuteľnosťou života a stavu človeka. Napriek melanchólii sú jej piesne často popretkávané niťou optimizmu pretože vždy existuje cesta vpred a východisko.
Sobotný večer zavŕši v Kultúrnom centre charizmatická predstaviteľka domácej scény Zuzana Mikulcová s kapelou. Jej žánrovo autorský projekt spája slovenské texty s pop-soulom a s prvkami elektronickej hudby. Momentálne pripravuje nový album spoluprác s názvom " Fúzie" z ktorého skladby zaznejú aj na festivale Zvuk for Štiavnica.
Nedeľné ráno aj pomyselná bodka za festivalom. Jazzové raňajky v Art Cafe. Voňavá káva, croissanty a koncert klaviristu Miloša Biháryho.
Proste tá pravá trojdňová hudobná dovolenka v Štiavnici, ktorú chcete zažiť!
Podujatie z verejných zdrojov podporil Fond na podporu umenia. Partnermi festivalu sú SOZA a Sociálny a kultúrny fond SOZA, Hudobné centrum a Mica – Music Austria.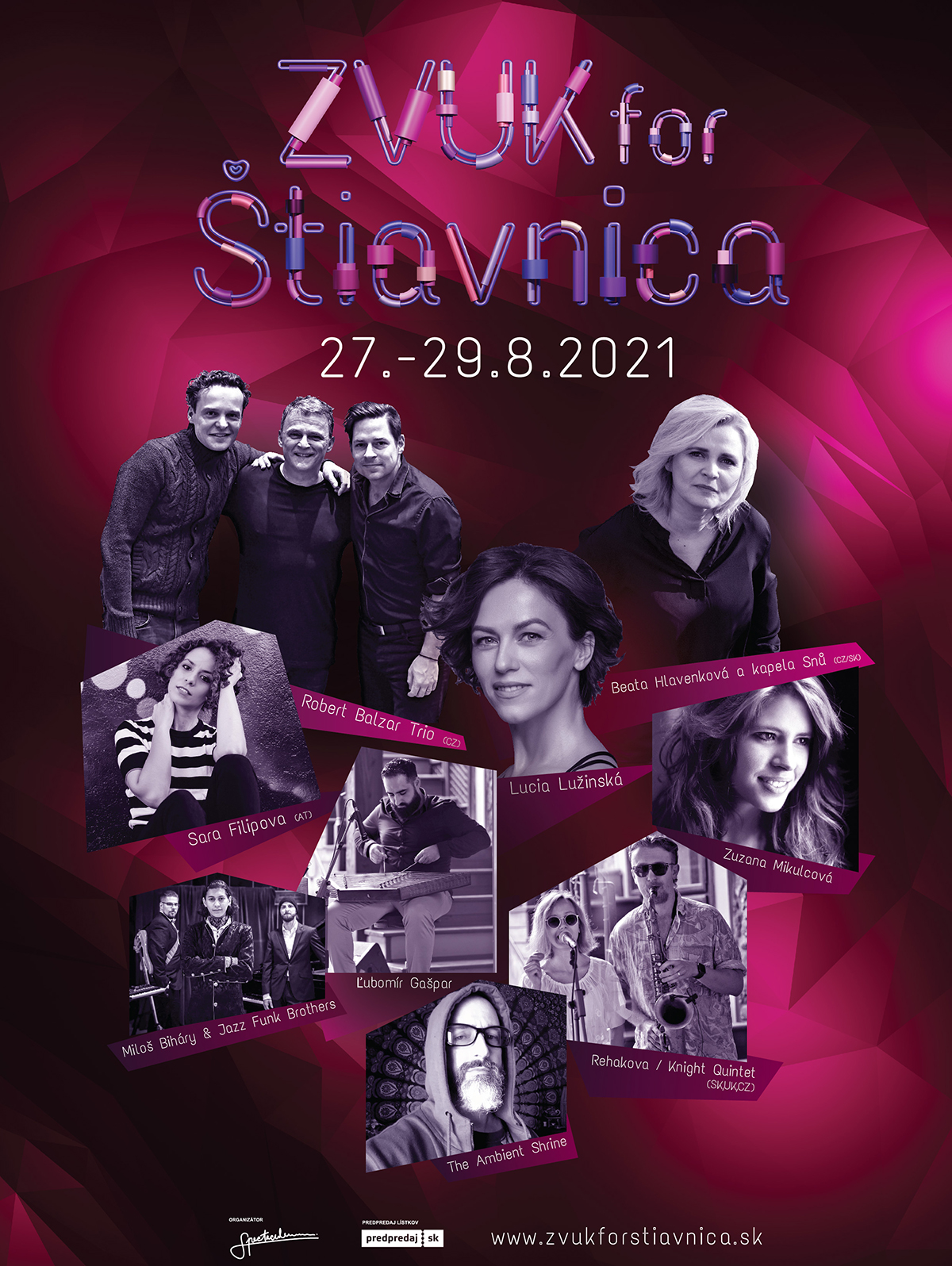 Zdroj: TS