První večer 9. ročníku multimediálního festivalu Spectaculare 2022 bude patřit propojení vážné hudby a jemné elektroniky. Na prvním večírku v Paláci Akropolis se ve čtvrtek 3. března představí původem italský hudebník Ed Carlsen, v jehož tvorbě splývají postupy moderní klasiky s elektronickými beaty a ambientními zvukovými stěnami. Sekundovat mu bude německá bratrská dvojice Brueder Selke aka Ceeys, která s pomocí klavíru a violoncella vytváří delikátní hauntologické kompozice, v nichž vzpomínají na své vyrůstání na obřím východoněmeckém sídlišti.
Návštěvníky letošního Spectaculare nečekají jen koncerty s doprovodem VJs, ale také filmy s hudební tématikou v Bio Oko, workshopy s českými i zahraničními hudebníky a výstava Jana Hladila v Chemistry gallery.
Ed Carlsen se chtěl stát pilotem a po těžkém studiu to zvládl dotáhnout až do konce. Po několika letech v kabině letadla ale nakonec stejně převážila láska k hudbě. S její pomocí se dá přeci létat mnohem volněji. Když posloucháte jeho něžné kompozice míchající kytaru, klavír a elektroniku, máte pocit, že se vznášíte ve snu, delikátní zvukové textury míchající akustické a elektronické nástroje vytváří dojem blaženého klidu a intimity. "Nohama na zemi, hlavou v oblacích,"popisuje Eduardo svoji duální povahu, která se otiskuje i v jeho hudbě.
Vyrostl na Sardinii, ale celý život strávil na cestách. V Londýně na London College of Music vystudoval zvukový design a natočil zde svůj debut The Journey Tapes z roku 2016. Následná deska Elusive Frames zachycuje dobu, kdy žil v Kodani, zatímco desku Morning Hour inspiroval polský Krakov. Na začátku pandemického roku 2020 se Carlsen přestěhoval do Hamburku a úžas z nového místa a úzkost z lockdownu se spojují na loňském albu Grains of Gold, posmutnělém mixu moderní klasiky, elektroniky a postrockových nálad. "Moje hudba není o tom, kým jsem, ale kým bych chtěl být," říká Ed Carlsen, který do Prahy přijede poprvé ve své kariéře.
Už jméno Ceeys, pod nímž vystupují bratři Sebastian a Daniel Selkeovi, připomíná hybridní povahu jejich hudby. Vzniklo ze slov "cello" a "keys", tedy violoncello a klavír, s jejichž pomocí dvojice z německého Postdamu splétá své jemné minimalistické skladby. Potkávají se v nich vlivy jazzu, ambientu nebo komorní hudby. První hudební vzdělání dostali ještě v rigidním systému východoněmeckých uměleckých škol a zapsalo se do nich stejně jako zážitek rozděleného Berlína. Hudba je podle Ceeys příkladem toho, jak i ty zdánlivě nejodlišnější elementy mohou najít společnou harmonii.
"Sdílíme vzpomínky na svět rozdělený zdí na východ a západ a také naše vjemy největšího panelákového sídliště v Evropě. Pomáhá nám to nacházet paralely a chápat dnešní život, v němž se často také projevuje to, že mince má dvě strany,"říkají Ceeys. Debutovali v roce 2016 albem The Grunewald Church Session, následná nahrávka Concrete Fields z roku 2017 je vzpomínkou na vyrůstání na obřím sídlišti Marzahn-Hellersdorf a stejně jako další album Waende bylo doplněné knihou dobových fotografií paneláků. Jestli druhá jmenovaná deska mapovala dobu pádu železné opony, následné Hiddensee zachycuje atmosféru turbulentních devadesátek. Natáčeli s Peterem Broderickem a Danielem O´Sullivanem. Zatím posledním projektem je deska Hausmusik a její remixová podoba Musikhaus, kde najdete práce od Simona Goffa či Davida Allreda. Bratři Selkeovi a jejich projekt Ceeys se v Praze 3. března na večírku Spectaculare představí vůbec poprvé, stejně jako italský skladatel Ed Carlsen.
Koncert doprovodí VJka Teres Bartůňková, mladá pražská výtvarnice a scénografka vytvářející snové – nejen světelné – instalace, objekty a ilustrace. Mezi její nejvýraznější počiny patří scénografické pojednání série meditativních nocí Silent night, výtvarné řešení inscenace Laterny magiky Zahrada a její autorské projekty.
Na letošním Spectaculare dále vystoupí Rival Consoles, Lone, dj poolboi, Ishmael Ensemble, Bugge Wesseltoft a Henrik Schwarz a mnozí další. Vstupenky zakoupíte v prodejní síti GoOut nebo na pokladně Paláce Akropolis.
www.spectaculare.cz
www.facebook.com/festivalspectaculare
www.instagram.com/spectaculare_music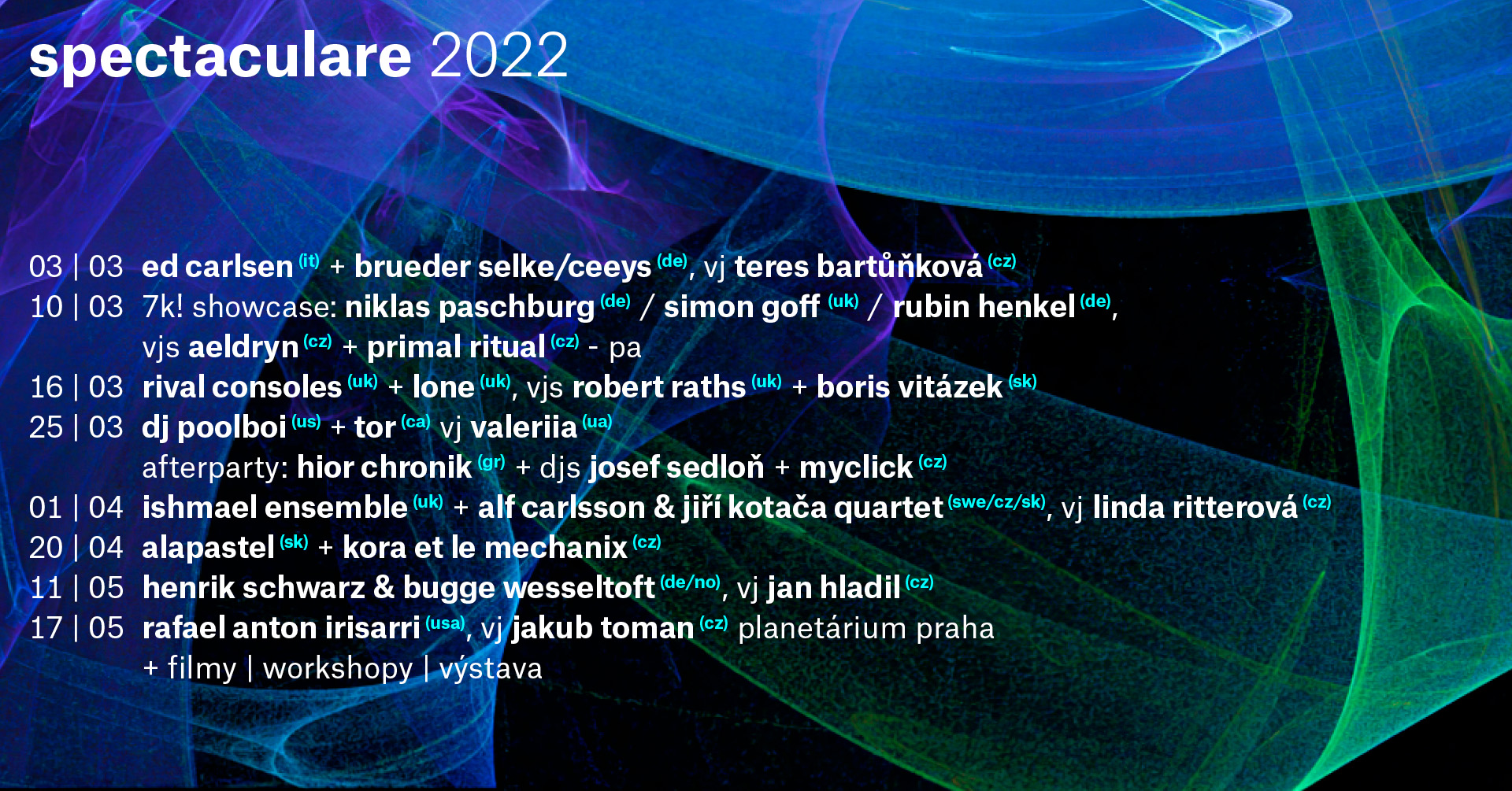 Zdroj: TS