Festival Mighty Sounds připravuje svůj 15. ročník, který se uskuteční 12. – 14. července 2019 v Táboře. Na letišti Čápův dvůr se během tří dnů představí přes 100 interpretů ze zahraničí i z domácí hudební scény. Jubilejní 15. ročník nabídne to nejlepší z punkrocku, rock'n'rollu, ska, punku, reggae a spřízněných žánrů, ale i špičku domácího alternativního divadla a bohatý doprovodný program. Pořadatelé právě zveřejnili seznam kapel na jednotlivé dny.
V pátek kromě mnoha dalších zahrají H20, Donots, The Skatalites nebo N.O.H.A., v sobotu pak budou mezi vrcholy programu patřit vystoupení Turbonegro, While She Sleeps, The Original Wailers, Dog Eat Dog nebo Looptroop Rockers. V neděli, poslední den festivalu, program nabídne například Dubiozu Kolektiv, The Casualties, Deez Nuts, Fiddler's Green nebo domácí Pipes and Pints. Z dalších domácích interpretů se můžou fanoušci těšit na Sto zvířat, Fast Food Orchestra, WWW, Plexis, Elektrick Männ a celou řadu dalších.
Kromě nabitého line-upu si pořadatelé jako každý rok dávají záležet i na kvalitě a pestrosti nabídky jídla, stejně jako na komfortu v areálu i stanovém městečku. Festival je pověstný svou unikátní atmosférou. Vstupenky lze nyní v předprodeji koupit od 1650 Kč na všechny tři dny. Více informací lze nalézt na https://www.mightysounds.cz/.
*MIGHTY SOUNDS vol. 15*
12 – 14. července 2019
Tábor, letiště Čápův dvůr
To nejlepší z punku, punkrocku, rock'n'rollu, reggae, hc, ska a rockabilly
http://www.mightysounds.cz/
https://www.facebook.com/mightysounds
https://twitter.com/MightySounds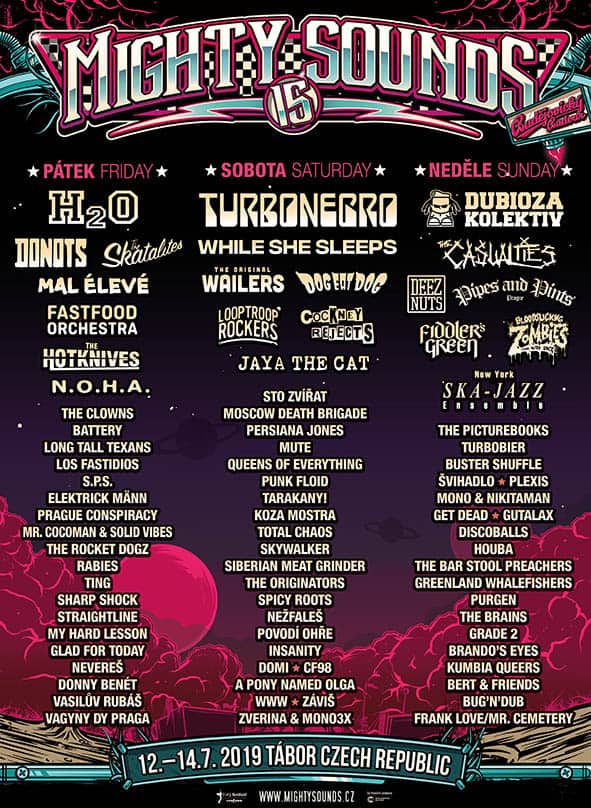 Zdroj: TS