Ve dnech 1. 10. – 3. 10. proběhne v Piešťanech festival Film a architektura. V prostorech Malé scény MsKS a Kultúrne-kreatívneho centra Arta se budou zdarma promítat celovečerní mezinárodní dokumenty i krátké filmy.
Festival Film a architektura zavítá v prvním říjnovém týdnu nejen šestnácti českých měst, ale také na Slovensko. Desátý ročník svým programem zcela naplňuje letošní téma "Spojení", poukazující na nezastupitelnou roli architektury nejen coby pojítka lidí, míst a kultur, ale také uměleckých a společenských disciplín.
"Výběr filmů je jako každý rok tím nejaktuálnějším, co za poslední rok vzniklo v zahraničí i u nás. Jedná se o výjimečné snímky, které budou promítány převážně poprvé a pro svou specializaci častokrát i naposledy, " říká kurátorka programu Karolína Vacková.
Festival odstartuje v Piešťanech snímek L'Esprit Le Corbusier přináší fascinující vyprávění o dospívání v takzvaném Unité d'Habitation ve Firminy, výjimečné obrazy Cité Radieuse v Marseille a letního domu Cabanon de Roquebrune i nepublikované archivní záběry každodenního života 70. let.
Krátký film Villa Empain nabídne vhled do organické vize unikátního domu barona Empaina ve stylu art deco, nacházející se v rezidenční čtvrti Bruselu. Příběh Drážďan Where to with History? je zásadní pro pochopení vzestupu pravicového populismu v Evropě a je důkazem nerozlučného propojení politiky a architektury.
Vznik americké odnože umělecké školy Bauhaus pod vedením Lászla Moholy-Nagye přiblíží dokument The New Bauhaus. Jedinečné propojení architektury, umění a designu vystupuje na povrch z archivních materiálů a z rozhovorů s osobnostmi z umělcovy rodiny či jeho současných obdivovatelů.
Podobnou situaci jako v českém Mostě, a to přesun části města kvůli těžbě, zažívá švédská Kiruna. Snímek Kiruna – překrásný nový svět natočila česká režisérka Greta Stocklassa. Co se stane, když se místo, které nás obklopuje, zásadně proměňuje nebo úplně mizí?
Festival Film a architektura probíhá v Brně, Břeclavi, Hodoníně, Jeseníku, Karlových Varech, Liberci, Mikulově, Nymburce, Olomouci, Ostravě, Plzni, Praze, Řevnicích, Vratislavicích nad Nisou, Vsetíně, Zlíně i slovenských Piešťanech paralelně se Dnem architektury. Ten láká od 1. do 7. října festival na 300 akcí v osmi desítkách měst a obcí v České republice i na Slovensku. Bohatý a zdarma přístupný program nabízí na výběr z exkurzí do běžně nepřístupných budov, procházek, cyklovyjížděk, výlety vlakem či lodí s odborným výkladem, ale také z přednášek, filmových projekcí, výstav i workshopů. Na začátku října se pod heslem Hurá dovnitř! otevřou veřejnosti běžně nepřístupné budovy.
Spolek Kruh, zakladatel festivalů Den architektury a Film a architektura, čerpá z dvou desítek let zkušeností v oboru a z dlouhodobé spolupráce s architekty, spolky a institucemi ve všech regionech. Vznikla tak síť, do níž se v průběhu deseti let zapojilo na 180 měst na území České republiky i na Slovensku. Navzdory pandemii se v loňském roce uskutečnilo takřka 400 akcí po celé ČR i na Slovensku, na které zavítalo na 23 000 návštěvníků.
Film a architektura v Piešťanech
10. L'esprit Le Corbusier – Kultúrno-kreatívne centrum Arta, vstup zdarma
10. Villa Empain – Malá scéna MsKS, vstup zdarma
10. Where to with History? – Malá scéna MsKS, vstup zdarma
10. The New Bauhaus – Kultúrno-kreatívne centrum Arta, vstup zdarma
10. Kiruna – překrásný nový svět – Malá scéna MsKS, vstup zdarma
Pořádá: Kruh
Pod záštitou: Česká komora architektů
Spolupořádá: Kultúrno-kreatívne centrum Arta, Malá scéna MsKS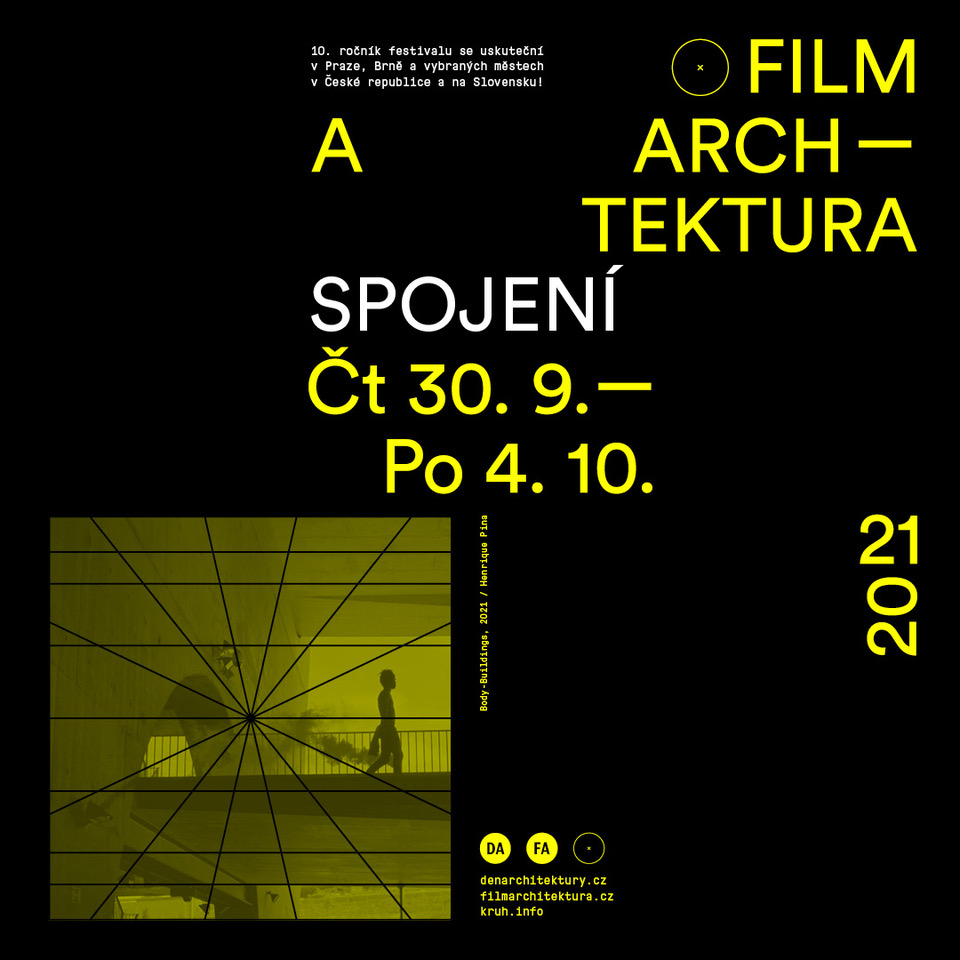 Zdroj: TS