Prestížny medzinárodný festival súčasného tanca Bratislava v pohybe ponúka po dvadsiatich piatich rokoch svojej existencie letnú edíciu DANCE ON. Ide o minisériu predstavení súčasného tanca zo stredoeurópskeho regiónu. Ambíciou je založiť novú tradíciu a rozšíriť priestor pre súčasný tanec i povedomie o ňom, pričom tradičný októbrový čas festivalu zostáva nezmenený. Diváci/diváčky spoznajú aktuálnu tvorbu choreografiek Cécile da Costa, Rity Góbi a na programe je aj slovenská premiéra česko-slovensko-maďarskej koprodukcie SOFT SPOT. Organizátorky ponúkli priestor prezentovať sa aj ukrajinským umelcom/umelkyniam a celý výťažok zo vstupného pôjde na pomoc Ukrajine. DANCE ON sa uskutoční 30. mája, 6. a 17. júna 2022 v A4 – Priestore súčasnej kultúry.
"Dlhodobo sme s festivalom pociťovali, že každý rok musíme akoby nanovo – od nuly, začínať komunikáciu s publikom a médiami o tom, čo je súčasný tanec, čo je Bratislava v pohybe. Usúdili sme, že je dôležité pracovať omnoho intenzívnejšie na prezentácii súčasného tanca aj počas roka. A zatiaľ čo domáci tvorcovia ponúkajú reprízy svojich produkcií i premiéry nových projektov, my sme sa rozhodli obohatiť kultúrnu ponuku mesta o súčasný tanec zo susedných krajín, ale ponúkame i jednu slovenskú premiéru v česko-slovensko-maďarskej koprodukcii," povedala výkonná riaditeľka festivalu Bratislava v pohybe Katarína Figula a ďalej vyjadrila vieru, že pôjde o založenie tradície, "a že fanúšikovia súčasného tanca sa tak budú môcť každý rok tešiť na ochutnávku tanca od susedov pred začiatkom leta a na veľký festival Bratislava v pohybe vždy v októbri".
DRAMATURGIA DANCE ON
Minisériu tvorí česko-slovensko-maďarský výber, ktorému dominujú zaujímavé témy, špecifický pohybový rukopis a kvalitné podanie vyzretých interpretačných osobností. Ako zdôraznila umelecká riaditeľka a zakladateľka festivalu Miroslava Kovářová, dramaturgickým zámerom nebolo sledovať jednu špecifickú tému, alebo estetiku či tanečný štýl, práve naopak.
"Chceli sme ukázať rôznorodosť tvorby, ktorá v tomto regióne vzniká. Cécile da Costa a Rita Góbi sú mladé choreografky, ktorých tvorbu som mala možnosť spoznať v rámci výberu siete Aerowaves. Cécile je z top výberu roku 2021 a prezentáciu jej práce obmedzila pandémia. Ritu sme s úspechom uviedli na festivale v roku 2018 a tak bude zaujímavé vidieť, kam sa jej tvorba posunula. SOFT SPOT je zase výbornou ukážkou toho, ako môže spolupráca v regióne prebiehať cez priamu umeleckú tvorbu aktérov. Diela sú to rôznorodé, ale verím, že umelecky i divácky zaujímavé," spresnila Miroslava Kovářová.
Okrem predstavení DANCE ON ponúka i osvedčený formát online rozhovorov umeleckej riaditeľky Miroslavy Kovářovej s tvorcami prezentovaných diel. "Chceme divákom priblížiť proces tvorby i uvažovanie choreografiek/choreografov," povedala k tomuto zámeru Katarína Figula.
30. 5. 2022 o 20:00 hod. v A4 – Rita Góbi Dance Company / HU: FREESTYLE
30. 6. 2022 o 20:00 hod. v A4 – Adrienn Hód, Martina Hajdyla, Soňa Ferienčíková / HU,CZ,SK: SOFT SPOT
17. 6. 2022 o 20:00 hod. v A4 – Cécile Da Costa / CZ: ROSELYNE
Historicky prvý DANCE ON otvorí 30. mája choreografia Rity Góbi, ktorej diela sa vyznačujú tak odvážnymi experimentmi ako aj starostlivo komponovanou choreografiou, s názvom FREESTYLE. Hlavnými črtami jej štýlu sú geometria, minimalizmus a snaha o redukciu vyjadrovacích prostriedkov. Jej najnovšia inscenácia otvára dvere do sveta hravého jedinca. Hracie pole je animované fyzickou prítomnosťou a interakciou dvoch postáv, Ruri a Rity. Hráči na seba reagujú zatiaľ čo sa zapájajú do intenzívnej akcie: beh, skákanie, plávanie, sú pod vodou alebo nad vodou… Táto súťaž však nie je o rýchlosti alebo výhre. Tentokrát účastníci zápasia s vlastnými telami, skôr ako s niekým iným. Freestyleoví plavci prinášajú na javisko súťaživosť, ale aj hravosť a pocit slobody. Dielo vznikalo v japonsko-maďarskej koprodukcii. Účinkujú: Ruri Mito (JP) / Fanni Esterházy & Rita Góbi.
V pondelok 6. júna 2022 môžu návštevníci/návštevníčky DANCE ON vidieť slovenskú premiéru experimentálneho fyzického diela zrodeného v spolupráci slovenských tanečníc Martiny Hajdyly, Sone Ferienčíkovej a maďarskej choreografky Adrienn Hód SOFT SPOT. Prostredníctvom improvizácie a výskumu fyzického tela skúmajú vzťah medzi telom, osobnosťou a významom. Čo nám hovorí tvár, gesto, postavenie a pohyb tela? Ako komunikujeme prostredníctvom tela s ostatnými? SOFT SPOT hravo skúma ľudské vlastnosti, pýta sa, čo nás ako ľudí definuje a obzerá sa po skrytom citlivom "mäkkom mieste" vo vnútri nás samotných.
Adrienn Hód je choreografka žijúca v Budapešti, ktorá už pätnásť rokov vedie HODWORKS, medzinárodne uznávanú tanečnú skupinu zameranú na súčasný tanec. Vo svojich dielach de-konštruuje štruktúry tela, pohybu, priestoru a hudby, aby ich prestavala prekvapivými spôsobmi. Jej metódy sú postavené na improvizácii, ktorá sa potom na javisku prejavuje v rámci štruktúry. Soňa Ferienčíková je slovenská tanečnica, performerka, učiteľka a zakladateľka tanečnej organizácie BOD.Y o.z. Okrem súčasného tanca sa venuje experimentálnemu a dokumentárnemu divadlu a tanečným filmom. Jej sólo EVERYWHEN bolo nominované na prestížnu slovenskú divadelnú cenu DOSKY 2018 a mala možnosť s ním vystúpiť po celej Európe i v Mexiku. Martina Hajdyla je slovenská tanečnica a choreografka, ktorá žije v Prahe. Je zakladajúcou členkou tanečnej skupiny ME-SA. V roku 2015 vyhrala cenu Tanečnica roku za svoj výkon v inscenácii SuperNaturals. Za svoje vystúpenie v sólo projekte L – One of the Seven bola Martina nominovaná na prestížnu českú cenu Thálie 2016.
Slovenskú premiéru SOFT SPOT uvádza DANCE ON v spolupráci s festivalom B.EDGE.FEST, ktorý na oslavu desiateho výročia svojho založenia pripravila organizácia BOD.Y o.z.
Trojicu predstavení uzavrie v piatok 17. júna 2022 dielo Cécile Da Costa ROSELYNE. Ide o prvú autorskú inscenáciu tejto speváčky, performerky a choreografky francúzsko-portugalského pôvodu žijúcej v Prahe. Cécile Da Costa Pôsobí už niekoľko rokov v Spitfire Company, vedie workshopy fyzického divadla v Čechách, Francúzsku, Poľsku alebo Grécku. Vo svojej práci hľadá "hlasy, ktoré môžu pohybovať telom a telá, ktoré môžu pohybovať hlasom". Za sólové predstavenie Vypravěč, v réžii Petra Boháče, získala ocenenie Tanečnice roku 2018 a nomináciu Total Physical Awards in Fringe 2017, v tomto multižánrovom diele oscilujú telo a hlas medzi bojom a krehkosťou.
Európska platforma Aerowaves vybrala ROSELYNE medzi dvadsať najzaujímavejších počinov pohybového divadla pre rok 2021. V súčasnosti sa inscenácia uvádza v divadle PONEC – divadlo pro tanec.
Žena menom Roselyne hľadá svoje miesto. Svoje miesto v miestnosti, svoje miesto v očiach ostatných, svoje miesto v živote. Chce byť neviditeľná. Nechce rušiť, pochybuje. Vždy sa za niečím schováva. Našla svoju rastlinu. Roselyne môže byť odrazom našich pochybností, rozhodnutí, ktoré sme neurobili, možností, ktoré sme nevyužili. Je úplne nedokonalá, tak ako my ostatní.
POMOC UKRAJINE
Do programu DANCE ON organizátorky zakomponovali aj film MONOCHROME (30. mája 2022, po Freestyle) ukrajinského umelca Antona Ovchinnikova, ktorý je podpísaný ako autor videa, strihu, choreografie, hudby a interpretácie. Súčasťou programu budú aj MINIATÚRY (17. júna 2022 o 20.00 hod., pred ROSELYNE) ukrajinskej choreografky Iryny Plotnikovej, ktorá pôsobí aj ako hlavná pedagogička v tanečnej škole Totem v Kyjeve. Ako režisérka a choreografka spolupracovala s divadlami na Ukrajine. Za svoju choreografickú prácu získala viacero ocenení (YAGP Choreography Award Barcelona, Grand Prix de la Dance Italy, World of Dance 1. cena Junior Division solo). Vytvorila viac ako 300 tanečných miniatúr.
Predstavenia v rámci DANCE ON sú realizované v rámci projektu Aktivity Asociácie Bratislava v pohybe, projekt z verejných zdrojov podporil Fond na Podporu umenia.
Predpredaj na vstupenky a permanentky je už spustený, vstupenky sú dostupné na www.abp.sk, www.predpredaj.sk alebo v A4 pred začiatkom predstavení.
Vstupné: 12 €, zľava pre študentov, seniorov a tanečných profesionálov: 7 €, permanentka na 3 predstavenia: 29 € / 17 €. Výťažok zo vstupného venujú organizátori na pomoc Ukrajine.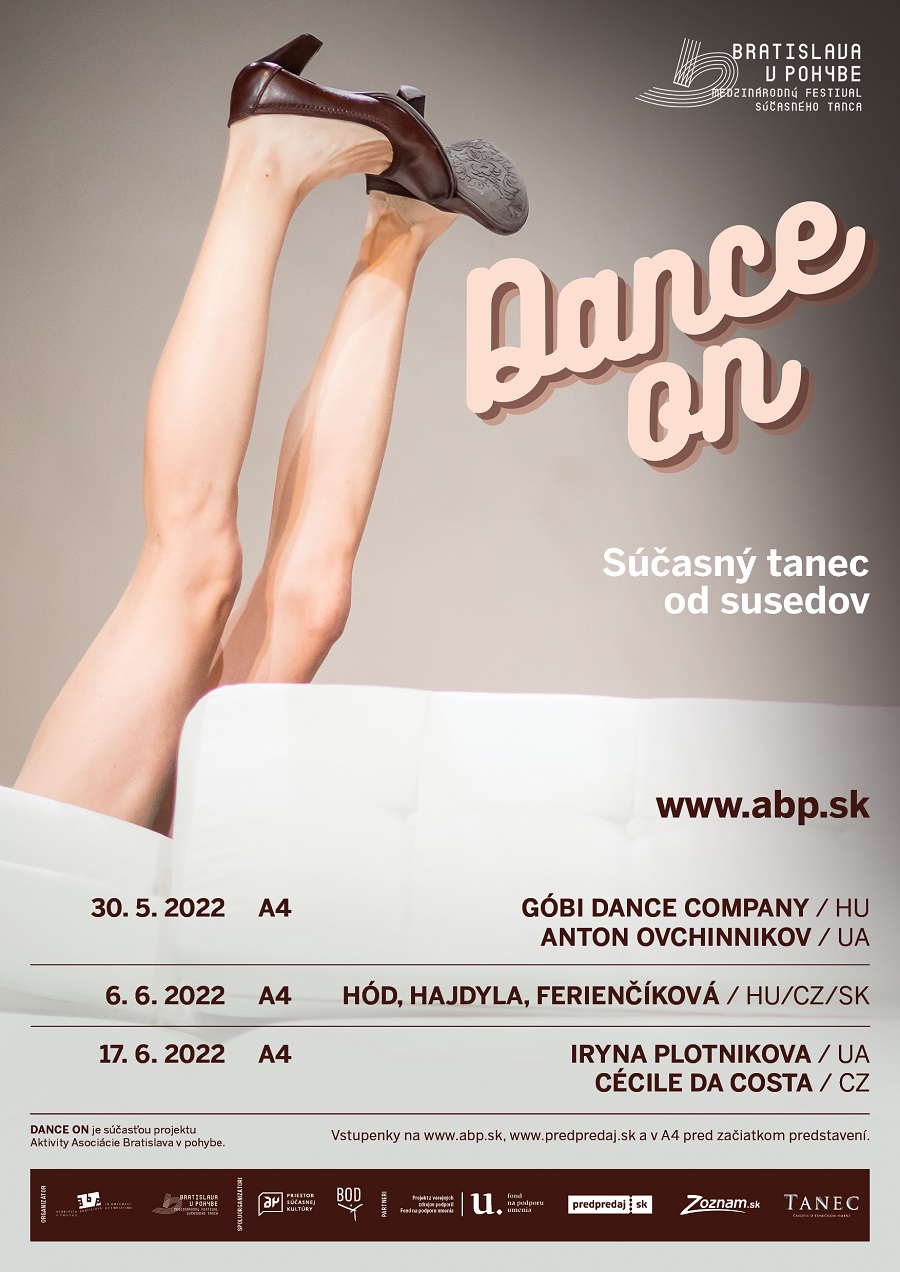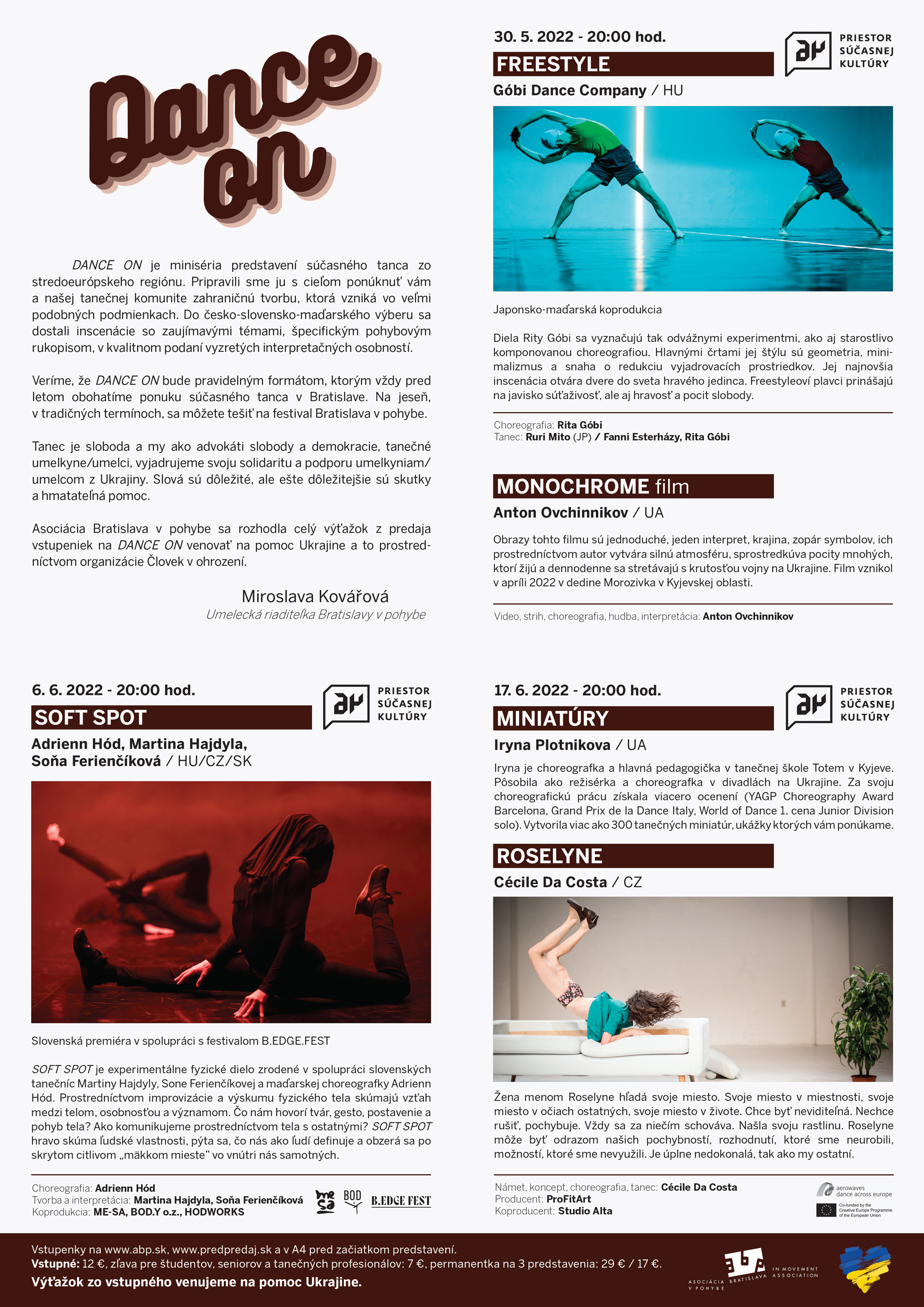 Zdroj: TS