Celý výťažok zo vstupného na minisériu DANCE ON, ktorú po prvý raz organizuje prestížny medzinárodný festival súčasného tanca Bratislava v pohybe, poputuje na pomoc Ukrajine. Rozhodli tak organizátorky festivalu, ktoré naviazali spoluprácu s občianskym združením Človek v ohrození. Okrem predstavení súčasného tanca zo stredoeurópskeho regiónu sa budú prezentovať aj ukrajinskí umelci/umelkyne. Do Bratislavy zavíta päť tanečníc vo veku 14, 15 rokov, pricestujú s mamami odtiaľ, kde práve našli azyl pred vojnou, z Chorvátska, Nemecka, zo Španielska i z Kyjeva.
DANCE ON sa uskutoční 30. mája, 6. a 17. júna 2022 v A4 – Priestore súčasnej kultúry.
"Rozhodnutie venovať celý výťažok zo vstupného na predstavenia Dance On na pomoc Ukrajine padlo už dávnejšie, v podstate celkom skoro po začiatku vojny u našich susedov. Vtedy sme ešte netušili, že konflikt bude trvať tak dlho, o to viac považujeme túto formu pomoci za dôležitú aj dnes, keď možnosti pomôcť už mnohí z nás vyčerpali a pritom naša pomoc je stále potrebná. Prostriedky sme sa rozhodli poskytnúť Človeku v ohrození, dôveryhodnej organizácii, ktorá pomáha ako priamo na Ukrajine, tak aj tým, ktorí pred konfliktom utiekli na Slovensko," povedala výkonná riaditeľka festivalu Bratislava v pohybe Katarína Figula s tým, že sa snažili poskytnúť pomoc aj adresnejšie, konkrétnym ľuďom. "Spojili sme sa preto s Antonom Ovchinnikom, ktorý reprezentuje Ukrajinu v sieti Aerowaves. Anton nám sprostredkoval kontakt na dve choreografky a tanečné pedagogičky, ktoré aj s deťmi našli útočisko v Bratislave. Choreografickú tvorbu jednej z nich, Iryny Plotnikovej, predstavíme v posledný večer Dance On. Uvedieme aj tanečný film, ktorý Anton natočil v polovici apríla v dedine Morozivka neďaleko Kyjeva," dodala Katarína Figula.
Ukrajinský umelec Anton Ovchinnikov je podpísaný ako autor videa, strihu, choreografie, hudby a interpretácie. Svoje dielo sprevádza krátkym textom. (*Uvádzame len časť z neho.) "Dňa 24. februára 2022, večer v deň, keď Rusko začalo vojnu s Ukrajinou, som narýchlo opustil Kyjev a dostal som sa do nútenej izolácie. Kyjev bol ostreľovaný riadenými strelami a ja som sa presunul do dediny Morozivka, 50 km od Kyjeva. O týždeň bola vojna 20 km od miesta, kde som býval. Nepretržite sme počuli výbuchy a streľbu a o týždeň neskôr sme si už na tieto zvuky zvykli. Začiatkom apríla ukrajinská armáda vytlačila ruské jednotky z blízkych dedín a nastalo tu ticho. Postupne som sa dostával zo svojej telesnej strnulosti. Potom som sa rozhodol natočiť niekoľko improvizačných videí, aby som sa na premeny, ktoré sa diali s mojím telom, pozrel zvonku. Predtým som sa cítil úplne paralyzovaný. Jediné, čo som mohol robiť, bolo písať poéziu – zrazu sa myšlienky a pocity začali formovať do slov."
"Ďakujeme tímu festivalu Bratislava v pohybe, že im ľudia z Ukrajiny, ktorí utekajú pred vojnou, nie sú ľahostajní. Vážime si, že sa rozhodli výťažok z podujatia pridať k pomoci Človeka v ohrození," uviedla Kristína Jediná, koordinátorka fundraisingu a komunikácie o.z. Človek v ohrození. Ako ďalej spresnila, suma sa použije na podporu ľudí, ktorí trpia vojnou na Ukrajine. Združenie jednak za ňu poskytne humanitárnu pomoc vnútorným utečencom na Ukrajine, ktorí ušli do relatívneho bezpečia do regiónu Zakarpatia. Tiež pomôže na Slovensku, kde Človek v ohrození primárne poskytuje psychosociálnu pomoc, aby sa Ukrajinci a Ukrajinky na úteku mali v pre nich neznámej krajine na koho obrátiť.
V programe DANCE ON figuruje spomínaný film MONOCHROME (30. mája 2022, po Freestyle) ukrajinského umelca Antona Ovchinnikova. Súčasťou programu budú aj MINIATÚRY (17. júna 2022 o 20.00 hod.) ukrajinskej choreografky Iryny Plotnikovej, ktorá pôsobí aj ako hlavná pedagogička v tanečnej škole Totem v Kyjeve. Ako režisérka a choreografka spolupracovala s divadlami na Ukrajine. Za svoju choreografickú prácu získala viacero ocenení (YAGP Choreography Award Barcelona, Grand Prix de la Dance Italy, World of Dance 1. cena Junior Division solo). Vytvorila viac ako 300 tanečných miniatúr a 5 z nich uvidia diváci v Bratislave.
Minisériu tvorí česko-slovensko-maďarský výber, ktorému dominujú zaujímavé témy, špecifický pohybový rukopis a kvalitné podanie vyzretých interpretačných osobností. Ako zdôraznila umelecká riaditeľka a zakladateľka festivalu Miroslava Kovářová, dramaturgickým zámerom nebolo sledovať jednu špecifickú tému, alebo estetiku či tanečný štýl, práve naopak.
Historicky prvý DANCE ON otvorí 30. mája choreografia Rity Góbi s názvom FREESTYLE. Jej diela sa vyznačujú tak odvážnymi experimentmi ako aj starostlivo komponovanou choreografiou. V pondelok 6. júna 2022 môžu návštevníci/návštevníčky DANCE ON vidieť slovenskú premiéru experimentálneho fyzického diela zrodeného v spolupráci slovenských tanečníc Martiny Hajdyly, Sone Ferienčíkovej a maďarskej choreografky Adrienn Hód SOFT SPOT. Premiéru uvádzame v spolupráci s festivalom B.EDGE.FEST. Trojicu predstavení uzavrie v piatok 17. júna 2022 dielo Cécile Da Costa ROSELYNE. Ide o prvú autorskú inscenáciu tejto speváčky, performerky a choreografky francúzsko-portugalského pôvodu žijúcej v Prahe.
Bratislava v pohybe opäť prinesie aj online rozhovory s tvorcami predstavení, diváci ich nájdu na webe festivalu www.abp.sk alebo na jeho sociálnych sieťach.
30. 5. 2022 o 20:00 hod. v A4 – Rita Góbi Dance Company / HU: FREESTYLE
30. 6. 2022 o 20:00 hod. v A4 – Adrienn Hód, Martina Hajdyla, Soňa Ferienčíková / HU,CZ,SK: SOFT SPOT
17. 6. 2022 o 20:00 hod. v A4 – Cécile Da Costa / CZ: ROSELYNE
Prehliadka DANCE ON je realizovaná v rámci projektu Aktivity Asociácie Bratislava v pohybe, projekt z verejných zdrojov podporil Fond na Podporu umenia.
Vstupenky a permanentky sú dostupné na www.abp.sk, www.predpredaj.sk alebo v A4 pred začiatkom predstavení.
Vstupné: 12 €, zľava pre študentov, seniorov a tanečných profesionálov: 7 €, permanentka na 3 predstavenia: 29 € / 17 €. Výťažok zo vstupného venujú organizátori na pomoc Ukrajine.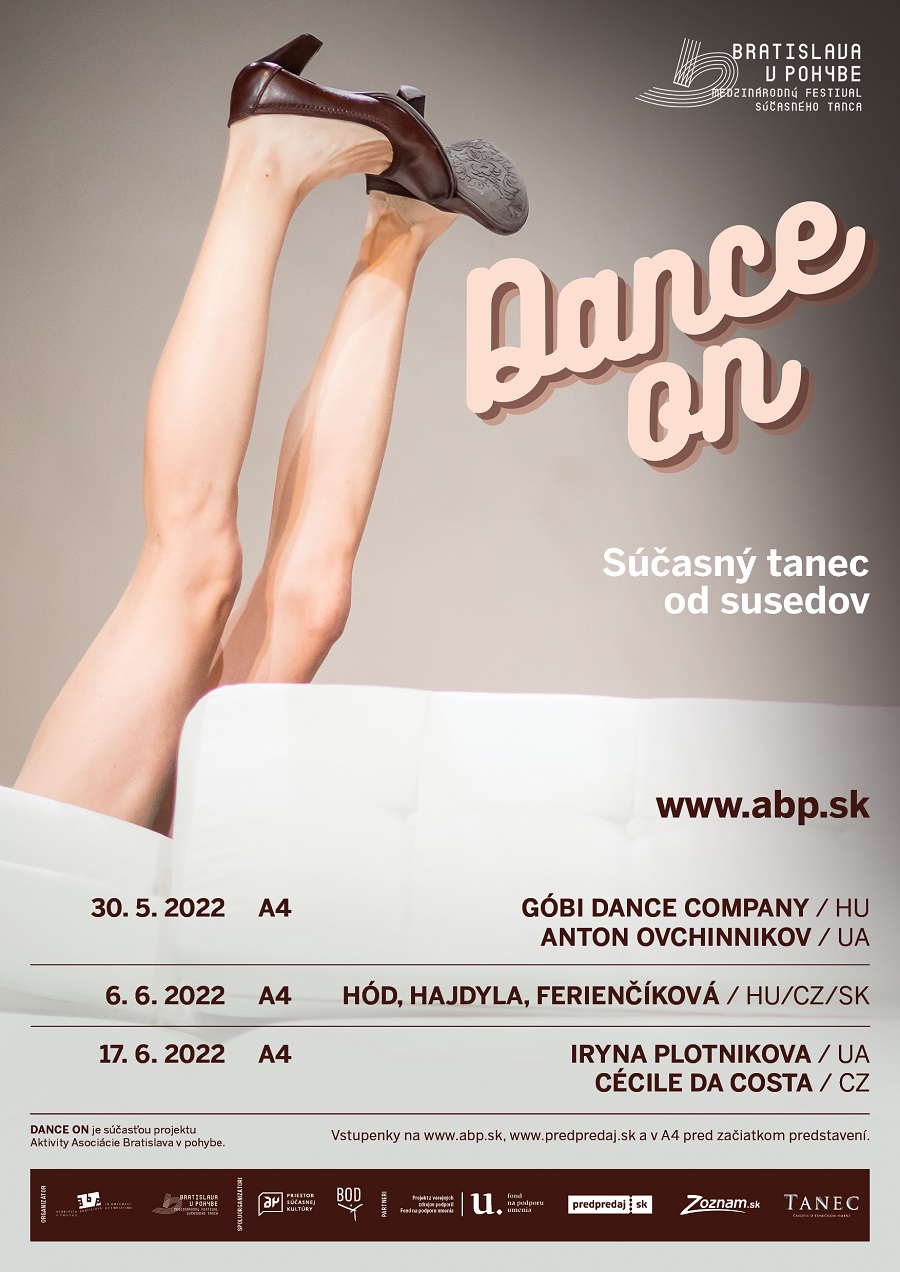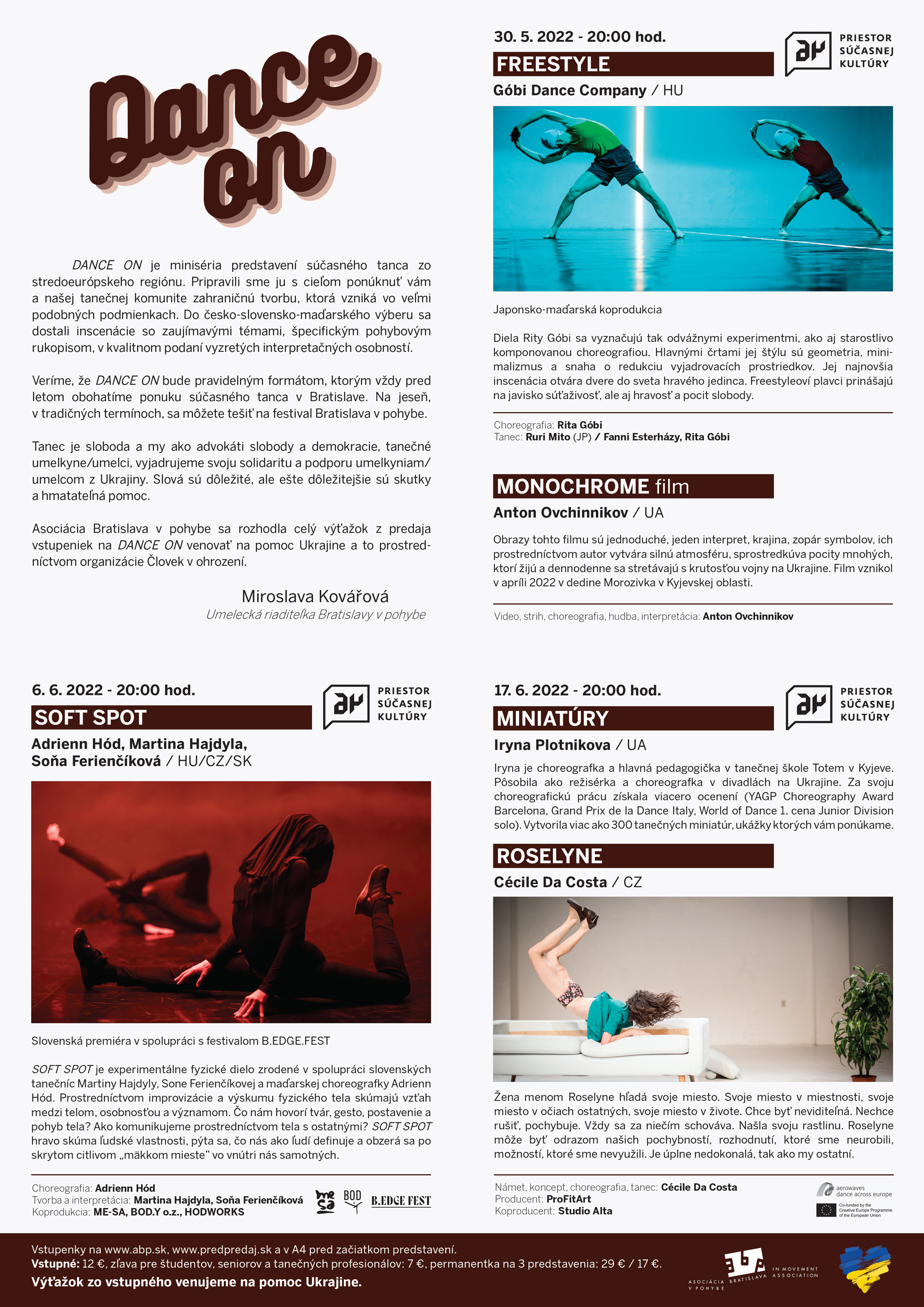 Zdroj: TS