Ich koncerty sú najlepšou párty, akú si v štýle pop-jazzu viete predstaviť! Postmodern Jukebox začínal ako internetová senzácia, teraz zgrupuje najlepších hudobných profesionálov a má vypredané koncerty po celom svete. So svojim jazzovo-swingovým spracovaním popových hitov sa vráti 22. júna do Bratislavy, tentokrát s vystúpením v atmosfére 20tych rokov a v štýle Veľkého Gatsbyho.
S Postmodern Jukeboxom v Bratislave vystúpi aj americká speváčka a herečka Sara Niemietz, ktorá vystupovala aj na Brodwayi. Vstupenky sú k dispozícii na www.citysounds.sk.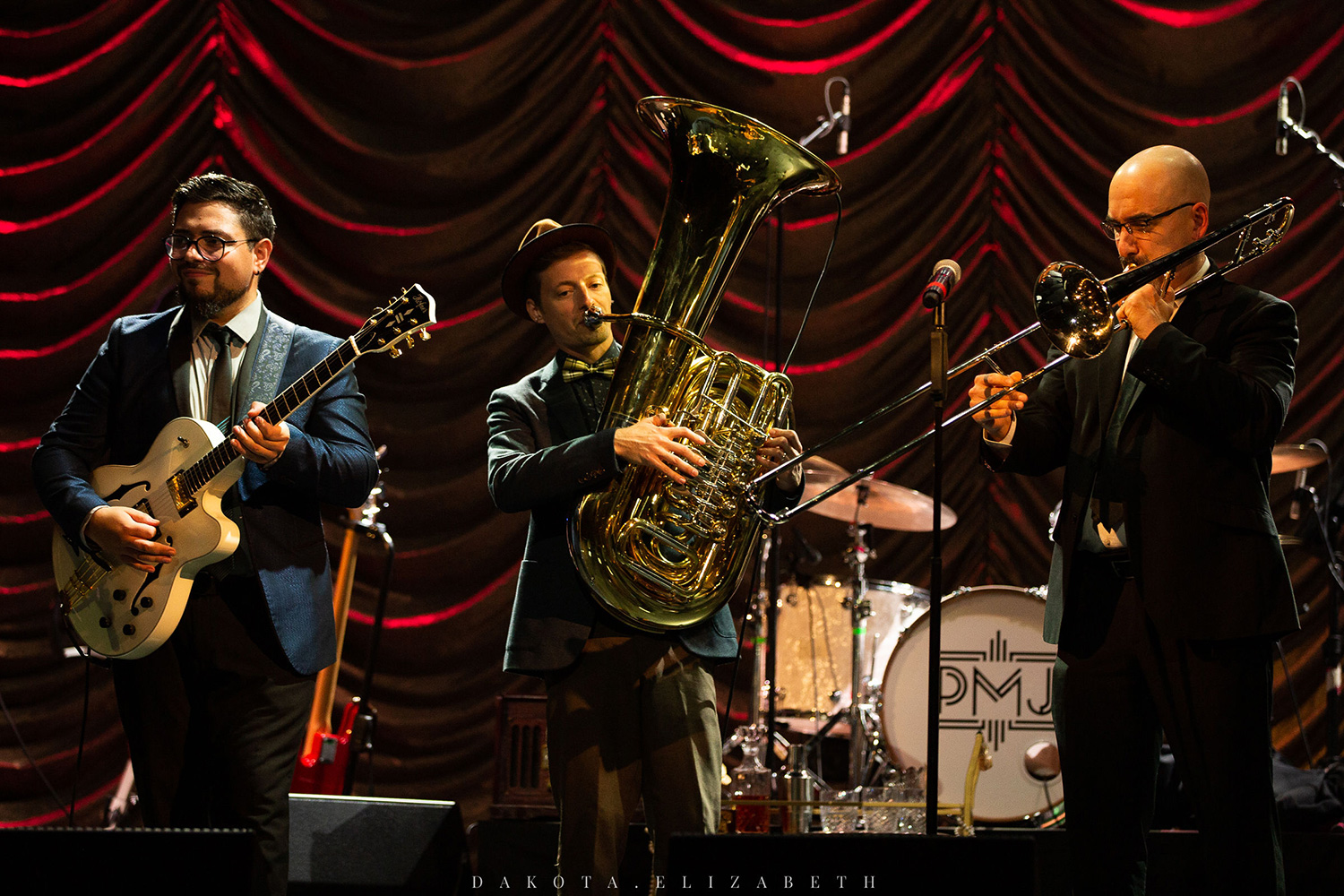 Aktuálne turné Postmodern Jukeboxu, v rámci ktorého vystúpia aj v Bratislave, nesie názov Welcome To The Twenties 2.0. "Naposledy to bolo v dvadsiatych rokoch, vtedy Amerika dostala jazz, jednu z mála pravých foriem umenia. Kto vie, čo je možné teraz?" pýta sa Bradlee a dodáva, že fanúšikovia sa môžu pripraviť "na tú najveľkolepejšiu párty v štýle dvadsiatych rokov po vzore Veľkého Gatsbyho."
Možno to na prvý moment môže vyzerať na bežný koncert revivalovej kapely, partička skvelých hudobníkov a spevákov pod vedením Scotta Bradleeho vás však už pri prvej skladbe presvedčí o opaku. Ide totiž o profesionálov, ktorí hudbou žijú a dýchajú a ich nadšenie sa počas koncertu prenesie aj na vás. Medzi nich patrí jednoznačne aj Sara Niemietz, dlhoročná členka Postmodern Jukeboxu, ktorá už ako 10 ročná vystupovala na Brodwayi. S Postmodern Jukebox nahrala v štýle 20tych rokov hity, ktoré v jej a Postmodern Jukebox podaní majú niekoľko miliónov vzhliadnutí na YouTube, ako napr. Bad Romance (originál Lady Gaga), Love Yourself (Justin Bieber), Hey Ya! (Outkast), I Don´t Want To Miss A Thing a mnohé ďalšie.
Postmodern Jukebox je americký hudobný kolektív, ktorý založil a vedie Scott Bradlee. Od vzniku v roku 2009 spája Bradlee talentovaných hudobníkov a spevákov, ktorí pod jeho vedením pretvárajú súčasné popové a komerčné hity do retro podoby v štýle jazzu či swingu. Úspech projektu odštartovala v roku 2012 cover verzia hitu Macklemora Thrift Shop. Doposiaľ najúspešnejšou skladbou je coververzia hitu Creep od skupiny Radiohead, ktorá má aktuálne 104 miliónov zhliadnutí len na YouTube. V súčasnosti má Postmodern Jukebox viac ako 5,5 milióna odberateľov na YouTube a milióny prehratí skladieb, 22 hudobných CD kompilácií a od roku 2016 stovky vypredaných koncertov na šiestich kontinentoch sveta.
Informácie o koncerte a vstupenky sú v predaji na www.citysounds.sk a na FB podujatí www.facebook.com/events/237394420758807
Festival City Sounds, v rámci ktorého sa koncert koná, z verejných zdrojov finančne podporil Fond na podporu umenia.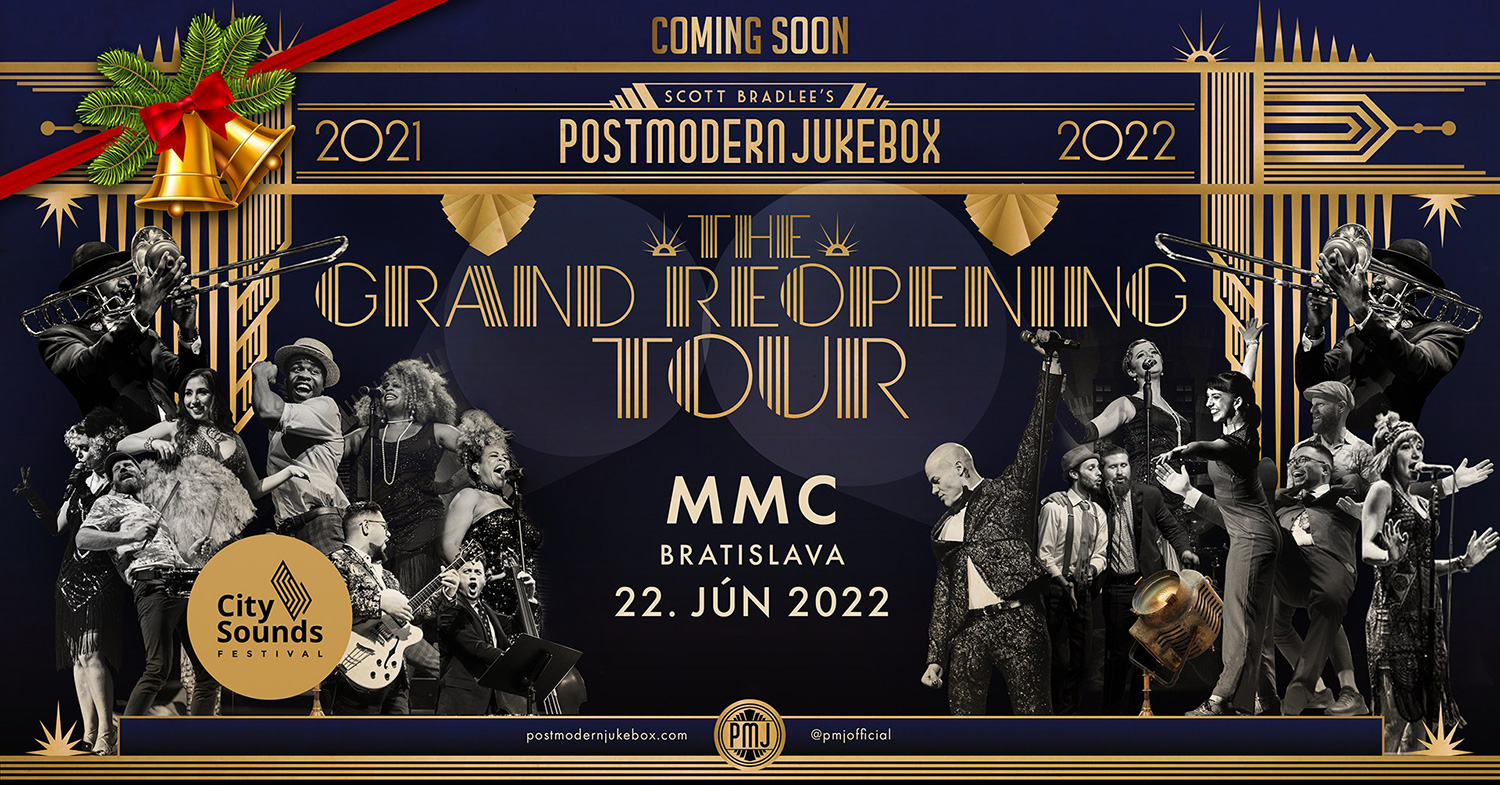 Zdroj: TS