Medzinárodný filmový festival FEBIOFEST Bratislava 2022 sa skončí už dnes večer. Ceny boli však rozdané počas včerajšieho večera. Odniesli si ich nielen režiséri zo súťažnej sekcie krátkych filmov V strede Európy – s udelenou hlavnou cenou a Zvláštnym uznaním, ale aj tvorcovia, ktorí svoj projekt iba chystajú. V rámci Bratislava Industry Days sa odovzdali Best Pitch Award a Cineuropa Work in Progress Award.
Po dvoch pandemických rokoch sa Febiofest konečne vrátil do kinosál. Divákom predviedol 7 overených sekcií a jednu špeciálnu – venovanú Ukrajine. Festival prebiehal v Bratislave v kinách Lumière a Mladosť a zároveň sa rozbehol aj v regiónoch, kam putoval výber, o ktorom rozhodol festivalový tím. Slávnostné otvorenie festivalu sa konalo v stredu 16. marca a to najnovším filmom Jana P. Matuszynskeho Nezanechať stopy. Režisér film uviedol osobne a s úspechom sa stretla aj diskusia, ktorá nasledovala po jeho skončení.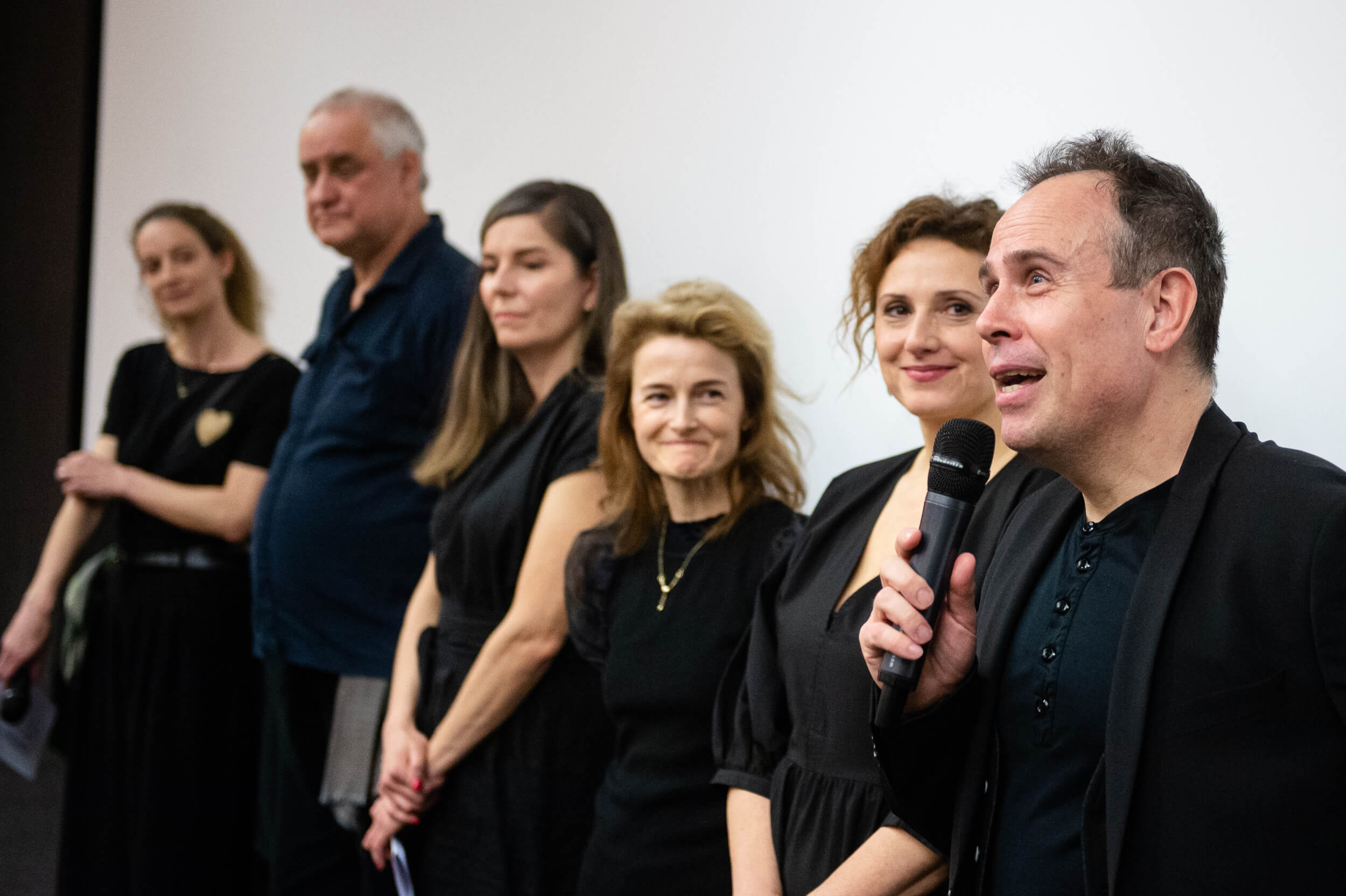 Už pravidelne býva súčasťou Febiofestu aj súťažná sekcia V strede Európy. Organizátori presunuli výber krátkych filmov z roku 2021 na tento ročník 2022, keďže z dôvodu pandemickej situácie nemali dostatočný priestor filmy odprezentovať tak, ako by si zaslúžili. O oceneniach v rámci súťaže krátkych filmov tento rok rozhodli – Daniel Vadocký z produkčnej spoločnosti Negativ, programová manažérka MFDF Ji.hlava Adriana Belešová a riaditeľ Pragueshorts Film Festivalu Karel Spěšný.
Hlavnú cenu – spojenú s finančnou dotáciou 3000€ – získala rakúska snímka Ako zmiznúť umeleckého zoskupenia Total Refusal, ktoré tvoria autori Robin Klengel, Leonhard Müllner a Michael Stumpf. "Jednohlasne sme sa rozhodli oceniť tento výnimočný film, ktorý kreatívnym spôsobom s osobitým humorom hľadá nové spôsoby práce s audiovizuálnym obsahom. Hravo a objavne pracuje s konceptom a estetikou počítačových hier, v ktorých nachádza paralely so spoločenskou konvenciou. Všadeprítomný filozofický podtext vychádza z podstaty historického poznania a zažitých spoločenských noriem. Modifikovaná Shakespearovská dilema o možnosti či nemožnosti úniku je ponechaná na svedomí každého diváka," doplnila porota. Cenu prebral osobne Robin Klengel. Film vznikol v roku 2020 a priznal, že vtedy vôbec nečakal, že ich snímka, ktorá nekonvenčným spôsobom na pozadí vojnovej hry spracúva históriu dezertérov, získa za tie dva roky úplne iný význam, v spojení s aktuálnou situáciou, odohrávajúcou sa na Ukrajine.
Zvláštne uznanie poroty si odniesol krátky český film Červené topánky Anny Podskalskej. "Zvláštne uznanie sme sa rozhodli udeliť za výnimočné a originálne spracovanie špecifickej časti ľudovej kultúry, ktoré v kombinácii animačnej techniky kreslenia na skle s využitím folklórnych hudobných motívov vytvára drásajúci, miestami desivý príbeh o neutíchajúcej vôli človeka zapáčiť sa a byť obdivovaný a cenu, ktorú za to musí zaplatiť."
Počas večera boli vyhlásené aj ocenenia v rámci Bratislava Industry Days: Best Pitch Award a Cineuropa Work in Progress Award. Industry Days sú súčasťou Febiofestu už siedmy raz a tento rok prebiehali hybridnou formou – 10 tímov prezentovalo svoje pripravované filmy naživo pred publikom a 1 projekt sa pripojil online. Taktiež viacero profesionálov, ktorí nemohli do Bratislavy prísť osobne sa prezentácie zúčastnilo vďaka online streamu.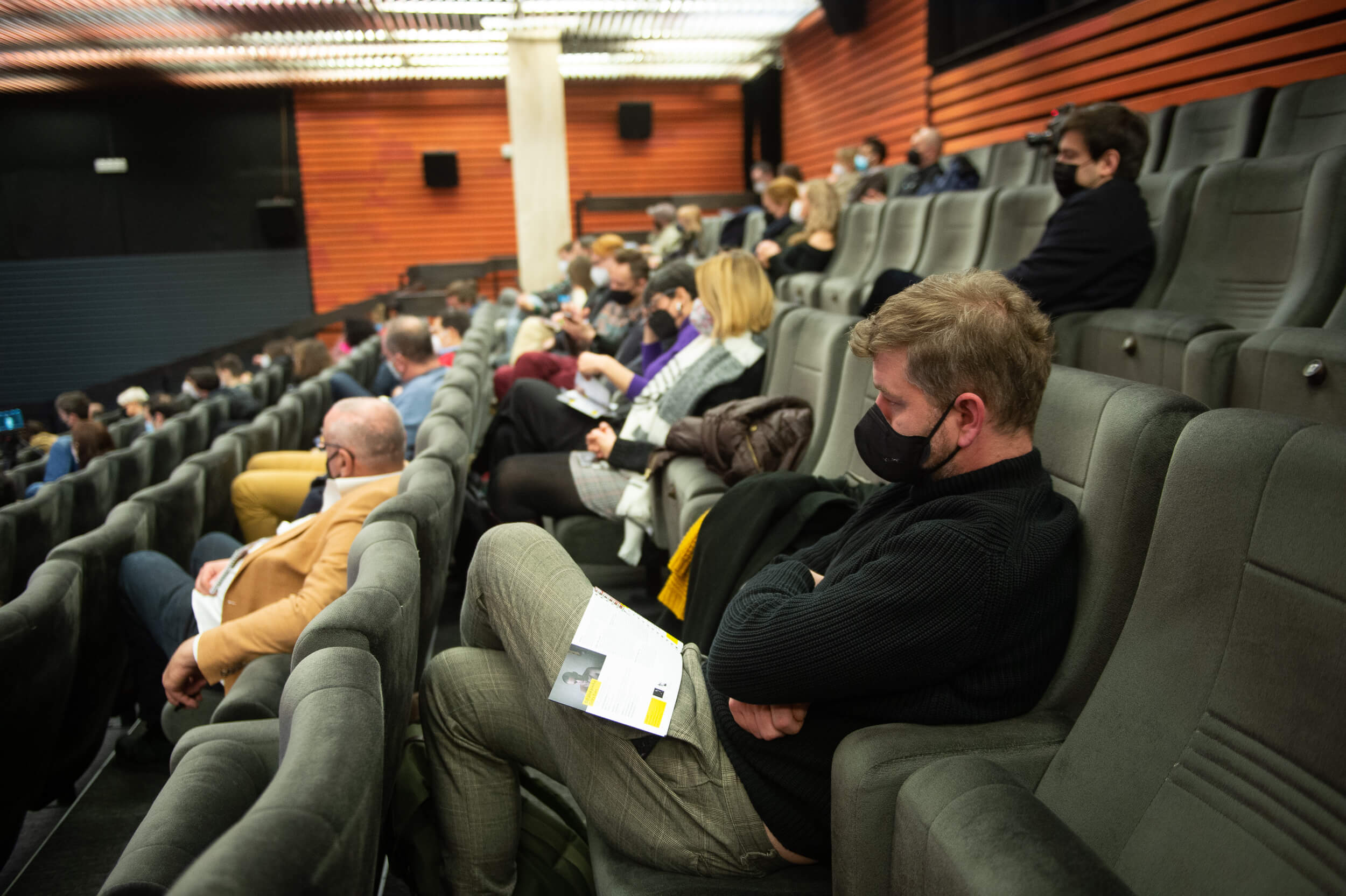 Prvou udelenou cenou bola Cineuropa Works in Progress Award, ktorá pozostáva z rozšírenej publicity daného projektu. Odovzdával ju spravodajca Cineuropy Martin Kudláč. Ocenenie získal pripravovaný celovečerný film Milovník, nie bojovník režisérky Martiny Buchelovej.
O Best Pitch Award rozhodovala medzinárodná porota v zložení Daniela Cölle z Pluto Films, programmer Rohan Berry Crickmar z Edinburgh International Film Festival a riaditeľka festivalu Doclisboa Joana de Sousa. Porota vybrala ako víťaza projekt Pokiaľ ja žijem režiséra Romana Ďuriša.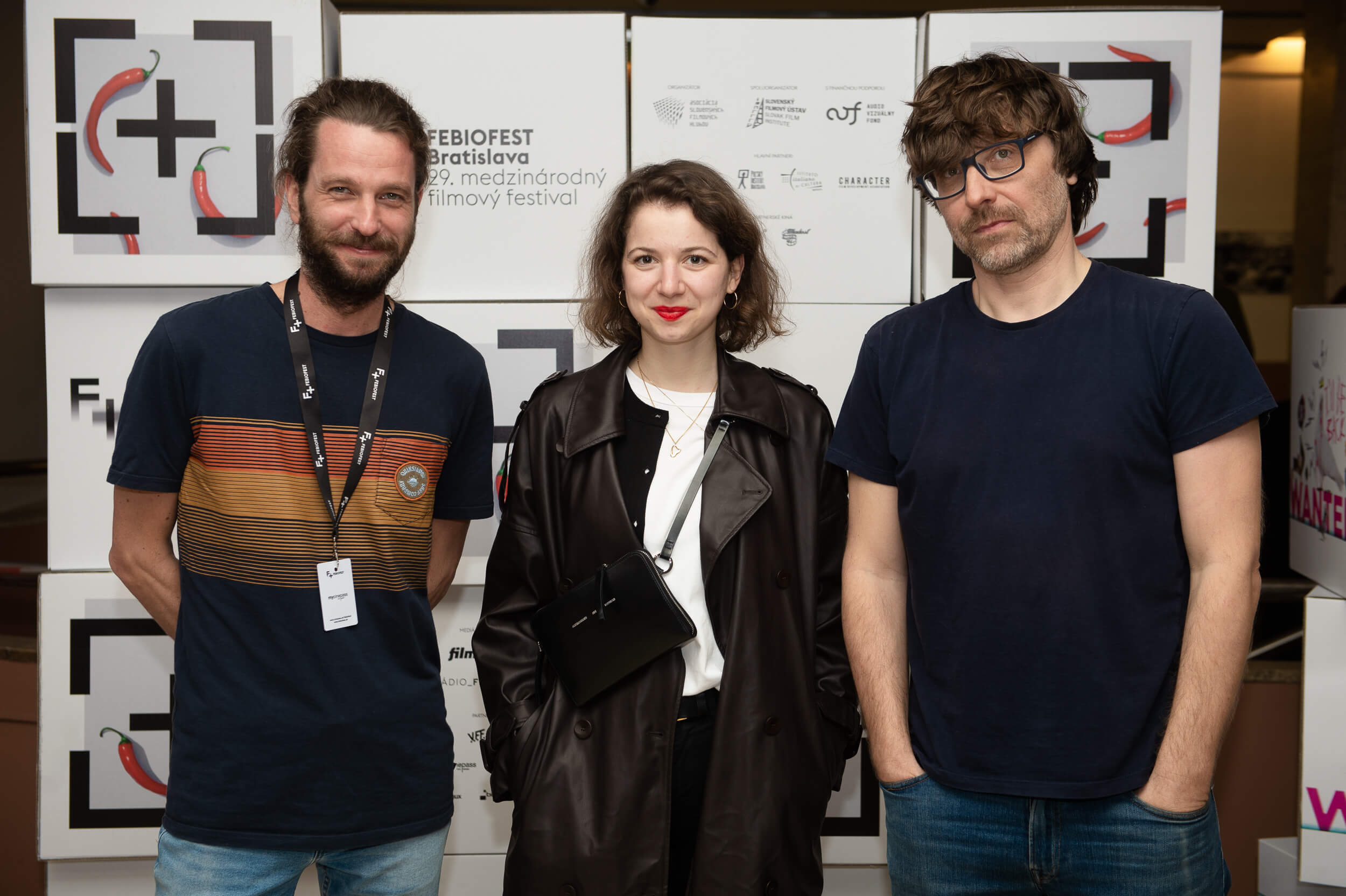 V rámci Bratislava Industry Days sa môže tešiť ešte jeden film. Vďaka partnerstvu s Pop Up Film Residency sa projekt Dvadsaťsedem (r. Gregor Valentovič, prod. Zora Jaurová) zúčastní trojtýždennej filmárskej rezidencie v Budapešti v rámci programu Pop Up Film Residency Visegrad, ktorého zámerom je podpora spolupráce medzi filmármi krajín V4 a ktorého 2. ročník je naplánovaný na máj-jún 2022. Ďalší účastníci programu sú vyberaní v spolupráci s Medzinárodným festivalom krátkych filmov Friss Hús Budapest, Medzinárodným festivalom Karlove Vary a Filmovým festivalom Nowe Horyzonty.
Febiofest sa oficiálne končí dnes, a to filmami, ktoré veľmi trefne (ako ďalšie filmy z programu) reflektujú momentálnu spoločenskú situáciu – francúzsko-český film Cez Hranicu, sledujúci dramatické cesty súrodencov Kyony a jej brata Adriela, ktorí utekajú pred prenasledovaním z bližšie neidentifikovanej východoeurópskej krajiny doplní krátky predfilm Zuza v záhradách, ktorý má za sebou čerstvo premiéru na festivale Berlinale. Po ňom bude nasledovať česko-slovenská koprodukčná snímka Kryštof Zdeňka Jiráského. " Považujem za veľký úspech, že po dvoch rokoch sme mali možnosť festival zorganizovať. Skvelé je aj to, že festivalový tím reagoval na udalosti a zostavil blok venovaný Ukrajine. Najviac si prajem, aby sa ten ďalší, už 30. ročník, Febiofestu budúci rok mohol konečne rozbehnúť naplno ako kedysi – v nepandemickej, nevojnovej situácii, so všetkým čo k nemu patrí," uzatvára prezident festivalu Peter Dubecký.
Zdroj: Febiofest