V sobotu 13. listopadu ve 20:00 bude v prostoru zkušebny divadla MeetFactory uvedena premiéra inscenace Život návod k použití na motivy románu Georgese Pereca. Hostující umělecký tým pod vedením Viktorie Vášové tak naváže na výraznou dramaturgickou linii divadla MeetFactory, zpracovávající současné literárně jedinečné texty.
Perecův román nebyl – navzdory tomu, že je považován za jedno z nejvýznamějších experimentálních děl 20. století – doposud v Čechách nikdy uveden na divadelní scéně.
"Tento román je výjimečný nejen mozaikou silných lidských příběhů, ale hlavně svou formou. Perec se při jeho uspořádávání inspiroval pohybem figurky koně po šachovnici či matematickou strukturou ortogonálních čtverců, pomocí níž si vytvořil síť motivů, s nimiž si v románu hraje. Pro každou kapitolu tímto způsobem vygeneroval seznam předmětů, emocí či barev, které si dal za úkol v dané kapitole použít. To nás inspirovalo k prozkoumávání experimentálních možností scénického jazyka, skrze nějž bychom tento neuvěřitelně hravý svět dokázali zpřítomnit v divadle," říká dramaturgyně představení Kateřina Součková.
Podobně jako v románu je rámcem představení okamžik, kdy přesně 23. června 1975, chvilku před osmou hodinou večer, kdosi pomyslně sejme přední fasádu jednoho velkého činžovního domu a my najednou můžeme vidět do každého z pokojů. Na krátký moment zahlédneme desítky simultánních životů jednotlivých nájemníků. Obyvatelé zastavení uprostřed svého gesta se postupně rozžívají, detaily jednotlivých bytů vystupují do popředí a my se tak dozvídáme o jejich touhách, obsesích či životních cílech.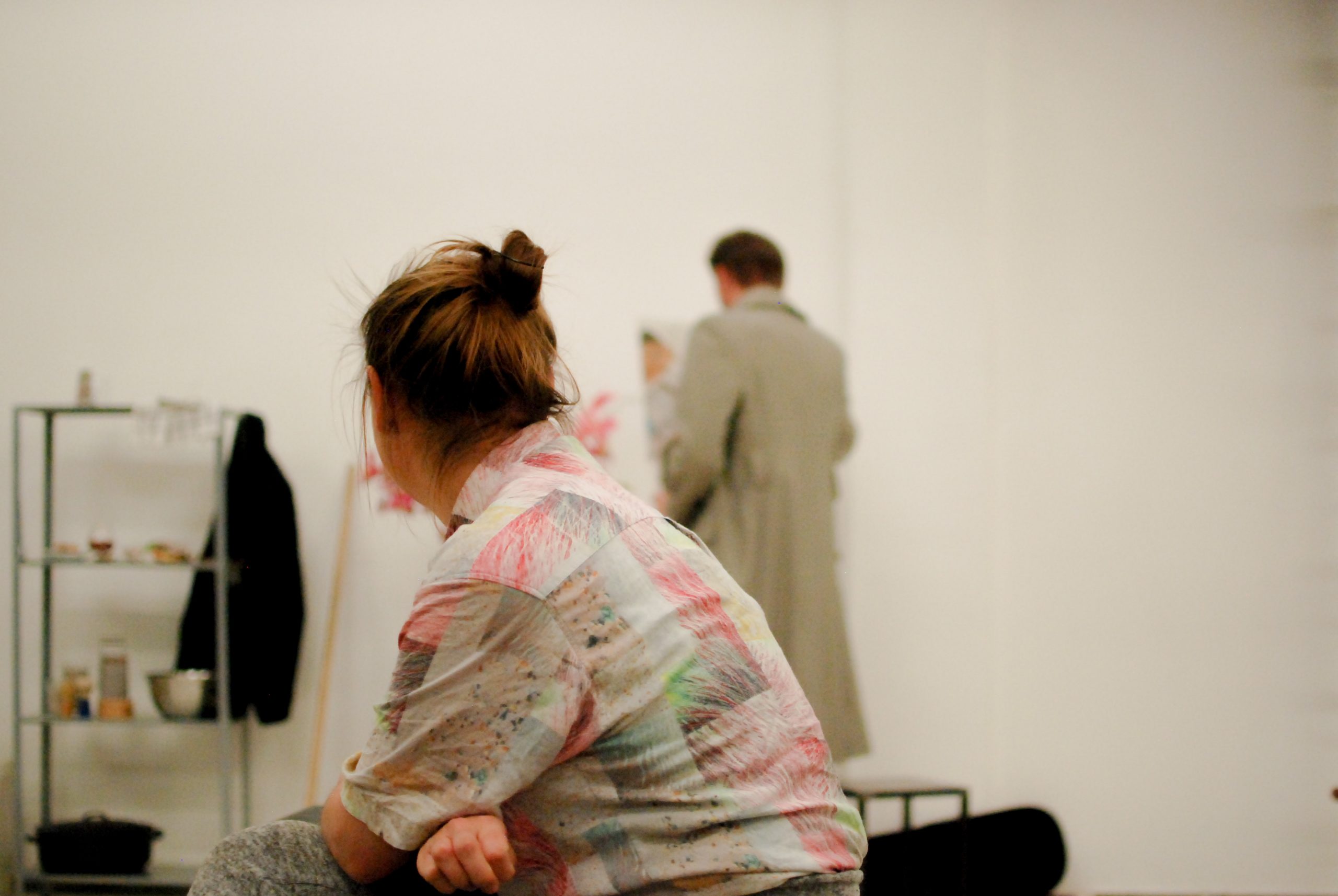 Přestože jsou jednotlivé postavy zcela odlišné, společný život v jednom domě je spojuje víc než bychom si dovedli představit. A střípky jejich příběhů si můžeme začít skládat jako obrovské puzzle.
"Samotný dílek puzzlu nic neznamená. Důležitá je jedině možnost spojit jeden dílek skládačky s dalšími; pouze spojené dílky se stávají čitelnými a získávají smysl." Georges Perec
Režisérka představení Viktorie Vášová říká: "Celé je to o jednom momentu, ve kterém přistihneme všechny obyvatele domu. To je pro divadlo velmi inspirativní – jeden okamžik trvající pár minut můžeme totiž v rámci představení natáhnout klidně na více než hodinu. Skrze tento moment se seznamujeme s ,návody' jednotlivých postav, jak se dá prožít život: od dodržování pravidelného denního rytmu až po vášně, které pohltí všechno. Divák tak může během představení rozjímat o vlastních touhách a životních potřebách."
Scénář inscenace čerpá přímo z Perecova románu v překladu Kateřiny Vinšové, s níž a dalšími hosty se budou moci diváci v rámci doprovodného programu k představení setkat.
Inscenační tým byl sestaven speciálně pro tento projekt. Pro všechny tvůrce je příznačné prozkoumávání nových divadelních principů a možností scénické, výtvarné, literární i hudební práce. Tvůrčí tým je tak složený z režisérky Viktorie Vášové, která dlouhodobě zkoumá vztah mezi divadelními a matematickými principy, čímž navazuje na své studium na Matfyzu, dramaturgyně Kateřiny Součkové, která za svou dosavadní práci obdržela například Cenu divadelních novin (Pomezí, 2016), scénografky Veroniky Svobodové, jejíž činnost byla oceněna mezinárodní cenou Palma Ars Acustica a hudebního skladatele Iana Mikysky.
V hlavních rolích se představí herci Johana Schmidtmajerová, Vojtěch Bartoš a Matěj Šíma.
Život návod k použití
Koncept a scénář: Viktorie Vášová, Kateřina Součková, Veronika Svobodová, Georges Perec
Režie: Viktorie Vášová
Dramaturgie: Kateřina Součková
Scénografie: Veronika Svobodová
Hudba: Ian Mikyska
Produkce a light design: Miriam Čandíková
Hrají: Johana Schmidtmajerová, Matěj Šíma, Vojtěch Bartoš
První repríza představení se uskuteční 15. 11. 2021 na zkušebně divadla MeetFactory a další potom budou následovat 22.11. a 5. 12..
Inscenace vznikla s grantovou podporou Magistrátu hl. m. Prahy, Ministerstva kultury ČR a Státního fondu kultury ČR.
Zdroj: MeetFactory