Britští Dry Cleaning přivezou do Prahy svou nálož hypnotického post-punkového storytellingu, a to rovnou ve formě nového alba a dokonce i nového EP. Druhou řadovou desku Stumpwork vydali vloni v říjnu, EP Swampy je na světě pouhých čtrnáct dní. Naživo zazní novinky této netradiční kapely ve Futurum Music Baru už v sobotu 25. března. Vstupenky za 521 Kč pořídíte na webu Futura a GoOut.cz.
"Druhé album kapely Dry Cleaning není radikálním odklonem od loňské vynikající desky New Long Leg. Florence Shaw má stále tentýž lakonický projev někoho, kdo si nečinně a s kamennou tváří povídá přes plot zahrady. Všechno je ale na novém albu o něco rafinovanější, melodičtější a soustředěnější," píše k desce Stumpwork The Guardian. A s tím nejde nesouhlasit.
Projev zpěvačky Florence Shaw patří k tomu nejzvláštnějšímu, co můžete na punkové hudební scéně slyšet, především proto, že na první poslech na něm nic punkového nenajdete. Když ale pozorně vnímáte jednotlivé texty a necháte na sebe působit hudbu, do které Shaw vypráví, rázem pochopíte, proč Dry Cleaning do tohoto žánru patří. A už jen kvůli specifické práci se zpěvem, stojí za to si Stumpwork poslechnout.
A nejen Stumpwork. Ani ne pět měsíců po vydání druhého studiového alba přišli Dry Cleaning ještě s jednou novinkou a tou je EP Swampy, na kterém jsou dva singly, dva remixy a závěrem taky jedna demo nahrávka. Bonusové tracky vznikly během práce na druhé desce a skvěle ji doplňují.
Dry Cleaning se od vydání debutu rozhodně činili a EP Swampy, deska Stumpwork a i turné, které právě teď kapela jede, sbírají jednu pozitivní recenzi za druhou. Přijďte se přesvědčit, že právem.
Futurum Music Bar & D Smack U Promotion uvádějí
Dry Cleaning / UK
support: Dead Finks
25. 3. 2023, doors 20:00
Futurum Music Bar, Praha
FB událost: https://www.facebook.com/events/349908857261444/
Ticket link: https://futurum.musicbar.cz/program/dry-cleaning-uk/
www.dsmacku.com
www.facebook.com/dsmackupromotion
https://futurum.musicbar.cz/
https://www.facebook.com/futurum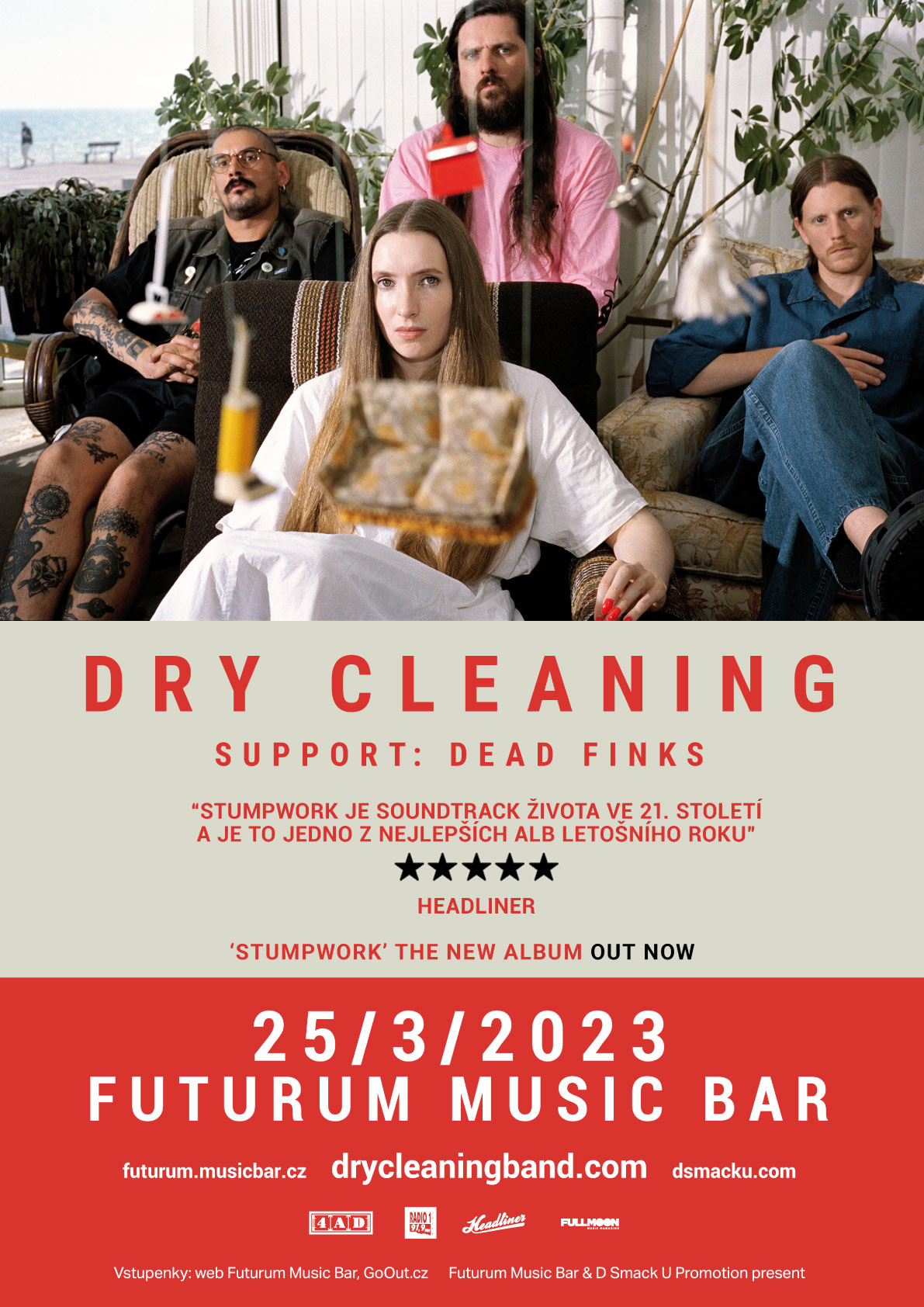 Zdroj: TS