Rýchle dobrodružstvo na veľkom plátne odštartuje piatu fázu filmov
é

ho sveta Marvelu. Je pln

é

akcie a humoru, na čo sú milovníci MCU zvyknutí. Fanúšikov neprekvapí, že ako všetky filmy o Ant-Manovi, aj tento bude o rodine. Ant-Man a Wasp: Quantumania prichádza do slovenský

ch k

ín už 16. februá

ra.
"V Quantumanii prehlubujeme a komplikujeme rodinnú dynamiku a zároveň maľujeme na oveľa väčšie plátno. V prvých dvoch filmoch sme sa do Qunatumanie ponorili, tentokrát sme chceli dať filmu úplne iný náboj. Je to epický zážitok," povedal režisér Peyton Reed.
Vo filme Ant-Man a Wasp: Quantumania, ktorý oficiálne odštartuje piatu fázu Marvel Cinematic Universe, sa superhrdinovia a partneri Scott Lang (Paul Rudd) a Hope Van Dyne (Evangeline Lilly) vrátia, aby pokračovali vo svojich dobrodružstvách ako Ant-Man a Wasp. Spolu s Hopeinými rodičmi Hankom Pymom (Michael Douglas) a Janet Van Dyneovou (Michelle Pfeiffer) sa ocitnú na prieskume Quantum Realm, v kontakte s novými podivnými tvormi a vydávajú sa na dobrodružstvo, ktoré ich posunie za hranice toho, čo si mysleli, že je možné.
V stávke je veľa, hovorí Reed: "Ant-Man a Wasp: Qantumania pripravuje pôdu pre niekoľko nasledujúcich filmov. To bolo pre mňa nesmierne vzrušujúce. Vytvorenie Kvantovej ríše – to je ultimátny akt stvorenia sveta. Ide o to, že do nej idú ešte ďalej, než sme videli v predchádzajúcich filmoch. Museli sme vytvoriť nielen vzhľad týchto miest a civilizácií, museli sme vytvoriť vnútornú logiku a históriu, a potom ich zaľudniť všetkými týmito bytosťami a štruktúrami."
Podľa producenta Stephena Broussarda príbeh zavedie existujúce postavy do nového terénu, kde sa stretnú s množstvom neznámych tvárí – niektoré budú priateľské, iné nie. "Ant-Man a Wasp: Quantumania ponúka množstvo motívov," hovorí Broussard, "V prvom rade je to rodinné dobrodružstvo. Je to príbeh rodiny superhrdinov, ktorí sú v podstate vtiahnutí do dobrodružstva v Kvantovej ríši, a v rámci toho sa stáva epickým vojnovým sci-fi filmom a príbehom o dospievaní."
Peyton Reed, ktorý sa vracia k réžii nového dobrodružstva po tom, čo režíroval predchádzajúce dva filmy z radu Ant-Man, pozná osvedčené postavy do detailov. Chcel ich však posunúť do nových hĺbok a zároveň zachovať ich základné rodinné hodnoty. "Scottova dcéra Cassie Langová má teraz 18 rokov," hovorí Reed, "a vzťah Scotta a Cassie bol vždy kľúčovou súčasťou filmov o Ant-Manovi. Jeho najväčšou motiváciou v živote je byť dobrým otcom svojej dcéry, ale udalosti mu bránili tráviť s ňou čas. V tomto filme Scott trochu bojuje, pretože má ku Cassie stále vzťah ako k dieťaťu, ale ona je už takmer dospelá. A je idealistka. Má svoje vlastné predstavy o tom, ako viesť svoj život, čo vytvára naozaj skvelé dramatické a komediálne napätie."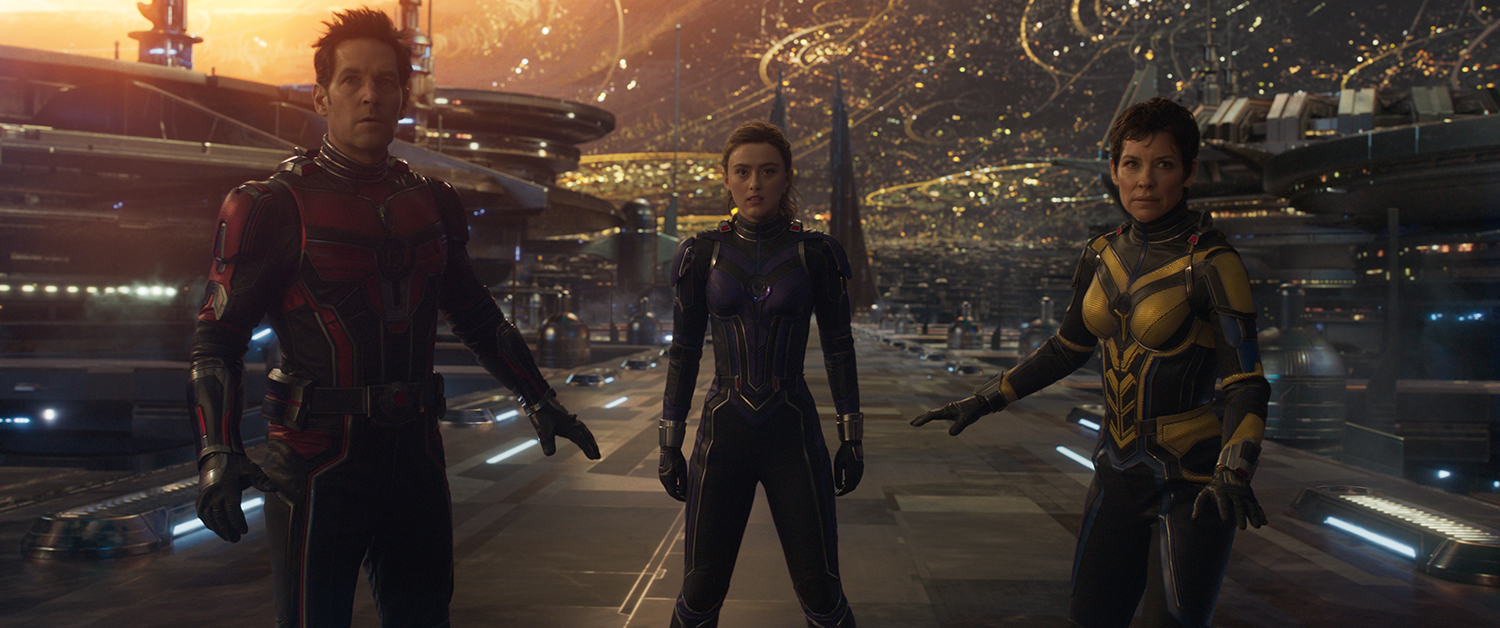 Okrem napätia v rodine tu však bude aj napätie a akcia aj mimo rodinného sveta. "Jednou z vecí, ktoré sú na tomto filme Ant-Man v porovnaní s ostatnými dvomi jedinečné, je jeho rozsah, veľkosť. Zloduch v tomto filme predstavuje väčšiu hrozbu, než sme kedy predtým videli," povedal Paul Rudd narážajúc na postavu Kanga, ktorého si zahral Jonathan Majors. Paul si nakrúcanie veľmi užíva, a to už neuveriteľných takmer 10 rokov. "Je to neuveriteľná vec, ktorej som súčasťou," hovorí s vďakou, "Bol som v mnohých krajinách, do ktorých by som sa nikdy nedostal. Môžem propagovať filmy, navštevovať miesta a stretávať veľa ľudí. Byť súčasťou série, ktorú si obľúbilo toľko ľudí na celom svete je naozaj skvelé a veľmi si užívam, že som toho súčasťou."
Novú marvelovku Ant-Man a Wasp: Quantumania prináša do slovenských kín distribučná spoločnosť CinemArt SK už 16. februára.