Už tento týždeň sa naše hlavné mesto opäť zaodeje do jazzového šatu. Tento rok sa môžeme tešiť až na dva koncerty, oba sa odohrajú v priesoroch Ateliéru Babylon v centre meste. Už dnes, 15.apríla, sa môžeme tešiť na londýnskeho Alfa Mista, ktorý patrí medzi najväčšie hviezdy súčasného jazzu.
Tento megatalentovaný multižánrový inštrumentalista začínal ako producent hiphopu a grime. Pri hľadaní inšpirácie narazil na nahrávky Milesa Davisa a Hansa Zimmera a zmenil smer: začal študovať hru na klavír, ponoril sa do jazzu. Jeho unikátny zvuk spája filmovo nadýchaný jazz s alternatívnym hip-hopom, soulom, a atmosférickou filmovou hudbou.
Alfa Mist považuje za svoje veľké vzory mená ako Robert Glasper, Avishai Cohen či Herbie Hancock. Jeho album Antiphon kritici opísali ako modernú, kompletnú esenciu jazzu. Skladby zabodovali aj u fanúšikov, album má na YouTube viac ako 5 miliónov vzhliadnutí, čo je pre jazzového hudobníka obrovský úspech.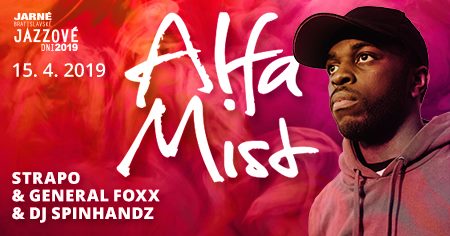 V Bratislave bude Alfa Mist, ktorý bude hrať na klávesách, koncertovať so štvorčlennou kapelou. Sprevádzať ho bude Kaya Thomas – Dyke na basgitare, Jamie Leeming na gitare, John Woodham na trúbke a na bicích to bude Peter Adam Hill.
V Bratislave bude mať svoju slovenskú koncertnú premiéru, vstupenky sú v predaji v sieti Ticketportal.
Dnešný koncert bude mať ale aj slovenské zastúpenie. Alfa Mistovi bude predskakovať raper Strapo, ktorý sa na jazzákoch sa predstaví s kapelou General Foxx, s ktorou má už za sebou niekoľko koncertov. Kapelu tvoria mladí kvalitní hudobníci – Martin Majlo Štefánik na klávesách, Jozef Madola na basgitare a bubeník Adrián Líška. Aprílový koncert na Jarných Bratislavských jazzových dňoch bude špeciálny aj pre Strapa: "Príležitosť hrať na jazzových dňoch beriem ako odmenu a zároveň výzvu, ktorá ma inšpiruje k tomu, aby som sa nastavil trochu inak. Chcem to celé posunúť tam, kde som chcel vždy. Chcem robiť hudbu."
Tým sa ale tohrotročná bratislavská jazzová nádielka nekončí. O tom, že tento ročník bude jeden z výnimočných, svedčí fakt, že do nášho hlavného mesta ohlásil návrat famózny hudobník Stanley Clark. Tento americký kontrabasista a basgitarista vystúpi budúci štvrtok 25. apríla taktiež v Ateliéri Babylon. Staršie ročníky si určite budú pamätať jeho dnes už jedno z legendárnych vystúpení v rámci bratislavských jazzových dní v roku 1985. V tej dobe sa stal prvou veľkou hviezdou zo zahraničia, ktorý sa predstavil v našich končinách. Predskakovať mu bude mladá džezová krv zo Slovenska, duo Kristína Mihaľová a Jakub Šedivý. Jedna zo spoluorgnizátoriek minifestivalu, Katka Lipová dodáva: "Džezové dni sa už niekoľko posledných rokov snažia dať priestor a prezentovať aj mladších umelcov, či už slovenských interpretov alebo aj zahraničných, z ktorých mnohí už vyrástli na veľké hviezdy, ako Cory Henry, Jacob Collier či Kinga Głyk. Zároveň tohrotorčné jarné džezáky budú džez prepájať s rôznymy žánrami".
Presne týmto prepojením je vyššie spomínaný Alfa Mist a takisto aj jeho predskokan Strapo. Strapo je ako raper predstaviteľom hiphopu, na svojich bežných koncertoch ho zvykne doprevádzať iba DJ. Dnešný koncert bude mať vďaka kapele General Foxx silno džezové aranžmá. Takisto Alfa Mist si podmamil hudobnú scénu práve prepojením hip hopu a džežu, čo sa niekomu môžu zdať ako dva diametrálne rozdielne žánre a ich skalní fanúšikovia si nevedia ich prepojenie predstaviť. O tom, že v skutočnosti majú k sebe mať oveľa bližšie, sa môžte presvedčiť už dnes večer o siedmej večer v bratislavskom Ateliéri Babylon.
Tamara Zatkova