Festival Dotyky a spojenia sa tohto roku presúva z júna na jeseň, 16. ročník sa skutoční od 6. do 12. septembra 2021. Prioritou pre organizátorov je usporiadať bezpečný festival, a to nielen pre divákov, ale aj pre účinkujúcich a všetkých ľudí v zákulisí a štábe festivalu. Vzhľadom na neistotu sú pripravení improvizovať a flexibilne reagovať. Festival sa vlani z dôvodov pandémie neuskutočnil, preto dramaturgia aktuálneho ročníka spojí v programe dve sezóny (2019/2020 a 2020/2021), čo bude po prvý raz v jeho histórii.
Dotyky a spojenia sú výberovou, nesúťažnou prehliadkou inscenácií slovenských divadiel, hlavným organizátorom je Slovenské komorné divadlo Martin (SKD).
"Festival vnímame ako možnosť podporiť divadlá, ktoré sa na ňom zúčastňujú. Nemyslím len finančnú podporu, ale vytvorenie priestoru na prezentáciu živého umenia. Urobíme všetko preto, aby sme uviedli festivalové inscenácie pred živým publikom. Online prenosy považujeme len za krajné riešenie a budeme o nich uvažovať, ak sa veľmi zhorší epidemická situácia a neumožní nám hrať naživo," povedala programová riaditeľka festivalu Monika Michnová.
Organizátori dúfajú, že v septembri bude epidemická situácia na Slovensku lepšia a budú zaočkovaní všetci, ktorí o to prejavia záujem. V každom prípade je pre nich samozrejmé dodržiavať všetky opatrenia, ktoré budú v danej chvíli platné. "Nikto z nás nevie, aký bude september a či sa práve vtedy cez krajinu neprevalí ďalšia vlna pandémie. To pre nás organizátorov znamená, že musíme viac než inokedy byť pripravení improvizovať a flexibilne zareagovať na prípadné zmeny, ktoré prinesie situácia v danom momente. Sme naladení optimisticky a pripravení riešiť všetky problémy, ktoré sa vyskytnú," dodala Monika Michnová.
Festival sa v roku 2020 neuskutočnil, čo bolo po prvý raz v jeho histórii. Pripravovaný 16. ročník preto z pohľadu dramaturgie spojí dve sezóny (2019/2020 a 2020/2021), čo bude taktiež po prvý raz. Členmi/členkami dramaturgickej rady festivalu, ktorá zostavuje Hlavný program sú: divadelní kritici Barbora Forkovičová, Martina Mašlárová, Milo Juráni a dramaturgovia martinského divadla: Monika Michnová, Róbert Mankovecký. Program pre deti a mladých divákov/diváčky zostavila divadelná kritička Lenka Dzadíková. Dramaturgická rada vybrala inscenácie, ktoré považuje za najviac inšpiratívne. "Pri výbere sme rovnocenne posudzovali inscenácie, ktoré mali premiéru naživo a tie, ktorých premiéra sa konala online. Nerobili sme medzi nimi rozdiel, hoci vnímanie divadelnej inscenácie naživo a cez obrazovku je odlišné," spresnila Monika Michnová.
SKD Martin ako hlavný organizátor prestížneho divadelného festivalu na Slovensku má za sebou úspešných 15 ročníkov. Ide o najväčšiu prehliadku inscenácií uplynulej divadelnej sezóny. V roku 2019 ju navštívilo 13 482 divákov.
Dôležitou súčasťou programu festivalu sú aj diskusie o divadle, ktoré majú poskytnúť tvorcom/tvorkyniam spätnú väzbu a pomenovať stav, v ktorom sa súčasné divadlo na Slovensku aktuálne nachádza. Martin sa tak daným konceptom festivalu stával vždy na konci sezóny hlavným mestom divadla na Slovensku. Okrem zmeneného termínu by ním mal zostať aj v aktuálnom roku.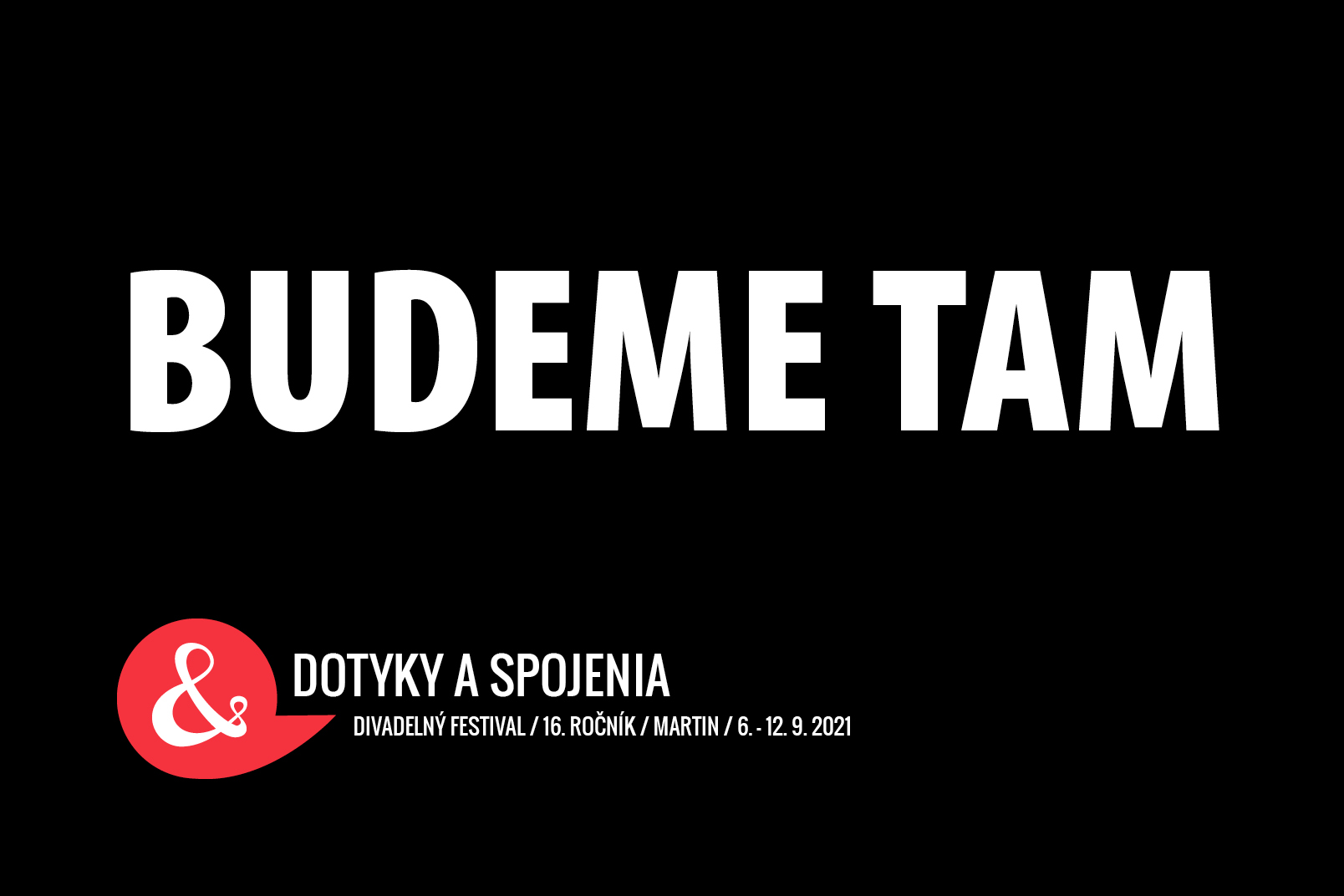 Zdroj: Zuzana Golianová, Mediálna podpora festivalu Dotyky a spojenia