Desať rokov patrí druhý augustový víkend v našom kalendári do krúžku v tvare hrozna. Desať rokov pozorujeme, ako malý piešťanský festival s veľkou víziou vyrástol do dnešnej podoby podujatia, ktoré kvalitou konkuruje nejednému zahraničnému. Desiaty ročník festivalu Grape festivalu opäť patril k tomu najlepšiemu, čo slovenská festivalová sezóna ponúka.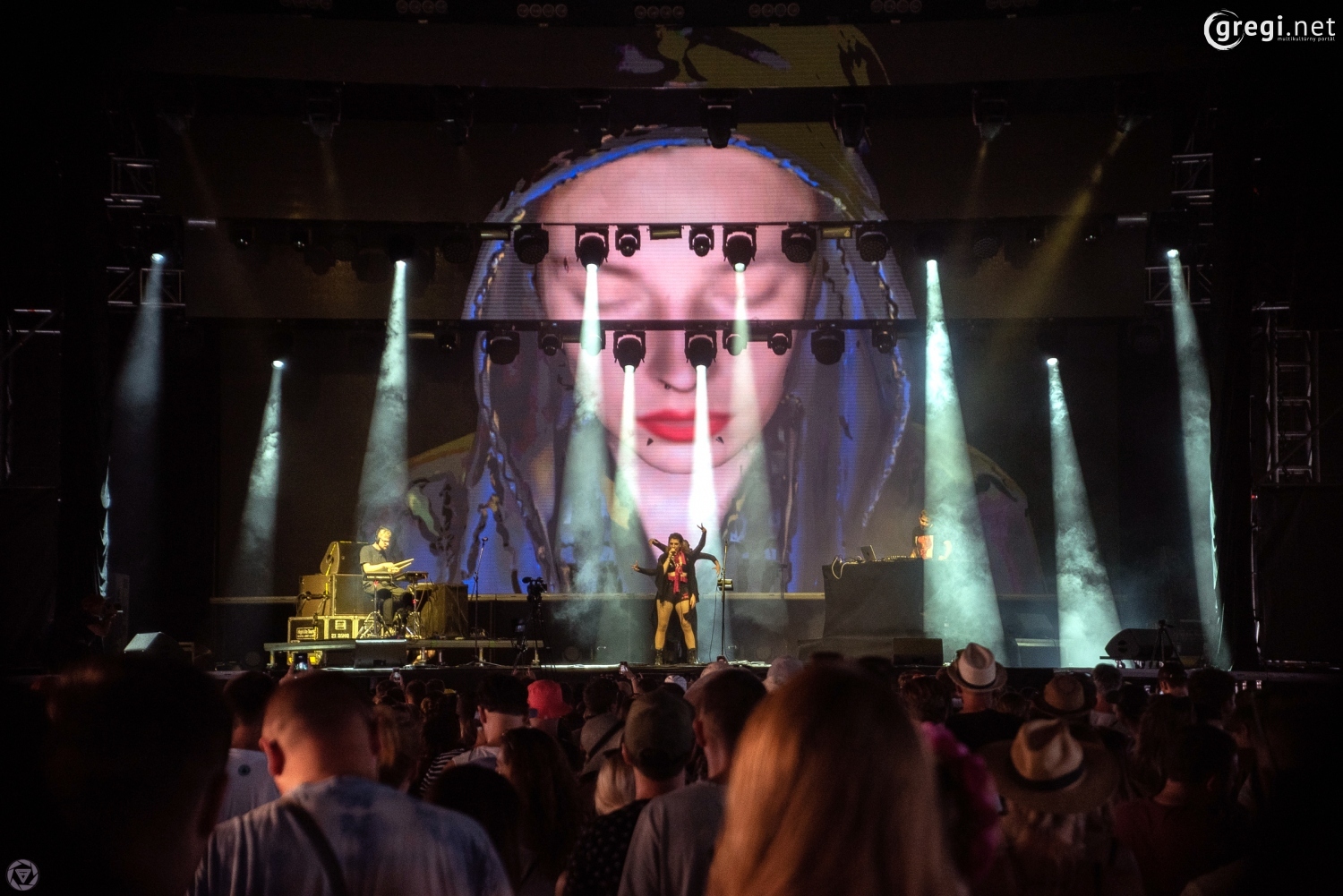 Hudobne sa festival orientuje už od svojho počiatku na indie rock a elektroniku. Tento rok to vyšlo hlavne po stránke tej elektronickej hudby. Z indie kapiel musíme vyzdvihnúť piatkový koncert škótskej formácie Chvrches, inak ale nás ale výnimočne neohúril žiadny ďalší zástupca tohto žánru. Elektronika bola naopak skvelá po všetkých stránkach. Jon Hopkins v sobotu na hlavnom pódiu predviedol fantastickú elektronicko vizuálnu šou a potvrdil, že sme sa na jeho vystúpenie netešili márne. Na pódiu ho doplnili dve dievčiny s akýmisi svetelnýmu signalizačnými zariadeniami, čo tomu dodalo ten správny šmrnc. Škoda len, že ľudí, ktorí sa prišli pozrieť na jeho šou bolo asi o dve tretiny menej, ako na koncerte pred ním vystupujúcou Švédky Tove Lo. K jej vystúpeniu len toľko, že nám vôbec nevadilo, keď kvôli predošlej búrke bolo skrátene len na niečo čosi vyše pol hodiny. Za čas stihla odspievať všetky svoje hity a ukázať, čo má pod tričkom. Tento koncert bol asi to najhoršie, čo sme v desatročnej histórii festivalu videli a doteraz celkom nechápeme jej zaradenie do programu. Poďme ale späť k tým vydareným veciam, sobotňajší set drum and bassového kráľa Andyho C patril naopak k tomu najlepšiemu, čo sa dalo na celom festivale vidieť a zimomriavky z toho máme doteraz. Takisto Rudimental predviedli energiou nabitý koncert, ktorý roztancoval každého, kto sa prišiel vyskákať nielen na ich najväčšie hity. Ani domáci zástupcovia sa ale nedali zahanbiť. Iba Pišta Kráľovič aka FVLCRVM si môže dovoliť zahrať tracky od Spice Girls či Asereje bez toho, aby sa ľudia pobrali kade ľahšie. Navrátilec z potuliek Áziou Jimmy Pé uzavrel v nedeľu nadránom Orange stage ničím iným ako večnými Queen. Sobotné ráno zas patrilo 365.bank stageu, ktorý ovládli Galagha a Toky, spať sa išlo až niekedy po siedmej. Tak, ako organizátori sľubovali, tento stage sa počas dvoch dní a dvoch nocí takmer nevypol a dunel počas celého festivalu. Zamrzel akurát fakt, že po minuloročnom krásnom tvare medúzy stage nadobudol jednoduchšie kontúry. Soundsystem napriek tomu zostal rovnako premakaný a zvuk na ňom bol naozaj výborný. Obrovské masy, ktoré prilákali domáce kapely Billy Barman a Para na hlavnom pódiu svedčia o tom, že nikomu nevadí ich každoročné opakovanie a stali sa akýmisi festivalovými klasikami. Vystúpenie Pary prilákalo naozaj obrovský dav, ktorý s nimi poctivo odspieval už zľudovené skladby. Barmani odohrali svoj koncert premiérovo na hlavnom pódiu a publiku predstavili svoj nový singel Červená armáda. K tomu sa viazal aj akési pohyblivý performance v podobe skupiny ľudí oblečenej v červenom, ktorá sa počas celého festivalu pohybovala po areáli. Nápad to nebol úplne zlý, bojíme sa však, že nie každý pochopil, o čo sa jedná. Na pódiu ich na chvíľku doplnil aj bratislavký raper Gleb, ktorý nás tak navnadil na jeho vlastné vystúpenie. Z domácich umelcov okrem vyššie spomenutých potešili symaptickí pankáči z Vydrapenej bužírky a naopak zamrzel zrušený koncert kapely Autumnist, ktorý sa ako jeden z mála neuskutočnil kvôli búrke.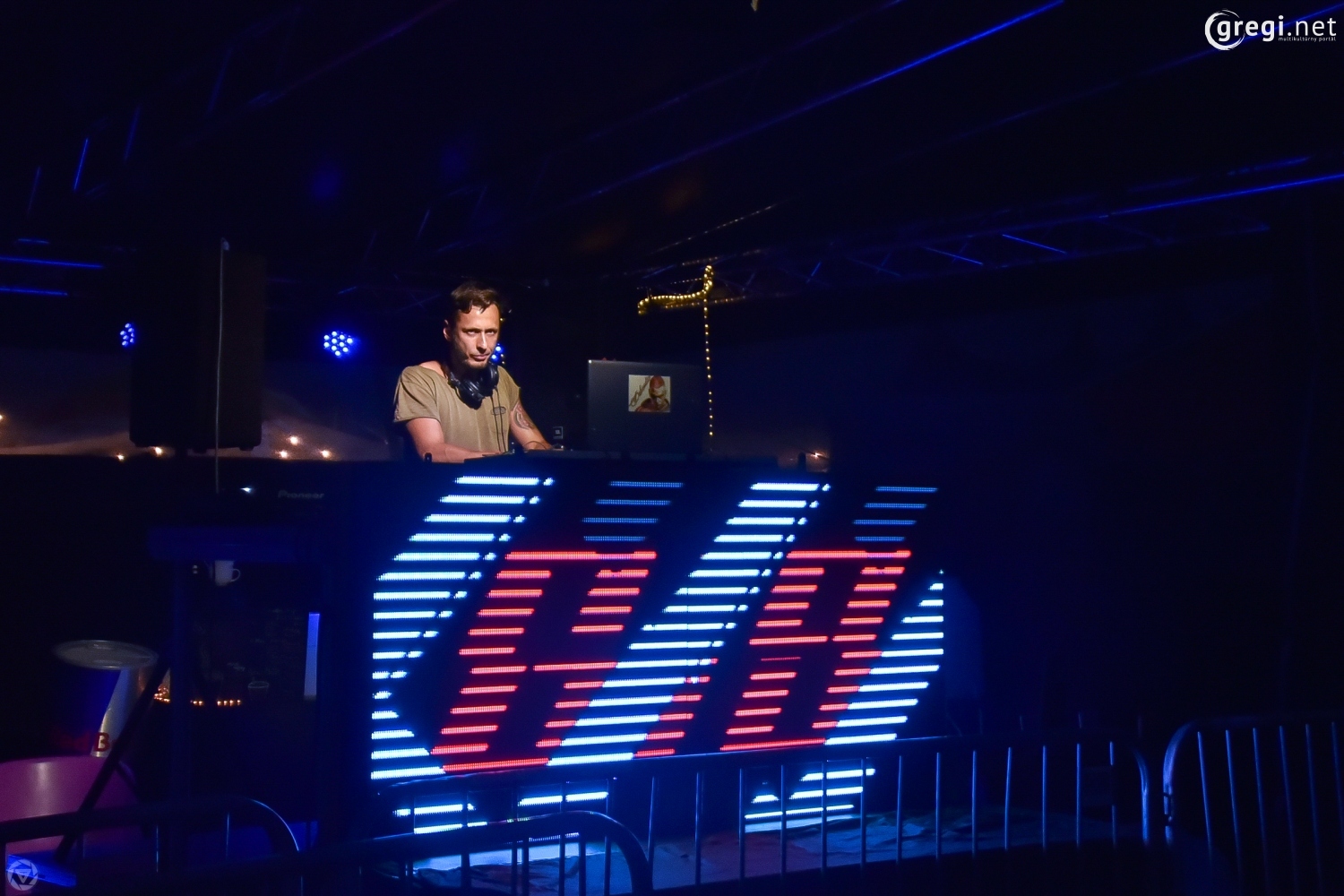 Apropo, počasie. Veľká téma tohto festivalu, aj samotní usporiadatelia priznali, že za tých desať rokov sa z nich už stali poloprofesionálni meteorológovia. V minulosti mali nepriaznivé poveternostné podmienky na festivale viackrát vážne následky, dokonca sa kvôli bezpečnosti museli organizátori poddať a festival ukončiť predčasne. Tento rok sa ale rozhodli nad týmto faktom posumiať a celá tohtoročná téma bola búrková. Celý vizuál bol postavený na interpretoch poobliekaných do prišiplášťov a aj pri vchode do areálu ste sa mohli započúvať do reprodukovaných zvukov hromov a bleskov. Stanové mestečko, ktoré každý rok mení formu, bolo tento rok vyskladané do tvare kvapiek. Pekné to síce bolo, ale v praxi bolo nesmierne neprehľadné a nejeden návštevník mal problém nájsť v tomto bludisku svoj stan. Počas soboty to ale vyzeralo, že počasie si tento signál vysvetlilo po svojom a rozhodlo sa nás tentokrát vysmiať opačným trápením. Ostré slnko a teplota okolo tridsaťpäť stupňov premenili počas dňa piešťanské letisko na peklo, v ktorom sa každý snažil nájsť svoj kúsok tieňa. To uškodilo hlavne slávnostnému obedu na pravé poludnie, ktorý bol pripravený pre vybraných 100 návštevnikov a inak by bol určite príjemnou záležitosťou. Takisto svoje opodstatnenie stratil nepremokavý dresscode. Ale to všetko sa zmenilo podvečer. Už by to asi ani nebol Grape, keby sa búrkové divadlo neobjavilo aspoň na chvíľu. Počas mimoriadne príjemného koncertu Pudingáčov sa začali v diaľke ozývať hromy a spustil sa lejak. Po sparnom dni to bolo vítané osvieženie a návštevníci, ktorí vedia ako to na Grape chodi, si to patrične užívali. Našťastie to všetko prehrmelo veľmi rýchlo a úpravy zmeny programu boli minimálne.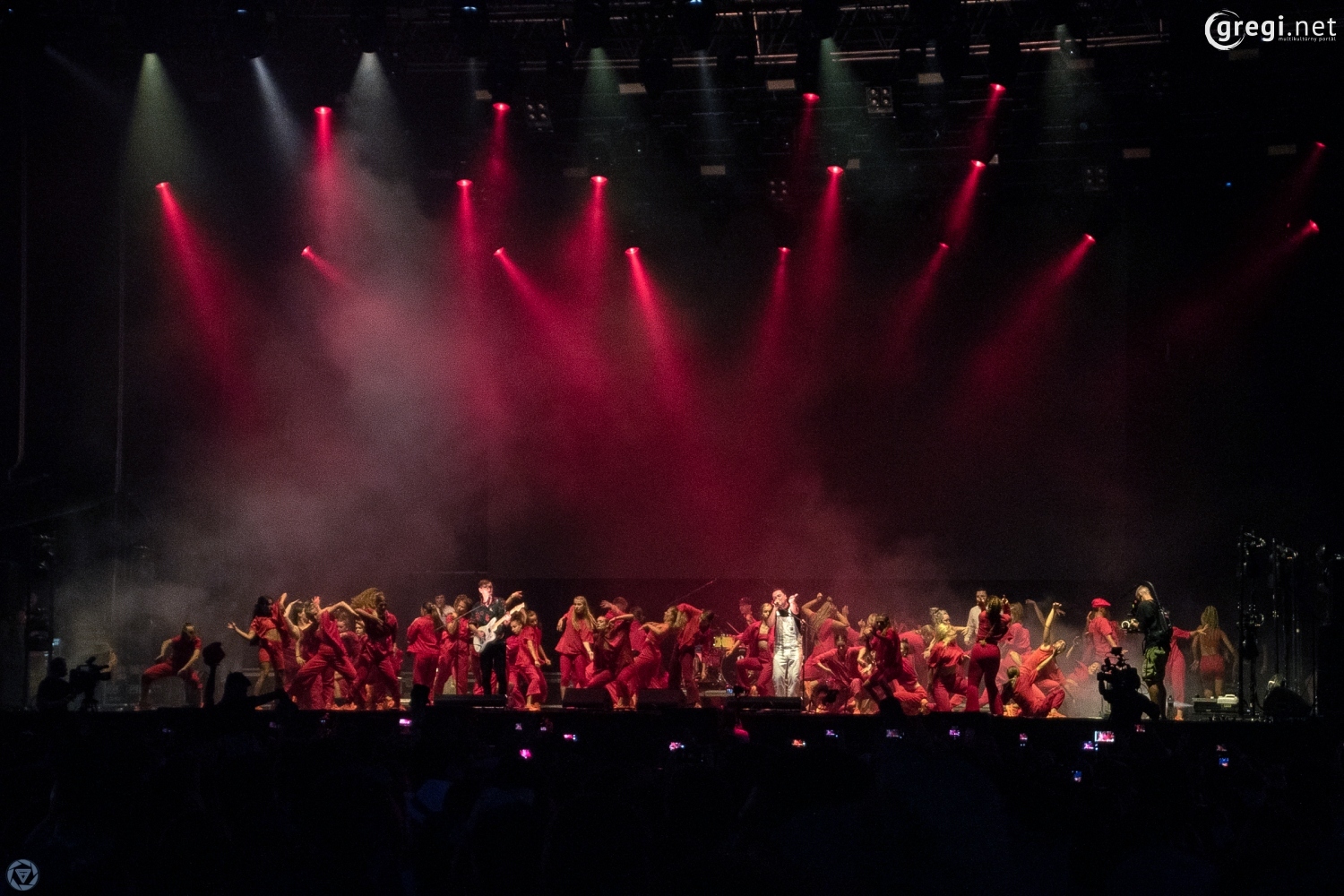 Výnimočným robí Grape aj fakt, že okrem kvalitnej hudby na stálych pódiach prináša každý rok niečo navyše. Minulý rok to bol už spomenutý tanečný stage v tvare medúzy, tento rok sme mali možnosť na vlastnej koži zisitiť, ako to asi vyzerá v očistci. Festivalový Očistec mal formu exkluzívneho mini stageu, v ktorom mohli festivaloví hriešnici nájsť vykúpenie. Vstup naň bol limitovaný a vystúpenia síce krátke, o to ale zaujímavejšie. Takisto máme veľmi radi tradíciu tajných koncertov, my sme si nemohli nechať ujsť ten Hafnerov.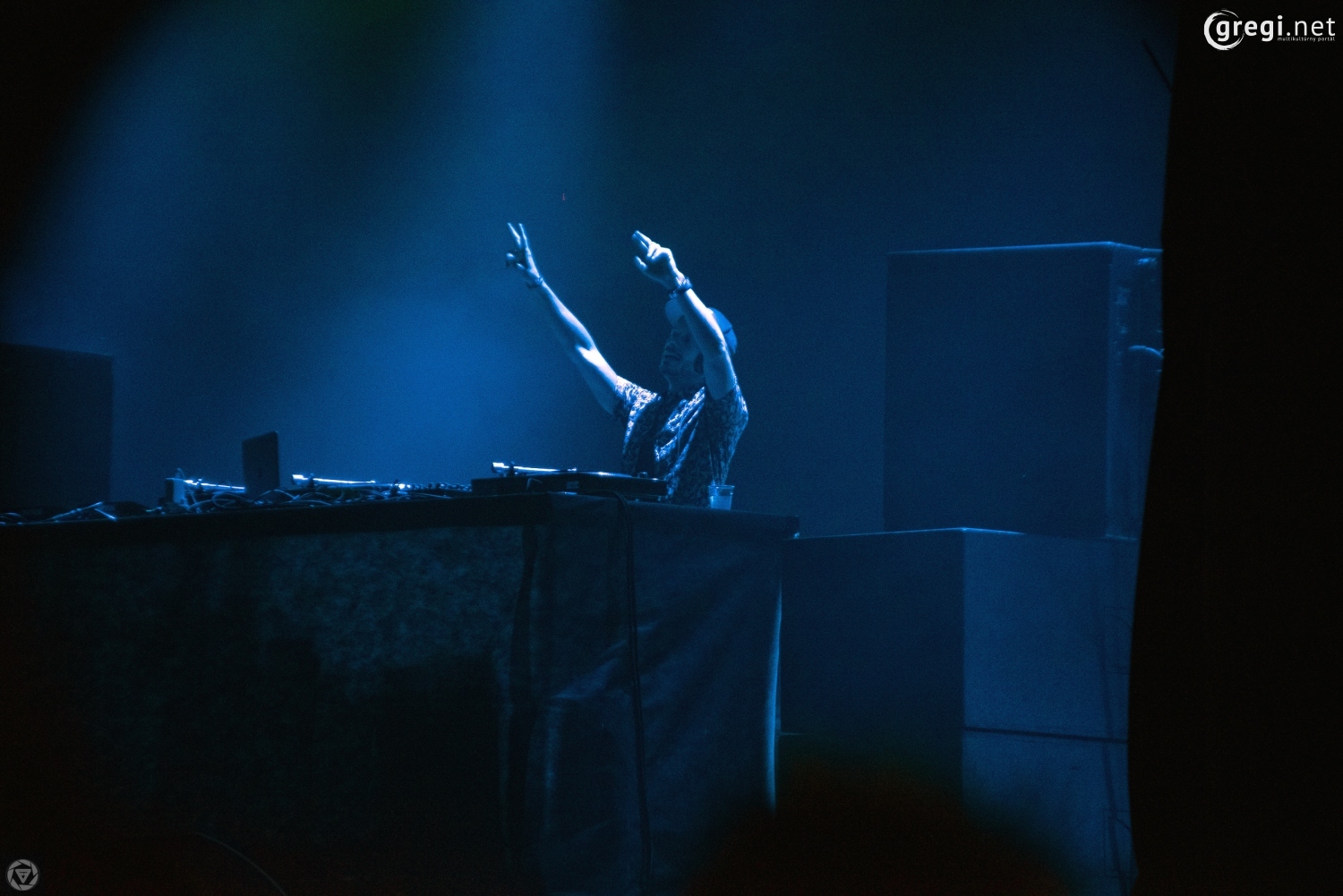 Festival Grape rastie každý rok nielen kvalitou, ale aj kapacitne. Tento rok sa organizátori aj vďaka novej metóde očipovaných náramkov mohli pochváliť návštevnosťou niekde okolo dvadsaťpäť tisíc ľudí. Pokiaľ ale chce festival rásť aj naďalej, radi by sme pripomenuli, že netreba zanedbať aj hygenické podmienky, ktoré sa mi tento rok nezdali zvládnuté na sto percent a pamätáme si aj čistejšie ročníky. Otázkou zostáva aj miesto konania, piešťanské letisko totiž tento rok funguje v komerčnej prevádzke a usporiadateľov stálo určite veľa síl(a peňazí), aby tu sa tu desiaty ročník mohol konať. Uvidíme, ako si poradia s týmto problémom do budúcnosti.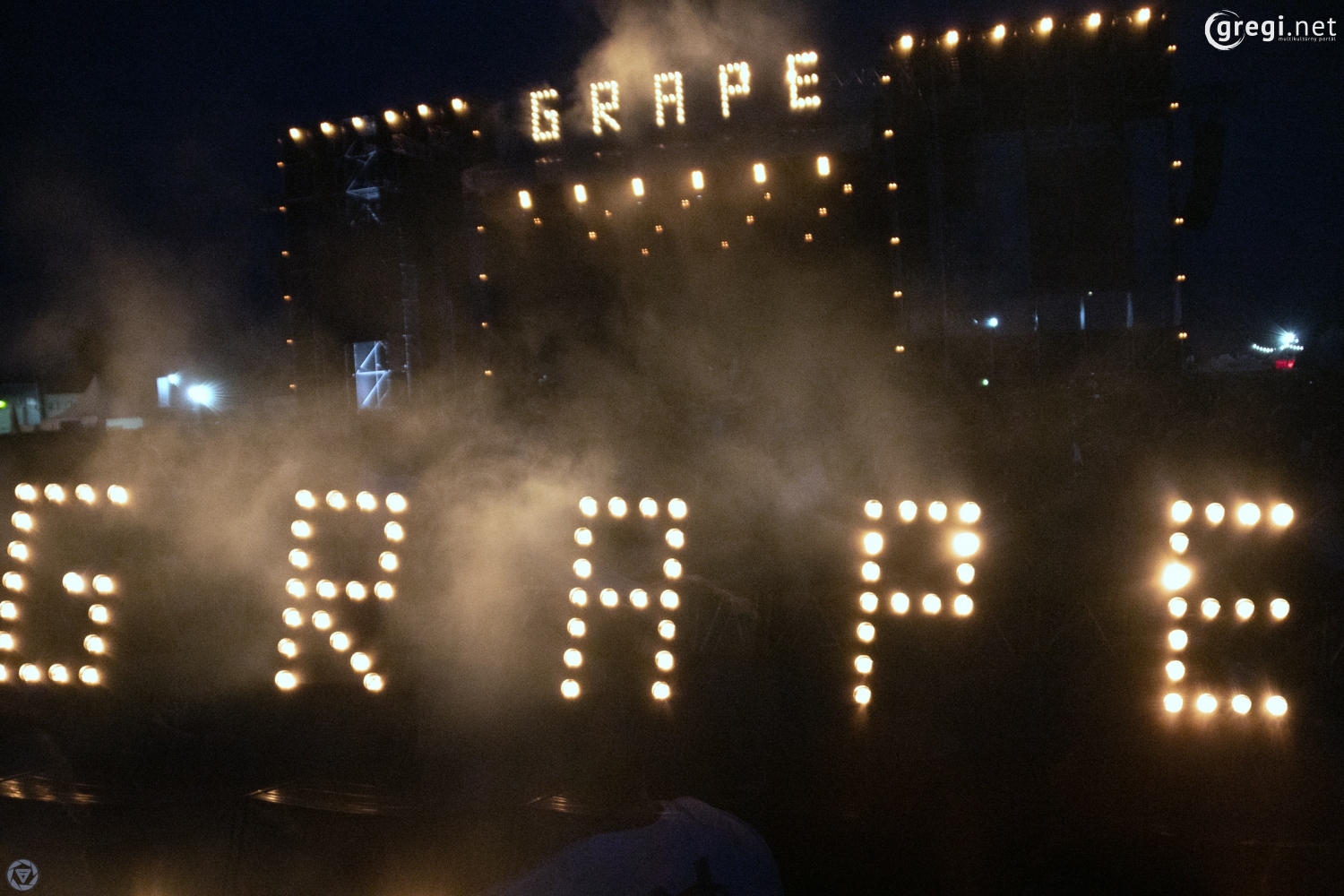 Každý rok riešime dilemu, či si v tomto termíne neodskočíme do neďalekej Budapešti na hviezdami preplnený Sziget a každý rok Grape vyhrá na celej čiare. Tento rok opäť ukázal svoje kvality a my sme tu strávili fantastické dva dni. Už teraz rátame dni do budúceho ročníka a tešíme sa, aké novinky si pre nás nachystá.
Tamara Zaťková
Foto: Michal Dzubina – Floe Fotography