Tak začína jedna z piesní Hudobného telesa PRAKTIKÁBEL. Mnohí z vás sa o tomto telese teraz dopočuli po prvýkrát. A oni už aj končia kariéru…
Hudobné teleso PRAKTIKÁBEL vzniklo 10. marca 2016 a za skoro tri roky stihli odohrať desiatky koncertov. Väčšinu v rámci Hudobno-literárnych večerov vo FLAME Music Bar-e, kde práve 10. marca odohrali svoj prvý koncert. Témou večera bol Dadaizmus a Surrealizmus. Piesne, ktoré PRAKTIKÁBEL vtedy odohral, boli tiež tak trochu dadaistické. Presne tak, ako celá ich tvorba. Ich repertoár je naozaj pestrý, od folku, cez acapelly až po scénické dačo, čo ani sami členovia nevedia pomenovať. Okrem toho robili predskokana progresívnej kapele zo Senice zvanej Tusté Baletky a v roku 2017 odohrali aj narodeninový koncert, ktorý sa tešil z plného klubu. Ale nezaujímavé historické okolnosti bokom.
Za dva roky fungovania nenahrali jedinú pesničku v štúdiu. Dokonca svetlo sveta neuzrel ani videoklip. "Nesilili sme to. Aj keď polovica našich piesní by si určite zaslúžila vizuál, rozhodli sme sa ostať pod zemou." povedal člen zoskupenia Matej Feldbauer.
5. decembra toto teleso odohrá svoj posledný koncert. Členovia PRAKTIKÁBLU sľubujú večer plný zábavy a podivností, na ktoré sme v ich tvorbe zvyknutí. Podaktorí. "Nie je to marketingový ťah, ako napríklad jedna postaršia kapela, ktorá svoje posledné tour túruje už 20 rokov. Ide o našu, v divadelnom slovníku, derniéru. Nehrali sme viac ako rok, tak dúfame, že sa to "čaro" nevytratilo." prezradil Matej.
"Ja, keby som nebol členom, tešil by som sa na tento večer. Bude hudobný hosť, premiéra veľmi zaujímavého dokumentu od začínajúcich filmárov a rôzne aktivity, ktoré však kvôli momentu prekvapenia, ponechám v rúšku tajomstva. Aj napriek tomu, že 5. 12. je streda, veríme, že ľudia si nájdu čas. Aspoň tí skalní." dodal Matej.
Na koncerte predstaví svoju tvorbu aj vychádzajúci talent Pavol Viecha, ktorý s jednou akustickou gitarou skúša rôzne žánre. A takmer by som zabudol predstaviť členov. Trojica hudobníkov sa spoznala na Vysokej školy múzických umení v Bratislave, odbor bábkarská tvorba. Bábkari… Už toto by vám malo napovedať, že to nebude len taký všedný zážitok.
V stredu 5. 12. 2018 o 20:00 vo FLAME Music Bar-e na Štefánikovej ulici v Bratislave sa na vás tešia Šimon Peter Králik, Róbert Švec a Matej Feldbauer.
Viac o poslednom koncerte: https://www.facebook.com/events/508704892961481/
Určite nezmeškajte nič z ich dielne a ostaňte v obraze na www.facebook.com/praktikabel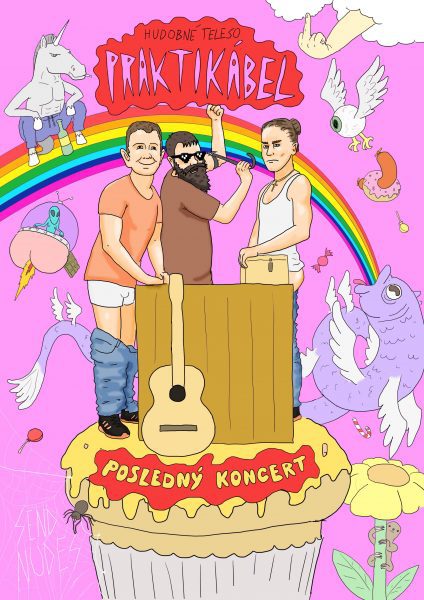 Zdroj: TS