Crossover surovec Billy Milano a jeho slovutní M.O.D. (Method of Destruction) se po 5 letech vrací do Prahy! Bude to nejen průřez alby M.O.D., ale samozřejmě zazní i hitovky z debutu S.O.D.

"

Speak English Or Die"!
Nedojde ale jen na průřez ranými alby, M.O.D. vytasí i dva roky starou desku "Busted, Broke & American", takže je třeba očekávat i songy jako "You're a Fucking Dick", "Busted, Broke & American" nebo "All Out of Bubblegum". Ani toto album si s nikým a ničím nebere servítky, protože Billy Milano se jako "kluk" z ulice nikdy nebál a nestyděl vysypat to, co mu se mu v hlavě střádá, třeba o faleši hudebního průmyslu. Billy není jeho součástí, prostě ho baví mastit na kytaru. "Kdyby to byla práce, nenáviděl bych to," říká. Proto je i tahle deska se stopáží lehce přes půlhodiny rychlou, zběsilou hardcore/punk/thrash jízdou bez omluv, která si po dvou dekádách našla cestu zpět až do původní stáje Megaforce Records.
"Moje muzika vždy reflektuje můj život. Není to žádné poselství. Vidím jen to, co je přede mnou, o to, co mám za zády, se už nestarám. Je mi 'třiapade', jsem už děda a dost možná už další desku nenatočím – však vyšla po 10 letech od té minulé. Je syrová, a čestná. Nejlepší mého života." Takhle Milano bilancoval před dvěma lety po natočení alba. A prý se od té doby nic nezměnilo.
METHOD OF DESTRUCTION v pražském Futuru podpoří dva prověřené lokální supporty! Zahrozit si budete moci na thrashcore zbíječky BEAST WITHIN THE SOUND a mladé, v osmdesátkách zhlédnuvší se thrashery CBF!
M.O.D.
live 2019: https://www.youtube.com/watch?v=xwNuNcodp0U
https://www.youtube.com/watch?v=jUKTnnoLGSE
https://www.youtube.com/watch?v=1s2P9XZ7_YY

S.O.D.
https://www.youtube.com/watch?v=AhzLM_zR8Jo
BEAST WITHIN THE SOUND
https://www.youtube.com/watch?v=bgTQf4o70Z4
https://www.youtube.com/watch?v=WQnjCnrn1Aw

CBF
https://www.youtube.com/watch?v=po7Tjlw4Cc0
M.O.D. / BEAST WITHIN THE SOUND / CBF
3. 12. 2019 – Praha, Futurum
FB event: https://www.facebook.com/events/442603703252862/
e-TICKET: https://obscure.cz/cs/tickets/detail/id/289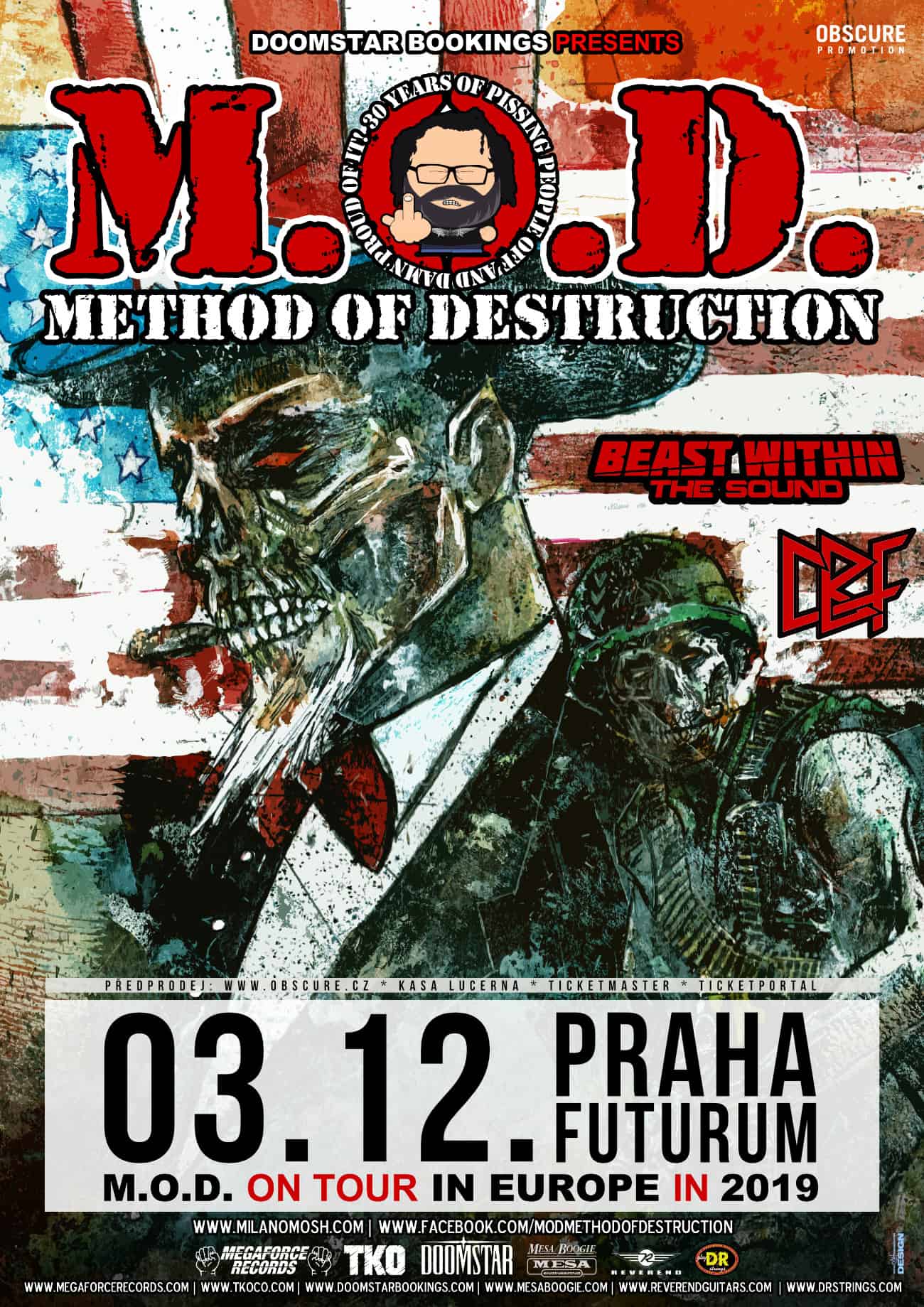 Zdroj: Obscure Promotion