Už v úterý 9. srpna 2022 se tisícům milovníků extrémní hudby znovu otevřou brány pevnosti v Josefově. Začne jubilejní pětadvacátý ročník festivalu Brutal Assault, který nabídne během pěti dní koncerty 151 kapel včetně legend jako Mercyful Fate nebo Cannibal Corpse. Festival se vrací do Josefova v plné síle po třech letech.
Brutal Assault se v letošním roce rozrůstá o další festivalový den. Jedna z největších metalových přehlídek v Evropě poprvé začíná už úterním programem, který se naplno rozjede po 14. hodině. Soupiska nabízí rekordní počet 150 kapel, kde legendy typu Mercyful Fate, Cannibal Corpse, Mayhem nebo Cradle Of Filth střídají mladé naděje ze všech koutů světa.
Festival si dlouhodobě zakládá na tom, že nemá headlinery, ale staví na vyrovnaném lineupu. "Přesto nejvýraznější a nejvýznamnější jméno letošní sestavy jsou určitě okultní heavymetalisté Mercyful Fate v čele s ikonickým frontmanem Kingem Diamondem," podotýká za organizátory Pavel Pavlík. "Mercyful Fate hrají znovu po 23 letech koncertní pauzy, takže v tomto případě jde o exkluzivní vystoupení," dodává.
Tradiční součástí festivalu odehrávajícího se na pěti scénách bývá i bohatý doprovodný program, například již zavedené horor kino, autogramiády, ale i výstavy. Ty letos budou hned tři. Přibude ale postapokalyptická zóna inspirovaná filmy Mad Max a počítačovou hrou Fallout, jazzová vinárna s živým pianistou, Plechová huba – soutěž v pojídání chilli, podzemní atrakce Pit of Doom pro odvážné, nebo Brut ALE – speciálně uvařené pivo pro 25. výročí festivalu.
"Vstupenky zakoupené od září 2019 zůstávají v platnosti i na tento ročník," dodává Pavlík.
Brutal Assault – 9.-13. srpna 2022 – pevnost Josefov, CZ
www.brutalassault.cz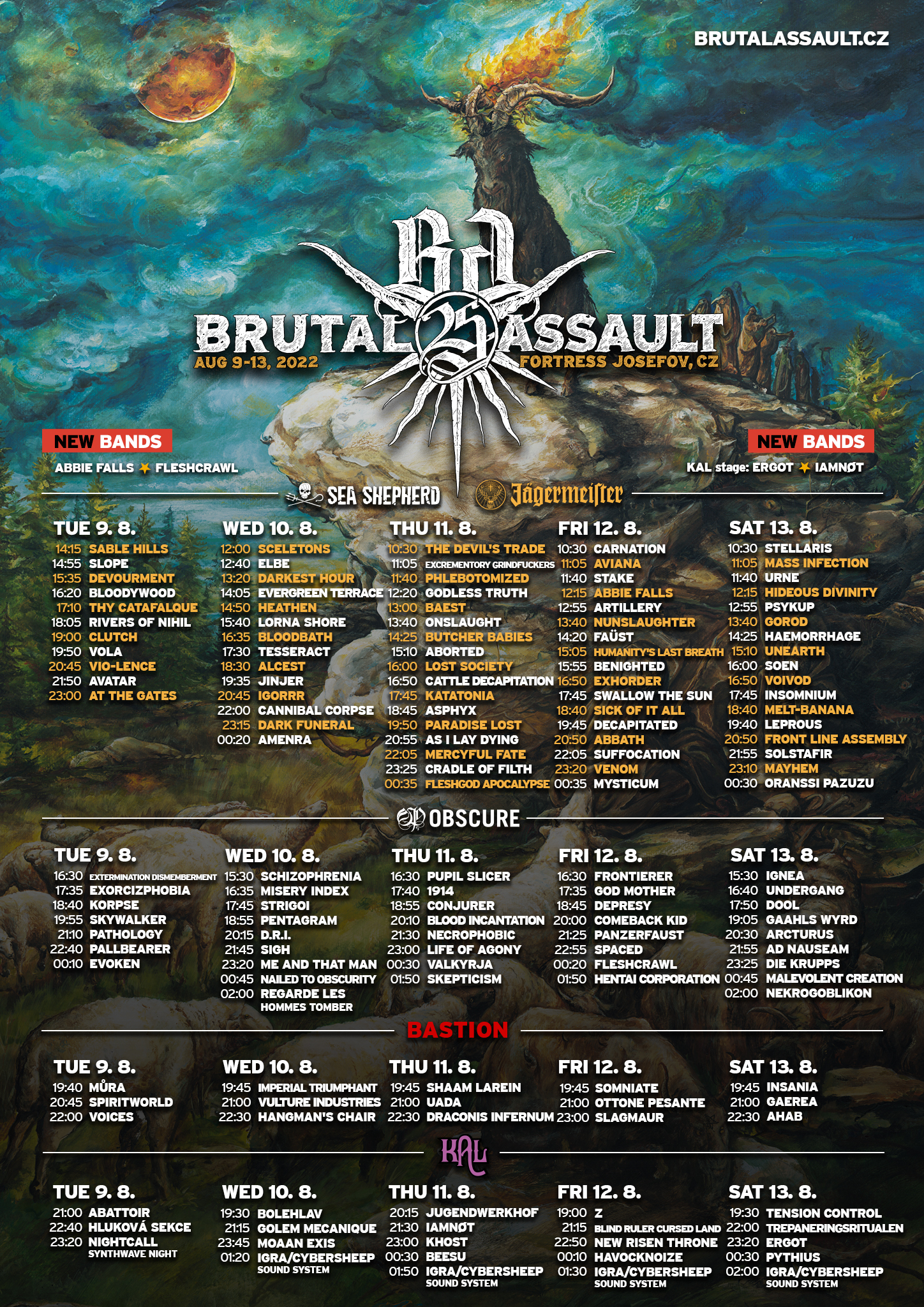 Line-up Brutal Assaultu 2022: 1914 – ABATTOIR – ABBATH – ABBIE FALLS – ABORTED – AD NAUSEAM – AHAB – ALCEST – AMENRA – ARCTURUS – ARTILLERY – AS I LAY DYING – ASPHYX – AT THE GATES – AVATAR – AVIANA – BAEST – BEESU – BENIGHTED – BLIND RULER CURSED LAND – BLOOD INCANTATION – BLOODBATH – BLOODYWOOD – BOLEHLAV – BUTCHER BABIES – CANNIBAL CORPSE – CARNATION – CATTLE DECAPITATION – CLUTCH – COMEBACK KID – CONJURER – CRADLE OF FILTH – DARK FUNERAL – DARKEST HOUR – DECAPITATED – DEPRESY – DEVOURMENT – DIE KRUPPS – DOOL – DRACONIS INFERNUM – D.R.I. – ELBE – ERGOT – EVERGREEN TERRACE – EVOKEN – EXCREMENTORY GRINDFUCKERS – EXHORDER – EXORCIZPHOBIA – EXTERMINATION DISMEMBERMENT – FAÜST – FLESHCRAWL – FLESHGOD APOCALYPSE – FRONT LINE ASSEMBLY – FRONTIERER – GAAHLS WYRD – GAEREA – GOD MOTHER – GODLESS TRUTH – GOLEM MECANIQUE – GOROD – HAEMORRHAGE – HANGMAN'S CHAIR – HAVOCKNOIZE – HEATHEN – HENTAI CORPORATION – HIDEOUS DIVINITY – HLUKOVÁ SEKCE – HUMANITY'S LAST BREATH – IAMNØT – IGNEA – IGORRR – IGRA / CYBERSHEEP – IMPERIAL TRIUMPHANT – INSANIA – INSOMNIUM – JINJER – JUGENDWERKHOF – KATATONIA – KHOST – KORPSE – LEPROUS – LIFE OF AGONY – LORNA SHORE – LOST SOCIETY – MALEVOLENT CREATION – MASS INFECTION – MAYHEM – ME AND THAT MAN – MELT-BANANA – MERCYFUL FATE – MISERY INDEX – MOAAN EXIS – MŮRA – MYSTICUM – NAILED TO OBSCURITY – NECROPHOBIC – NEKROGOBLIKON – NEW RISEN THRONE – NIGHTCALL – NUNSLAUGHTER – ONSLAUGHT – ORANSSI PAZUZU – OTTONE PESANTE – PALLBEARER – PANZERFAUST – PARADISE LOST – PATHOLOGY – PENTAGRAM – PHLEBOTOMIZED – PSYKUP – PUPIL SLICER – PYTHIUS – REGARDE LES HOMMES TOMBER – RIVERS OF NIHIL – SABLE HILLS – SCELETONS – SCHIZOPHRENIA – SHAAM LAREIN – SICK OF IT ALL – SIGH – SKEPTICISM – SKYWALKER – SLAGMAUR – SLOPE – SOEN – SÓLSTAFIR – SOMNIATE – SPACED – SPIRITWORLD – STAKE – STELLARIS – STRIGOI – SUFFOCATION – SWALLOW THE SUN – TENSION CONTROL – TESSERACT – THE DEVIL'S TRADE – THY CATAFALQUE – TREPANERINGSRITUALEN – UADA – UNDERGANG – UNEARTH – URNE – VALKYRJA – VENOM – VIO-LENCE – VOICES – VOIVOD – VOLA – VULTURE INDUSTRIES – Z
Zdroj: Obscure Promotion