Poslední aktualizace sestavy kapel pro výroční 25. Brutal Assault přináší pestrý a opravdu silný výčet kapel. Než jej představíme, připojujeme informaci, že festival má prodáno 75 % kapacity a že současná cena vstupenek platí už jen do konce dubna!
Nyní již ke kapelám. Ten nejpoctivější hardcore z místa mu zasvěcenému přivezou newyorkští SICK OF IT ALL. Napodruhé oznamujeme VIO-LENCE, thrashovou kultovku ze San Francisca a předchůdce Machine Head, kteří si u nás střihnou svou premiéru. A nebude to v tomto updatu jediná.
Premiéry si v pevnosti dají i průkopníci crossover thrashe D.R.I., göteborgští alternativci a 'ztracené deathmetalové duše' AVATAR, "švédská" djent-core senzace AVIANA, japonští metalcoristé SABLE HILLS a kvartet brutálních slamming deathů EXTERMINATION DISMEMBERMENT (Bělorusko), KORPSE (Holandsko), PATHOLOGY (USA) v čele s průkopníky žánru DEVOURMENT!
Pak se vrátí EVERGREEN TERRACE, kteří svým melodickým hardcorem s punkovými kořeny rozezpívají celý plac, a výtečnou novou desku "Synchro Anarchy" přivezou jedineční VOIVOD.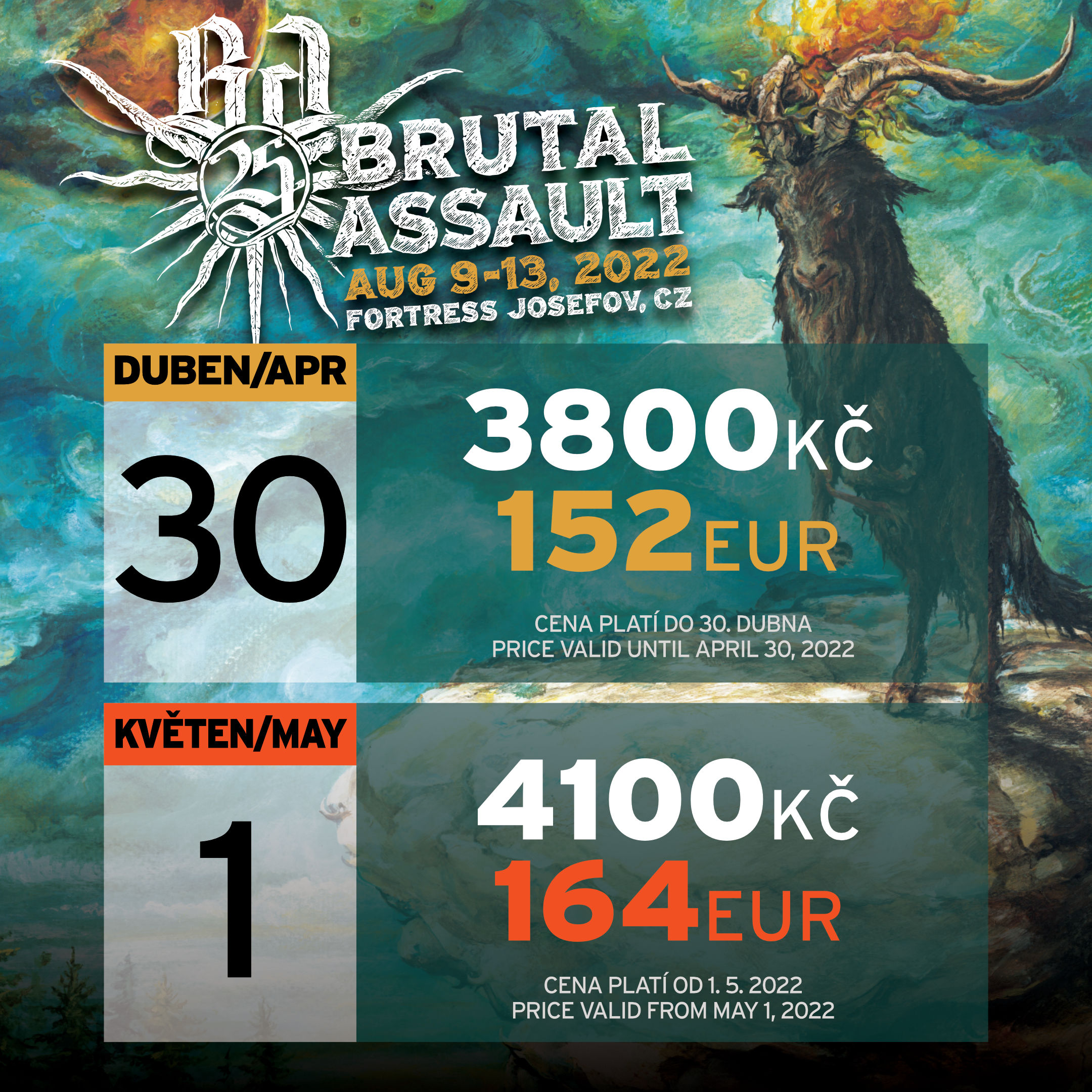 S lítostí oznamujeme i ztráty. Sestavu Brutalu pro jiné plány museli opustit Bell Witch, EvilDead, Static-X a Tallah.
Kapely updatu: Avatar, Aviana, Devourment, D.R.I., Evergreen Terrace, Extermination Dismemberment, Korpse, Pathology, Sable Hills, Sick Of It All, Vio-Lence, Voivod
Vstupenky: http://brutalassault.cz/cs/tickets (CZ) // http://brutalassault.cz/sk/tickets (SK)
Event: https://facebook.com/events/493050868165392
Aktuálně potvrzené kapely: 1914, Abbath, Aborted, Ad Nauseam, Ahab, Alcest, Amenra, Arcturus, As I Lay Dying, Asphyx, At The Gates, Atari Teenage Riot, Avatar, Aviana, Baest, Bell Witch, Benighted, Blood Incantation, Bloodbath, Bloodywood, Butcher Babies, Cannibal Corpse, Carnation, Cattle Decapitation, Clutch, Comeback Kid, Conjurer, Cradle Of Filth, D.R.I., Dark Funeral, Darkest Hour, Decapitated, Devourment, Die Krupps, Dool, Draconis Infernum, Evergreen Terrace, Evoken, Excrementory Grindfuckers, Exhorder, Exhumed, Extermination Dismemberment, Extinction A.D., Fleshgod Apocalypse, Front Line Assembly, Frontierer, Fueled By Fire, Gaahls Wyrd, God Mother, Hangman's Chair, Hentai Corporation, Humanity's Last Breath, Igorrr, Imperial Triumphant, Insomnium, Jinjer, Katatonia, Korpse, Leprous, Life Of Agony, Lorna Shore, Lost Society, Manes, Mass Infection, Mayhem, Melt-Banana, Mercyful Fate, Misery Index, Mors Principium Est, Municipal Waste, Mysticum, Nailed To Obscurity, Necrophobic, Necrot, Nekrogoblikon, Nunslaughter, Onslaught, Oranssi Pazuzu, Ottone Pesante, Pallbearer, Paradise Lost, Pathology, Pensées Nocturnes, Pentagram, Phlebotomized, Psycroptic, Psykup, Pupil Slicer, Razor, Regarde Les Hommes Tomber, Rings Of Saturn, Rivers Of Nihil, Sable Hills, Sacred Reich, Sick Of It All, Sigh, Skepticism, Skywalker, Slagmaur, Slope, Soen, Sólstafir, Soreption, Strigoi, Suffocation, Swallow The Sun, Tesseract, The Agonist, The Black Dahlia Murder, The Devil's Trade, Thy Catafalque, Uada, Undergang, Unearth, Urne, Valkyrja, Venom, Vio-Lence, Vitriol, Voices, Voivod, Vola, Winterfylleth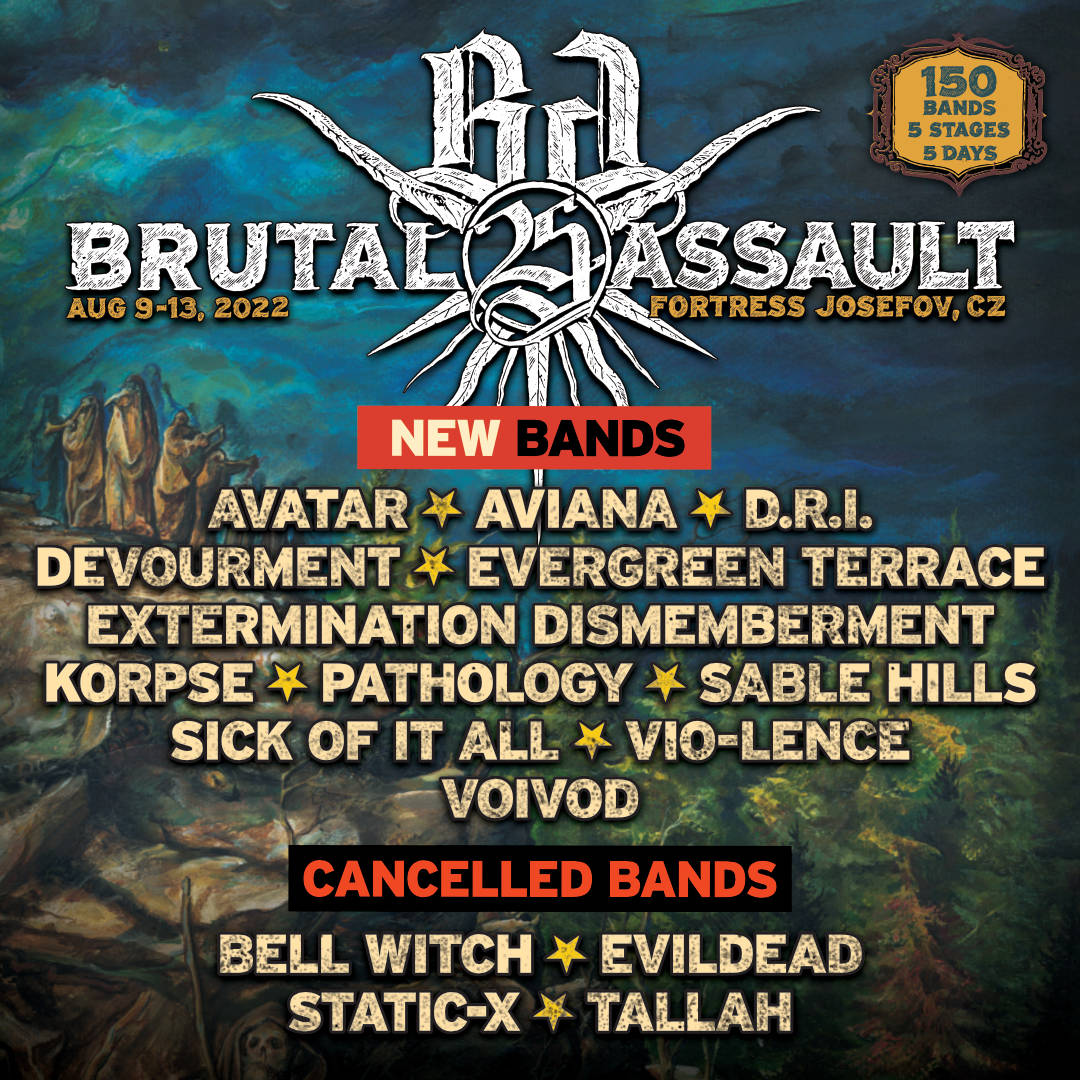 Zdroj: Obscure Promotion