V netradičný deň, uprostred týždňa, ale v tradičnom priestore krásnej sály PKO v Prešove, sa dňa 30. marca 2022 uskutočnil už 11. ročník benefičného podujatia Opri sa o mňa. Pre ľudí s mentálnym a telesným postihnutím ho pripravilo Občianske združenie Milan Štefánik.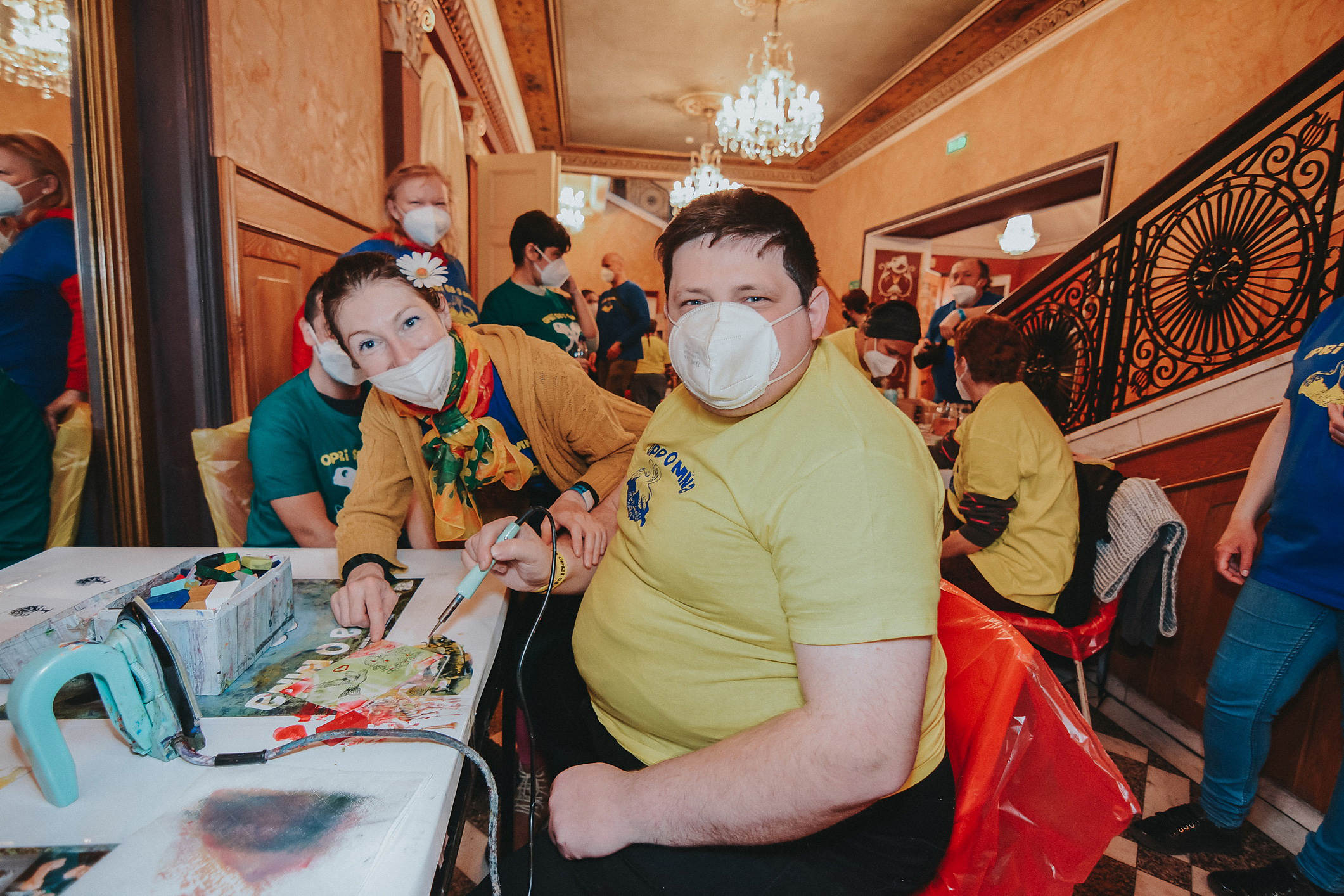 Od rána šum ako na jar v úli. To sa priestory hemžili dobrovoľníkmi, ktorí prišli pripraviť všetko potrebné. Vpravo bude šatňa. I farebné tričká tu budú mať miesto. Vľavo občerstvenie. Vody a chlebíky. Káva a koláče. Pripraviť servítky, taniere. Olepiť stoly plagátmi. Aby tu mohli byť kreatívne dielne. Ponuka pestrá. Enkaustika. Maľovanie na telo. Ale i na tričká, polystyrénové šablóny. Emka a Diana, vy máte na starosti šatne pre účinkujúcich. Všetko musí byť tip-top. Milan si vezme chalanov. Choďte zavesiť banery…A je toho ešte viac. Stoličky v sále. Aparatúra na pódiu. Ešte doladiť zvukovky. Pripraviť dezinfekciu. Nalepiť na vchod aktuálne opatrenia.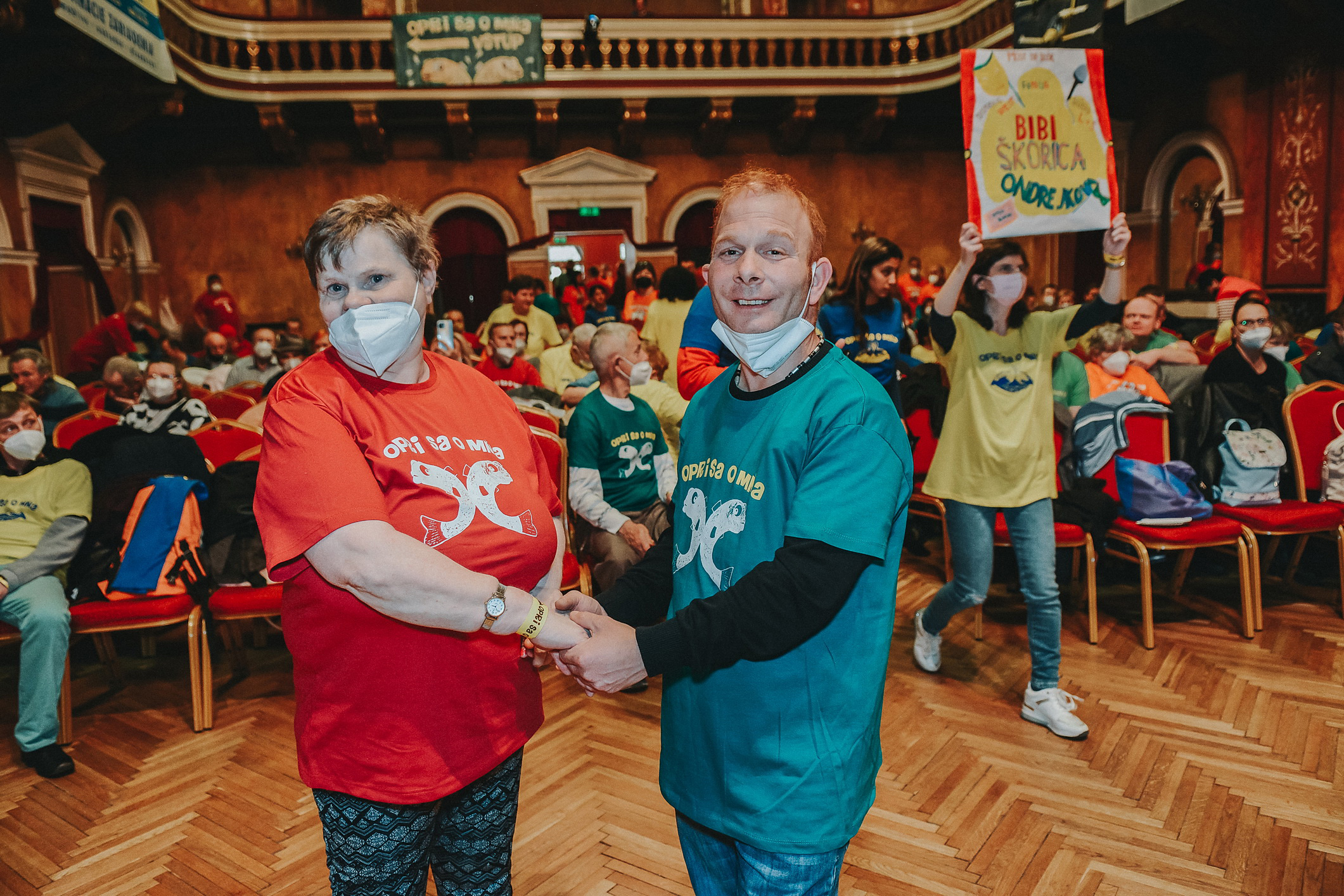 S prvými prichádzajúcimi hosťami sa v sále rozozvučali tóny latino hudby. Vo veselom farebnom outfite, so širokým úsmevom na perách, k sebe volá prichádzajúcich Zumba inštruktorka, Ľubica Mihalik. Svojou pozitívnou náladou a chytľavými pesničkami pomaly ale isto prilákala na parket "inak obdarených". "Toto je neskutočná energia čo sa tu deje. Úžasné. Dali mi strašne veľa úsmevov a radosti. Určite si to odnesiem aj do ďalších dní, lebo toto naozaj stojí za to. A srdečne za to ďakujem." Krok sem. Krok tam. Nový hit. Ale aj ten starší. Ukážte všetci srdiečko. Ruky hore. Urobíme ešte kruh. Hudba a tanec v spojení s Ľubkou všetkých očarili. A ešte foto.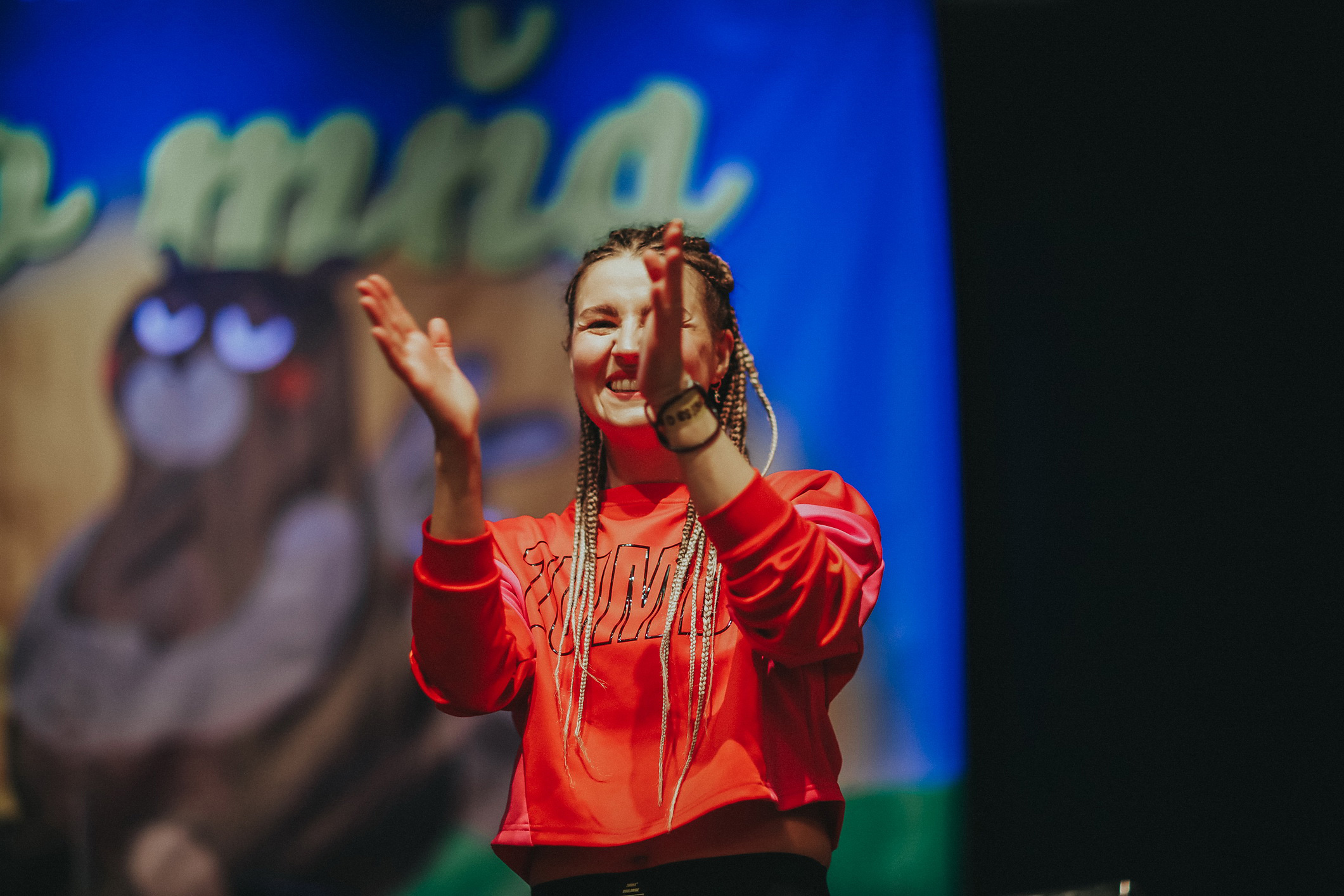 Na pódium prichádza moderátorka dnešného podujatia. Zmena na poslednú chvíľu. Prekvapenie v podobe Bibiany Ondrejkovej. Alebo radšej Bibi Škorica Ondrejková? Jej hlas snáď pozná každý. Nezameniteľný. Prihovára sa divákom. "Ja som veľmi rada, že tu môžem byť. Preto že takéto stretnutia mám veľmi rada. Keď sú ľudia dobrosrdeční, spievajú, kreslia, skrášľujú tento krásny farebný svet. Tak to je super," Aby nebola na pódiu sama, pozýva si k sebe Milana Štefánika – organizátora podujatia a Gabiku Bačovú – organizátorku tvorivých dielní. Po slovách vyjadrujúcich radosť, že sme sa mohli konečne znova zísť, ich čaká milá povinnosť. Odovzdať obraz. Kam poputuje tento krát? CSS Slnečný dom Prešov. Prevziať si ho prichádza Irena Brunsteinerová a Peter Vaľko. Peťko na otázku, čo si myslí o obraze, krásne poznamenal, že je vyjadrením lásky. A kde bude visieť? Jednoduchá odpoveď. Na stene. Pani Brunsteinerová hneď i ozrejmila, že vhodné miesto sa nájde v priestoroch, kde sa najčastejšie stretávajú ich "deti". Bibiana pripomenula všetky platné opatrenia. Upozornila na občerstvenie. I na "prísnych" SBS-károv. Treba ich poslúchať.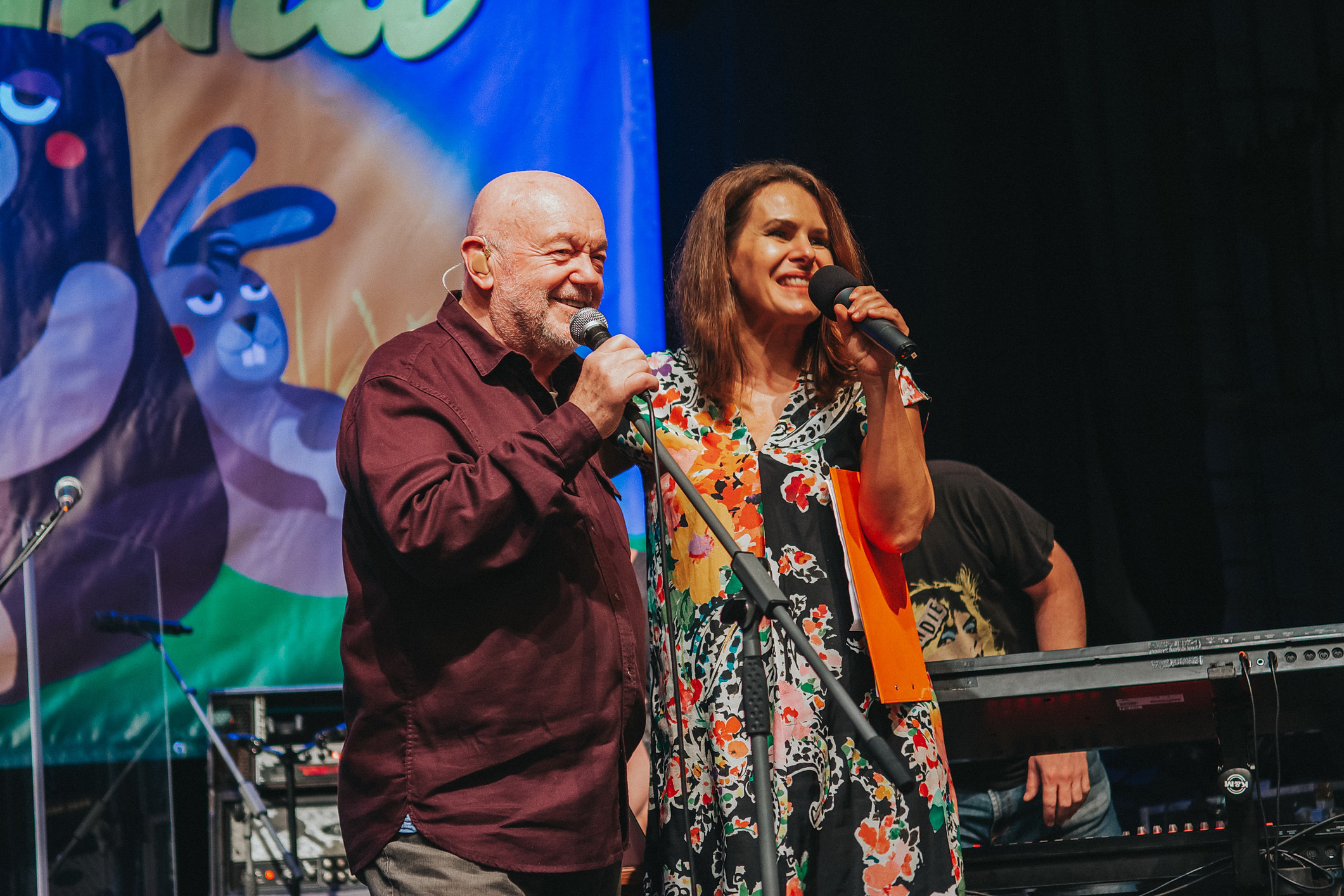 A prichádza prvý hudobný hosť. Peter Lipa. Spevák. Jazz a blues "guru". Prešovčan v Prešove. Neprišiel sám. Peter Lipa band, kde má svoje miesto i Peter Lipa ml. Tradícia pokračuje. A čo hovorí spevák na svoj vek? No jednoznačne sme Páni v najlepších rokoch. Saxofónové sólo. Tvár v zrkadle je stále rovnaká. I keď niekedy treba premerať tlak. A ten je v piesni rovnaký: 120/80. A prečo zahrať, zaspievať? "Najdôležitejšia vec je toto publikum, ktoré si žiada hudbu. Ktoré potrebuje tú hudbu ako liek." Potreba pomoci publika. Volá Caracas. Pozor! La-la-lá-la-lá-la-la-lá-la. Na rad prichádza baladická. Vtáci sťahovaví. Gitara. A ikonické Maturantky. V publiku spievajú mamky. Možno aj ich videl Peter Lipa ísť ako maturantky po Prešove. "Vidím, že majú z toho veľký zážitok, na ktorý sa dlho pripravujú, a na ktorý budú ešte dlho spomínať. Dostal som kopu darčekov. Teším sa veľmi a som rád, že som ich mohol na hodinu zabaviť."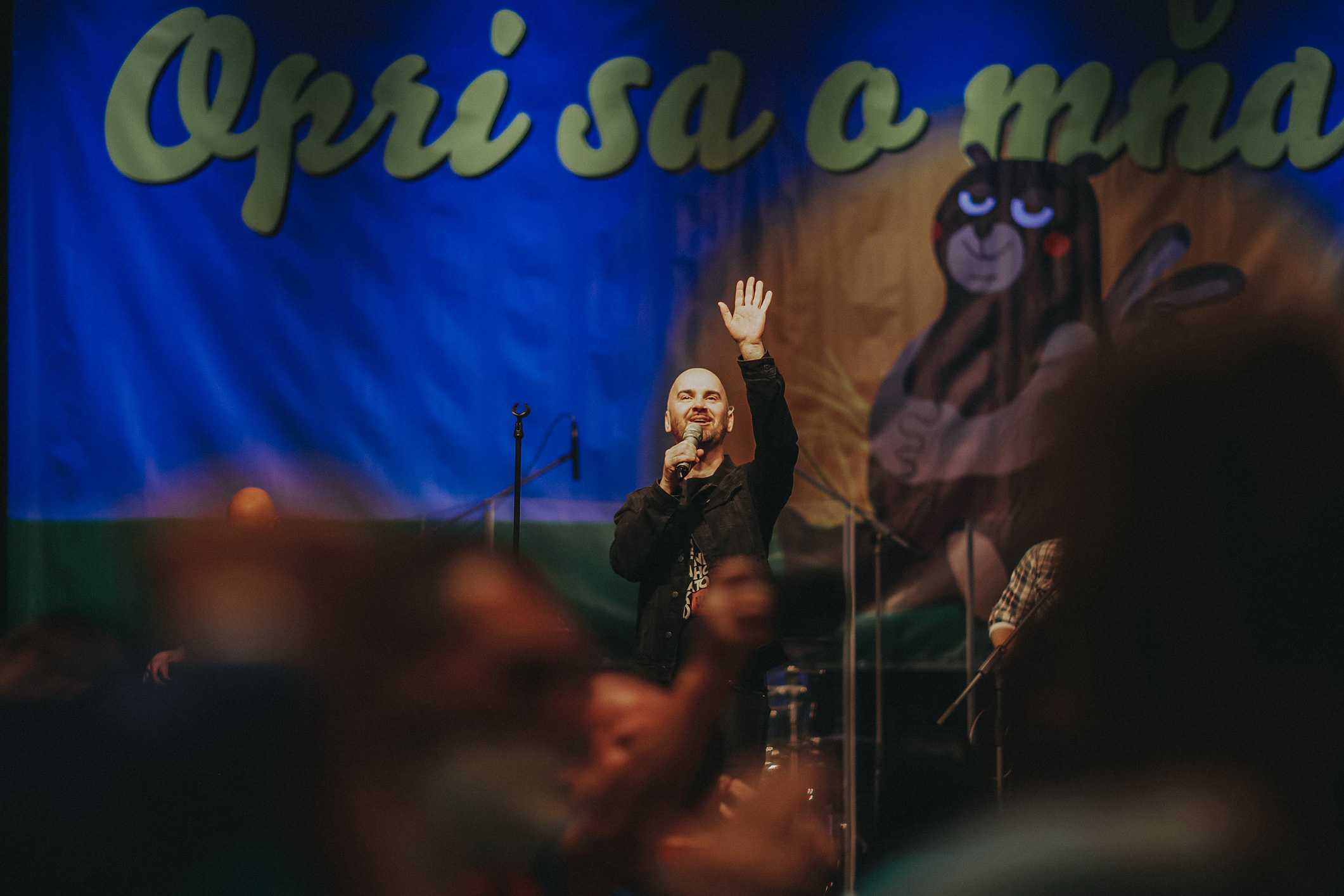 Čas na občerstvenie. Treba vymeniť techniku. Chystá sa iný žáner. Hosť to nemal ďaleko. Z Košíc je to kúsok. Trocha pritvrdíme. No Name. Hudobná rocková skupina. 25 rokov na scéne. Bratia pokrvní i hudobní. Hneď na začiatku si vypýtali odpoveď. Nie alebo áno. Jasné, že áno. Hráme! Bubny a gitara. Texty zo života. Ba samotný Život. Viete, že No Name mali jeden z prvých koncertov aj v Prešove? K 25. výročiu vznikla pieseň Elity. Tak počúvajte. Čím to je? Spieva publikum. "Je veľmi lichotivé vedieť, že aj tieto deti, títo mladí ľudia nás poznajú. Poznajú naše texty." Prvá sa "schovala" do prítmia sály a hľadali sme ju svetielkami mobilov. Stále známa aj keď staršia. Ty a tvoja sestra. Kapela už sa lúči, no publikum si vyžiadalo prídavok. Pri prvých tónoch podskočilo moje srdiečko. Večnosť. Pre mňa osobne asi najkrajšia balada od No Name. Chýbaš mi celá. Tak poďte. Hore ruky a pomaly. "Koncert pre decká s takýmto postihnutím alebo takým "darom", tak človeka trošku zrovná so zemou a zase sa zbadá, že čo je podstatné. Že fakt to zdravie nie je štandard, ale luxus. Takže my tu chodíme radi." Fanúšikovia odmenili skupinu obrovským potleskom a darčekmi, ktoré sami vytvorili.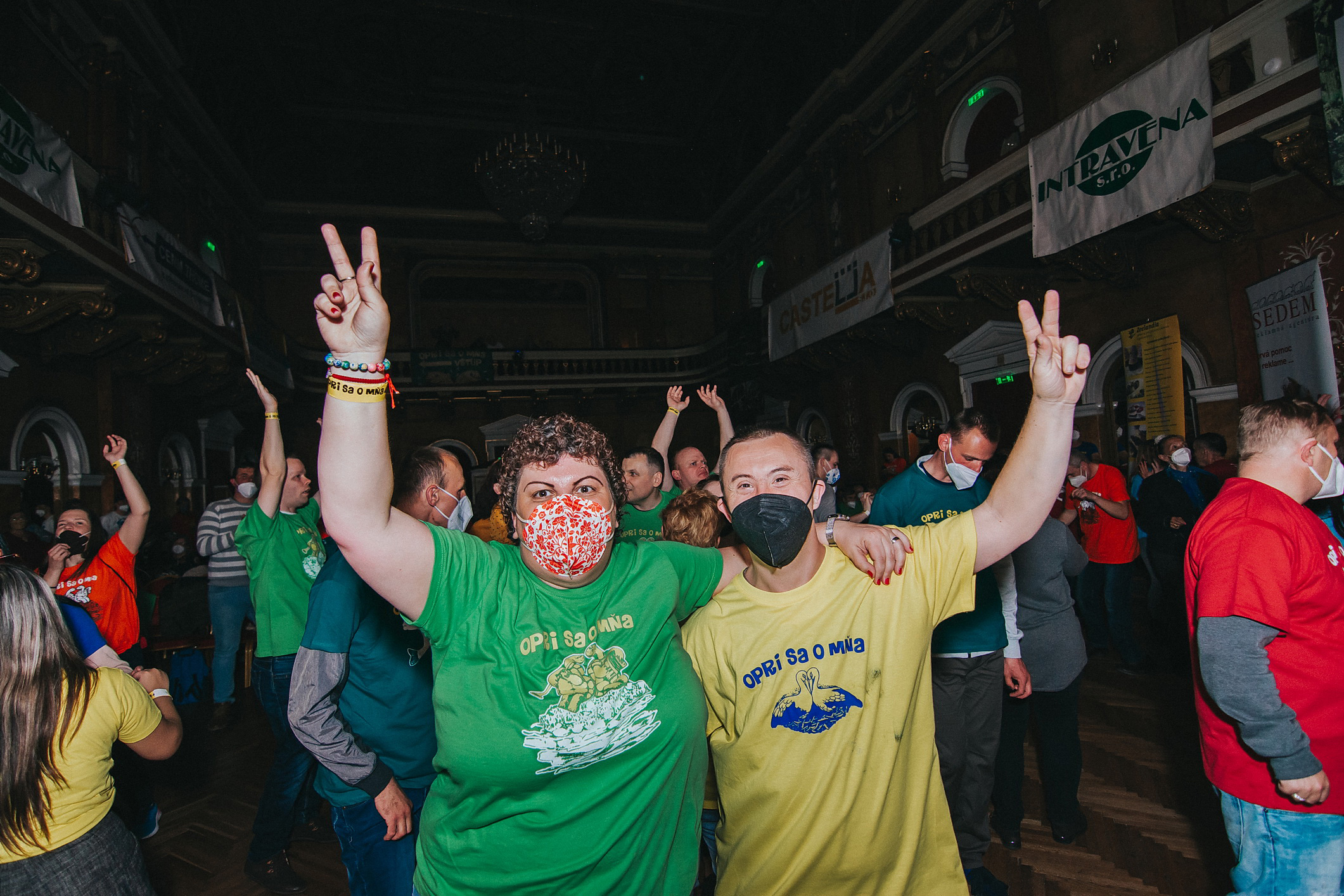 Ale nielen tie. V sále bolo od začiatku podujatia vidieť farebné i čiernobiele. Väčšie. Menšie. S fotkami. I také len s nadpismi. Transparenty a mávadlá. Tak poďme ich odmeniť. Rozhodnutie je na Milanovi Štefánikovi a Bibiane Ondrejkovej. Ale nie je to také jednoduché. Ktoré vyberieme do TOP 5? Poďte na pódium, ukážeme ich všetkým. Odmenu ale dostane každý, kto vytvoril čo i len malé originálne mávadlo. Darčeky rozdané.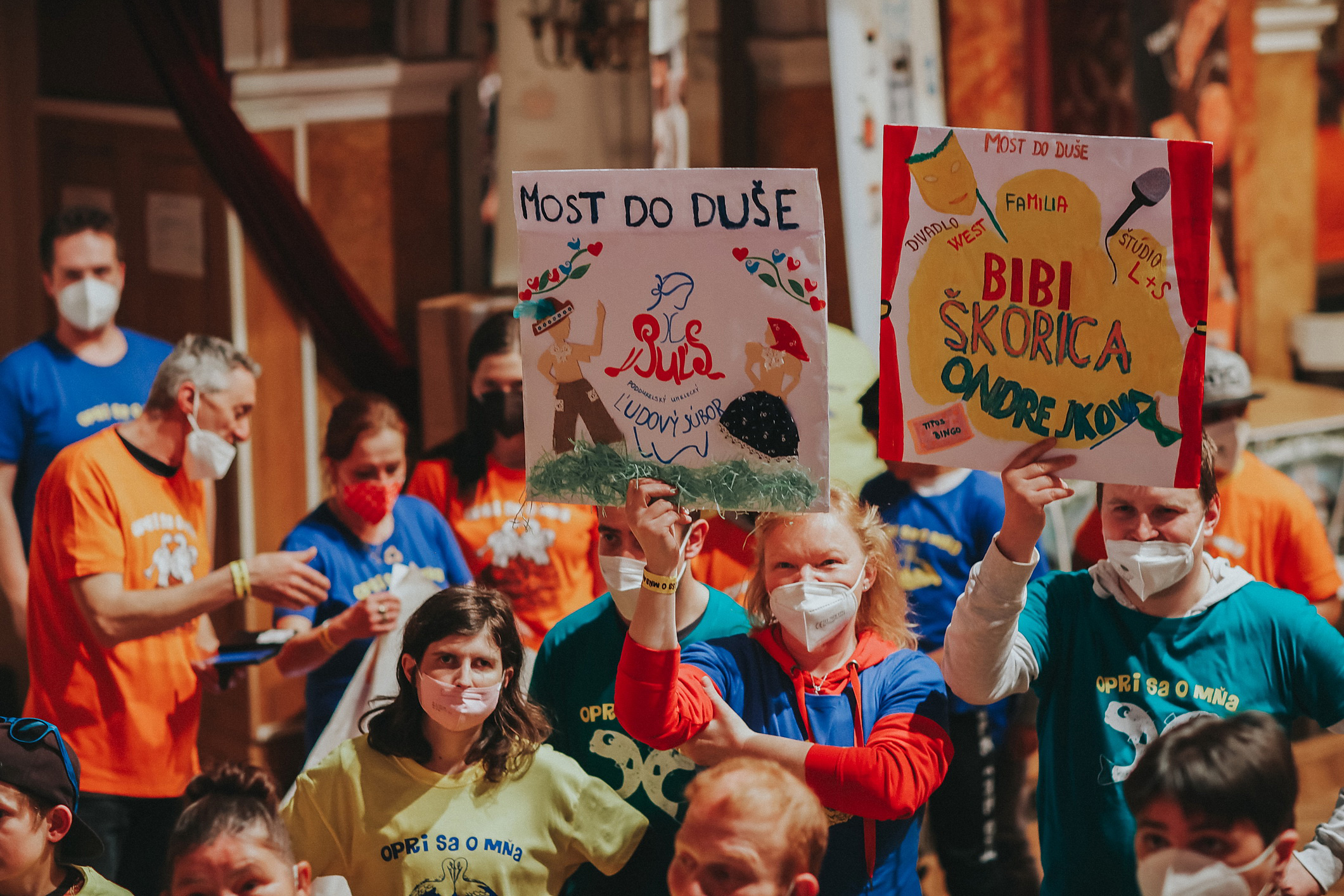 Ale jeden hudobný predsa len ešte čaká. PUĽS – Poddukelský umelecký ľudový súbor. Viac ako
65 rokov tradície. Tradície Rusínov. Potichu sa začínajú ozývať hudobné nástroje. Ktoré že to sú? Husle a akordeón. Za nimi klarinet a flauta. Pridáva sa cimbal. A už vybiehajú tanečníci. Švárni junáci a krásne devy. Odetí v nádherných krojoch. S plnými mužskými hlasmi. Nežnými ženskými. "Prišli sme preto, aby sme im spravili radosť. Aby sme tento deň pre nich spravili trošku výnimočnejší. Aby sa trochu zoznámili aj s našou ľudovou kultúrou." Pre "inak obdarených" vybrali tie najhranejšie, najúspešnejšie … Pásmo Návraty. Publikum ocenilo nádhernú kompozíciu radosti a pohybu plagátmi. "Ceníme si to, že deti robili vlastnoručne tieto práce, a pekné plagáty vyrobil." Stoličku na scénu. Výskoky. Vyzvŕtať dievčence. Klaňačka. A dlhý, dlhý potlesk.
Ešte pár fotiek. Zakývať na rozlúčku. Gabika Bačová vyzýva Peťka – stálicu tohto podujatia. "Tak čo Peťo hovoríš na tento ročník, 11 ty? Ako sa ti páčilo?" Peťko sa nedá dlho prehovárať. "Veľmi sa mi páčilo. Súbory boli najkrajšie. A Igorovi chcem najviac poďakovať." A poďakovať je potrebné hlavne organizátorovi, Milanovi Štefánikovi. Gabike Bačovej. Všetkým účinkujúcim. Dobrovoľníkom. Sponzorom. "Inak obdareným".
Bibiana Ondrejková na záver ešte dodala: "je skvelé, keď sa dokážu baviť deti. Je skvelé, keď sa dokážu baviť dospelí. A je úplne jedno, či je to človek, ktorý je úplne zdravý, alebo mu možno niečo nefunguje. Lebo keď to je v srdci, tak to potom ide aj von, a o to ide." Pre dnešný koncert to platilo na 100%. My sa už teraz tešíme opäť o rok.
Text: Júlia Platková
Foto: Milan Maršalka a Marek Vaco
Video: Igor Kolesár