V nedeľu, 26. septembra 2021, v Novom Meste nad Váhom, sa úspešne uskutočnil už desiaty ročník benefičného koncertu Dúha v srdci. Pre ľudí s mentálnym a zdravotným postihnutím ho spolu pripravili Centrum sociálnych služieb Nové Mesto nad Váhom, Mesto Nové Mesto nad Váhom, Občianske združenie Život s dúhou v srdci a Občianske združenie Milan Štefánik. Začínajúce babie leto ponúklo možnosť zrealizovať akciu v priestoroch Parku Jozefa Miloslava Hurbana.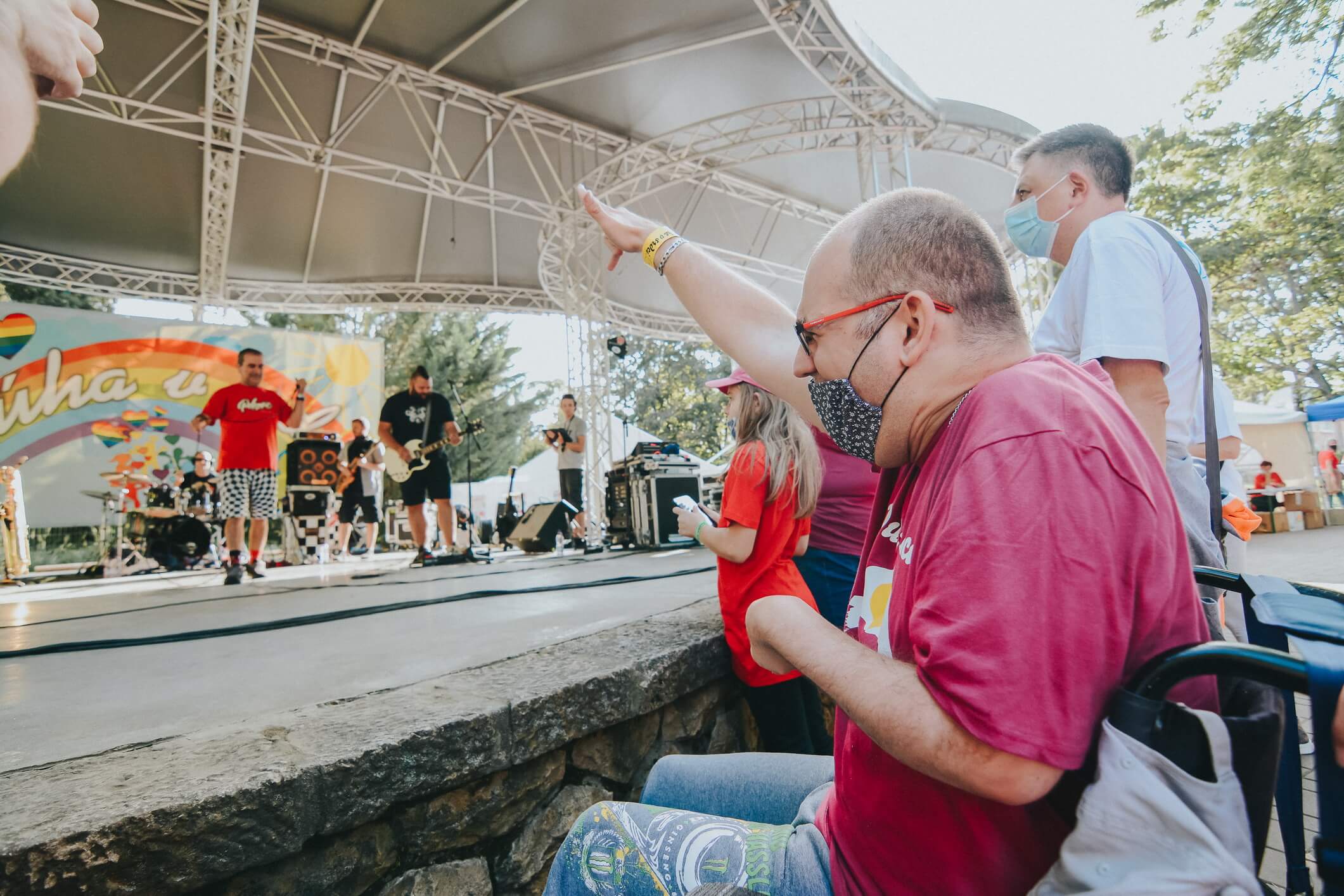 Slnečné lúče sa od rána odrážali od farebných jesenných listov a po parku už pobehovali dobrovoľníci. Veď pred začiatkom vystúpení je potrebné ešte veľa spraviť. Postaviť stany. Pripraviť stoly. Nachystať občerstvenie. Rozložiť materiál do kreatívnych dielní. A to najdôležitejšie – pódium. Aparatúra. Zvukársky pult. Mikrofóny. Rozvešať bezpečnostné opatrenia. Pripraviť stojan s dezinfekciou. Farebné tričká pre "inak obdarených". A môžeme začať. Vpravo stánok s občerstvením. Vľavo kreatívne dielne. Enkaustika. Maľovanie na sadrové odliatky. Či farebné ornamenty maľované na ruky. To všetko si môžete skúsiť.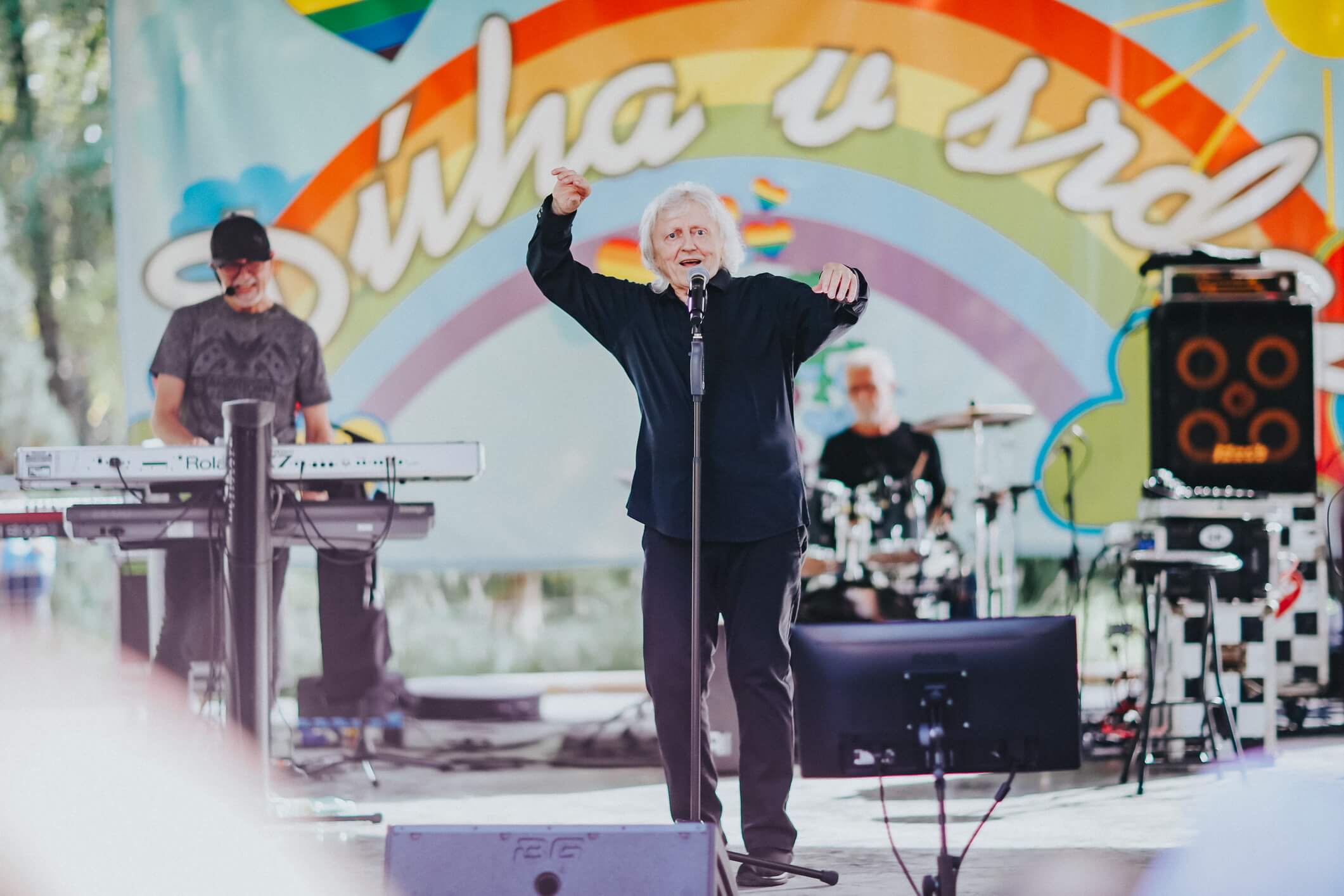 Na poslednú chvíľu, ale predsa. Schválená Zumba. Zoli neváhal ani minútu a prišiel projekt podporiť. Lákavé tóny latino hudby volajú zatancovať si prvých prichádzajúcich. Jeden krok strieda druhý. Noha vpred. Poskok vbok. Salsa i bachata. Otočka. Zoli bol prvý krát v Novom Meste nad Váhom. Okrem krásneho prostredia parku sa mu "páčila i energia, s ktorou deti tancovali. Sú naozaj šikovné, išlo im to." Vždy rád príde a už teraz sa teší na ďalšie stretnutie na podobnej akcii.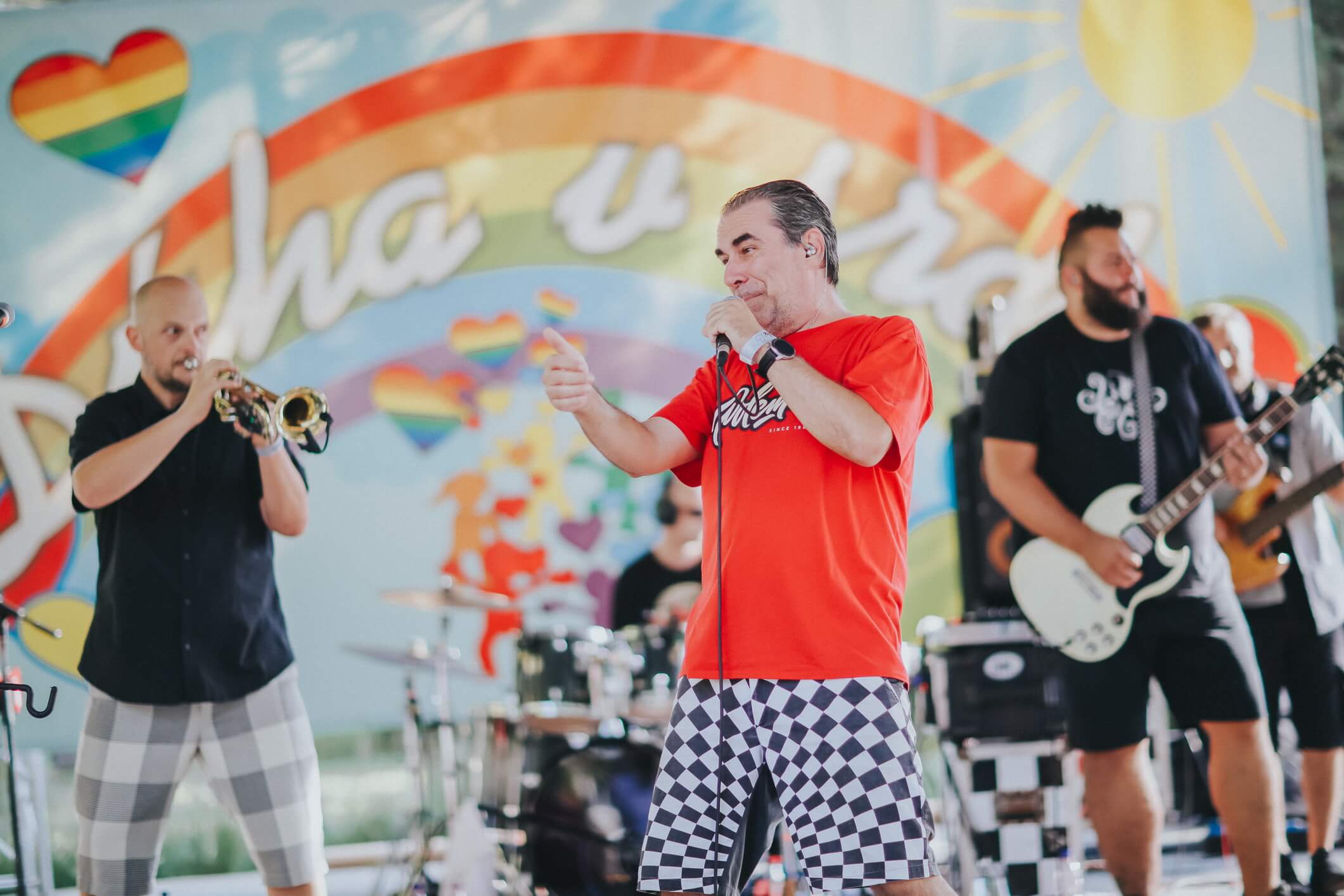 Tanečné kroky si odskočil z parlamentu vyskúšať i Jožo Pročko. Chopil sa moderátorského žezla a privítal všetkých. "Skvelá akcia pre tých, ktorí to najviac potrebujú." S Milanom Štefánikom pripomenuli pravidlá, ktoré platia. R-O-R. Dezinfekčná hliadka pripravená. Rúška na tvárach. Úsmev v očiach. Protiepidemiologické opatrenia prišli "narušiť" Bacily. Z Čiech dorazili i s lídrom Václavom Neckářom. Prekročil už 55 rokov na hudobnej scéne. Malý muž s veľkým srdcom. S hlasom, čo pohladí dušu. Kapela Bacily – päťdesiat rokov na scéne. Päťdesiat rokov fanúšikov. Päťdesiat rokov piesní. Hitov. XY vystúpení pre "inak obdarených". "Je to potřeba. Proto, že nás to baví, dělat tuhletu práci. A je úplně jedno, pro koho to děláme. Dúležité je, aby i to publikum to bavilo. Když je to vzájemné, tak si múžeme předávat energii a dobrou náladu." I tieto slová odzneli z úst členov kapely. Na pódiu rozbalili hudobný darček starších i nových piesní. Kto by si nepamätal Tu kytaru jsem koupil kvúli tobě, Stín katedrál či Kdo vchází do tvých snú. Symbolicky si podali ruku a previedli piesňou prítomných starým Václavákom. Harmonika. Publikum sa zapojilo. Dam-di-dam. Lásku ztracenou "našla" naša šílene smutná Sonička z realizačného tímu. A i keď Časy se mění, každý má toho svojho Anděla strážneho. Baladicky krásna a moja obľúbená Púlnoční. I keď ešte nie sú Vianoce. Ruky nad hlavy. Tichá gitara a s ňou životný príbeh…Všechno je jenom jednou. A odkaz od Václava pre všetkých: "Nelituj, nikdy nelituj!" Aplauz a darčeky. Jeden špeciálny v podaní Juraja Kohútika z CSS pre mentálne postihnutých. Vlastná báseň pre toto podujatie. Jožo Pročko dojatý. Veď s Jurajom sa pozná už nejakých pár rôčkov. Tak si live vymysleli ešte jednu slohu spolu.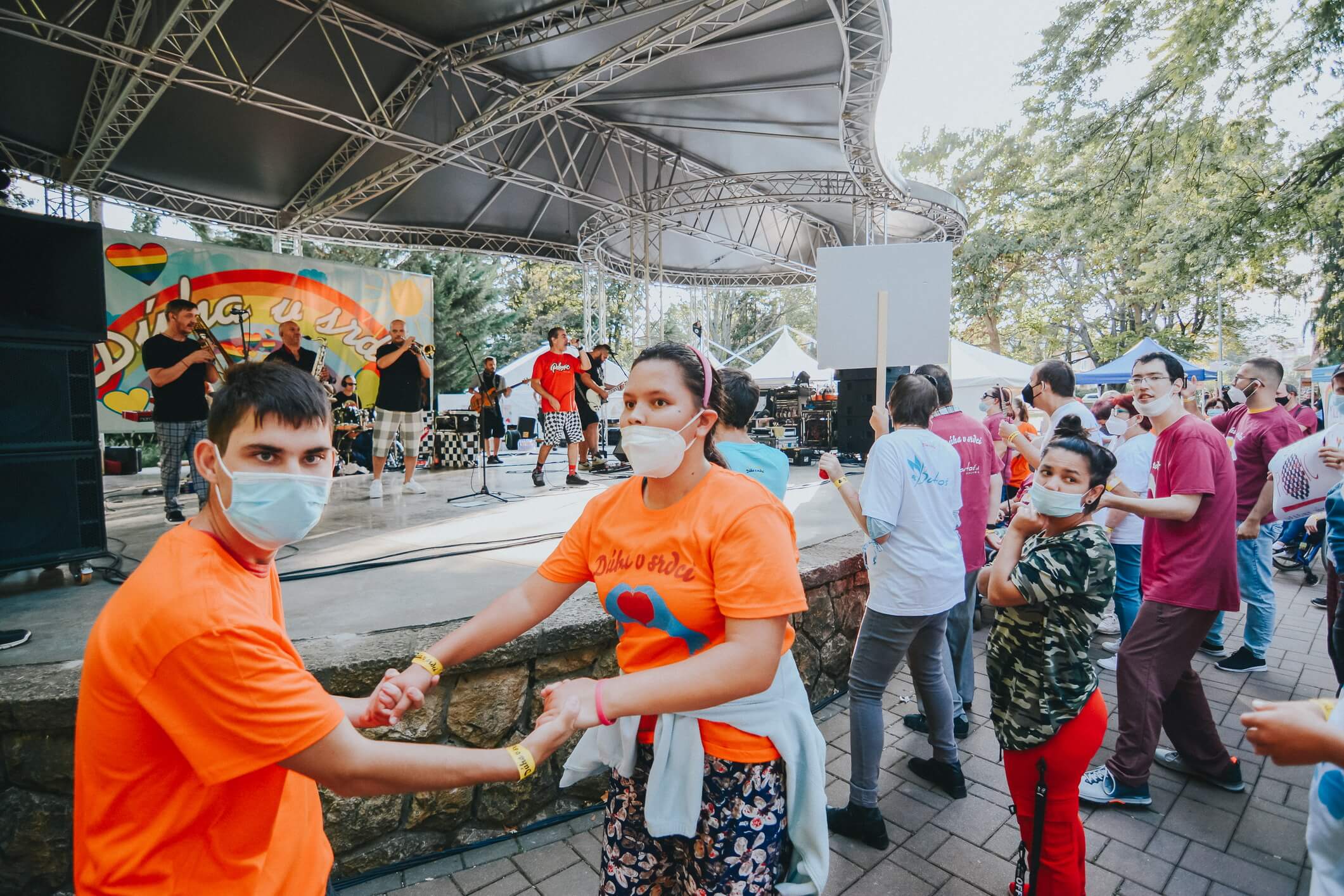 Jožo k sebe pozýva na pódium organizátora, Milana Štefánika. Maliarka Henrieta Ďurovová vytvorila ústredný motív tohto ročníka podujatia. Jej obraz si z rúk riaditeľky CSS v Novom Meste nad Váhom, Ing. Miriam Mrázovej, prevzala "kolegyňa", Ing. Gabriela Hrončeková, riaditeľka DSS Púchov – Nosice.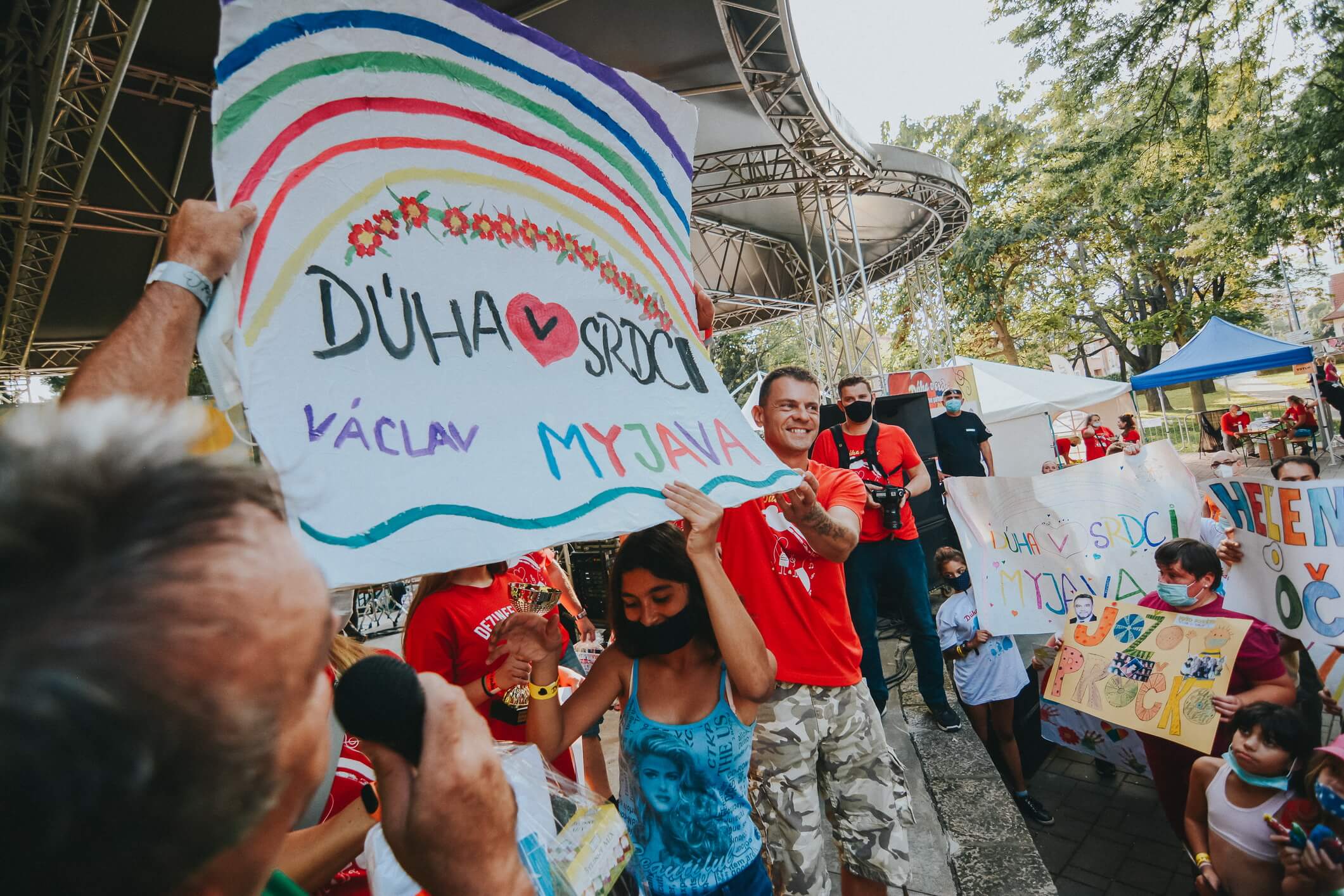 Výmena nástrojov na pódiu. Ozýva sa trúbka. Kto to bude? Slovenská ska-reggae skupina Polemic. Klávesy a gitara. Na "pľaci" samí chlapi v čiernom. Len spevák, Braňo Bajza, intuitívne zvolil červenú. Rovnakú farbu majú i organizátorské tričká. Prvé tóny a hneď pozvánka. Tancuj. Bav sa a tancuj. Diváci sa nenechajú dlho prosiť. A už tancujú farebné tričká. Medzi "inak obdarených" púšťajú svoju Medicínu – dobrú náladu, ktorá je najlepším liekom. Spolu si dali i hej-hou-hej-hou. Bubon a saxofón. Nie je to žiaden Škandál, že máme dnes Slnko v sieti. "S takýmto publikom môžeme byť raz, možno dva krát do roka. Taký naozaj veľmi srdečný festival. Som zas plný dojatia." Ska naplno rozbalili v ikonickej Ona je taká. Ideme spolu. 2 kroky na stranu a hore noha. Nesmie chýbať Komplikovaná. Možno aj preto sú v kapele samí muži. A čo hovoria Polemici na darčeky, ktoré dostali od detí? V štúdiu majú vitrínu, v ktorej sú ocenenia, platinová platňa. Čestné miesto v nej majú i darčeky od "inak obdarených". "Úprimná radosť decák, alebo tých klientov, ktorú sme tu zažili, tak to sa dá zažiť iba tu. Takže sme vďační, že sme tu mohli byť."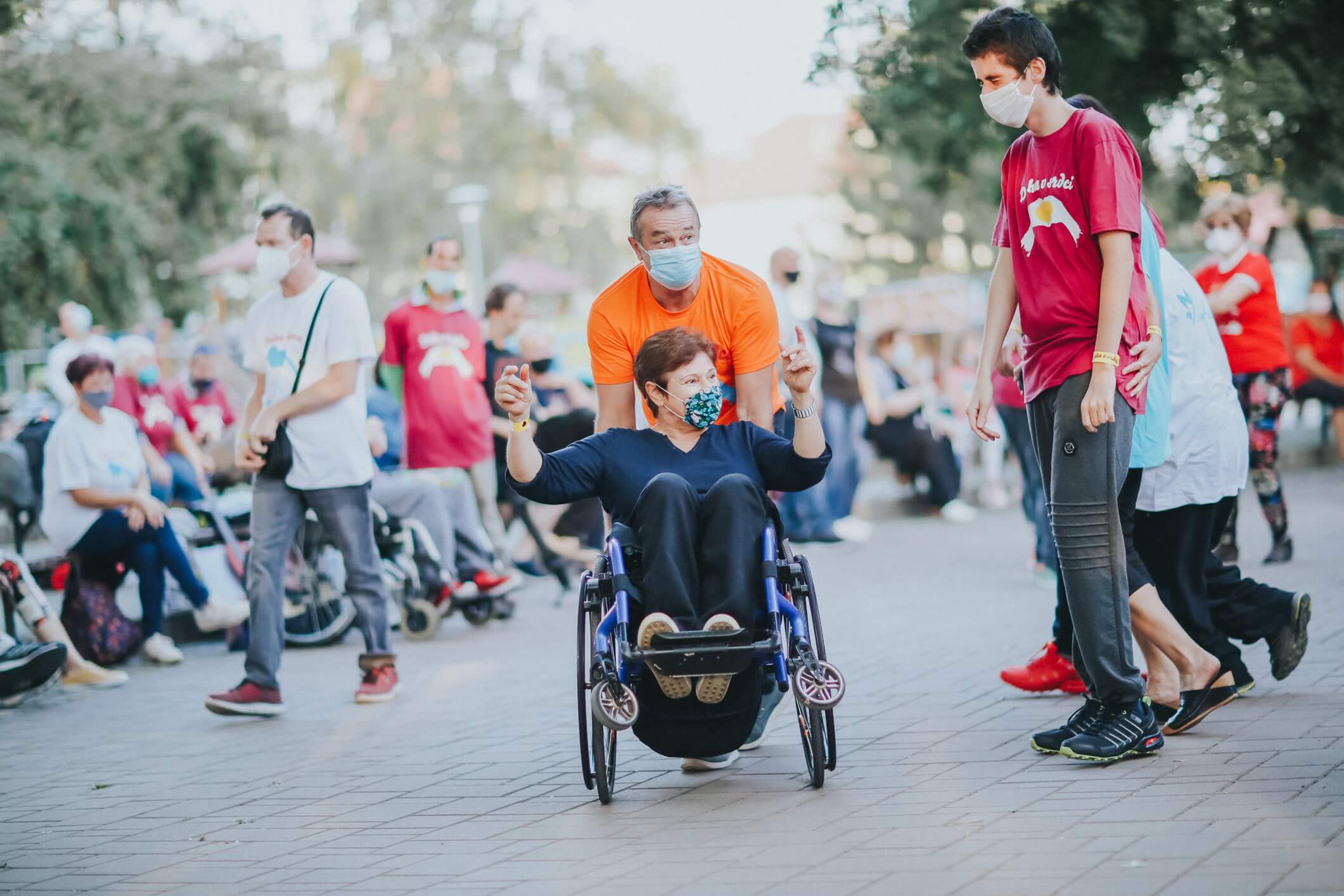 Prestávka na výmenu. Využijeme ju na súťaž. O najkrajší transparent. Zodvihnite ich nad hlavy. Porota sa nevie dohodnúť. Veď všetky sú perfektné. Farebné, nápadité. S fotkami i kresbami. Nápismi. Vybraných 5 naj. Hlavné ceny odovzdané. Ale i ostatní si zaslúžia darček. Každému sa ušiel.
Finále. Ako sami členovia hovoria, prichádza Prešovská úderka. Heľenine oči. Multižánrovým zameraním si nachádzajú poslucháčov v každej vekovej skupine. Prvky ska, reggae, rocku i folku namiešané miestami s "prešovčinou" vytvárajú osobitý štýl. Každý rok sa snažia podporiť nejakú dobrú vec a "tento rok padol los práve na túto akciu a sme radi, že sme tu." Do leta nás vrátili piesňami Plavčík Milan, Dovolenka. Úsmevné texty. Tak ľudsky pravdivé. Ako Profesionál. Trúbka s trombónom. Ľudovka. Na kameni kameň neostane s NAKA. Ani sedieť publikum. "Inak obdarení" už všetci tancujú. Veď Spolupráca publika je dôležitá. Poďme si to odpočítať. 1, 2, 3, 4…… "V zásade mi ide o to, že pokiaľ ich to baví, pokiaľ na tie naše pesničky tancujú, a sú spokojní a usmiati, tak to je asi to, čo malo cieľ." Ide sa na plno. Gitara a bubny. Je tu nejaká Mariana? Usmieva sa publikum, spod rúšok. Napriek množstvu darčekov, ktoré kapela dostala, za ten najväčší považujú práve úsmev. Úsmev divákov. A i keď sme tento krát boli v Novom Meste nad Váhom, isto viacerí vodiči pri piesni Obchádzka v duchu mysleli práve na cestu domov a na "obchvaty" okolo ich bydliska. Veď pomaly ale isto je tu záver.
Posledný potlesk. Úsmev pre kameramana. Zamávať. Pri odchode si vyzdvihnúť niečo sladké na cestu. Poďakovať sa. Za skvelú atmosféru. Poďakovať. Organizátorom, účinkujúcim, podporovateľom, dobrovoľníkom. A ide sa do všedných dní. Nabití zážitkami z podujatia. Julke Bublavej "vyslovene že taká radosť na duši prišla." Srdce v názve podujatie, je pre ňu symbolom nie len radosti organizátorov, ale hlavne detí, pre ktoré je podujatie určené. I preto sa na všetkých teší o rok.
Text: Júlia Platková
Foto: Igor Frimmel, Milan Maršalka a Marek Vaco
Video: Igor Kolesár