Pod skratkou BDHS sa môž
e skr
ývať všeličo: Blikajúci Dychový Hudobný Syst
é
m, Bass/Drums/Horns/System, Bach/Debussy/Hä
ndel
/Sibelius, Brutálne Dobr
á
Hudobn
á
Skupina, Braň
o/Du
šan/
Honza
/Svätopluk, alebo aj iné…ale hlavne je za ňou spolok muzikantov, ktorí sa na všetko pozerajú s poriadnou dávkou humoru a nadhľadu. Skupinu BDHS založili v roku 2015 v Prešove Tomáš Paľo, Tomáš Urban a Lukáš
Gulden
. Hrali v zložení: trombón
, bubon, bar
ytó
nsaxof
ón. Ich zámerom bolo preniesť
silu Lowbrass n
ástrojov a agresívnosť tanečnej hudby typu Prodigy, Fatboy Slim, či RATM do live neozvučenej
pouli
čnej
show
, čo sa im podarilo zrealizovať takmer dokonale. Zo zámeru interpretovať elektronickú tanečnú hudbu akusticky sa postupne stávala skupina s elektronickým zvukom a ďalšími vplyvmi. Prvým obrazom ich súčasnej podoby je skladba Nohy.
"Pesnička Nohy vznikla ako jedna z mnohých dalších. Na začiatku bol len basový riff od Jara. Potom som k nemu doplnil harmóniu, dychovú vyhrávku a text, ktorý som napísal pri počúvaní toho basového riffu počas nočnej cesty po Požiarnickej ulici smerom ku Kauflandu. Od začiatku som vedel, že do stredu skladby chcem gitarové sólo, ktoré sa do takej disco pesničky vôbec nehodí. Neskôr tam Tomáš Urban dohral basu a gitaru a na nejakom skupinovom výlete na chatu sme prvýkrát naspievali spev, do podmazu a mali sme prvú demoverziu pesničky Nohy," objasnil vznik skladby Tomáš Paľo.
K skladbe Nohy vznikol aj veselý a roztancovaný videoklip, ktorý nakrúcali v štúdiu Room Of Creativity na Solivare v Prešove s kameramanom Adriánom Jenčom.
"Scenár na klip sme nemali nejak masívne pripravený, boli pripravené len svetlá so svetelným technikom Lukášom Križanom. Hlavne sme chceli zachytiť živú skupinu pri hraní. A aby obraz pomohol textu vyniknúť od pozadia hudby. Tanečné sólo strihy som mal vymyslené, ale ako a či sa vôbec použijú, nebolo na začiatku jasné. Nakrúcali sme 13 hodín v kuse a tanec sa natáčal na konci, ciže všetci už toho mali dosť, ale podarilo sa," povedal o klipe hlavný tanečník BDHS Tomáš Paľo.
Skupinu BDHS, ktorú v súčasnosti tvoria muzikanti známi z účinkovania v mnohých úspešných prešovských skupinách: Tomáš Paľo (trombón, spev, klávesy), Tomáš Urban (gitara, basa, bicie), Lukáš Gulden (barytónsaxofón), Miroslav Szirmai (bicie), Jaroslav Janek (trúbka, klávesy, bicie), Martin Urban (gitara, basa, bicie), chystá vydanie albumu. Nahrávali ho postupne v štúdiu Martina Sejka v Prešove.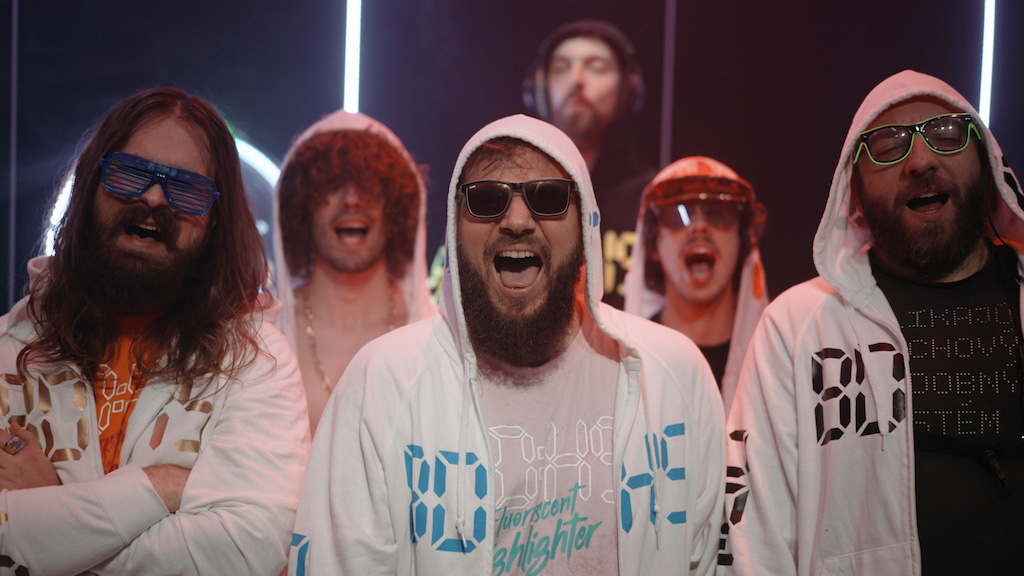 "Album sme poskladali z pesničiek, ktoré sme hrali na vystúpeniach. A z ich elektronických verzií, ktoré sme síce na koncertoch nehrali, ale chceli sme sa k tomu dopracovať. Motívy si každý pripravil doma, aby sme nemuseli strácať veľa času pri skúšaní. Hudbu sme skladali väčšinou v trojici: Tomáš Paľo, Tomáš Urban a Jaroslav Janek. V dvoch pesničkách sú ako autori hudby aj Lukáš Gulden a Miroslav Szirmai. Všetky texty som doteraz napísal ja, ale nevylučujem, že niekedy napíše aj niekto iný, ale zatiaľ to nikto ani neskúšal," povedal o novom albume BDHS Tomáš Paľo.
Veľkým lákadlom nielen pre hudobných fajnšmekrov je určite už aj tracklist albumu.
BDHS: Fluorescent Highlighter
1.Smrteľná dávka (Akustické TECHNO)
2.Nohy (Spievané moderné Disko)
3.Láska Ťa prinúti Miro (80 roky spievané disko, masívne synthetizátory)
4.Kurča ( Akustický Techno jazz)
5.Medveďku (akustická Techno Ľudová pieseň)
6.Medveďku Časť II. elektrik (elektrický variant Medveďku s overdub masívnym orchestrom)
7.Môj pohľad na vec (Skreslená Gitarová blues/Disko vec)
8.Tancuj (Pokus o dancefloor)
9.Dochádzam (DnB)
10.Peniaze (Akustické TECHNO)
11.Smrteľná dávka – Dj $hap3 epilog mix (zmixovaný orginál sampla smrťelná dávka z dokumentárneho filmu Fera Feniča- DIADEM)
Nový album Fluorescent Highlighter chce BDHS predstaviť spolu s novou zostavou na koncertoch.
"Chceli by sme čo najviac hrať. Podľa možností profesionálne. Máme už pripravený materiál aj na ďalší album, takze by sme mali ho čím skôr začať nahrávať. V lete máme na mesiac naplánované hranie v Česku a na Slovensku. A máme aj veľké ciele. Chcel by som si zas po čase zahrať v Berlíne, Paríži, Budapešti, v Holandsku, Belgicku, či na Ibize na veľkom tanečnom stagei Tomorowland…" povedal o plánoch a snoch skupiny BDHS jej líder Tomáš Paľo.
Zdroj: TS