Balaton Sound, ktorý je najväčším európskym plážovým festivalom elektronickej hudby, oznámil svoju druhú vlnu umelcov pre ellrow a B stage, z ktorých každý má na zozname niektoré z najväčších a najvplyvnejších mien v súčasnej techno, minimal a house music, ktorá bude podporená jedinečnou vizuálnou a zvukovou produkciou.
Nové oznámenie prináša obrovský výber headlinerov a creme de la creme medzinárodných DJs, vrátane techno-legendy Richie Hawtina, Deborah De Luca, FISHER, Svena Vätha a mnoho ďalších, ktorí sa pripájajú k už ohláseným Martinovi Garrixovi, Becky Hill. , Lost Frequencies a ďalší.
Medzi ďalšie nové horúce mená na účte budú patriť britský techno DJ a producent Jamie Jones, taliansky DJ Joseph Capriati, ktorý sa nedávno stal stálicou svetových klubov a festivalov ako jeden z najžiadanejších headlinerov.
Akoby toho nebolo dosť, do výnimočného line-upu sa pridali aj nemecká techno legenda a zakladateľ labelu CLR Chris Liebing, nemecké techno duo Pan-Pot a Italian House music trip Meduza. Navyše, jeden z dnešných hrdinov globálnej techno scény, Reinier Zonneveld, ukáže publiku Balaton Sound svoju pôsobivú diskografiu s jedinečným živým setom, ktorý otriasa tanečným parketom. S legendárnymi DJmi a umelcami, ktorí tvoria tento rok účet, oslavuje Balaton Sound 2022 svoj úplný návrat so svojou doteraz najpôsobivejšou zostavou.
Balaton Sound 2022 prinesie jeden z najvzrušujúcejších VIP zážitkov v Európe. To bude zahŕňať úplne nový elrow VIP priestor s Rousseau efektom a exotickou džungľou s exkluzívnymi DJ setami a výhľadom na hlavné elrow stage. Pre tých, ktorí sa chcú schladiť a užiť si slnko, VIP pobrežie bude naďalej ponúkať chladivé vibrácie a plážové večierky na svojom sviežom bazéne a ležadlách s baldachýnom.Balaton Sound, Europe's biggest electronic beach festival has announced its second wave of acts for itselrow and B stages each featuring some of the biggest and most influential acts in contemporary techno, minimal and house music, supported by unique visual and sound production.
The new announcement brings a huge selection of new headliners and the creme de la creme of international DJs, including techno-legend Richie Hawtin, Deborah De Luca, FISHER, Sven Väth and many more joining the likes of the already announced Martin Garrix, Becky Hill, Lost Frequencies and more.
Other new hot names on the bill will include UK techno DJ and producer Jamie Jones, Italian DJ Joseph Capriati who has recently become a staple highlight of the global club and festival circuit as one of the most in demand headliners.
As if that wasn't enough, also joining the exceptional line-up are German techno legend and founder of label CLR Chris Liebing, German techno duo Pan-Pot and Italian House music trip Meduza. Furthermore, one of today's global techno scene heroes, Reinier Zonneveld will show the Balaton Sound audience his impressive discography with his unique dance floor-shaking live set. With legendary DJs and artists forming the bill this year, Balaton Sound 2022 celebrates its full return with its most impressive line-up to date.
Balaton Sound 2022 will feature one of the most exciting VIP experiences in Europe. This will include a brand new elrow VIP area with a Rousseau effect and exotic jungle feel with exclusive DJ sets and views to the main elrow stage. For those wanting to chill and enjoy the sun, the VIP shore will continue to offer chill vibes and beach parties on its lush swimming pool and canopy sunbeds area.
Balaton Sound's full lineup so far
Archie Hamilton
Analog Balaton
Alesso
Alok
Bastian Bux
Becky Hill
Ben Böhmer (live)
Blastoyz
Candyman
Carnage
Chris Liebing
Chuck & Perge
Cloonee
Collective Machine
Danny Tenaglia
Deborah De Luca
De La Swing
Denes Toth
Dimitri Vegas & Like Mike
Dillon Francis
Dj Pola
Episode1
FISHER
Franky Rizardo
Giolí & Assia (live)
Giorgia Angiuli (live)
HOT X
HVOB live (Clubset)
Hernan Cattaneo b2b Nick Warren
Jamie Jones and Joseph Capriati
Jaffa Surfa & Garay
James Cole
Jonas Blue
Julian Jeweil
Ilario Alicante
Imanbek
Loco Dice
Lost Frequencies
Marc Maya
Martin Garrix
Marshmello
Malaa
Mateo & Spirit
Meduza
Metha
Miss Monique
Modestep (live)
Moksi
Monolink (live)
Nastia
Nervo
Nick Curly
Nusha
Paul Kalkbrenner (live)
Paul Van Dyk
Pan-Pot
Poli
Raul Young
Reinier Zonneveld (live)
Richie Hawtin
Rizkid
Robin Schulz
Sabee
Secret Factory
SanFranciscoBeat
Sikdope
Shabaam
Space 92
Sven Väth
Svetec
Timmy Trumpet
Tini Gessler
Toni Varga
Vini Vici
Viviana Casanova
Yellow Claw
29. Jún – 2. Júl 2022,
Jazero Balaton, Maďarsko
Vstupenky v predaji od 17. februára na balatonsound.com/sk
Cena vstupeniek:
K dispozícii iba nasledujúcich 72 hodín do 20.2. 12:00
4 Dňová vstupenka za 190 €
3 Dňová vstupenka za 165 €
VIP vstupenky a upgrady budú v predaji od 24. februára
www.balatonsound.com/sk
www.facebook.com/balatonsoundslovakia
www.instagram.com/balatonsound_slovakia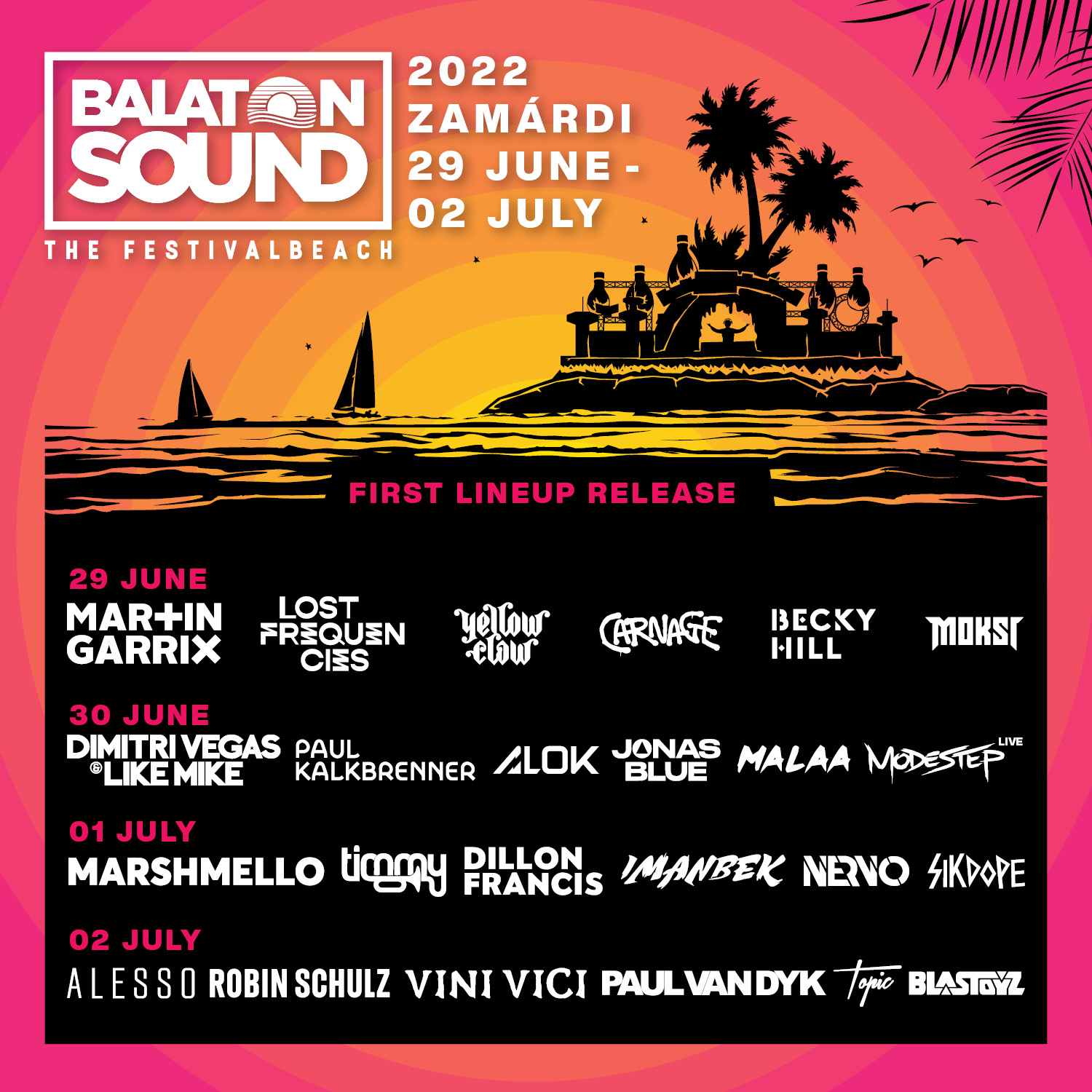 Zdroj: Baloton Sound