Cash Savage and The Last Drinks, sedmihlavé hudební monstrum z australského Melbourne, je kapelou vyhlášenou svými nespoutanými koncerty. Publikum hypnotizuje nezaměnitelnou směsí blues, alternativního country, garážového rock'n'rollu a odzbrojující, až sebezničující otevřeností textů. 7. června vystoupí poprvé na Slovensku a to v bratislavském Randal Clubu.
Frontwoman, zpěvačka, skladatelka, trenérka fotbalového týmu Old Bar Unicorns a vypravěčka strhujících příběhů Cash Savage, je proslulá chraplavým hlasem i nepředvídatelnými výstupy na koncertech. V době, kdy se svět rozpadá s tak ohlušujícím řevem, se nese hlas Cash Savage hlasitě nad touto kakofonií.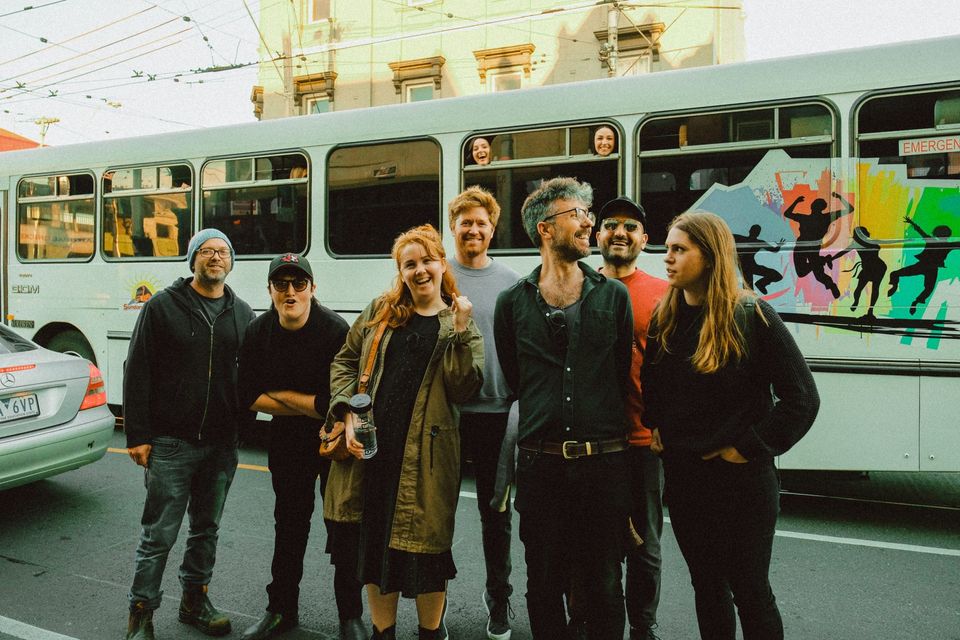 Cash Savage and The Last Drinks vtrhli na scénu roku 2011 a rychle si získali místo na předních australských festivalech jako Meredith Music Festival, Deni Blues, Roots and Wave Rock WA nebo Australian World Music Expo. Cash samotná ale brázdila s kytarou Austrálii již od roku 2009. Hudbu má v krvi – věnuje se jí celá rodina, její strýc Conway Savage byl členem Bad Seeds Nicka Cavea.
Pověst kapely rychle doletěla přes oceán, roku 2015 odehráli Cash Savage and The Last Drinks své první evropské turné, v rámci kterého zahráli s velkým ohlasem i na Colours of Ostrava.
Extatické vzestupy a zničující pády, ale i producent Nick Finch ze spřízněného uskupení Graveyard Train, formovali třetí desku One Of Us. Ať už to byl sňatek Cash Savage se zakladatelkou známého LGBTQ+ magazínu Archer Ammy Middleton, evropské turné nebo ztráta několika blízkých přátel a členů rodiny, bolest i radost znovu vetkla Savage do osobitého temného blues country.
Na podzimní evropské turné roku 2018 dorazili Cash Savage and The Last Drinks s novinkou Good Citizens plnou skladeb o politice, smutku i vzteku. Coby příslušnice LGBTQ+ komunity vnímá Cash Savage velmi citlivě problematiku manželství stejného pohlaví. Ve skladbě Better Than Them otevřeně popisuje vlastní zkušenost, celá deska je věnována veskrze osobním tématům, ale i nepřístojnostem a nepokojům, hýbajících současným světem. "Myslím, že násilí je odpověď," říká natvrdo Savage, které často až nepříjemné reflexe moderní společnosti nezabránily v tom, aby novou desku naplnila až po okraj výraznými hity s fantastickým hudebním doprovodem The Last Drinks.
Na rok 2020 plánovala kapelu další evropské turné, celosvětová pandemie koronaviru ale změnila plány a došlo k několika odkladům. Cash Savage využila čas a v době době lockdownu natočila živé album Live At Hamer Hall zachycující živelnost a nespoutanost kapely.
"Jedna z nejsilnějších kapel v zemi…moc lepších věcí neuslyšíte." Napsal o kapele The Guardian. Přesvědčte se sami už 7. června V Randal Clubu. Vstupenky zakoupíte v prodejní síti tootoot.fm
FB event: facebook.com/events/981772942442445
Vstupenky: randalclub.eu/event/520-cash-savage-and-the-last-drinks
Zdroj: TS