Fanúšikovia Richarda Müllera sa konečne môžu tešiť na turné! Po náročnom pandemickom roku plnom odriekania si vychutnajú jeho hudbu naživo. Počas letnej koncertnej šnúry zahrá aj skladby z najnovšieho albumu Hodina medzi psom a vlkom, ktorý má naozaj mimoriadny úspech. Predáva sa tak dobre, že už má status "Double Platinum". Na letnom turné však nebudú chýbať ani osvedčené hitovky, bez ktorých si Richardove koncerty ani nemožno predstaviť. Nenechajte si to ujsť!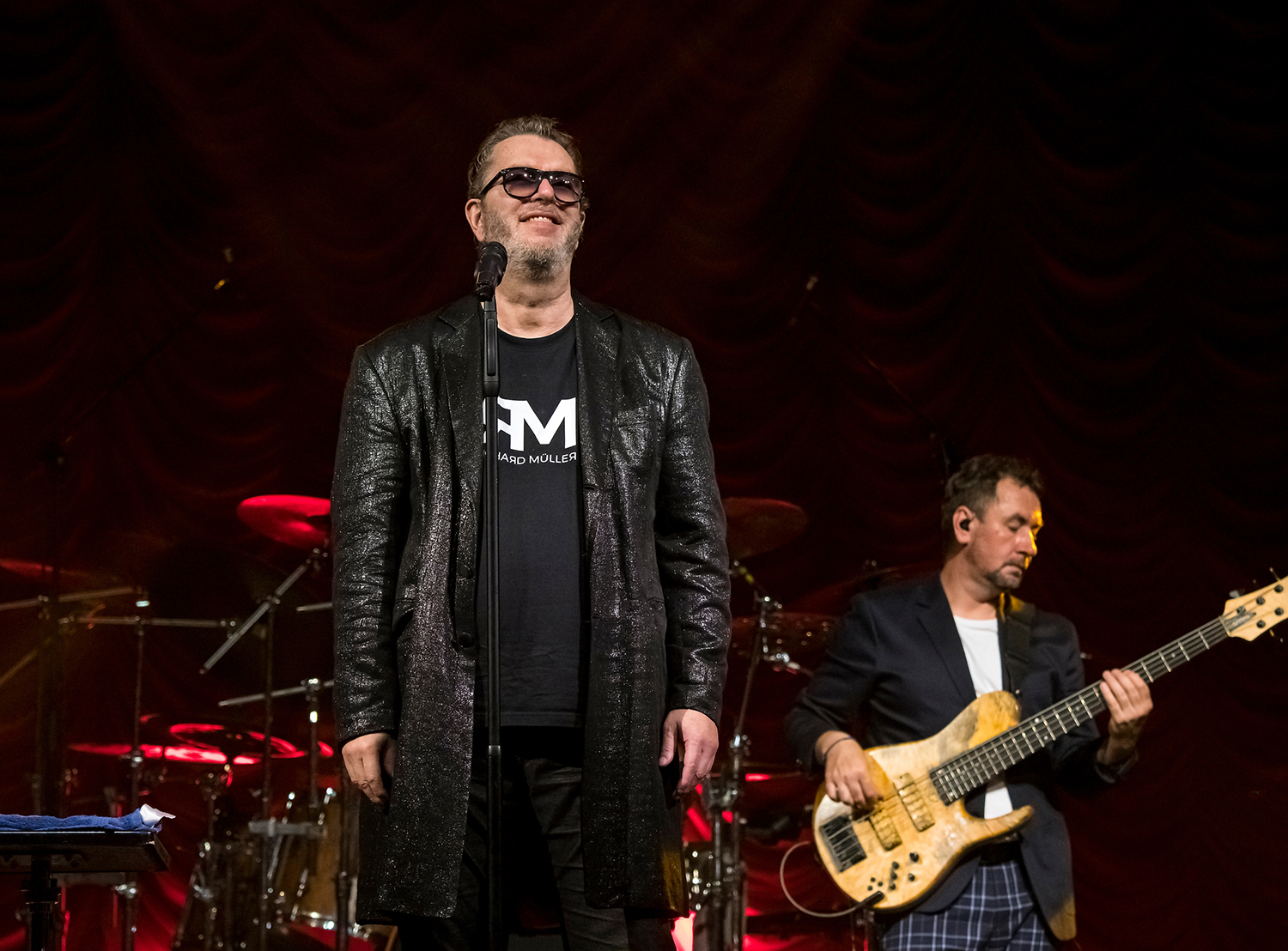 Pandemická situácia v krajine sa zlepšuje a tak už aj umelci plánujú, ako si opäť vychutnajú spoločné chvíle so svojimi fanúšikmi. Chýbali aj Richardovi Müllerovi, ktorý však ani počas lockdownu nezaháľal. Náročné časy využil na komponovanie nových skladieb, z ktorých vznikol veľmi úspešný album. Hodina medzi psom a vlkom sa predáva tak dobre, že už má dokonca "Double Platinum".
"Keď som po štyroch rokoch vydával nový album, nepredstavoval som si, že ho ľudia príjmu až takto dobre. Teším sa z každého úspechu a pozitívnej odozvy fanúšikov. Ďakujem každému jednému, že napriek tejto komplikovanej dobe si kúpili moje CD alebo vinyl. Úprimne ďakujem," vraví dojatý Richard Müller.
V týchto dňoch je už Richard a jeho tím skvelých muzikantov opäť v skúšobni a pripravujú sa na letné turné. Hrať a spievať naživo im totiž nedokáže nahradiť žiadna iná aktivita. Na turné zaznejú aj piesne z nového albumu, ale nebudú chýbať ani notoricky známe hity ako Milovanie v daždi, Cigaretka na dva ťahy, Tlaková níž a ďalšie. Navštívia 12 slovenských miest, kde zahrajú v amfiteátroch či na nádvoriach hradov.
"Priamy kontakt s fanúšikmi nič nenahradí. To určite potvrdí každý hudobník. Už sa naozaj nevieme dočkať. Navyše, koncerty pod holým nebom majú vždy jedinečnú energiu a asi nám už všetkým chýba kvalitná muzika z pódií," dodáva Richard Müller.
Na turné ľudí môže navnadiť aj ďalší singel z nového Richardovho albumu. Po úvodnom singli Siedme nebo, ktoré Richard predstavil vlani, teraz prináša razantú skladbu Defekt na duši. Pieseň dostáva aj vizuálnu podobu ako lyric video, s fotografiami Maya Hirca, v postprodukcii Mariána Uhrína, strih a réžia Tomáš Slávik.
Vstupenky na letné koncerty Richarda Müllera s nezabudnuteľnou atmosférou zakúpite v sieti predpredaj.sk a v miestnych pokladniach.
Richard Müller – Leto 2021
28. 7. Hlohovec – AMFITEÁTER
1. 8. Bratislava – AMFITEÁTER InPARK, RUŽINOV
4. 8. Divín – NÁDVORIE ZICHYHO KAŠTIEĽA
5. 8. Kežmarok – NÁDVORIE HRADU
6. 8. Ľubotice – AREÁL U SUSEDA
7. 8. Humenné – AMFITEÁTER
8. 8. Košice – KASÁRNE/KULTURPARK
14. 8. Galanta – AMFITEÁTER
15. 8. Bojnice – AREÁL SOKOLIAROV
19. 8. Skalica – FRANTIŠKÁNSKA ZÁHRADA
20. 8. Banská Štiavnica – AMFITEÁTER
21. 8. Skalité – AMFITEÁTER
Zdroj: PROPAGANDA HOUSE