Bratislavské kultúrne centrum T3 – kultúrny prostriedok, ktoré môžete poznať ako električku stojacu na Tyršovom nábreží 19.5. štartuje sériu koncertov T3xEThno. Séria podujatí predstaví folklór, etno či world music v kontexte súčasnej a aktuálnej hudobnej tvorby – od freejazzu, cez vážnu hudbu až po súčasnú elektroniku či field recording.
Maniucha a Ksawery je spojenie Ksaweryho Wojcińskeho, mnohostranného hudobníka a kontrabasistu, ktorý sa venuje interpretácii starej hudby, ale aj súčasnému freejazzu a spolupracuje s poprednými menami svetovej aj poľskej scény – od Matsa Gustafssona po Waclawa Zimpela. Maniucha Bikont je speváčka a antropologička, ktorá dlhé roky pôsobí v tradičnej ale aj experimentálnej hudbe. Bikont roky cestovala po dedinách na ukrajinskom Polesí, počúvala a učila sa miestne folklórne postupy a spevy od starých speváčok. Maniucha a Ksawery spolu vytvorili projekt, ktorý kombinuje tradičné kompozície z ohrozených tradičných piesní rozsiahleho Polesia s free jazzovou improvizáciou či piesňami jari, žatvy, ale aj uspávankami či svadobnými piesňami. Budujú tak unikátne znejúci príbeh o cykloch prírody a ľudského života.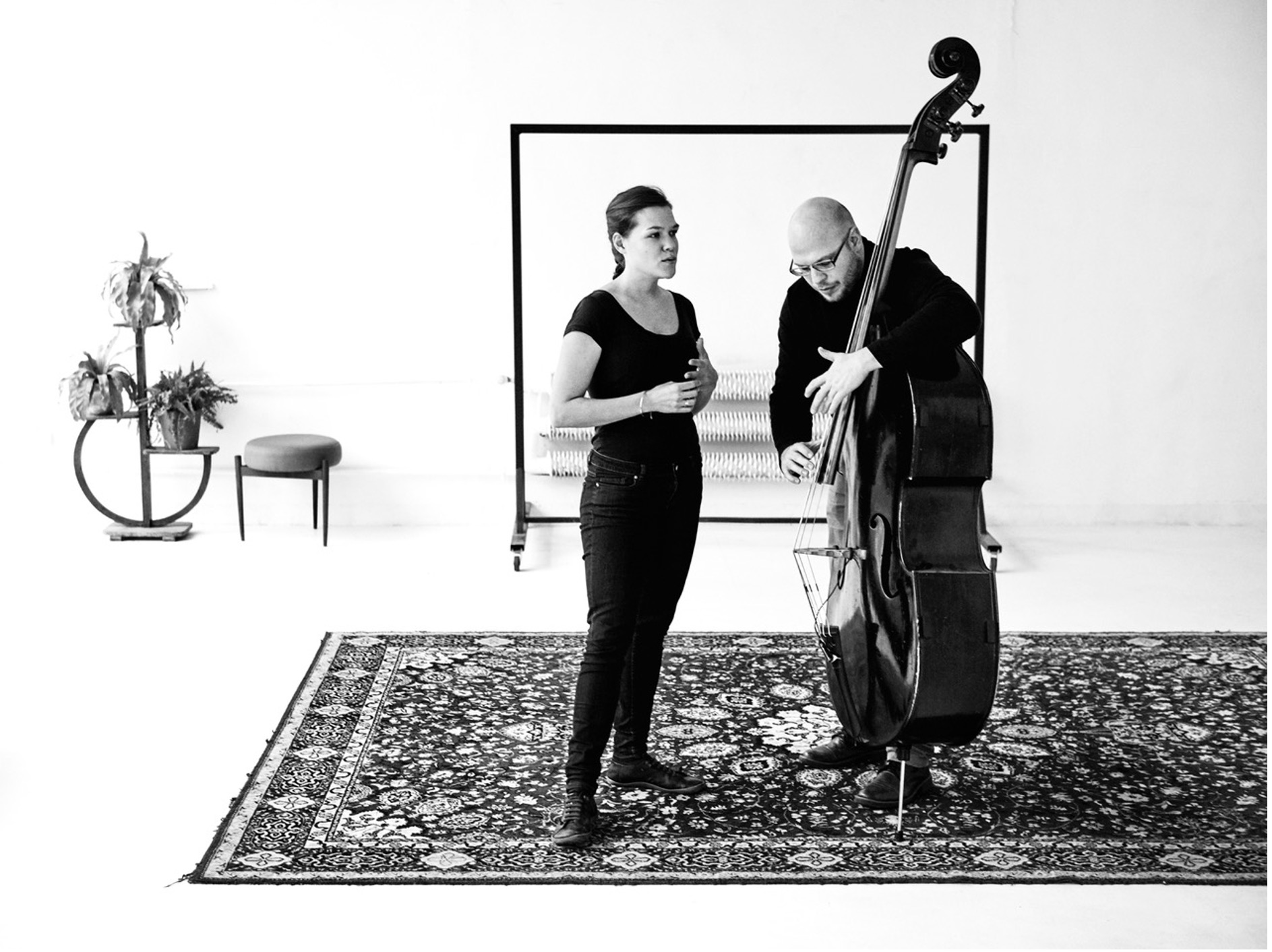 Michaela Antalová s Adrianom Myhrom minuý rok vydali unikátny album Zvony, na ktorom prepájajú folklórne tradície s field recordingom či avantgardným jazzom. Inšpirovali sa pritom slovenským aj nórskym folklórom. V Nórsku usadená bubeníčka Michaela Antalová si pre tento projekt odsadla od bicích a začala hrať na fujare a tradičnej nórskej vŕbovej flaute zvanej seljefløyte. Fujara sa jemne prelína s frekvenciami kontrabasu, na ktorom hrá Adrian Myhr. Nórska alikvotná flauta seljefløyte je veľmi podobná slovenskej alikvotnej flaute zvanej koncovka. To umožňuje skladať novú hudbu, ktorá inovatívne prepája obe tradície. Na tento album duo použilo aj harmónium, viacstopovú nahrávku flauty a kontrabasu a terénne nahrávky cvrčkov zachytených v obci Zlatno, ako aj nahrávku mužského zboru zo Šumiaca spievajúceho tradičnú pieseň v štvorhlasnej harmónii.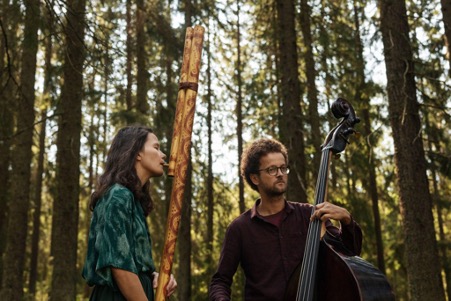 Podujatie na Facebooku: https://www.facebook.com/events/3153513741627450
Bio vystupujúcich:
Maniucha Bikont je speváčka, hudobníčka a antropologička. Zozbierala sériu terénnych nahrávok v Poľsku, na Ukrajine a v Rusku. Maniucha je členkou rôznych hudobných skupín, vrátane Dziczka, Z Lasu, Niewte, Odpoczno a Tęgie Chłopy. Spolupracuje s Janusz Prusinowski Kompania, Assafom Talmudim, Shayom Tsabarim, Rafaelom Rogińskim a Iliom Saytanovom.
Ksawery Wójciński je kontrabasista, skladateľ a mnohostranný hudobník so záujmom o odvážne experimenty. Spolupracoval s Charlesom Gayle, Uri Caine, Mikołajom Trzaskom, Michaelom Zerangom, Satoko Fuji, Nicolle Mitchell, Timom Sparksom, Klausom Kugelom, Kenom Vandermarkom, Matsom Gustafssonom a Waclawom Zimpelom.
https://maniuchaksawery.bandcamp.com/album/oj-borom-borom
Michaela Antalová je slovenská skladateľka a bubeníčka žijúca v Osle. Je zakladateľkou skupiny Mikoo a aktívne koncertuje so sólovými predstaveniami. Michaela Antalová študovala improvizáciu a jazz na Norwegian Academy of Music v Osle. Na Slovensko a do Čiech se ale pravidelne vracia. V minulosti napr. kvôli kapele Dunajská vlna, teraz napr. ako hráčka kapely Arará či Love_me. Podielala se taktiež na debutovom albume skupiny Ankramu a na albume Miláček slunce brnenskej kapely Květy. Zaujíma sa o voľnú improvizáciu a vo veľkej miere ju zamestnáva perkusívna hudba. Skladá pre menšie aj väčšie hudobné zoskupenia. Jej hudba obsahuje komplexné hudobné nápady a textúry, ktoré sa svojou rôznou orchestráciou obmieňajú a pomaly vyvíjajú. Prechádza žánrami a hrá na rôzne perkusie a súpravu bicích. Zaoberá sa skúmaním improvizácie v rôznych podobách a využíva túto skúsenosť v barokovej, folklórnej, singer-songwriter a experimentálnej hudbe. Spolupracuje s Lę Quan Ninhom, Chrisom Corsanom, Martinom Küchenom, Knutom Reiersrudom, Kimom Myhrom, Atle Nymom, Matsom Eilertsenom, Sudeshnou Bhattacharyou, Hansom Kjorstadom, Bjarte Eikem a inými. Prvý sólový album Oblak, Oblek, Oblúk bol vydaný v roku 2016. Michaela vydala svoj druhý album, 40-minútovú skladbu nethuns: music for 14-musicians, v marci roku 2020.
Adrian Myhr momentálne žije v Osle, no svoje korene má v Trondheime. V súčasnosti je veľmi aktívnym hudobníkom, prevažne v oblasti improvizovanej hudby, spolupracuje so súbormi ako Oker, Bergljot, Lindvall/Myhr/Gismervik a Bansal Band. Robí tiež rozsiahle ad hoc improvizácie s ľuďmi ako Tobias Delius, Axel Dörner a Tony Buck.
https://hevhetia.bandcamp.com/album/zvony
www.t3.sk
https://www.facebook.com/T3.kulturny.prostriedok
https://www.instagram.com/t3kulturnyprostriedok/
Zdroj: TS