Držiteľ ceny Anděl a kométa českého hudobného neba Štěpán Hebík a.k.a. 7krát3 prichádza po dvoch rokoch od vydania svojho debutového albumu I s druhým albumom. Volá sa jednoducho II. Pomocnú ruku priložilo okolo tridsať hudobníkov a hlasom prispeli aj Rytmus či talentovaná Erika Rein. Album II sa pokrstil cez víkend v pražskej Lucerna Music Bar – s kapelou a množstvom hostí. Virtuálne však album pokrstil novinkou "YoYo", kde hosťuje Erika Rein.
Deväť piesní vznikalo počas dvoch rokov, kedy Štěpán odohral desiatky koncertov vrátane veľkých festivalov ako Colours of Ostrava či bratislavský Uprising.
Pilotným singlom nového albumu II je pieseň "YoYo", kde hosťuje talentovaná Slovenka Erika Rein. YoYo má výraznú groovy atmosféru vďaka basovej linke Petra Bidla s tradične provokatívnym textom, čo je typickým znakom umelca 7krát3. Ide o prvý Štěpánov duet so speváčkou, navyše ide o česko-slovenskú spoluprácu. Eriku si všimol v slovenskej talentovej súťaži a okamžite ju oslovil.
"Hned jsem věděl, že se zpěvačkou s takovou barvou hlasu a hudebním citem bych chtěl natočit song," opisuje prvé dojmy 7krát3. Pieseň "YoYo" vznikla na songwriterskom sústredení, kde sa Štěpán stretol v jednom tíme s Angličanom Joshuom Jamesom a českým muzikantom Marcellom, ktorí sú tiež súčasťou skupiny, čiže celkom dvadsaťsedem spolupracovníkov, ktorí sú na novom albume II.
Jedného dňa sa mi na instagrame objavila správa od Štěpána, či by som nešla do spolupráce na jeho singel k novému albumu. Priznám sa, že som jeho tvorbu dovtedy nepoznala, na rozdiel od mojich hudobných aj nehudobných kamošov, ktorí mi povedali, že by táto spolupráca znela super. Štěpánovu tvorbu som si napočúvala a ostala som nadšená, že niekto takto brutálny ma oslovil na spoluprácu. Keď som počula demo skladby YOYO, tak som sa v tom len utvrdila. Spolupráca prebiehala bohužiaľ viac-menej online. Bolo však pre nás oboch veľmi dôležité, aby to fungovalo aj ľudsky, tak sme sa pred točením videoklipu a samotným releasom tracku stretli na Uprisingu, kde mal Štěpán koncert a tam teda bolo jasné, že to bude extrémne fungovať! Po tom čo som počula celý Štěpánov album, som najradšej, že si na feat vybral práve mňa, pretože je to podľa mňa jeden príjemný a kvalitný album, hovorí nadšene Erika Rein.
Singel sa zámerne – a tak trochu ako za starých čias – najskôr objavil v klasických FM rádiách. Pražské Expres FM ho nasadilo do playlistu exkluzívne ako prvé už 17. októbra. Nový album II je po výtvarnej stránke ovplyvnený poetikou starých prírodovedných dokumentov slávneho francúzskeho oceánografika Jacqua-Yvesa Cousteaua.
"Viděl jsem autobiografický film o Cousteauovi a dost mě to zasáhlo. Hodně obětoval, aby mohl objevovat. Cítím to podobně. Moct něco lidem sdělit pro něho bylo důležitější, než ta mnohdy bouřlivá cesta, která k jeho cílům vedla… V hudbě je to často taky tak. Navíc, když jsem hledal inspiraci pro nové vizuály v knihovně, jeho dílo mi čirou náhodou padlo do ruky jako první,"dodáva Štěphan.
Za posledných pár rokov toho mladý muzikant stihol veľa. Hudobnú scénu obohatil o vzájomné "featuringy" napríklad s Orionom, Vladimirom 518 alebo Mikom Trafikom. Upozornil na seba tiež niekoľkými výraznými a podarenými televíznymi vystúpeniami, ktoré ho dostali do povedomia širšej poslucháčskej spoločnosti, napr. na cenách Anděl 2020 alebo na lockdownovom koncerte z Národného divadla Národ sobě- kultúra sobě. V zlatej kaplnke odohral zatiaľ svoj najúspešnejší song "Tygrovaný sprej" s Jiřím Kornom.
https://shop.rukahore.sk/7krat3/cd-ii
https://www.instagram.com/7krat3/
https://www.instagram.com/erika__rein/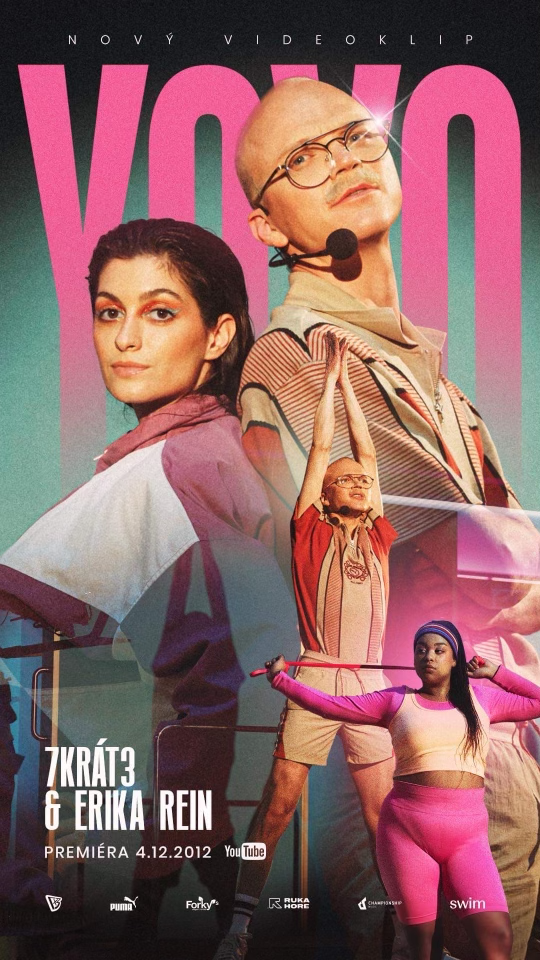 Zdroj: JANA TRELLOVA PR/BRAND MANAŽÉR
Foto: David Urban