Posledný aprílový víkend sa bratislavská Nová Cvernovka zaodela do hudobného šatu, svoje priestory na dva dni prepožičala mladému showcasovému festivalu Sharpe. A kto si našiel čas a zablúdil sem, určite neoľutoval. Na festivale mierne prevažovali hudobníci z domácej scény, svoje zastúpenie tu však mali aj skupiny viacerých európskych krajín.
Organizátori z LALA Slovak Music Export na druhý ročník pripravili viacero noviniek, a viacero z nich sa naozaj osvedčilo. Kompaktné priestory Novej Cvernovky a dobre rozvrhnutý line up ponúkali možnosť stihnúť aspoň polovicu každého koncertu. My sme si v piatok na úvod vychutnali post-indie trio Luvver, ktoré vzišlo z formácie freshoutofbus.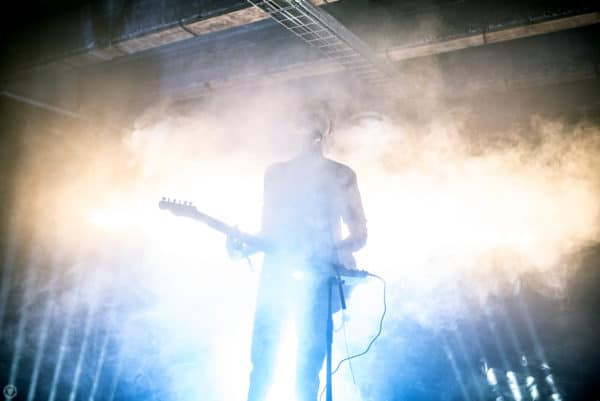 Sklamaní sme určite neboli, chalani nám ukázali, že dokážu osloviť stále väčšie publikum a do budúcnosti majú veľký potenciál. O tom svedčí aj správa spred niekoľkých dní, že tento rok sa na nich môžeme tešiť aj na tohtoročnej Pohode. Po tomto koncerte sme zamierili na undergroundový stage, kde sa rozbiehal producent Lukáš Zdurienčík aka Blame Your Genes. Jeho svižné a rezké beaty nás preniesli niekam ďaleko z podzemia socialistickej budovy, aj keď ku koncu jeho hudba začala pôsobiť troška monotónne. Z tadiaľ sme zamierili na horné poschodie, kde sa v priestoroch Kabinet stagu rozbiehali poľskí JAAA!.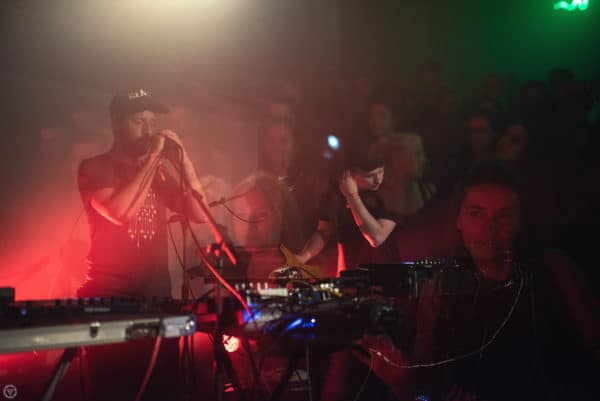 Bola to moja prvá skúsenosť s poľskou elektronickou scénou, no nakoniec išlo o jedno z najpríjemnejších prekvapení večera. Ľudí sa tu tlačilo naozaj dosť a zo zadu bolo možné vidieť len pódium zahalené v červenom svetle a obrovských chumáčoch pary. K ich trascendentálnej elektronike to však pasovalo dokonale. Pokiaľ máte radi velikánov elektroniky ako Moderat či Röyksopp, určite by ste si prišli na svoje. Niektoré hravejšie skladby mi miestami zase pripomínali MGMT, v každom prípade dúfam, že budeme mať ešte možnosť ich niekedy vidieť. Po ich vystúpení sme sa presunuli do vedľajšej sály, kde nás čakalo mimoriadne energické vystúpenie Holanďanov zo skupiny Kuenta.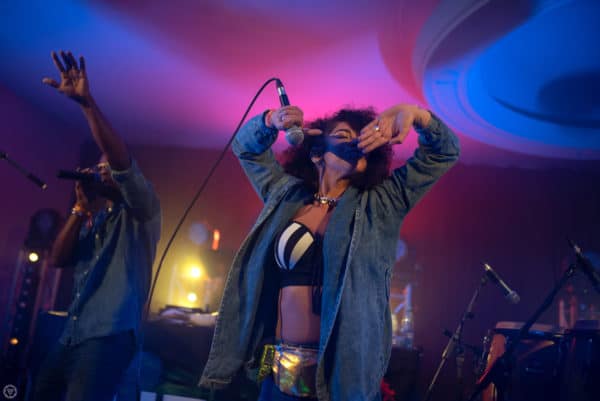 Tí nás zobrali na exkurziu tambú hudby pochádzajúcej zo slnečného karibského ostrova Curacao jemne šmrncnutú elektronikou, ktorá na Sharpe číhala na každom kroku. Mne osobne takýto druh hudby veľa nehovorí, dav pod pódiom však skákal a tancoval ako o život. Niekde vonku na pódiu open air festivalu to však fungovať určite bude. Odtiaľ sme sa vrátili späť do podzemia, kde dav ľudí vo veľkom prevyšoval kapacitu tohto malého pódia. A to znamenalo jediné – Fvlcrvm je v znamenitej forme a potvrdzuje svoju povesť špičky slovenskej elektronickej scény.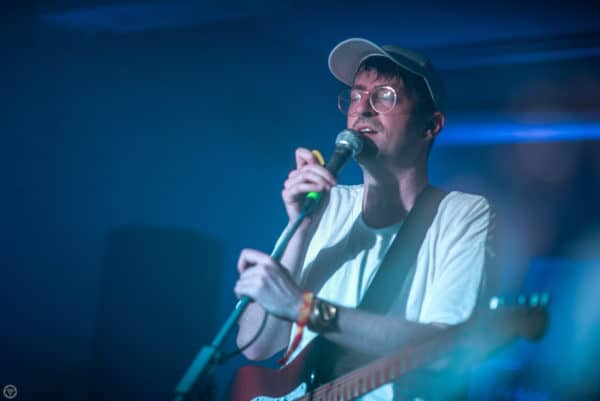 Po tejto povinnej jazde sme sa pustili do objavovania súčasnej bristolskej hudobnej scény, ktorú zastupovali pomerne neznámi Scalping. A že sme svedkami niečoho veľkého, sme pochopili hneď po príchode do priestorov Klubu Cverna. Celé pódium bolo ponorené do tmy, vidno bolo len predklonené siluety oproti mihajúcim sa stroboskopovým obrazovkám, pôsobiace ako z futuristického filmu. K tomu si pridajte industriálne techno hrané naživo, popretkávane temnými post punkovými tónmi gitár a bicií. Tento hudobno-vizuálny zážitok sa svojou intenzitou stal skutočným highlightom piatkového večera. Scalping sa výrazne zapísali do nášho povedomia a sme si istí, že o nich ešte určite budeme počuť.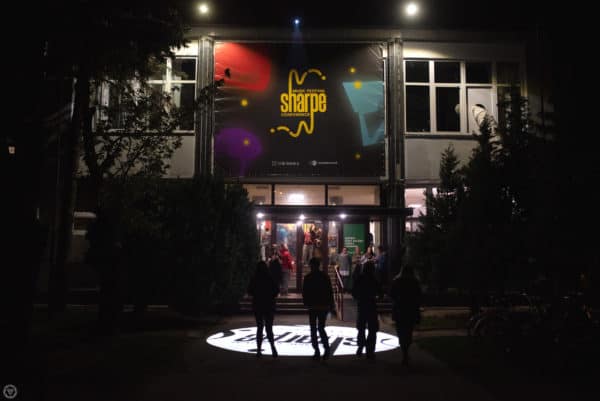 Večer sa prehupol do hlbokej noci, a už sme tu mali sobotu. Cez deň boli na programe konferencie a workshopy určené najmä pre ľudí, ktorí sa motajú okolo organizácie koncertov a festivalov, či pre novinárov, veľa zaujímavostí sa tu ale mohol dozvedieť aj ktokoľvek z bežných návštevníkov. Patrik Marflák nám v rámci diskusie "When is the Radiohead going to play in Slovakia?" spoločne s domácimi aj zahraničnými promotérmi priblížili tému bookingu veľkých zahraničných kapiel do končín strednej a východnej Európy, a snáď aspoň čiastočne odpovedal mnohým ľudom, ktorí túto otázku zvyknú pravidelne vyťahovať každý rok pred trenčianskou Pohodou. Na Sharpe nemohol chýbať ani človek, na ktorého je táto otázka z veľkej miery smerovaná – večne usmiaty Mišo Kaščák nám so svojim tímom zase v skrátenej, 60 minútovej verzii, objasnili, ako sa organizuje najväčší festival na Slovensku. Okrem iného sme sa napríklad dozvedeli, akým rozpočtom tento festival zvykne disponovať, a ako sa ho snaží prerozdeliť medzi headlinerov a zvyšné kapely, aby bolo spokojných čo najviac ľudí. Potom si na pódium prizval svojho kolegu z Macedónska, Logina Kočišika, a formou interview nám priblížili jeho bohatú kariéru. Okrem iného sa mu podarilo dotiahnuť 50 Centa na oslavy nezávislosti Kosova do Prištiny, čo sa teda nevidí len tak každý deň. Zaujímavou vsuvkou boli aj listening sessions, na ktorých tvorbu festivalových účinkujúcich hodnotili odborníci priamo pred nimi. Prvá listening session bola venovaná slovenským hudobníkom, druhá tým zahraničným.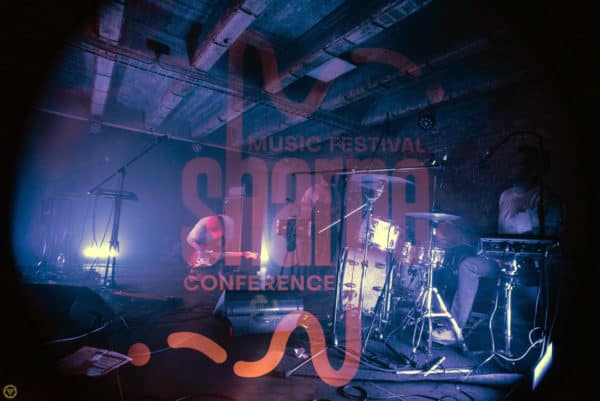 Po skončení konferenčnej časti Sharpe festivalu a krátkej pauze sa rozozvučal vonkajší VÚB stage na dvore Novej Cvernovky. Za približne hodinu a pol sa tu vystriedali interpreti tretieho pokračovania kompilácie Ostrov Hudby, ktorá združuje to najlepšie zo súčasnej slovenskej scény. Napriek nie ideálnemu počasiu a miernemu chladu sa tu zišlo celkom veľké publikum. To sa ešte rozrástlo pred koncertom Katarzie, aktuálne spolupracujúcej s Pjonim.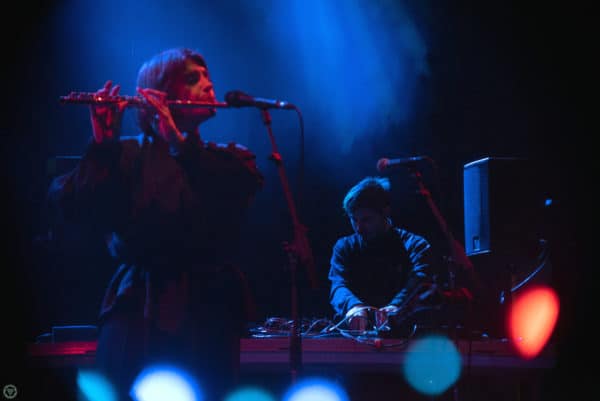 Na pódiu im to spolu naozaj pristane a o tom, že Katarzia patrí k výkladnej skrini slovenskej hudby, svedčí aj fakt, že už toto leto sa predstaví v Barcelone v rámci Sonar Festivalu. V sobotu ma hudobne asi už nič neohúrilo ako piatkoví Scalping, ale vybrať sa určite dalo. Klasicky potešil extravagantný profesor Ventolin s jeho porciou techníčok, a tomuto žánru bol v sobotu zasvätený aj Underground stage. Ten si pod svoje krídla vzali kurátori z pravidelnej elektronickej akcie Nočná a do tanca nám tu hrali domáci Urbanfailure, Detekm a celé to ukončila Nina Pixel.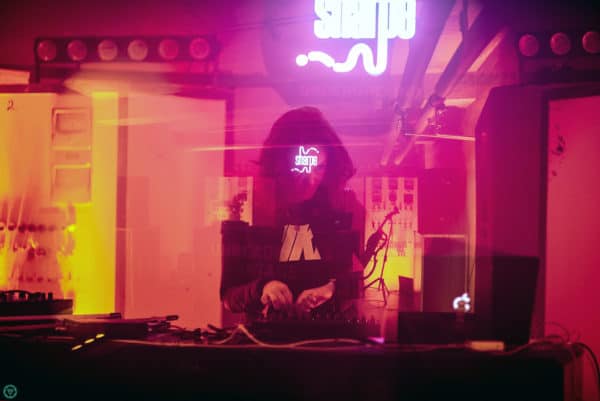 O level vyššie si multiinštrumentalista Pišta Kráľovič aka Fvlcrvm tentokrát vzal do ruky gitaru, a predstavil sa v rámci vždy príjemne znejúcich NVMERI. Zo zahraničných umelcov si asi najväčšie ohlasy odnášali noisovo-popoví The Sweet Release of Death z Holandska a rozprávkovo znejúci Bert & Friends z Česka.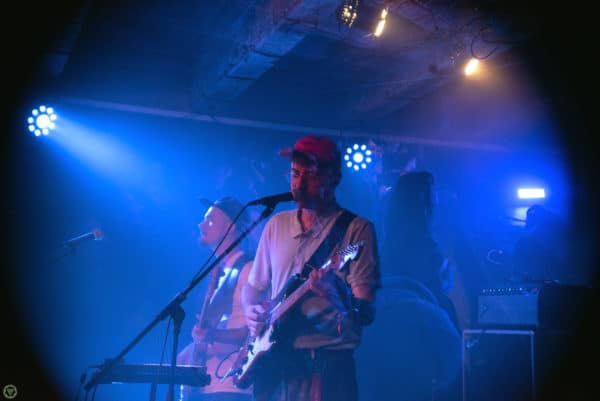 Veľmi príjemným spestrením festivalu a ďalším zásahom do čierneho boli tajné koncerty, o ktorých sa návštevníci dozvedali v priebehu festivalu prostredníctvom sociálnej siete. V útulnom prostredí knižnice tak vznikol provizórne pódium, kde sa počas dvoch dní vystriedali aj kapely, ktoré oficiálne na festivale nevystupovali. V sobotu nám radosť spravila Para či The Ills, okrem ktorých priestor dostali aj Genuine Jacks a Peter Aristone, a v piatok nám zahrali Walter Schnitzelsson a Samuel Hošek.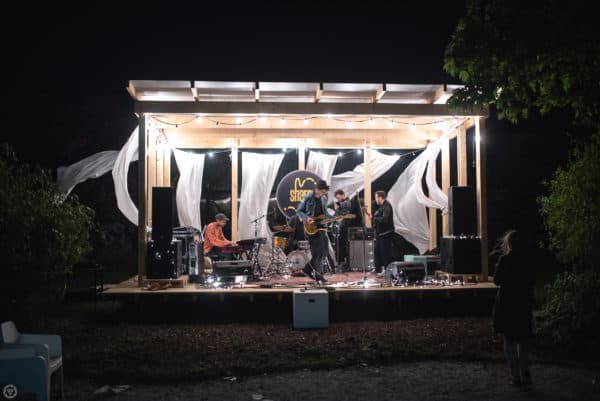 Čo dodať? Tieto dva dni presýtené dobrou hudbou boli naozaj pekným úvodom do festivalovej sezóny a zo Sharpe festivalu si odnášame tipy na plno výbornej hudby. Skupiny budeme pozorne sledovať a držať palce do budúcnosti. Slovenskí muzikanti potvrdili, že aj v našich končinách vzniká veľa kvalitnej hudby a úspech na tohtoročnom Eurosonicu nebola žiadna náhoda. Organizátori z LALA Slovak Music Export dokázali, že po jednom neúspechu sa netreba vzdávať a na mapu slovenských festivalov zaznačiť ďalší významný bod. Sharpe Festival má určite čo povedať, a my mu prajeme ešte veľa úspešných ročníkov.
Napísala: Tamara Zaťková
Foto: Michal Dzubina