Talentovaná speváčka a herečka Zuzana Hrvoľ, ktorú poznáme aj zo známeho Ďurovčíkovho muzikálu Jesus Christ Superstar, predstavuje k Medzinárodnému dňu eliminácie násilia páchaného na ženách debutový sólo singel Vzdaj sa svojich rán. Silný odkaz obsiahnutý v piesni a emotívnom videoklipe je reflexiou na domáce násilie páchané na ženách.
Zuzana Hrvoľ už v minulosti spolupracovala s krízovým centrom, ktoré pomáha aj matkám, obetiam domáceho násilia. Táto téma sa jej natoľko dotkla, až z prvotnej myšlienky vzišiel sólo projekt s hlbším kontextom. Aby celkovej problematike lepšie porozumela a najmä našla tie správne slová, ktoré citlivo vložila do piesne, preštudovala si literatúru a napozerala mnoho dokumentov. "Dostala som sa aj do fázy, že som mala pocit, že som príliš "malá" na to, aby som nejako pomohla. No povedala som si, že ak budem vedieť pomôcť čo i len jednej žene, bude to stáť za to," s nádejouprezrádza Zuzana Hrvoľ.
Téma domáceho násilia je u nás aj na celom svete veľmi aktuálna a často prehliadaná. Zuzana Hrvoľ je presvedčená, že je to téma, o ktorej je nutné hovoriť, pretože ženám, ktoré sú obeťami domáceho násilia, ide skutočne o život napriek tomu, že sa takéto násilie často zľahčuje či zámerne prehliada. Skladba je nielen apelom na ľudí, aby si násilie vo svojom okolí viac všímali, ale najmä apelom na samotné obete domáceho násilia. Práve tie sú väčšinou presvedčené, že oni sú na vine alebo že je takéto správanie normálne, že si ho zaslúžia, že ho vyprovokovali.
Takýmto ženám treba pomôcť, akokoľvek je to možné a Zuzana Hrvoľ sa im na pomoc prihovára prostredníctvom skladby. "Snažila som sa pochopiť všetky jej "prečo" a prehovoriť na ňu tak, aby to prinieslo aspoň zamyslenie, v ideálnom svete naozajstné rozhodnutie a zmenu. Za ten čas, čo som sa zaoberala touto témou, som pochopila, že nielen strach, ale často vlastné presvedčenie ju zväzuje a núti zostávať v takomto vzťahu. Je dôležité, aby tieto ženy vedeli, že to, čo sa im deje, sa nemá diať a že v tom nie sú samé," ozrejmuje Zuzana Hrvoľ formu pomoci skrz nahlas vysloveného povedomia.
Vo videoklipe sa okrem textu v titulkoch nachádza aj tiesňová linka, na ktorú je možné sa priamo obrátiť. Skladba spolu s videoklipom vychádza symbolicky 25. novembra na Medzinárodný deň eliminácie násilia páchaného na ženách. Samotné násilie je vo videoklipe znázornené tancom. Vyjadrenie umením má priniesť divákovi silnejšiu emóciu a zanechať pocit porozumenia, než vyobrazenie faktov ako takých. Prostredie nakrúcania videoklipu v bratislavskom byte dodalo celému vizuálu vzácnu atmosféru.
Nosný prvok názorovej metamorfózy násilia do tanca stvárnili tanečníci Petra Nezvalová a Filip Cipár zo Slovenského divadla tanca. "Musím povedať, že sa toho zhostili absolútne bravúrne. Sú to dvaja veľkí umelci, čo sa týka nielen tanca, ale aj hereckého prejavu. Peťka zo seba vydala všetko a zahrala hlavnú postavu klipu naozaj neskutočne," hovorí Zuzana o choreografii vytvorenej a znázornenej tanečníkmi a ďalej pokračuje: "V jednom momente sa však nešťastnou náhodou počas choreografie Peťka tak oduševnene bránila, že Filip dostal dosť nepeknú ranu do nosa. Takže karta sa na moment aj obrátila," spomína Zuzana na úsmevné momenty z nakrúcania, ktoré zastrešili Milan Kováč a Vlado Biskupský z ASTRAS Camera Systems. O masky a špeciálne efekty, ako modriny a rany na tanečníčkinej tvári, sa postarala filmová maskérka Zuzka Paulini.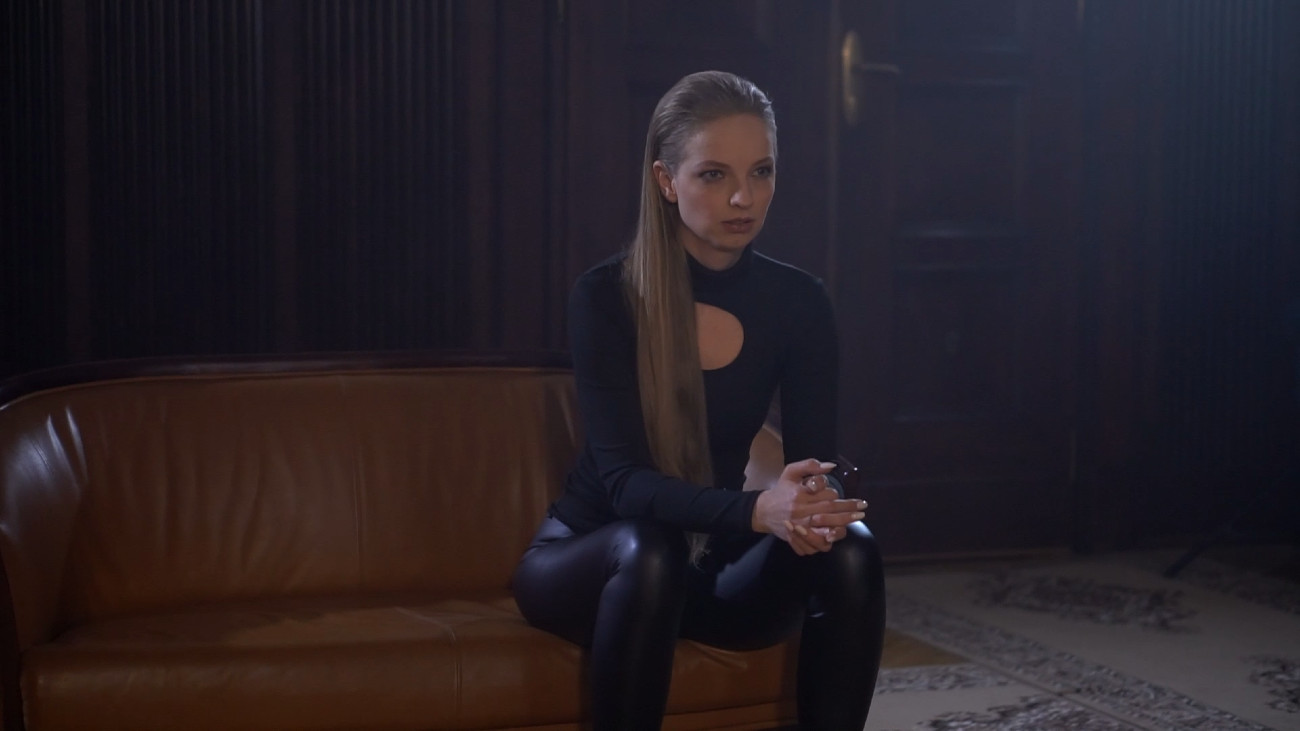 V klipe si na moment zahrala aj Zuzanina malá dcérka, ktorá stvárnila dcérku hlavných predstaviteľov. "Zvládla to relatívne rýchlo, hoci je ešte veľmi maličká na to, aby úplne chápala kam a kedy má ísť a čo má urobiť. Ale za kvalitné keksíkové úplatky to nakoniec celkom vyšlo," s úsmevom hovorí speváčka.
Pieseň nesúca sa v súzvuku huslí, klavíra aj perkusií je speváčke veľmi blízka, nakoľko pre ňu predstavujú veľkú výpovednú hodnotu. O produkciu sa postaral Tomáš Koppl a husľovú linku skomponovala Tatiana Onderíková. Nahrávanie prebiehalo v SMT Studiu v Bernolákove. "Nahrávala som na jednej nohe, pretože som si pár dní predtým podvrtla členok, takže som si toto nahrávanie doslova odskákala," so smiechom opisuje Zuzana Hrvoľ čas strávený v nahrávacom štúdiu.
Vzdaj sa svojich rán je prvým speváčkiným sólo projektom, ktorý vznikol z vlastnej iniciatívy. "Určite by som rada v tvorbe pokračovala a určite by som do nej chcela zahrnúť aj podobné projekty. Veľmi ma baví, keď má moja práca a tvorba hlbší zmysel alebo keď je súčasťou niečoho väčšieho. Okrem toho sa určite budem naďalej venovať všetkým zložkám svojej práce, ako herectvu, spevu aj moderovaniu," dodáva Zuzana Hrvoľ, veriac, že aj akciám sa čoskoro začne dariť viac, aby všetci mohli prinášať svoje umenie medzi ľudí naplno aj osobne.
Speváčka súčasne pôsobí aj so svojim speváckym triom Feel3. Pred materskou dovolenkou sa venovala viac herectvu a niekoľko rokov pôsobila v detských projektoch Fíha Tralala a Babyband, kde účinkovala a písala texty. Taktiež sa herecky podieľala na muzikáloch, ako Jesus Christ Superstar s Ďurovčíkom alebo Obchod na korze v Divadle Nová Scéna.
Zdroj: TS