Už o necelý týždeň štartuje lyžiarska sezóna 2021 – 2022, kde sapredstavia obaja bratia Žampovci a ponesie sa v duchu blížiacich sa Zimných Olympijských hier, ktoré sa uskutočnia budúci rok v Číne. Zjazdoví lyžiari Adam a Andreas Žampovci, dosiahli v uplynulej sezóne svoje životné úspechy, ktoré chcú nielen zopakovať,ale ambície sú vyššie.
Adam Žampa dosiahol v minulej sezóne historicky najlepšie výsledky v svetovom pohári, kde sa viackrátprebojoval do top 10. sveta a tento výkon potvrdil aj naMajstrovstvách sveta, kde sa umiestnil na 8.mieste, čo je najlepší slovenský individuálny výsledok z Majstrovstiev sveta v mužskej kategórii. Adam sa ako prvý Slovák, kvalifikoval na finále svetového pohára vo švajčiarskomLenzerheide, kde potvrdil svoju najúspešnejšiu sezónu.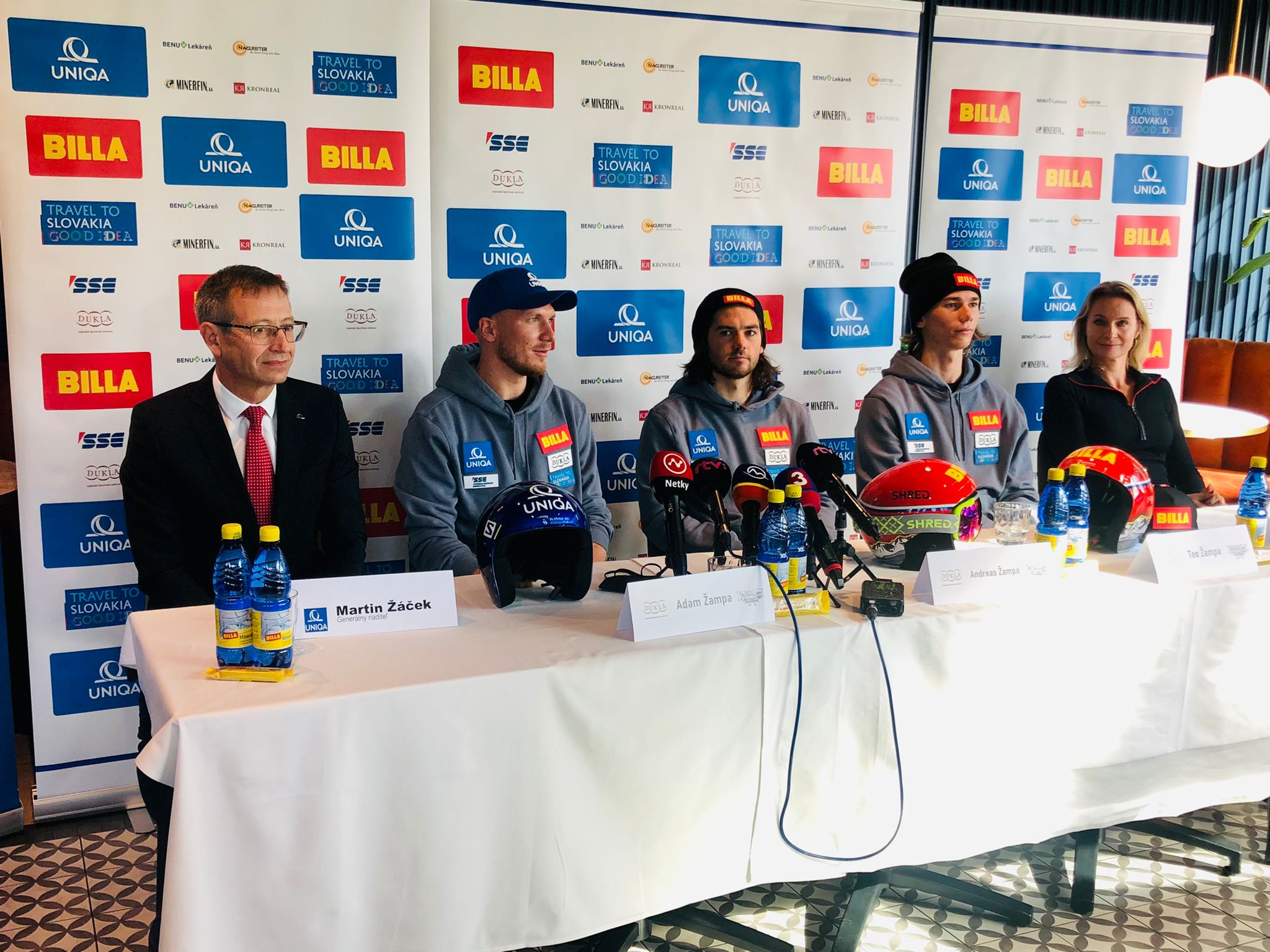 Ciele a ambície bratov Žampovcov
Medzi Adamove ciele patrí byť zdravotne a kondične v čo najlepšej forme, keďže práve počasminuloročnej sezóny ho trápili problémy s chrbticou. Vstupom do novej sezóny chce nadviazať na vynikajúce výsledky z minulej sezóny vo svetovom pohári a podať, čo najlepší výkon na ZOH v Číne – Pekingu. Koncentráciu chce upriamiť na disciplínu obrovský slalom. Spolu s Adamom súťažil v svetovom pohári aj Andreas Žampa, ktorý sa kvalifikoval viackrát do druhého kola svetového pohára a to aj napriek vysokému štartovnému číslu, kde potvrdil, že patrí medzi svetovú elitu. Bratom Žampovcom, sa podaril aj historický moment, kde v Santa Caterina na Majstrovstvách sveta v alpskom lyžovaní, prvýkrát v histórii, dvaja mužskí zástupcovia zoSlovenska bodovali a to dokonca bratia z jednej rodiny, čo je nevídané aj v alpských krajinách.Andreas potvrdil svoju formu aj na Majstrovstvách sveta, kde obsadil skvelé 20. miesto. Andreas verí, že nadviaže na minuloročné výsledky a predvedie svoje úspešné jazdy, čo dokazuje aj počasaktuálnych tréningov a dúfa v čo najviac umiestnení na bodovaných pozíciách spoločne sAdamom. "Najpodstatnejšie bude ostať zdravý a 100% fit a pokúsiť sa nazbierať čo najviac bodov, aby som mohol podať čo najlepší výkon aj na nadchádzajúcich Olympijských hrách v čínskom Pekingu",hovorí Andreas.
Nová sezóna 2021 – 2022 aj s novým členom
Okrem skvelej prípravy na sezónu 2021 – 2022 a dobrej zdravotnej formy, má Žampa Ski Team ešte novinku v podobe nového člena lyžiarskej výpravy, najmladšieho člena rodiny Žampovcov,Tea. Počas minulej sezóny predviedol svoje skvelé jazdy na pretekoch, kde si vyjazdil dveprvenstvá vo FIS kategórii a posunul sa o vyše 1000 miest smerom nahor v rebríčku. Teo svoje ciele zameral do novej sezóny najmä na Majstrovstvá sveta vjuniorskom alpskom lyžovaní, kde by sa chcel umiestniť na čo najvyššej pozícií.
Adam si svoju novú prilbu navrhol sám, kto je novým Generálnympartnerom?
Adam je veľmi rád, že práve od tejto sezóny sa stal jeho novým generálnym partnerom,poisťovňa UNIQA, kde sa spojili hodnoty ako Adamova vytrvalosť a zdravý vitálny pozitívnyoptimizmus aj s hodnotami práve tejto spoločnosti. UNIQA je neodmysliteľne spätá s lyžovaním už dlhé roky a podporu zjazdového lyžovania má vo svojej firemnej DNA. Viac ako 13 rokov podporovala ako generálny partner Veroniku Velez Zuzulovú, s ktorou spolupracuje aj naďalej. Po nej prebrala štafetu modrej UNIQA helmy naša najúspešnejšia lyžiarka PetraVlhová, pri ktorej stála ako generálny partner 4 roky
a podpora cez hlavné partnerstvo pokračuje. Dvakrát tiež významne podporila Svetový pohár v zjazdovom lyžovaní, ktorý sa konal v Jasnej. Významným svetovým sponzorom zjazdovéholyžovania je aj rakúsky koncern UNIQA, v rámci ktorého pôsobí aj slovenská UNIQA. Dlhoročneide o jedného z hlavných partnerov svetového lyžovania v Rakúsku a ako generálny partner podporoval a podporuje špičkových rakúskych lyžiarov, ako je napr.Marco Schwarz, Marlies Schild, Benni Reich, či Stephan Eberharter.
"Veríme, že modrá helma prinesie Adamovi šťastie rovnako, ako ho priniesla Veronike Velez Zuzulovej, keď sa stala 2.najlepšou slalomárkou sveta a Petre Vlhovej, ktorá s ňou dokonca vyhrala veľký krištáľový glóbus. Adam Žampa ako najlepší slovenský mužský reprezentant v lyžovaní robí pre slovenské lyžovanie naozaj veľa. Je mimoriadne ľudský, húževnatý, pracuje na balanse medzi svojoufyzickou a mentálnou kondíciou a je vzorom pre mnohých mladých športovcov. Aj preto je skvelým ambasádorom našich hodnôt a sme hrdí, že môžeme byť jeho generálnym partnerom," komentuje uzavretiepartnerstva generálny riaditeľ UNIQA Martin Žáček.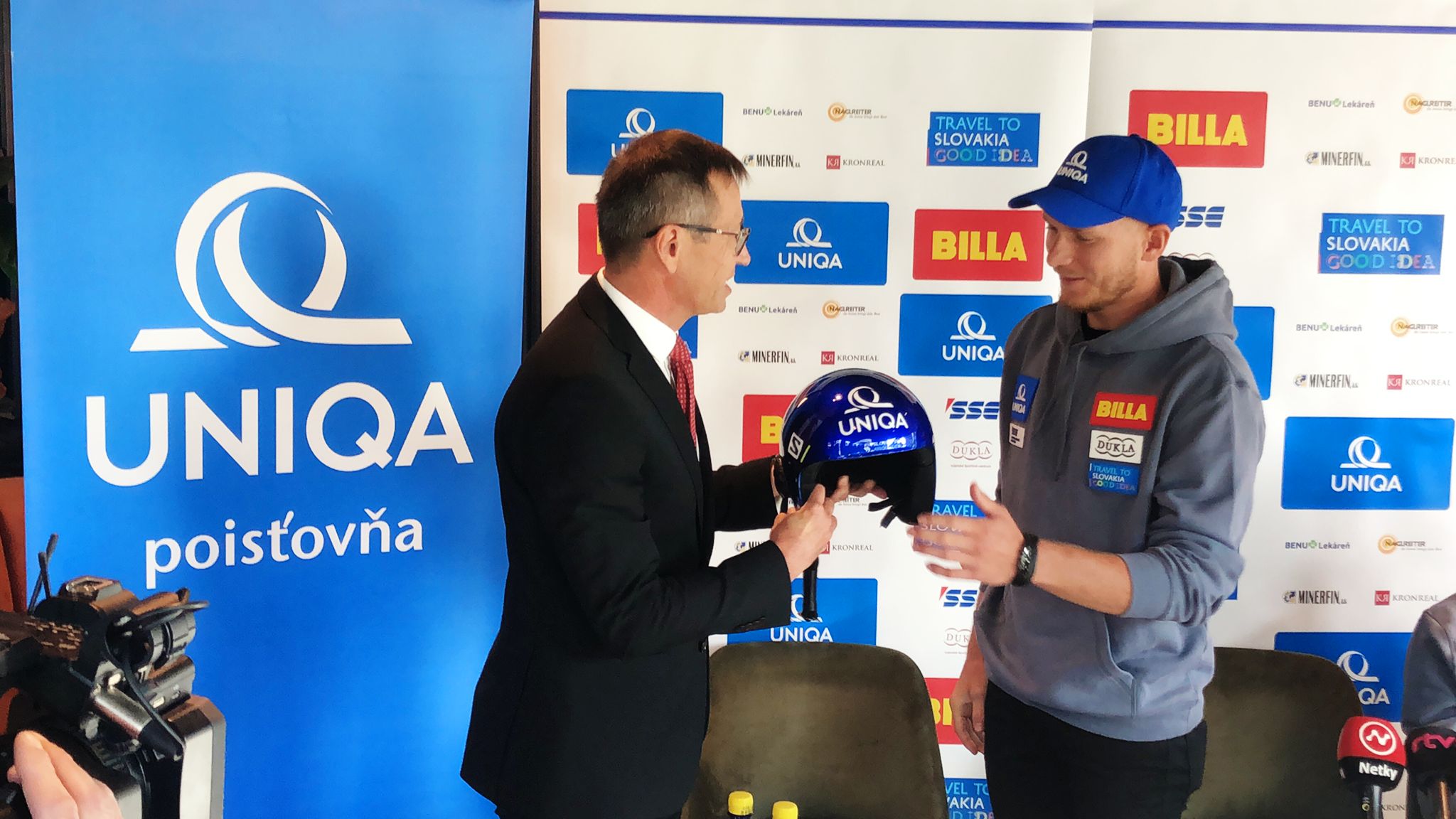 Andreas a Teo si rodný domov uctili špeciálym dizajnom helmy v spolupráci s Hlavným partnerom
Významným partnerom bratov Žampovcov je už viac ako tri roky spoločnosť BILLA, ktorádlhodobo podporuje slovenských športovcov a tiež projekty zamerané na zdravý životný štýl či pohyb. Tento rok vo svojej "športovej rodine" privítala aj najmladšieho z bratov, Tea Žampu,ktorý patrí k najviac talentovaným juniorským pretekárom na Slovensku.
Práve pri tejto príležitosti sa Andreas aj Teo, ktorých je BILLA generálnym partnerom, vblížiacej sa sezóne predstavia v novej prilbe s nádherným tatranským motívom.
BILLA navyše podporuje aj detské lyžiarske preteky Žampa Cup, ktoré osobne organizujú bratiaŽampovci, a na ktorých si malí lyžiari reálne môžu vyskúšať, aké je to pretekať v paralelnom slalome. Toto spoločné partnerstvo navyše prináša deťom, ktoré nikdy nelyžovali,príležitosť vyskúšať si svoje prvé lyže.
"Žampovci sú príkladom výnimočných súrodencov, ktorí sa vďaka odhodlaniu, talentu a sebadisciplíne dostali do svetovej lyžiarskej špičky. Sú inšpiráciou pre mnohých kolegov-športovcov a rovnako pre mládež,ktorá so športom ešte len začína. Adam, Andreas i Teo robia Slovensku skvelé meno v zahraničí a my v BILLA sme veľmi radi, že ich úspechyprichádzajú aj vďaka našej dlhodobej podpore. Do začínajúcej sa sezóny, ktorej vrcholom budú zimné Olympijské hry v Pekingu, im prajeme veľašťastia," zhodnotil Tomáš Staňo, finančný riaditeľ BILLA.
Slovensko ako symbol reprezentácie v sezóne 2021 – 2022
Za veľkú hrdosť považuje Adam a Andreas Žampa, že sa stali do novej sezónyambasádormi značky Slovakia Travel pod záštitou Ministerstva dopravy, výstavby a cestovného ruchu, ktorá vstúpila do spolupráce so Žampa Ski Teamom ako hlavný partner.
" Som veľmi rád, že sme sa stali v novej zimnej Olympijskejsezóne ambasádormi SlovakiaTravel a prostredníctvom športu možeme tak šíriť dobré menoSlovenska v zahraničí. Aj takýmto spôsobom sa nám podarí prilákať viacturistov na Slovensko. SLOVENSKO milujem a veľmi rád šírim dobré meno nielen o Vysokých Tatrách vktorých pravidelne trénujem, ale aj o ďalších magických miestach,ktoré nám naša krásna rodná zemvšetkým ponúka vo svojej plnej kráse", vyzdvihuje Adam.
" Zároveň ma teší, že značka Slovakia Travel, bude aj na našejpretekárskej kombinéze v tejto sezóne a o to viac budeme môcť Slovenskoodprezentovať v zahraničí na všetkých pretekoch a tréningoch, našerodné Slovensko", dodáva Andreas.
Všetky dosiahnuté úspechy Adama a Andreasa by sa určite nepodarili bez posktynutiaprofesionálnych podmienok na športovú prípravu práve od Vojenského športového centraDUKLA Banská Bystrica, ktorá spadá pod Ministerstvo obrany. "Sme veľmi radi, že mámetú česť reprezentovať farby Vojenského športového centra DUKLA BanskáBystrica, ktorá nám vytvára ukážkové podmienky na svetovej úrovni a bez ich podpory, by sme nedokázali držať krok so svetovou konkurenciou," dodávajú na záver bratia Žampovci
Sezóna 2021 – 2022 oficiálne začína už o týždeň v Rakúskom Söldene a pravidelné výsledky zpretekov bude opäť mapovať FIS.
https://www.instagram.com/adamzampa13/
https://www.instagram.com/andreaszampa/
https://www.instagram.com/teo.zampa/
https://www.facebook.com/adam.zampa13
https://www.facebook.com/andreas.zampa13
https://www.facebook.com/teo.zampa.27
Zdroj:PR/BRANDMANAŽÉRJANATRELLOVÁ
Foto: ZAMPA SKI TEAM