Nábytkársky priemysel je mimoriadne rozvinuté odvetvie. Renomovaní výrobcovia nábytku ponúkajú množstvo fantastických návrhov – bez ohľadu na to, či sú to výrobky určené do obývačiek, salónov, spální, kancelárií, či na záhrady a terasy. Dnes sa pozrieme na túto poslednú kategóriu – ide samozrejme o záhradný nábytok.
Návrhári experimentujú s rozličnými štýlmi, inovatívnymi nápadmi a predovšetkým s rôznymi materiálmi. Vďaka inovatívnej technológii výroby, majú prakticky neobmedzené možnosti a obrovský potenciál. Zaujíma vás, čo to v praxi znamená pre našich zákazníkov? V tomto materiáli nájdete odpovede na množstvo otázok.
Ratanový, prútený a drevený záhradný nábytok z prírodných surovín
Terasový nábytok z prírodných materiálov nepochybne zaručujú vysokú úroveň elegancie – predovšetkým vtedy, keď je to ratanový alebo prútený nábytok, ktorý sa vyznačuje tradičným dizajnom nadväzujúcim na luxusné projekty oddychových priestorov. Trochu "štandardnejší" záhradný nábytok sa vyrába z dreva. Sú to spoľahlivé a predovšetkým nedrahé návrhy, ktoré sa perfektne hodia v prípade nehnuteľností, v ktorých plánujeme organizovať stretnutie s blízkymi a spoločné posedenia na čerstvom vzduchu.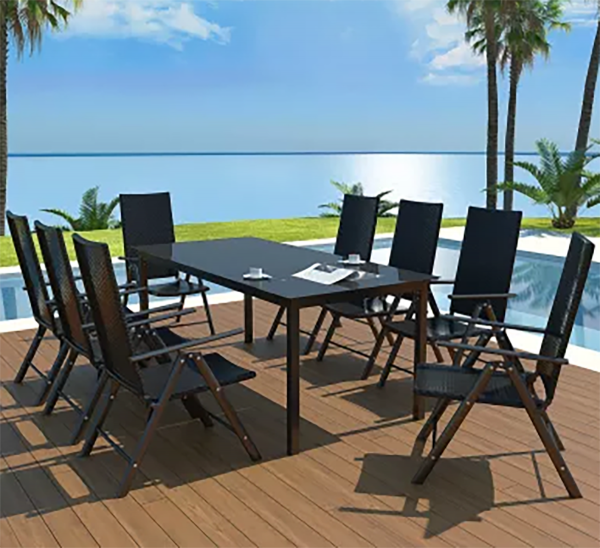 Avšak nesmieme zabudnúť, že okrem reprezentačného vzhľadu, ratanový alebo prútený nábytok na terasu je mimoriadne jemný. Žiaľ, nedokážeme ho v plnej miere zabezpečiť pred zrážkami, vysokou úrovňou vlhkosti, výkyvmi teploty, či pred UV žiarením. Preto je obzvlášť potrebné zabezpečiť vhodné miesto na skladovanie a tiež ich náležité udržiavanie v čistote.
Trochu inak je to v prípade konštrukcií z dreva alebo z dreva a ocele. Solídne sa dajú zabezpečiť kvalitnými prípravkami, okrem iného lakmi a lakovými moridlami. Prirodzene vyžadujú viac pozornosti než plastové komponenty, avšak náležite ošetrovaný drevený záhradný nábytok vydrží v perfektnom stave mnoho sezón.
Technoratan a plasty
Však nemôžeme si nevšimnúť plastové riešenia, ktoré sme už spomenuli vyššie. Konštrukcie založené na technoratane (syntetická náhrada ratanu) a na plastoch predstavujú perfektnú náhradu vyššie spomenutých prírodných surovín.
Balkónový nábytok z polyuretánu perfektne imitujúci drevený, prútený alebo ratanový nábytok. Vďaka tomu zákazníci získavajú skutočne reprezentatívne komplety s vyššou odolnosťou. Všetko vďaka inovatívnym technológiám výroby, ktoré sú v súčasnosti na nepochybne impozantnej úrovni – predovšetkým v porovnaní s riešeniami, ktoré ešte pred niekoľkými rokmi boli považované za moderné a vysoko špecializované.
Chcete porovnať dostupné návrhy? Nájdete ich na VidaXL. Nenechajte si ujsť vynikajúce riešenia, ktoré pripravili renomovaní dizajnéri. Vďaka tomu získate prehľad o dostupných možnostiach a skompletizujete súpravu, ktorá splní vaše potreby a očakávania.
Zdroj: PR