Skvelé koncerty, more, zábava až do rána a krásna tyrkysová lagúna! Sea Star Festival v chorvátskom Umagu ponúka parádny začiatok leta s hviezdami ako The Prodigy či Robin Schulz. Rezervujte si čas 19. a 20. mája 2023, do Umagu je to necelých 600 km a do 10. marca si kúpite festivalovú permanentku len za 45 €. Vstupenky a kompletný program je na www.seastarfestival.com/en.
The Prodigy sú už niekoľko desaťročí hlavnými strojcami celosvetového elektronického hudobného šialenstva. Svoju koncertnú šou a nevyčerpateľnú energiu privezú na najväčšie pódia v rámci svojho svetového turné, ktoré ohlásili sloganom: "Pripravte sa na novú ohnivú vlnu!" Ich nesmrteľné hity ako Firestarter, Breathe, Smack My Bitch Up a mnoho ďalších sú tým najlepším začiatkom leto a prázdnin.
Ďalším headlinerom Sea Star je svetová hudobná superstar, nemecký DJ a producent Robin Schulz. Posledných desať rokov má na popovej scéne nezastupiteľné miesto, čo potvrdzuje aj viac ako 10 miliárd vypočutí jeho tvorby len prostredníctvom streamovacích služieb. S viac ako 450 oceneniami z 30 krajín je nemecký DJ, producent a hitmaker Robin Schulz absolútnou megastar elektronickej scény. S hitovými remixmi Waves a Prayer in C si podmanil celosvetové publikum a zahájil svoj raketový vzostup na svetovej hudobnej scéne. Šesť rokov po sebe bol v rebríčku DJ Magazine Top 100 DJs zaradený medzi najvýznamnejších svetových DJ, získal nomináciu na Grammy a spolupracoval s hviezdami ako David Guetta, Cheat Codes či James Blunt. Od minulého roka je súčasťou prestížneho klubu One Billion Stream na Spotify a iba jeho singel Sugar na tejto platforme mal viac ako jednu miliardu vypočutí. Schulzovo vystupenie na jubilejnom piatom ročníku Sea Star je jeho návratom na festival, na ktorom vystúpil už v roku 2018.
Istanbulský DJ a producent, house majster Mahmut Orhan má v Umagu už mnohých fanúšikov, na Sea Star vystúpil v roku 2019. Je jedným z najtalentovanejších interpretov tanečnej hudby za posledné roky a stal sa povinným menom popredných svetových festivalov.
Indira Paganotto pricestuje na Sea Star po prvý raz. Je jedným z najzaujímavejších nových mien na svetovej techno scéne a svojimi energickými vystúpeniami si získava postupne fanúšikov po celom svete. Organizátori EXIT festivalu, ktorí pripravujú aj Sea Star Festival, však z jej minuloročných vystúpení vedia, že prinesie do Umagu jedinečnú kombináciu techna a psytrancu a magická lagúna Stella Maris bude sršať energiou.
Festival Sea Star sa koná 19. a 20. mája na krásnej pláži letoviska Stella Maris v chorvátskom Umagu. Dychvyrážajúce západy slnka v kombinácii s tyrkysovou vodou lagúny robia zo Stella Maris ideálne miesto na zahájenie festivalového leta a zároveň na vytvorenie celoživotných spomienok s priateľmi. Počas doterajšej, 4 ročnej histórie, sa na festivale predstavili hviezdy ako Wu-Tang Clan, Meduza, Hurts či Fat Boy Slim. www.seastarfestival.com/en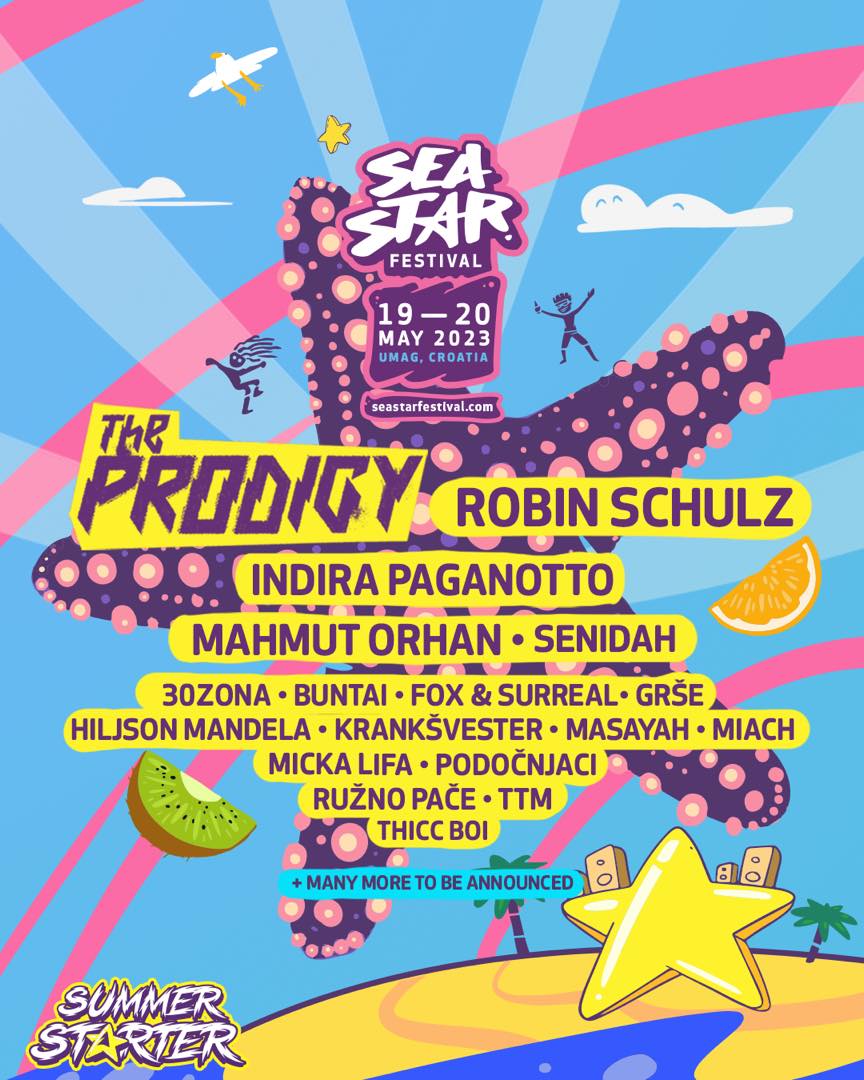 Zdroj: TS