Šest desítek současných umělců, mezinárodní performativní soubory, koncerty, filmové projekce, workshopy, komentované procházky i projížďky, ale i program a dílny pro děti. To je sedmadvacátý ročník mezinárodního festivalu současného umění 4 + 4 dny v pohybu s podtitulem Být někdo jiný někde jinde někdy jindy. Ten letos zamíří do Erpet Smíchov, Divadla Archa a Jízdárny Savarin. Slavnostní zahájení proběhne již ve středu 5. října od 18:00, festival potrvá až do 16. října.
Centrem dění se letos stává a bývalé sportovní centrum Erpet Smíchov a přilehlé prostory. Právě zde vzniklo množství připravovaných instalací, a svou tvorbu, pod kuratelou Gabriely Kotikové a Denisy Václavové, představí umělci jako Alena Kotzmannová, Anna Hulačová, Dominik Gajarský, Dominik Lang, Eva Koťátková, Hynek Alt, Jiří Černický, Jiří Thýn, Krištof Kintera, Laďa Gažiová, Markéta Othová, Pavla Sceranková, Josef Bolf, Rafani, Vasil Artamonov a desítky dalších. Vernisáž 5. 10. doprovodí DJ Mardoša.
"Výstavní prostor je tentokrát hodně specifický tím, že se jedná o bývalý sportovní areál z osmdesátých let, jehož součástí je vnitřní golfový trenažer s trávníkem, umělými stromy atd. Rozhodly jsme se ale tento v něčem až obskurní prostor naopak využít, většina umělců připravila site specific díla přímo na míru tohoto místa. Myslím, že to bude pro návštěvníky velké překvapení ",vysvětluje kurátorka Gabriela Kotiková.
Nejen výstavou ožije Erpet. Pestrý každodenní program nabídne sérii performativních přednášek skupiny umělců a umělkyň z ateliéru DAMU, taneční představení Pulsar a Spolk, imerzivní zkušenost Resuscitačního sboru Dana&Jana, českou premiéru dramatu Domov je tam, kde to bolí, fast fashion workshop s Lennií G. nebo hudební noc s Karolinou Beranovou, kapelami Jiný Metro, StayJ, The Valentines a 2L8. V kinokavárně baru Erpet budou promítány filmy Jima Jarmusche – Tajuplný vlak, Noc na zemi a Kafe a cigára. O závěr festivalu se postará zpěvačka Tonya Graves, jejíž koncert se uskuteční 15. října v uměle vytvořené krajině pod střechou Erpetu.
Na procházku Od zlíchovského kostelíčka na Císařskou louku vás vezme Jiří Sádlo, na lodi vyplujete s Adamem Gebrianem, který přiblíží Vltavu a stavby a prostory v blízkosti řeky, s Kamilou Lohrovou a Terezou Vohryzkovou se vydejte na na komentovanou procházku o vodě. Unikátní nákupní zkušenost přichystá v OC Nový Smíchov performance Michała Sawińskiho Sen v supermarketu.
Do Divadla Archa a Jízdárny Savarin zamiřte za uznávanými zahraniční projekty. Eurípidovými Trójankami inspirované představení Tutto brucia italského souboru Motus, Ukolébavku pro mrchožrouty britského komika a umělce Kima Noble, Lavagem brazilské umělkyně Alice Ripoll a skupiny umělců z ghetta Cia REC, Strach a chamtivost kanadského choreografa Frédéricka Gravela, projekt Continuum belgického umělce Johannese Bellinkxe či performance Frame španělského souboru Eléctrico 28. Vernisáž fotografií Ctibora Bachratého Divadla SkRAT v Arše doprovodí koncert slovenských Požoň Sentimental.
"Kim Noble, to je neskutečný performer i neskutečná performance, dokonalé propojení divadla, televize, filmu a humoru. Navíc se jedná o v současnosti jedno z nejžádanějších multižánrových představení evropských festivalů. Tutto brucia, silné absolutně aktuální téma, fantastická scénografie a herecká a taneční exprese. Ujít si nenechte ani Frédérica Gravela, skvělého tanečníka a choreografa s živou kapelou, která mimo jiné doprovází slavného kanadského muzikanta Pierra Lapointe," dodává k představením dramaturg Pavel Štorek.
Festival každým rokem myslí také na děti. Připraveny jsou představení Malá mořská víla Divadla B, Tři medvědi a drzá Máša s Loutkami bez hranic, rodinná dílna nebo tradiční tvorba s platformou Máš umělecké střevo? Kompletní program festivalu 4 + 4 dny v pohybu a informace o cenách vstupenek či registracích zdarma naleznete na ctyridny.cz.
Adresa místa konání:
Sportovní centrum Erpet Smíchov, Strakonická 4, Praha 5
Divadlo Archa Na Poříčí 1047/26, 110 00 Nové Město
Jízdárna Savarin V Cípu 1, Praha 1 – Nové Město
YouTube / Vimeo:
4 + 4 dny v pohybu 2022: youtu.be/GWPSUDapQK4
Eléctrico 28: vimeo.com/680338555
Frederick Gravel: youtu.be/LTisfIKZkW4
Alice Ripoll: youtu.be/ZdPZ9uKrmXM
Motus: youtu.be/xtp4XH7ULjs
Kim Noble: youtu.be/K8POg-zwy9E
www.ctyridny.cz
www.facebook.com/festival4dny
FB událost: facebook.com/events/777143220096570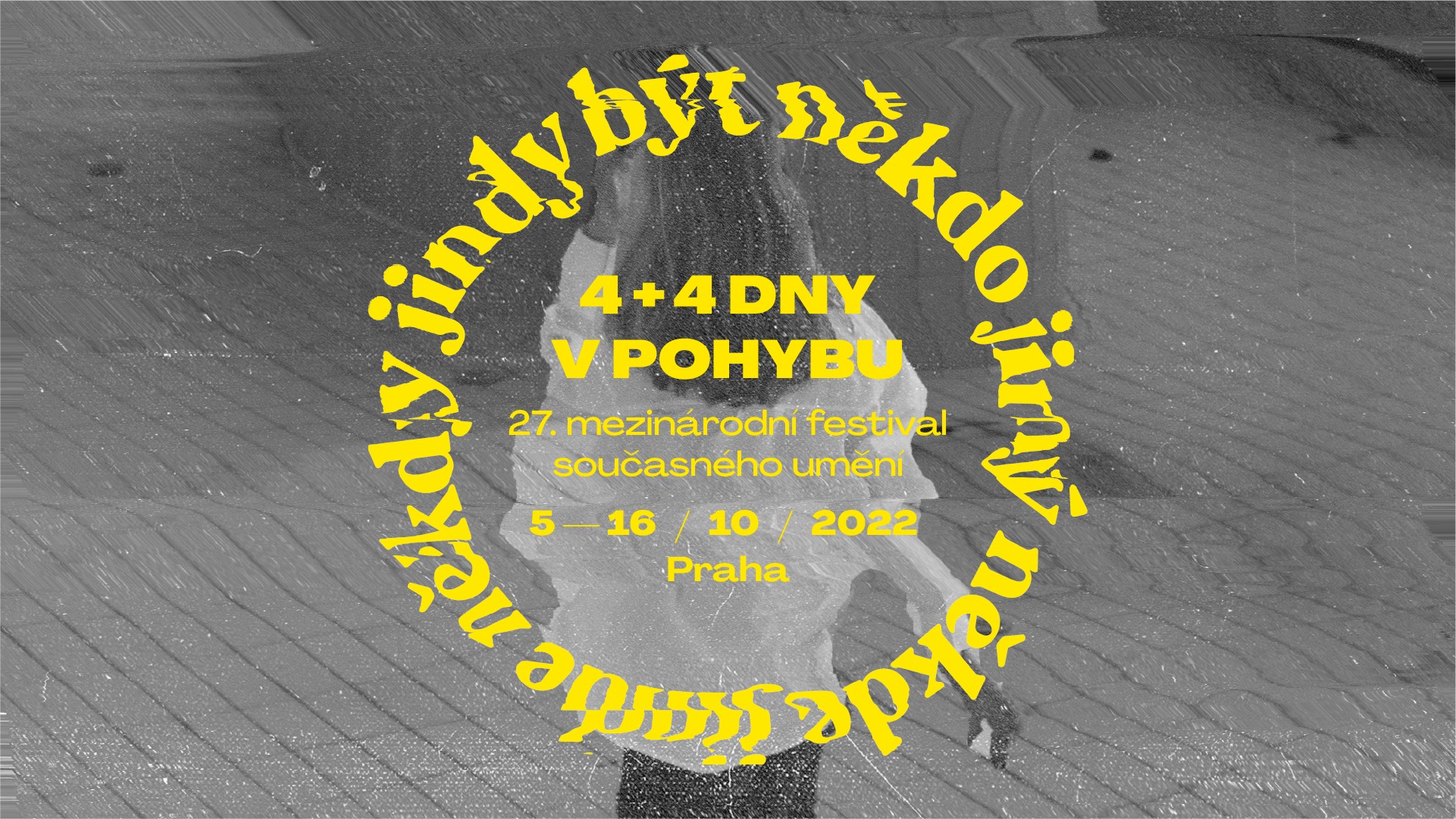 Zdroj: TS