Mladá košická kapela Yearsbelow dokončila počas obdobia pandémie 6 piesní v rockovom štýle, vďaka ktorým sa zrodilo debutové EP Apollonia odkazujúce na starovekú symboliku v súznení so svetom členov kapely počas karantény. Nové EP je pretkané množstvom elektronických perkusií a syntetizátorov, ktoré dodávajú albumu nádych 80. rokov.
EP vznikalo približne dva roky a bolo ovplyvnené životom členov kapely počas pandemických opatrení bez priameho kontaktu s rodinou a priateľmi. Preto aj EP Apollonia predstavuje svet, kde každý môže byť tým, kým chce, ako aj pre kapelu zobrazuje vlastný "ostrov", na ktorý sa počas lockdownu pomyselne odsťahovali. Metaforami sa prelína textom aj vizuálom albumu.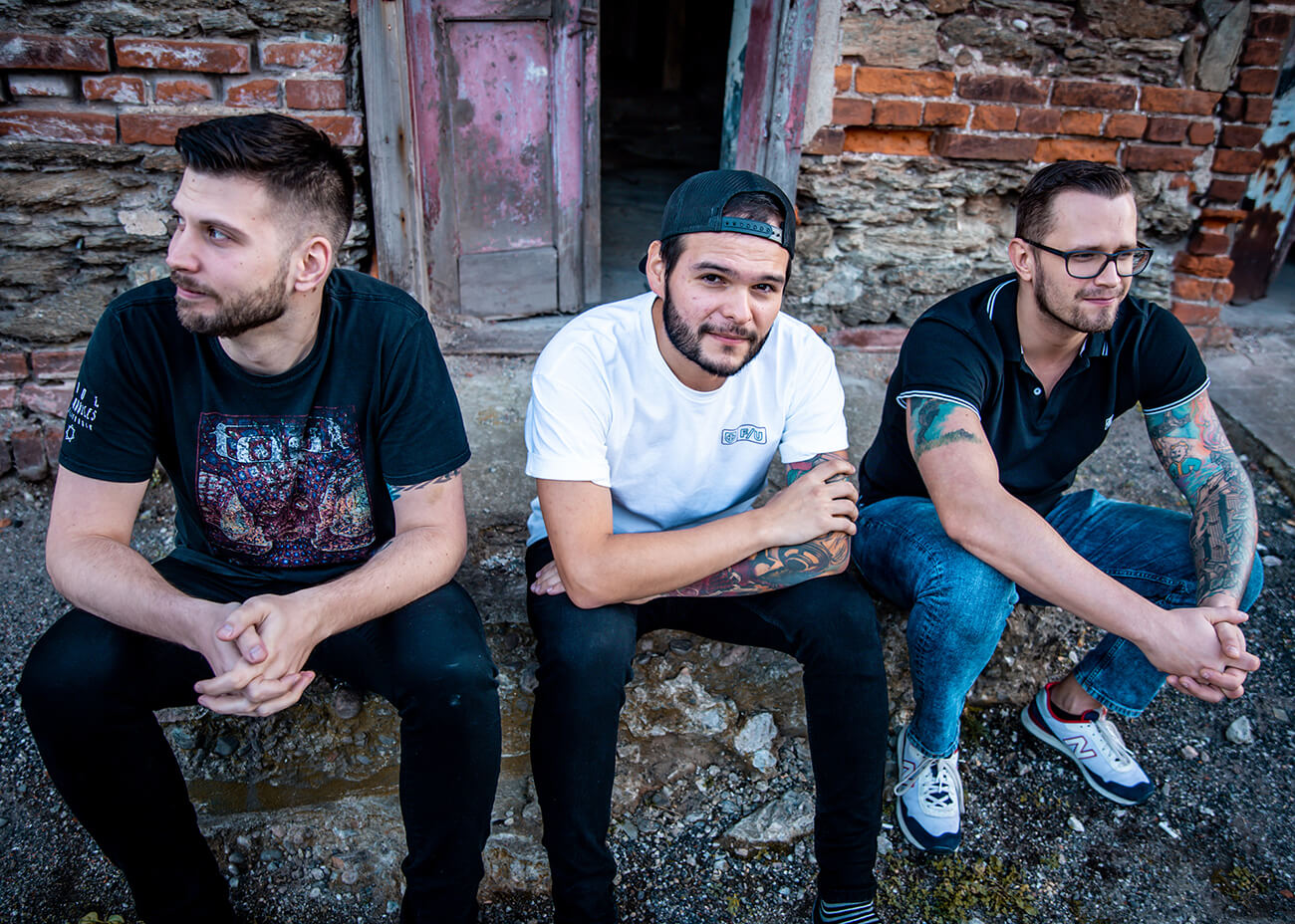 "Obal EP verne znázorňuje dom, kde sme sa ako 14-roční chlapci snažili tvoriť hudbu v pivnici, takže je v tom pre nás silná symbolika," prezrádza spevák Peter Tešliar a pokračuje: "V našom ponímaní, na našom kúsku zeme, sme my sami malými bohmi vlastného umenia, vlastnej hudby s našimi vlastnými pravidlami. Je to zasnená, ba až rozprávková idea rovnako ako naša hudba." Na druhej strane názov Apollonia je prepojený na antického boha Apollona, ktorý bol bohom slnka, hudby či umenia a rovnako v grécko-rímskom svete existovalo niekoľko miest s názvom Apollonia. "Odkazuje na niečo staroveké, umelecké až priam božské. Presne tak bolo kedysi vnímané umenie, a tak ho vnímame aj my. Toto EP je akousi ódou na hudbu ako takú, na niečo, čo je nám od detstva blízke a čo nám robí život krajším a pestrejším," dodáva bubeník Dan Urban.
Žánrovo piesne smerujú do popového priestoru v rámci modernej rockovej hudby. Kapela sa snažila vyhnúť vplyvom pôsobenia z predchádzajúcich kapiel. "Niekoľko mesiacov sme strávili radikálnymi zmenami a následne na jeseň 2020 sme sa rozhodli pre reálne nahrávanie v štúdiu. Najprv to bola skladba The Origin ako pilotný singel a na začiatku roka 2021 zvyšok EP. Pri procese tvorby sme sa skôr snažili vyhnúť zaužívaným procesom, na ktoré sme boli zvyknutí, snažili sme sa na veci nazerať mimo našej komfortnej zóny a nechali sme si poradiť od producenta a hudobníka Mira Felbera pri nahrávaní v štúdiu," ozrejmuje proces tvorby EP spevák Peter Tešliar, ktorý je autorom aj textov.
Nahrávanie albumu prebiehalo v The Parentals Studio v Košiciach. O mix a master sa postaral Janko Terpak a mix vokálov mal pod záštitou Miro Felber.
Tvorba kapely je silno ovplyvnená klasickým rockom, pop rockom, elektronickou hudbou, indie či punk rockom, s ktorým kedysi jej členovia začínali. Prvým vydaným singlom z EP je pieseň The Origin, ku ktorej kapela zároveň predstavila aj svoj prvý videoklip. V skladbe poníma o vzťahu dieťaťa a rodičov, ich vzájomného ovplyvňovania sa od útleho detstva až po starobu v magickom trojuholníku.
Druhým a najnovším vydaným singlom z EP je On The Run opisujúc boj človeka s vlastnými závislosťami. Vyčítanie si daného výberu životného smeru a neschopnosť ho ľahko zvrátiť. Útek od "Slnka" k temnote a zároveň uvedomovanie si danej situácie. "Je to, myslím, veľmi aktuálna téma najmä po období karantény, kde sme doma každý čelili svojim démonom a museli sme s nimi zvádzať boj," hovorí spevák a textár Peter. Videoklip sa nakrúcal v dome, ktorý je znázornený aj na obale EP. Nakrúcanie mal na starosti Peter Rakoci z 24 Cinema pictures spolu s Dominikou Kentošovou.
EP obsahuje ďalšie 4 skladby, medzi ktorými je Town of Ghosts ódou na staré priateľstvá, ktoré boli silno ovplyvnené odsťahovaním sa priateľov do zahraničia. Opisy pocitov samoty a smútku za starými časmi dúfajúc, že sa ešte prinavrátia. Ak nie v tomto živote, tak v tom ďalšom.
Text piesne As Above, so Below je zároveň Petrovým najosobnejším textom. Dotýka sa pocitov nad stratou svojich blízkych. O dôležitosti bežných každodenných momentov, ktoré majú hodnotu zlata, hoc si to v danej chvíli nie sme schopní uvedomiť.
V skladbe Natural Selection sa nachádza opis sklamania z prechádzajúcich vzťahov, ktorý pozná azda každý z nás. Nie len partnerských, ale aj priateľských. V živote sa stretávame aj s ľuďmi, ktorí energiu viac berú, ako dávajú, ale napokon život sám nám v určitý moment ukáže, či sú toho hodní. Môže to byť bolestivé zistenie, ale napokon všetko zlé je na niečo dobré. Je to v samotnej podstate prirodzený proces separácie toho, čo pre nás zmysel má a robí nám dobre verzus to, čo nám prináša starosti, výčitky, hádky a zlý pocit.
Sklaba Shallow Grave, ktorá opisujeo bdobie predošlej kapely so sebou nesie posledných 15 rokov života, pocity zmierenia a nádej na nové začiatky.
Členovia Yearsbelow sa už tešia na predstavenie piesní z debutového EP na živých koncertoch, na ktorých predstavia zmes prvkov punk rocku/pop punku s vplyvmi ako The Cure, The Killers, The Police či Queen. Spoločný hudobný zámer spojil Petra Tešliara (basgitara a spev), Dana Urbana (bicie) a Vladimíra Herediu (gitara) do spoločnej formácie v roku 2018. EP Apollonia je len začiatkom ich hudobnej púte a kapela aktívne pokračuje v tvorbe nových skladieb.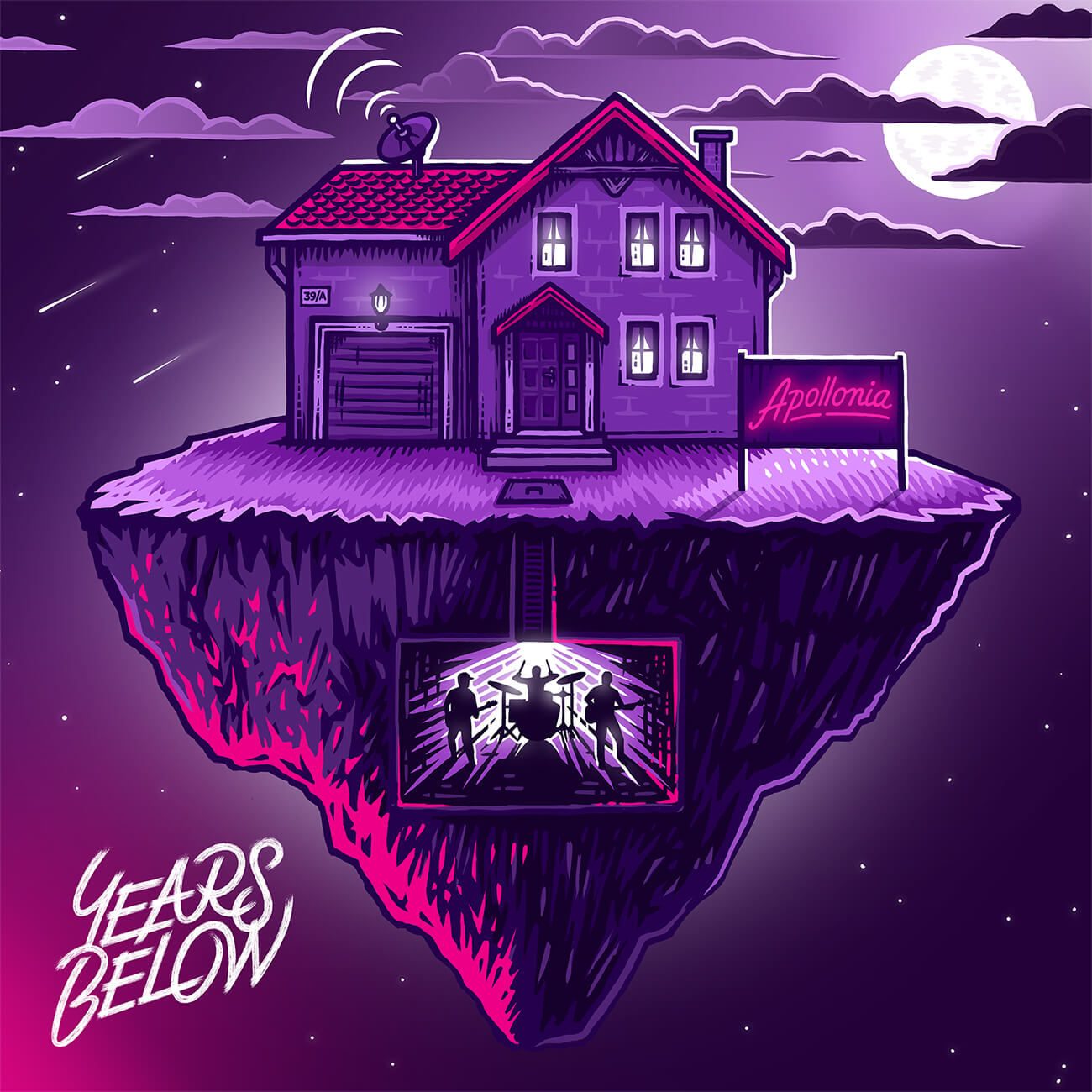 Zdroj: TS