Jedna z najobľúbenejších slovenských koncertných kapiel potvrdila, že má fanúšikov aj medzi hudobníkmi naprieč širokým žánrovým spektrom. Do výzvy skupiny HEX sa zapojilo takmer sto kapiel, ktoré by si rady zahrali ako predskokani na jednom z koncertov jarného klubového turné. Finálne rozhodnutie je však na fanúšikoch. Na BACK TO THE CLUBS TOUR sa stretneme od 16. do 25. apríla 2020 v Piešťanoch, Bratislave, Malackách, Prešove, Martine a v Trenčíne!
Z 98 prihlásených kapiel vybrali členovia skupiny HEX dvanásť, ktoré tvoria dvojice vo všetkých šiestich mestách pripravovaného turné. V Piešťanoch, Bratislave, Malackách, Prešove, Martine a Trenčíne "kandidujú" kapely, ktoré sú na scéne už dlhšie, ale aj zaujímavé nové objavy. Fanúšikovia môžu svojho favorita vo vybranom meste podporiť na stránke hudba.sk/hexturne. Hlasovaním sa zároveň zapojíte do súťaže o vstupenky na koncert podľa vlastného výberu.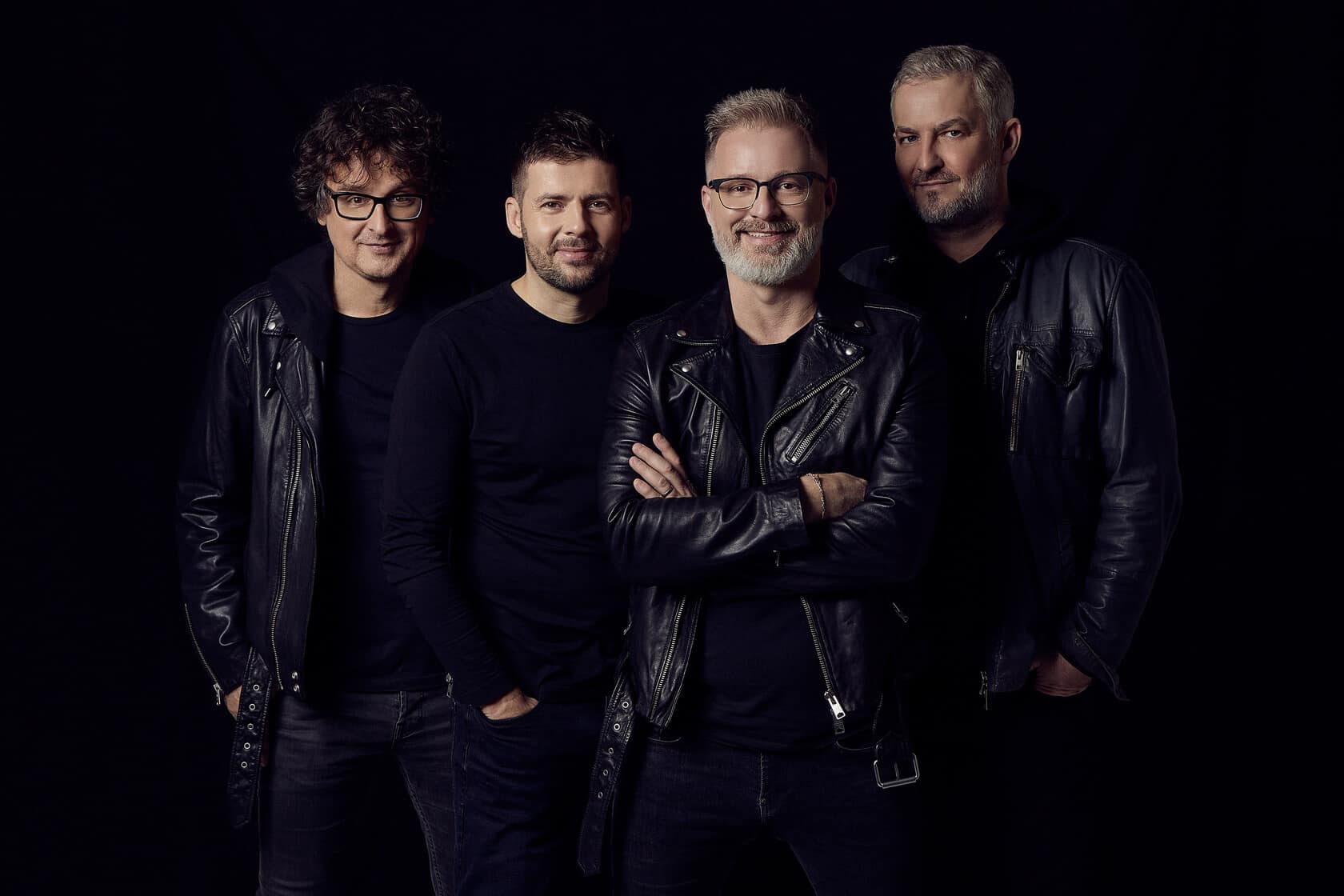 "Veľmi nás potešila veľká účasť a najmä zistenie, že na Slovensku je veľa dobrej mladej hudby. Že to kapely berú vážne, majú dobré nahrávky, dobré klipy, že do toho dávajú všetko. Hlásili sa nám interpreti naprieč žánrami a my sme sa snažili aj tak vyberať, aby to bolo pestré. Už teraz sa tešíme na osobné stretnutia s kapelami a vyzývame všetkých fanúšikov, aby hlasovali za svojho favorita v tom ktorom meste. Súťaž potrvá do 30. marca," hovorí Tomáš Yxo Dohňanský z kapely HEX.
Turné s názvom HEX BACK TO THE CLUBS TOUR odštartuje 16. apríla v Piešťanoch. Bratislavská stálica sa na všetkých šiestich koncertoch predstaví v novej rozšírenej zostave, ktorú okrem ústrednej štvorice Martin "Fefe" Žúži – gitara, Tomáš "Yxo" Dohňanský – basgitara, Tibor "Tybyke" Szabados – bicie a Peter "Šarkan" Novák – spev, tvoria aj druhý gitarista Ladislav Tvrdý a trubkár Peter Letovanec.
https://www.youtube.com/watch?v=TWVakJcjaLs&feature=youtu.be&fbclid=IwAR1soonkzI_FO73GhbJkqyHaAyLy_RauR9Jqe-wFrviZ022d_OgzXSsm804
"Na klasické klubové turné vyrážame po veľmi dlhom čase. Bude to pre nás ako aj pre fanúšikov jedno veľké dobrodružstvo. Kluby boli pre nás vždy prirodzené a my sa preto tešíme na návrat do týchto priestorov. Zahráme prierez celou našou tvorbou od prvej platne Ježiš Kristus nosí krátke nohavice z roku 1992 až po ostatný album Tebe. Nebudú chýbať coververzie našich obľúbených pesničiek. Chceme, aby si koncert užili aj naši fanúšikovia, ktorí s nami začínali, ako aj tí, ktorí nás lepšie spoznali až za posledné roky. V príprave na koncerty zapojíme cez naše sociálne siete aj fanúšikov, ktorí budú rozhodovať o tom, čo nakoniec zahráme," približuje Yxo.
Hlasovať za predkapely a zapojiť sa do súťaže o lístky na koncert podľa vlastného výberu môžete na stránke hudba.sk/hexturne.
Vstupenky si môžete kúpiť v sieti Predpredaj.sk. na
https://predpredaj.zoznam.sk/sk/listky/hex-back-to-the-clubs-tour/
Informácie o skupine nájdete na http://www.hex.sk/ a https://www.facebook.com/HEXOFFICIAL/?fref=ts.
HEX BACK TO THE CLUBS TOUR 2020
16.4. PIEŠTANY – ŽIWELL
17.4. BRATISLAVA – V-KLUB
18.4. MALACKY – SOKOLOVŇA
23.4. PREŠOV – STROMORADIE
24.4. MARTIN – BARMUSEUM
25.4 TRENČÍN – KLUB LÚČ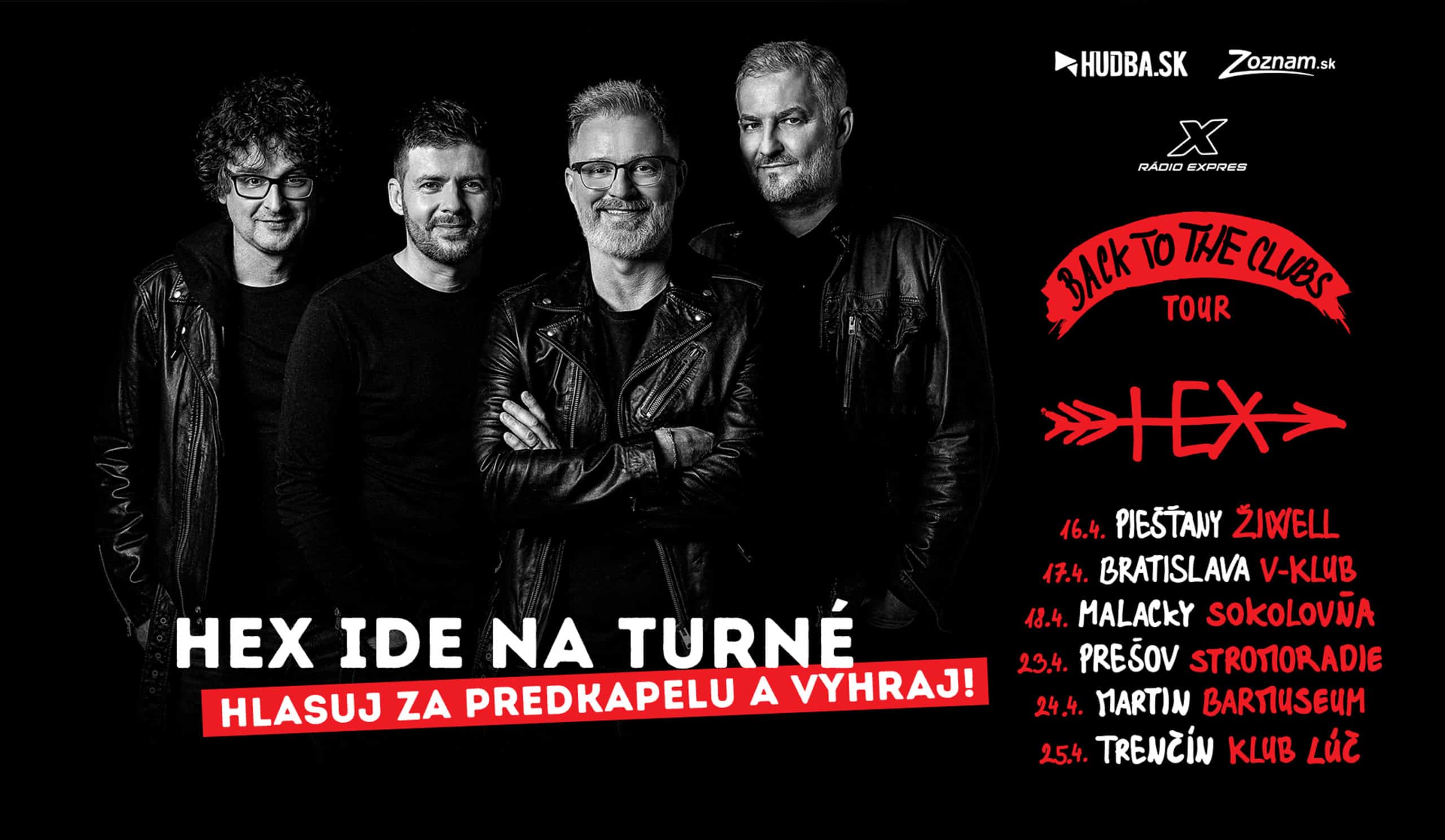 Zdroj: NK Factory