Pri príležitosti Dní Frankofónie 2023, ktoré sú venované téme prekračovania hraníc, galéria Francúzskeho inštitútu predstaví ďalšiu výstavu diel známej slovenskej maliarky Kataríny Vavrovej, ktoré v sebe nesú francúzske inšpirácie. Medzi nimi i príbeh Malého princa francúzskeho spisovateľa Antoina de Saint-Exupéryho. Kniha, ktorá bol preložená do viac ako 180 jazykov, dokonale ilustruje tému zvolenú pre tento ročník Frankofónie. Umeleckú výstavu bude sprevádzať paralelná výstava rôznych vydaní knihy preložených do viacerých jazykov.
Pri tejto príležitosti sa v galérii Francúzskeho inštitútu uskutoční aj literárne podujatie s prekladateľmi Igorom Navrátilom a Jánom Švantnerom na tému knihy Malý princ a jeho autora Saint-Exupéryho.
Slovo kurátorky o výstave
"Akademická maliarka Katarína Vavrová, patrí k najvýraznejším a najvýznamnejším osobnostiam súčasného slovenského vizuálneho umenia – jeho poeticko-imaginatívnej línie. Jej originálnu a nadčasovú tvorbu reprezentujú obrazy maľované na papieri, vytvárané fascinujúcim prienikom viacerých techník (gvaš, pastel, air-brush, tuš), kresby, ilustrácie, ale aj voľné grafiky. Za svoje osobité diela získala autorka viacero prestížnych medzinárodných ocenení a svojimi dielami je zastúpená v početných súkromných i verejných zbierkach doma i v zahraničí.
Na výstave vo Francúzskom inštitúte v Bratislave sa nám autorka predstavuje maľbami a kresbami. Ich tematické rozpätie je veľmi špecifické. Vybrala si témy príznačné pre Francúzsko, ktorých sa zmocňuje s veľkou presvedčivosťou a nadšením – Malého princa, najznámejšie dielo Saint Exupéryho (1943), ilustrácie ku knihe jedného z najväčších francúzskych básnikov Charlesa Baudelaira "Tej, čo prešla popri mne" v preklade Ľubomíra Feldeka a námet slávneho parížskeho kabaretu Moulin Rouge.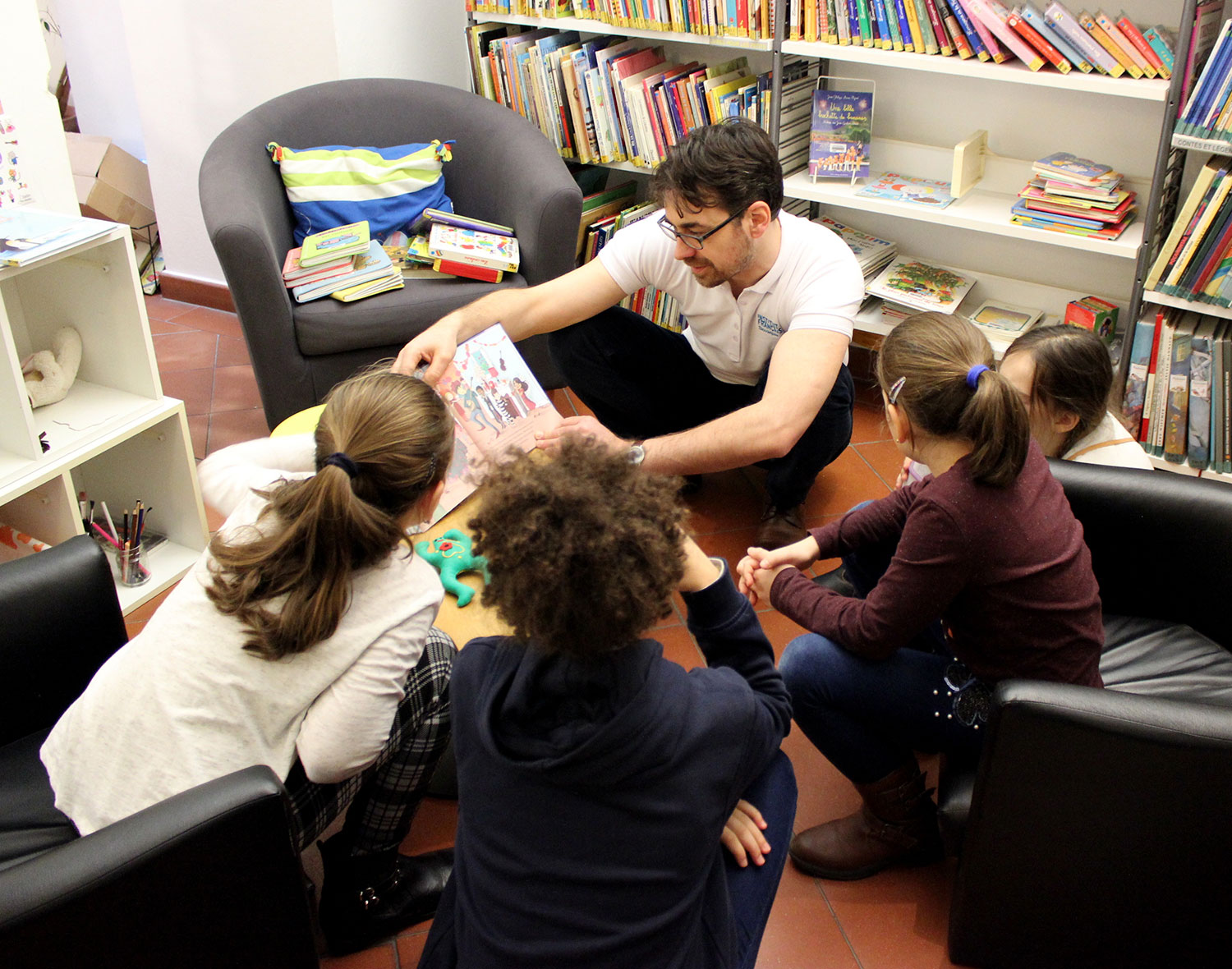 Ilustrácie Kataríny Vavrovej získali mnohé významné ocenenia. Sú výnimočné tým, že autorka sa nedá spútať literárnym príbehom a nepotrebuje si vytvoriť silnú závislosť na texte. Sú to voľné asociácie, silné maliarske príbehy a kresby, plné fantázie, predstavivosti, invencie a poézie. Dochádza k úžasnému prepojeniu reality a fantázie, celku a detailu, farby a línie.
Malého princa od Antoina de Saint-Exupéryho, túto čarokrásnu a výnimočnú rozprávku, ktorú čítame našim deťom, ale pochopíme ju, až keď sme dospelí a skúsení, autorka pretlmočila do výtvarnej podoby priam excelentne. Zásadné posolstvo – túžbu po priateľstve, o zodpovednosti za seba a za iných, smútok z osamelosti, volanie po porozumení a láskyplnom cite vyjadrila s veľkou dávkou empatie a fantázie. Jemná, decentná farebnosť, mäkké až pavučinové linky, zvýrazňujú kontúry tohto krehkého, nadčasového príbehu.
V jej bohatej ilustračnej tvorbe má Charles Baudelaire svoje výnimočné miesto. Práve tento búrlivák, kontroverzný, nepochopený, provokatívny, odsudzovaný, drsný, vášnivý a niekedy aj láskavý, evokujúci ukrutný svet zla, inšpiroval maliarku k jedinečným, expresívnym a dramatických výpovediam, v ktorých nezameniteľne vystihla komplikovanosť a podstatu jeho poézie i osobnosti. Sama autorka priznáva "pri Baudelairovi som vypustila dušu, ale pri takomto bohatom texte génia to inak nejde". A táto energia, drásavosť, autentickosť, ktorú zachytila vo svojich obrazoch je neopakovateľná a výnimočná.
Úplne novou témou v tvorbe Kataríny Vavrovej je legendárny parížsky Moulin Rouge. Autorka sugestívne stvárnila atmosféru svetoznámeho kabaretu a vytvorila smutno-krásny, nostalgický, ale aj dynamický a expresívny príbeh o živote, zmyselnosti, láske, kráse, nespútanej radosti z pohybu a tanca. Výber tohto námetu však nebol náhodný. Už maliarkin otec, známy výtvarník Milan Vavro sa tejto témy excelentne zmocnil a obrovská energia, ktorá žiari z jeho obrazov inšpirovala aj Katarínu Vavrovú. Zámerne si na vyjadrenie tejto témy zvolila aj techniku čiernobielej kresby. Autorka bravúrne využíva techniku pierka, ktorá je dnes u nás, v čase počítačových technológii vzácna a skôr ojedinelá. Ako sama hovorí jej roztancované perokresby najlepšie dokážu vyjadriť expresiu pohybu.
Ikonografia sugestívnych obrazov sa nemení. Objavujú sa v nich ušľachtilé, nežné, krásne preduchovnené ženské tváre, postavy, doplnené mužskými siluetami, cez ktoré prebieha množstvo emócií a sú nasýtené tajomstvami a významami.
Autorka sa vyhýba naratívnosti a zámerne očisťuje príbeh od detailov. Ústredný figurálny motív je len jemne dotvorený magickými detailmi – kvetinami, zvieratami, vtákmi, prírodnými motívmi. Prehĺbenie psychologických aspektov hlavných postáv často znásobuje neutrálny, len farebne akcentovaný priestor a chvejivé štruktúry ručného japonského papiera, aby sa všetko koncentrovalo na to najpodstatnejšie – na tváre, vyjadrujúce citové a duševné hnutia.
Katarína Vavrová však niekedy čaruje aj s farbou. Raz jemná, nežná až mysticky pôsobiaca, inokedy rozohraná do sýtych, intenzívnych až dramaticky pôsobiacich tónov vytvára neopakovateľnú atmosféru diel. Farbou modeluje tváre a tvary, naznačuje priestor, zvýrazňuje to, čo je podstatné. Pôsobivé reliéfne línie špeciálneho ručného japonského papiera, tak nepoddajného, drsného ale zároveň aj jemného, ktorý je pre autorku charakteristický, majstrovsky využíva k bravúrnemu prevrstvovaniu farieb, tvarov a dejov.
Výstava vo Francúzskom inštitúte je sviatkom básne, knihy a obrazu. Je oslavou, poctou, vyznaním, výtvarným zhmotnením toho, čo pre Katarínu Vavrovú reprezentuje Francúzsko. Zobúdza, oživuje to, čo je v jej predstavách spojené s fenoménom Francúzska, s jeho kultúrou, históriou a súčasnosťou. Z jej prác cítiť nežnosť, krehkosť, krásu a najmä sympatiu voči tejto magickej krajine, ktorú každý z nás má rád a rád sa do nej navracia. Jej diela sú kontemplatívne, vrúcne, ale aj dramatické a neopakovateľným spôsobom zviditeľňujú autorkine emócie, predstavy a úžasnú fantáziu.
Danica Lovišková
Trvanie výstavy od 22. marca do 9. mája 2023
Galéria Francúzskeho inštitútu na Slovensku
Sedlárska 7, Bratislava
Pondelok – Štvrtok: 09:00 – 21:00
Piatok: 09:00 – 19:00
Vstup voľný
Zdroj: TS