Známa slovenská výtvarníčka Zuzana Graus Rudavská sa po 14 rokoch vracia do galérie Francúzskeho inštitútu, aby tu rozohrala efektnú "Hru so Svetlom" prenikajúcim cez jej krištáľové objekty inšpirované prírodou a maľujúcim úchvatné obrazy zo svetla a tieňa na oblúkových klenbách tohto galerijného priestoru. Výstavu dopĺňa výber z mixed media obrazov a šperkárskej tvorby umelkyne.
Svetelné Objekty / Obrazy / Šperky
"Svetlo je na povrchu krištáľov, ale aj v odrazoch na povrchu medených drôtikov. Samotný objekt sa mení a z pevného sa zrazu stáva jemné, z nenápadného sa po zotmení stáva žiariaci objekt. Fascinuje ma táto premena. Tvorba mojich šperkoch ma priviedla k momentu, začať používať krištále a drahokamy aj v mojich objektoch. Vzájomne ma vedú, aby som z malého objektu zrazu vytvorila čosi monumentálnejšie, a taktiež naopak. Po dlhej práci na objektoch veľkého formátu sa púšťam do malého formátu, obohatená o novú skúsenosť. Vždy v ňom pre mňa najdôležitejšiu úlohu hrá svetlo a jeho premeny. Odrazy, priehľadnosť materiálov, i prepúšťanie slnečných lúčov. Začiatky boli v detstve, keď som pozorovala, ako slnko presvitá cez pevné listy, a tie sa zrazu stali žiarivé.
Je pre mňa prirodzené kombinovať rôzne materiály a nachádzať harmóniu v ich, na prvý pohľad, nezlučiteľnom kontraste. V prírode zažívam najsilnejšie momenty prepojenia so svetom. Vo chvíľach, ktoré sú veľakrát nehmatateľné, zažívam vánok alebo dážď, žiaru slnka alebo šum lístia či morského príboja…
Použitím materiálov a techník nadväzujem na tradíciu našich predkov. Posúvam ju však do inej roviny, keď nechávam materiál vyznieť v jeho prirodzenej forme, zámerne zanechávajúc dotyky svojich rúk v nepravidelných štrukturálnych formách. Tak vznikajú aj objekty ako symboly svetla a domova".
Zuzana Graus Rudavská
Výber z textu historičky umenia Kataríny Bajcurovej
"Zuzana Graus Rudavská materiál vo všetkých formách a podobách využitia a spracovania cíti ako živú hmotu, vzrušujú ju hlavne rozmanité štruktúry, miesta, kde tvar dáva meno svojmu povrchu. Cez ne chce zachytiť tie najefemérnejšie a takmer neuchopiteľné pocity: dotyky zeme, vody, vzduchu, vetra, evokovať premenlivú morskú hladinu, horskú lúku osvietenú slnkom či svah brázdený uzučkými políčkami, rosu v tráve alebo kvapky dažďa vo vlasoch… Príroda, ktorú sama priznáva ako svoj základný inšpiračný zdroj, nie je však v jej tvorbe prítomna prvoplánovo, ale vnútorne, podprahove, intuitívne. Pohľad na obrazy – reliéfy modelované z ručného papiera v nás môže asociovať pásy polí, scenériu typicky slovenskej horskej krajiny videnej akoby z nadhľadu. Vypletané objekty vtáčie hniezda v korunách stromov, drobné kryštáliky chvenie rosy v odleskoch svetla, na kresbách zas objavíme vlnenie vodných hladín, zachytené a zastavené v ich okamžiku, ale súčasne usústavnené do zovšeobecnených abstraktných obrazcov. Majú svoju prirodzenú tiaž a váhu (kameň), poddajnosť a tvárnosť (papier, špagát), priehľadnosť i ľahkosť (drôt, leštený prírodný horský krištáľ), ale hlavne poéziu, vyžarujú silné metaforické – obrazné videnie. Ako napísala Rút Lichnerová: "prechádza nimi vzduch, preniká svetlo, môže prefukovať vietor."
Remeselná zručnosť, cit pre materiál, miesto a prostredie, pre dotyk rôznych povrchov, textúr, šrafúr a faktúr, rovnako dôležité bolo aj povedomie domova, tradície (a v rámci nej aj vzťah k tradičnému remeslu a k princípu rukodielnosti), ktoré sa v nej nestratilo, ale skôr utvrdilo počas rokov strávených ďaleko od vlasti. V názore na tvorbu a v osobitom videní sveta sa odráža tiež jej pozitívne cieľavedomá, energická, silná ale na druhej strane veľmi senzitívna, vnímavá, rôznym podnetom a pocitom otvorená povaha. Pod rukami Zuzany Graus Rudavskej padajú hranice "vysokého" a "nízkeho" – voľného a úžitkového, rustikálneho a artistného, prírody a skutočnosti v mene ich vizuálneho a poetického pretvorenia, dotyku s tajomnom, v mene jemných, tichých, nebadaných, ale trvácnych zážitkov, ktoré nám prináša."
O autorke výstavy
Zuzana Graus Rudavská (*1962, Bratislava), študovala textil na Strednej škole umeleckého priemyslu v Bratislave (1978 – 1982) a na Vysokej škole umeleckopriemyselnej v Prahe (1982 – 1986). Roku 1986 emigrovala do USA, kde v New Yorku pôsobila ako výtvarníčka v slobodnom povolaní s pravidelnými návratmi na Slovensko. Získala viacero ocenení, (Pollock Krasner Foundation Grant, NY; Cine Golden Eagle Award, Washington D.C.). Zúčastnila sa viac ako 20 medzinárodných sochárskych sympózií v USA, Japonsku, krajinách Európy a Afriky, kde vytvorila monumentálne sochárske inštalácie v prírode On Site, ktoré sa stali súčasťou ich trvalých zbierok (napr. Iwate Town Stone Sculpture Garden, Japonsko; Marrakech House Collection, Maroko; Socrates Sculpture Park, New York). V roku 1997 bola prvou rezidentkou novovzniknutého Ateliéru slovenských umelcov v Cité international des arts. Jej drôtená Inštalácia "Kompozícia so Svetlom 93"a textilné hniezdo"Hniezdo I." boli prezentované v roku 1997 v Slovenskom Pavilóne na XLVII. Bienále v Benátkach. Vystavovala v mnohých múzeách a galériách (napr. Helen Drutt Gallery, New York; Katonah Museum v NY; American Craft Museum / Museum of Arts & Design, New York; Danubiana Meulensteen Art Museum, Čuňovo); Slovenská Národná Galéria, Bratislava). Jej tvorba je publikovaná v mnohých medzinárodných publikáciách, z najnovších: Wienlive kulturmagazine, The Big Golden Crystal Bracelet, Rakúsko, 2021.
Jej komornejšie práce sú súčasťou zbierok Cisternerne Glass Museum, Copenhagen, Dánsko; SNG, Bratislava; Muzeum Kampa, Praha; LongHouse Reserved Collection, East Hampton, USA; The Susan Grant Lewin Collection, New York; Danubiana Meulensteen Art Museum, Bratislava). Svoju tvorbu prezentovala na vyše 20tich samostatných výstavách, z najnovších to boli v roku 2021 "INSPIRATION / ILLUMINATION" v Galérii Z v Bratislave, výstava šperku "THE BIG GOLDEN CRYSTAL BRACELET" v Galerie V&V vo Viedni, a v roku 2022 v Danubiana Meulensteen Art Museum pod názvom POCIT DOMOVA / FEELING LIKE HOME.
Od roku 2003 žije a tvorí v Bratislave. Venuje sa tvorbe inštalácii, krištáľových objektov, umeleckému šperku, mixed media obrazu a kresbe tušom.
Vernisáž výstavy: 8. februára 2023 o 18:00 (vstup voľný)
Kurátorka výstavy: Viera Kleinová
Galéria Francúzskeho inštitútu na Slovensku
Sedlárska 7, Bratislava
Trvanie výstavy od 1. februára do 15. marca 2023
Pondelok – Štvrtok: 09:00 – 21:00 / Piatok: 09:00 – 19:00
Vstup voľný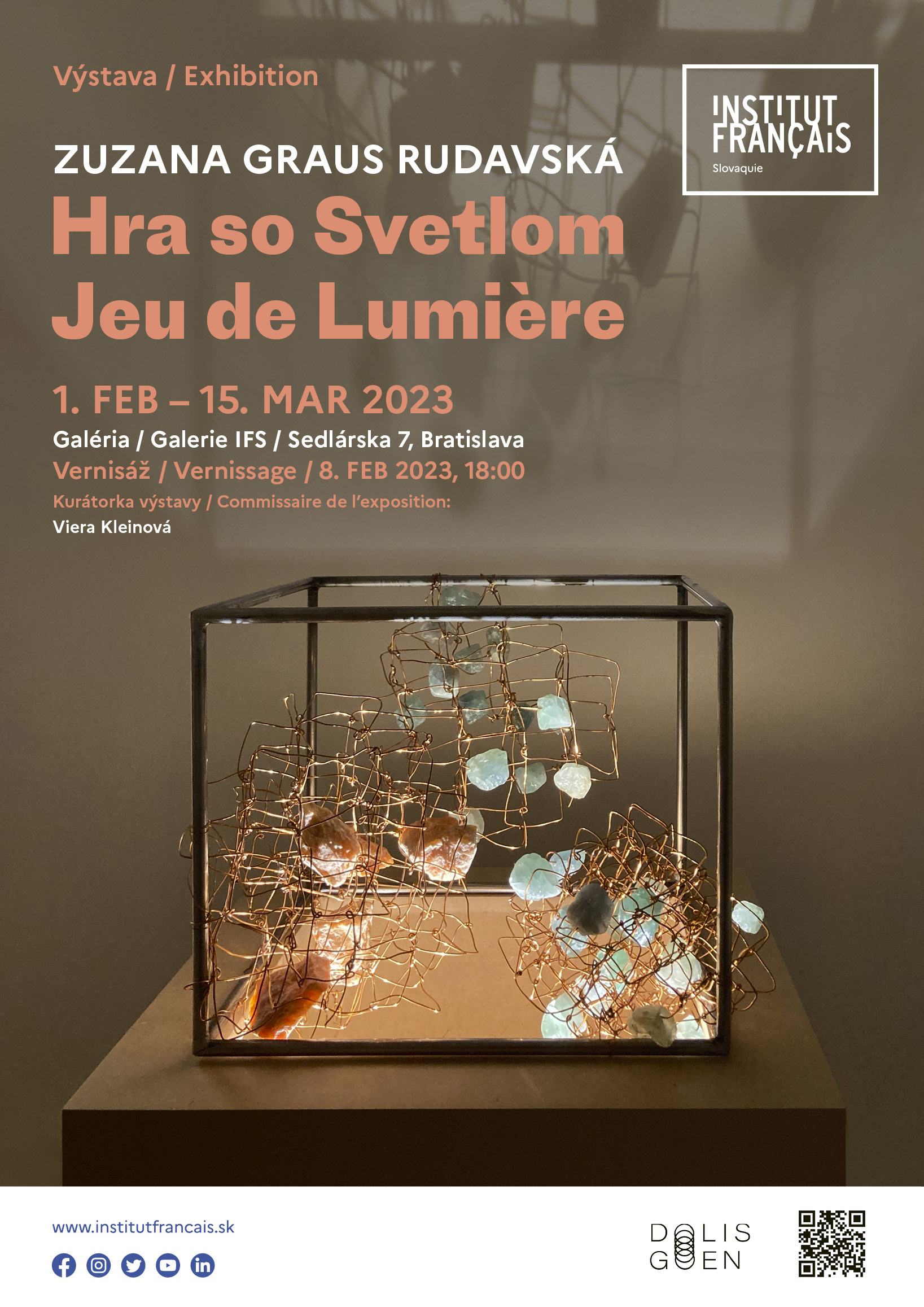 Zdroj: TS