Azagthoth, Vincent, Sandoval. Ať jde o jakékoliv období kapely, tihle tři jsou Morbid Angel. Ti MORBID ANGEL!
Jedinečná a novátorská kapela, která si jen s několika málo dalšími může říct, že dovedla death metal tam, kde dnes je. Kapela, která za sebou má pelotony následovatelů, kteří jí jen stěží hleděli alespoň na záda.
"Altars of Madness" (1989), "Blessed Are the Sick" (1991), "Covenant" (1993), "Domination" (1995) a "Formulas Fatal to the Flesh" (1998). Synonyma death metalu, která od devadesátek přežila několik dekád, aniž by ztratila svůj lesk. Cituje se z nich dodnes.
A jelikož hned druhá položka diskografie "Blessed Are the Sick" oslavila 30 let, nabízí se požehnané oslavy. Je tu však malé ,ale'. Morbid Angel už spolu "nemluví". A tak David Vincent, jeden z nejmocnějších hlasů v metalu, chytil příležitost za rohy a dal dohromady I AM MORBID.
Přes dříve uvedené malé ,ale', je tu však ještě vetší ,jenže'. Nikdo by tomu dnes už nevěřil, ale za bicí v I Am Morbid pro naplánované turné nečekaně usedl Pete "Commando" Sandoval, a tak tu najednou máme kapelu, kterou tvoří dvě třetiny Morbid Angel.
Dámy a pánové, sen se stává skutečností. David Vincent a Pete Sandoval vám na konci měsíce přijedou představit nejen "Blessed Are the Sick", ale i další památné kusy z "Altars of Madness", "Covenant" a "Domination". Víc Morbid Angel už to možná nikdy nebude!
Součástí Morbidfest Tour 2022 budou dva speciální hosté. Jelikož došlo ke zrušení evropského turné se Suffocation, k I Am Morbid se připojí dobře známí death/blackmetaloví rychlíci BELPHEGOR, kteří již od roku 1993 přináší svůj vysokorychlostní sabat zkoumající nejtemnější a nejchmurnější zákoutí démonologie, čarodějnictví a samotného velkého ďábla, a polský blackened death majestát HATE, který nám konečně představí výtečnou novou desku "Rugia" (Metal Blade), jejíž temný zvuk se inspiroval v archaických slovanských motivech a mytologiích.
I AM MORBID fest. David Vincent & Pete Sandoval, BELPHEGOR, HATE + supports
29. 3. 2022 – Praha, Futurum
FB event: https://facebook.com/events/320012412575456
e-TICKET: https://obscure.cz/cs/tickets/detail/id/405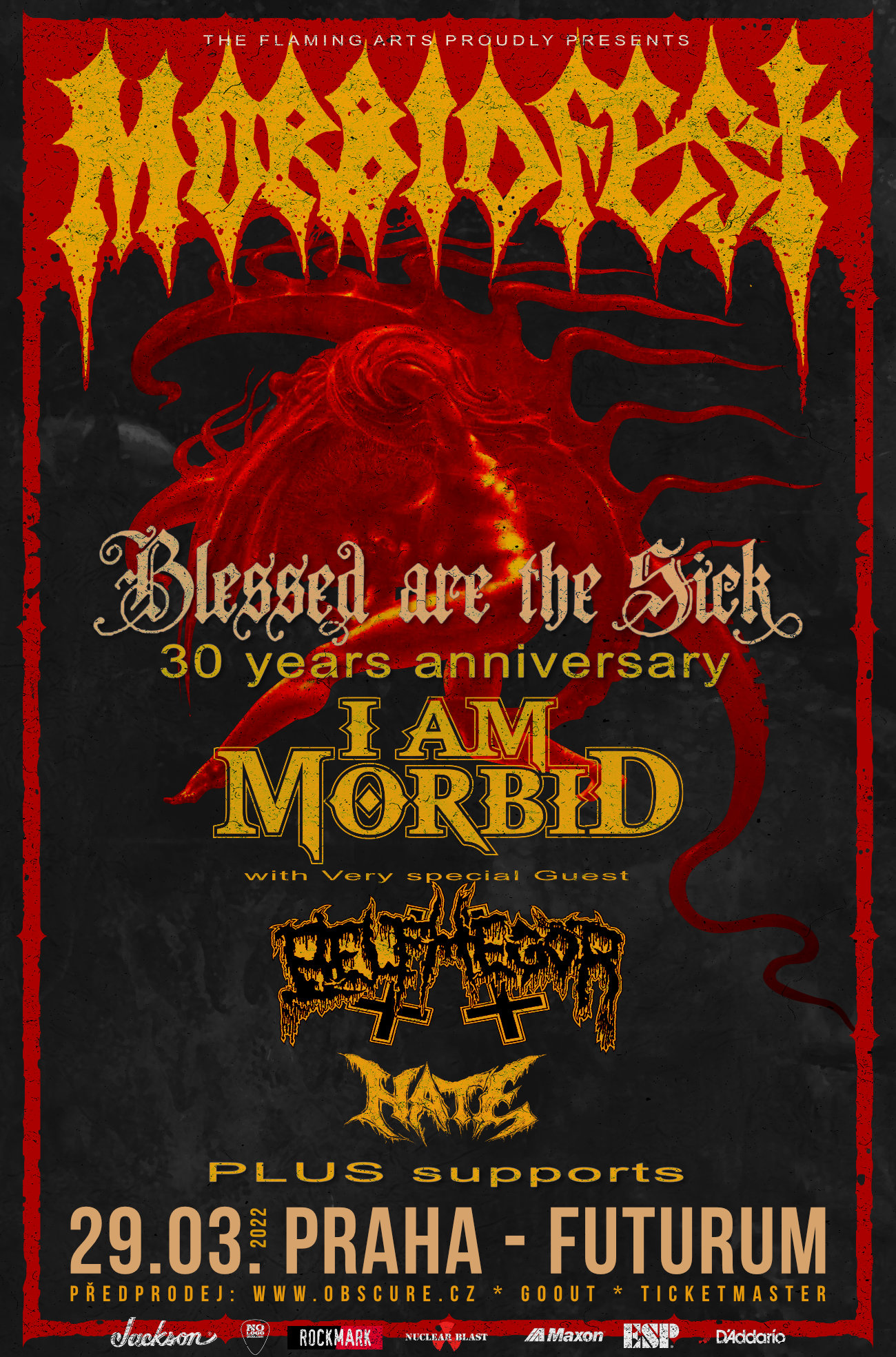 Zdroj: Obscure Promotion