Šliapni na pedál svojho klubového života! Prichádza noc, ktorá má drajv. Skoč z temných ulíc mesta do zbesilého tempa noci, nad ktorou bliká párty neónka a nasaj atmosféru pestrých 80. rokov! Synthwave, vaporwave, new wave, synth-pop, retrowave, pop aj rock nám do jedného dekadentného koktejlu spoja vinyloví barmani DJ Dirty 77 a DJ Adam First!
◢Hviezdy našej noci! ◣
A-ha • Duran Duran • Alphaville • David Bowie • The Smiths • Daft Punk • Depeche Mode • Michael Jackson • Eurythmics • Erasure • Toto • Yes • The Human League • Blondie • Billy Idol • Ultravox • Kool & the Gang • Tears For Fears • Rick Astley • Rick James • The Bangles • Nena • Laura Branigan • Love Fist • The Clash • The Cure • Judas Priest • Kim Wilde • Guns N' Roses • Kiss • INXS • Jan Hammer • Pointer Sisters • The Whispers • The Cult • Frankie Goes to Hollywood a ďalší.
◢Dirty 77◣ je DJ z undregroundového zoskupenia Waltz in Black, ktorý sa zameriava na new wave, deathrock/batcave, gothic, new romantic, 80s, electro a alternatívnu scénu. Ich heslo "Kto netancuje s nami, tancuje proti nám!" dáva jasne najavo, že sa máme na čo tešiť!
◢ Adam First z rádia Wave 103 ◣ Klubová mašina, ktorá už tunuje svoje vinyly! Pod jeho taktovkou nás čaká jazda ako z GTA cez new wave, synthwave, synth-pop, retrowave či pop. Buďte si istí, že domov pôjdeme žmýkajúc svoje tričká.
---
7. 8. (sobota)

Štart: 22:00 hod.

Vstup: 5€
FB event: https://www.facebook.com/events/251218626491306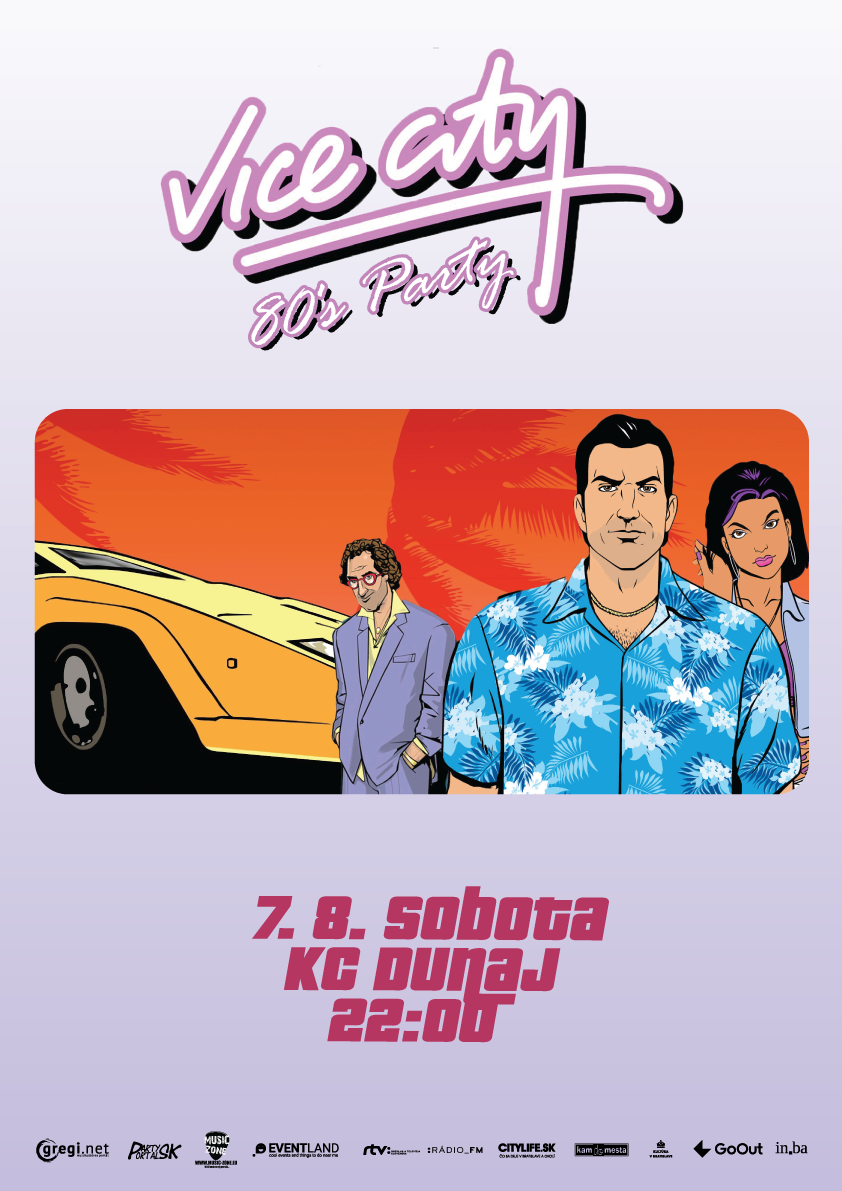 Zdroj: KC Dunaj