Obľúbený slovenský muzikant a spisovateľ Braňo Jobus ponúka v týchto dňoch svojim čitateľom rozprávky o Chrontulienke, ktoré pri čítaní ožívajú vďaka zvukom a hudbe, ktorú aj sám skomponoval. Vďaka inovatívnej novinke, po ktorej siahol aj jeden z našich súčasných najúspešnejších autorov, si môžu rodičia s deťmi užiť novú formu zábavy pri čítaní rozprávok. Jobusove rozprávky tak vstúpili do detských izieb 21. storočia a spájajú tradičné čítanie s modernými technológiami. Aby rozprávky ožili vo vašom príbytku, stačí vám k tomu mobil. Pri čítaní týchto rozprávok v bezplatnej aplikácii Readmio, zariadenie automaticky podfarbuje hlas hovoriaceho zábavnými zvukmi či hudbou. Rozpoznávanie hlasu vyvinuli slovenskí vedci zo SAV.
Braňovi Jobusovi sa pri jeho najnovšom projekte najviac páči to, že mohol spojiť komponovanie hudby a písanie rozprávok do jedného uceleného diela. "Teraz môžem vymýšľať pesničku, rozprávku, zvučku a zároveň vyrábať zvuky k rozprávke. Náramne si to užívam, pretože do seba zapadlo všetko, čo ma napĺňa." Je to pre neho čiastočne aj nový pocit, pretože práca na príbehoch o Chrontulienke v tejto obohatenej verzii sa približuje tvorbe rozhlasovej hry."Vyrábam zvuky alebo aj ruchy. Nech buchnem dverami, zachrápem alebo niečo len tak poviem, aby sa z rozprávky ozval aj môj hlas, je to veľký rozdiel v porovaní s tým, keď robím na novej pesničke pre niektorú z mojich kapiel."
Už rok žijeme kultúrou len v online priestore, preto je táto príležitosť pre Braňa Jobusa nielen novým impulzom, ale aj možnosťou osviežiť svoju tvorbu a dať jej nový rozmer. "Zatiaľ sme uverejnili prvé tri príbehy o Chrontulienke. Mám ich napísaných desať, takže budú postupne na Readmio pribúdať." Tieto rozprávky sú spisovateľovi blízke, pretože ich začal vymýšľať pred rokom, keď sa mu narodil syn Jonáš. "Ako batoľa nerozumel slovám, ale intenzívne vnímal zvuky, ktoré som vydával pri rozprávaní príbehov."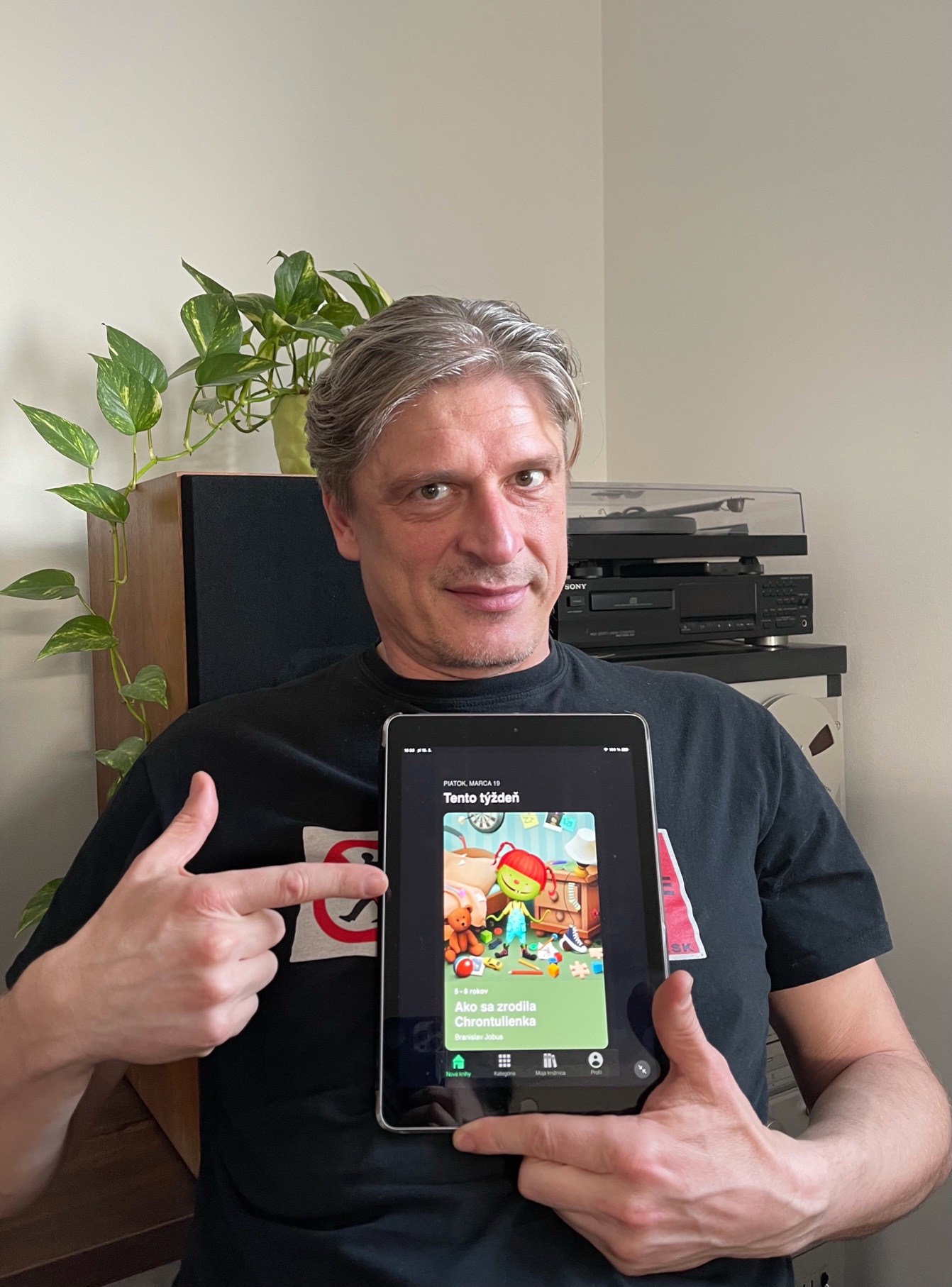 Sú za tým našinci nielen zo SAV
Aplikáciu Readmio vytvorili Slováci v spolupráci s americkými kolegami. Jej najdôležitejšiu časť, veľmi presné rozoznávanie hlasu vyvinuli slovenskí vedci z Ústavu informatiky Slovenskej akadémie vied. "Náš tím vyvinul verzie rozpoznávača reči pre slovenský a český jazyk. Okrem zásahov do jadra rozpoznávača, zvyšujúcich jeho rýchlosť, sme museli vytvoriť modely slovenského a českého jazyka používaného v rozprávkach a modely ich zvukovej podoby," vysvetľuje Milan Rusko z Ústavu informatiky SAV, ktorý vedie projekt.
"Keď napríklad mama prečíta vetu deťom o tom, ako na dvore Janka Hraška zakrochkajú svinky, deti krochkanie začujú. Takto ich čítanie oveľa viac baví a príbeh si dokážu lepšie predstaviť," upresňuje Ilya Novodvorskiy, CEO spoločnosti Readmio.
Plány sú, čaká sa na vývoj situácie
Okrem toho, že v najbližších týždňoch budú pribúdať ďalšie časti príbehov o Chrontulienke, už teraz sa uvažuje nad prekladmi do češtiny, nemčiny a angličtiny, keďže je aplikácia dostupná na celom svete a vo viacerých jazykoch. Stiahnuť si ju môžete bezplatne z App Store alebo Google Play. Jobusovky sa tak ocitli v dobrej spoločnosti stoviek domácich aj zahraničných rozprávok.
Braňo Jobus má už teraz viacero pozvánok od škôl, aby prišiel čítať žiakom zo svojich rozprávok. Určite bude pokračovať so svojou službou motokuriér a zároveň už má pripravený aktuálny ročník Vrbovských Vetrov. "Celý program je hotový. Vetry sme pripravili presne podľa minuloročného pandemického modelu, kedy sme obmedzili kapacitu na tisíc ľudí, takže Pán Preceda + 999 účastníkov za dodržania aktuálnych hygienických nariadení. Veríme, že sa v lete budeme môcť stretnúť vo Vrbovom. Akonáhle to bude jasné, sme pripravení všetko ohlásiť a spustiť predpredaj lístkov," hovorí Braňo Jobus, ktorý sa snaží aj v tejto situácii myslieť pozitívne.
Redakciu informoval PR manažér Edo Kopček
Foto: Braňo Jobus archív