Rodáčka z Nitry, speváčka Vanda, ktorá sa udomácnila v Argentíne, uviedla do života svoje 4. hudobné dieťa. Jej konceptuálny album Invisible Girl ponúkne poslucháčom po prvý raz aj slovenčinu.
Nový album avizoval singel A ja taká čárna už vo februári. Vanda vtedy prerobila známu slovenskú ľudovú skladbu, ktorá sa stala historicky prvou slovenskou piesňou na jej albumoch. Invisible Girl je konceptuálne dielo v troch jazykoch – španielčine, angličtine a slovenčine. Poslucháči cezeň vstúpia do ríše snov, v ktorej žijú štyri postavy, alter egá speváčky Vandy. The Pilgrim, Queen of Forest, Human a Invisible Girl ich vezmú na cestu naprieč ich svetmi, vkusom, vlastnosťami, kostýmami, piesňami a dokonca aj farbami.
Despegar otvára prvú kapitolu ságy. Vanda v nej vystupuje ako pútnička, veselá postava s nádychom pozitivizmu, ktorý nám pripomína dôležitosť sebalásky. A ja taká čárna má na svedomí tajomná kráľovná lesa. Tradičná slovenská pieseň je ponorená do temnej, sofistikovanej hudobnej produkcie, kde sa zaujímavo spája folklór Vandinej rodnej krajiny s moderným beatom. V treťom singli Make it go sa krehká a smutná človečina otvára a ukazuje svoju hlbokú bolesť každému, kto ju chce vidieť. Zúfalo hľadajúca lásku mimo seba si nakoniec uvedomí, že ona jediná sa môže zachrániť. Na záver prichádza Invisible Girl so svojou super-schopnosťou objaviť sa a zmiznúť, keď to uzná za vhodné. Od nikoho nepotrebuje nič na to, aby sa cítila šťastná, naplnená a schopná. Táto silná žena v rovnomennej skladbe poukazuje na obrovské množstvo nezávislosti, odhodlania a vnútornej sily prechádzať životom. Keď si vypočujete nový album speváčky Vandy, budete mať pocit, že ste objavili všetky odtiene tejto multi-umelkyne, ktorá kládla veľký dôraz aj na precízne prepracovanie videoklipov, dokonalú úroveň fotografií a celej produkcie.
Album Invisible Girl, ktorého sound je inšpirovaný filmovou hudbou a pop-rockom 90. rokov, Vanda pokrstila na veľkolepej šou v Tribus Club de Arte v argentínskom Santa Fe. Produkciu CD mali pod palcom dvaja producenti – Juan Manuel Drangosh a Germán Taylor. Nahrával sa a mixoval sa v Buenos Aires, jeho vydanie podporil Fond na podporu umenia.
"Release party v Tribus Club de Arte v Santa Fe bola zatiaľ najväčšia produkcia, akú som kedy dala dokopy. Trikrát zmena outfitu, scénografia na mieru, sedem hudobných hostí, nové vizuálne projekcie… To bolo úžasné! Prípravy na tento deň D trvali niekoľko týždňov a na javisku som si to nesmierne užila. Tešila som sa najmä z ohlasu publika a z energie, ktorá z nás všetkých a hlavne z nových skladieb vyžarovala," zaspomínala si Vanda na neopísateľný hudobný zážitok. Nový album je pre každého hudobníka akýmsi zlomovým momentom. "Je to niečo, čo si žije vlastným životom odkedy sa narodí, hoci tento album na seba nechal čakať 4 a pol roka,"so smiechom hovorí speváčka, skladateľka a textárka, ktorá cíti, že Invisible Girl je to najlepšie, čo doteraz zložila. "Myšlienkou albumu je ukázať, že ako ľudské bytosti máme viacero tvárí, osobností, čŕt a je v nás nesmierna hĺbka. Prechádzame mnohými dimenziami. Poukazuje na to, aké je dôležité naozaj spoznať sa a prijať sa takí, akí skutočne sme, so všetkými dobrými aj temnými stránkami,"dodala Vanda.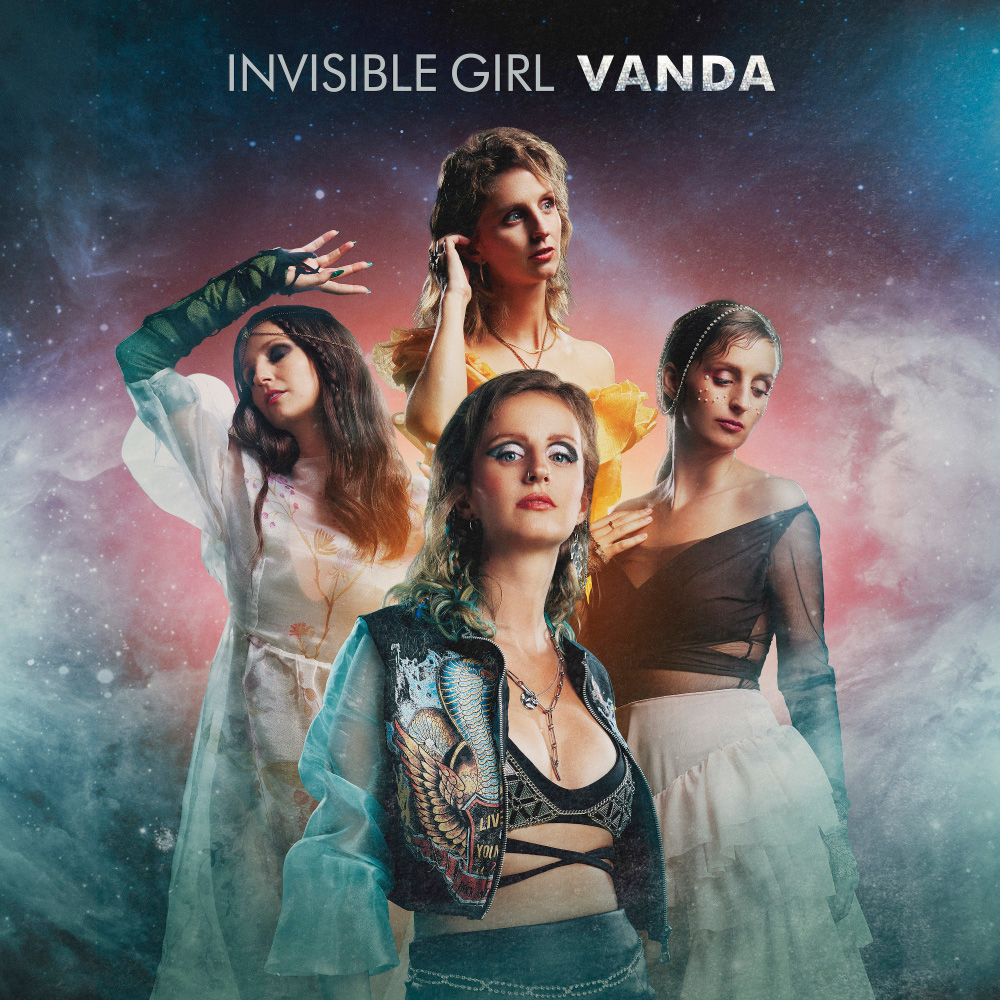 Zdroj: TS