VADER příští rok bude 40 a jak se při jejich zápalu zdá, oslavit budou chtít minimálně ještě jednou tolik.
Žijící legendy z Polska z podia prakticky neslezou a koncertují de facto neustále. Snad vyjma nahrávání. To do jejich obsáhlé diskografie přineslo několik nezapomenutelných kousků a jedna z těchto položek je "De Profundis" – deska z roku 1995, která je neochvějně zapsána ve zlatém fondu extrémního metalu.
I když nadcházející turné je naplánováno právě k tomuto albu, VADER nejsou kapela minulosti. Pro Nuclear Blast totiž předloni nahráli "Solitude In Madness", jedno z jejich nejlepších alb a pravděpodobně to nejlepší za posledních 20 let.
A jelikož jsou VADER klasika, rozhodli jsme se koncerty umístit do klasických, metalu zaslíbených míst – do kultovního pražského místa, kde kdysi odehráli nejeden koncert, do klánovického Black Psa u vlakové stanice, a do jihomoravského Míru v Uherském Hradišti. Je opět nač se těšit!
Doprovodem budou dvě další deathmetalové kapely. Z Belgie to budou moderňáci REJECT THE SICKNESS a ze Švédska melodici MARA.
VADER, REJECT THE SICKNESS, MARA
6. 5. 2022 – Praha, Black Pes
FB event: https://facebook.com/events/986430858943312
e-TICKET: https://obscure.cz/cs/tickets/detail/id/480
7. 5. 2022 – Uherské Hradiště, Mír
FB event: https://facebook.com/events/518936836175176
e-TICKET: https://obscure.cz/cs/tickets/detail/id/481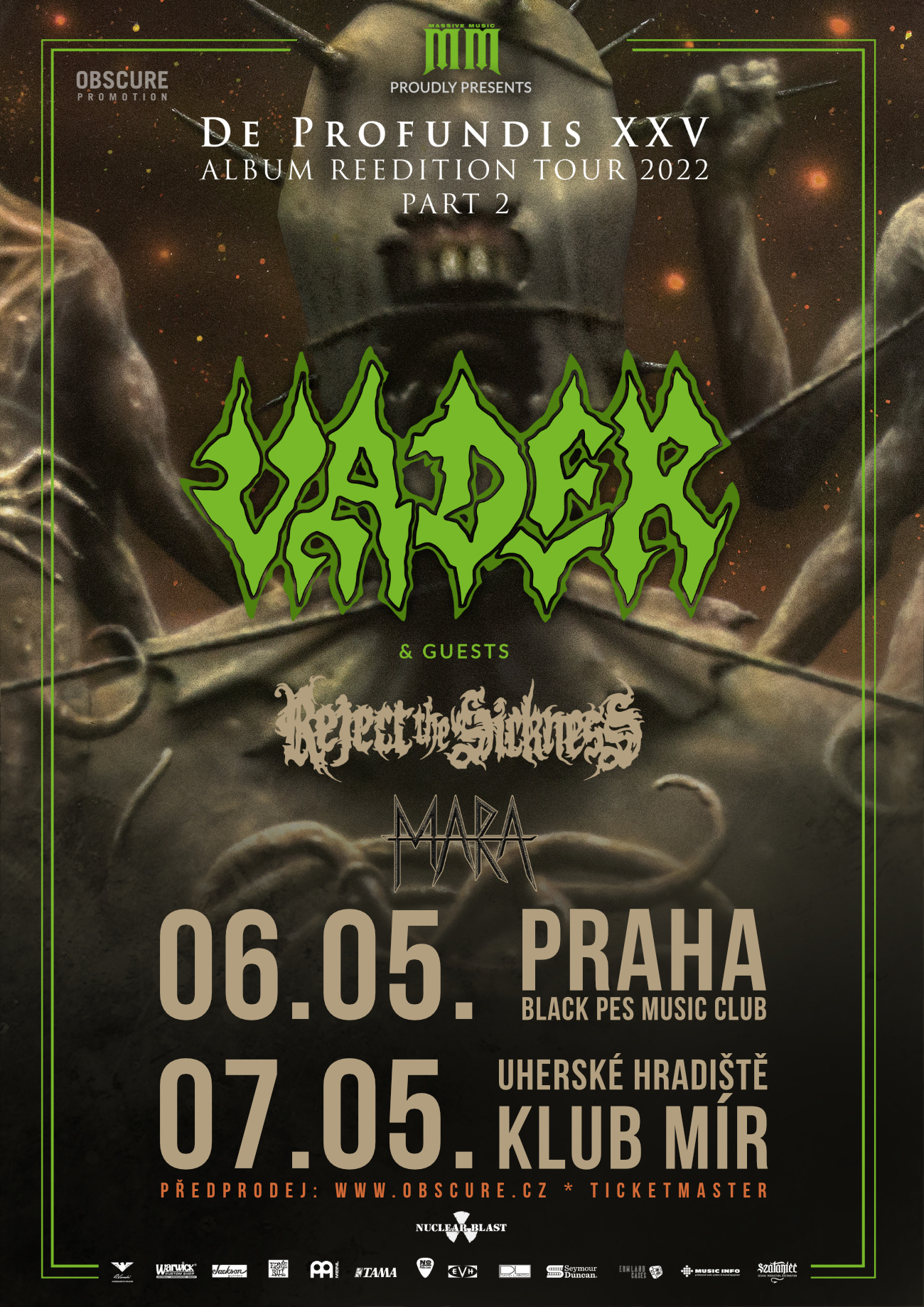 Zdroj: Obscure promotion