V Bratislavskom T3 – kultúrnom prostriedku v sobotu o 18:00 vystúpi ústredná postava avantgardnej a experimentálnej hudobnej scény. Elliott Sharp, či Nosferatu of East Village ako ho nazval Wall Street Journal, sa na scéne pohybuje už od 70tych rokov a za ten čas stihol spolupracovať s každým od Debbie Harry, Kronos Quartet, cez Merzbow až po Stevea Buscemiho.
Elliott Sharp od 70tych rokov vydal viac ako osemdesiatpäť nahrávok od orchestrálnej hudby po blues, jazz, noise, no wave či techno. Vedie projekty Carbon a Orchestra Carbon, Tectonics a Terraplane a je priekopníkom spôsobov aplikácie fraktálnej geometrie, teórie chaosu a genetických metafor na hudobnú kompozíciu a interakciu.
Napriek tomu, že je Sharp avantgardným skladateľom, ktorý si zvykol ladiť gitaru podľa Fibonacciho postupnosti či tvoriť náročné skladby inšpirované fraktálnou geometriou, jeho rozsiahla hudobná tvorba rozhodne nie je neprístupnou a odťažitou – rovnako ako newyorský estét je aj drsným chicagským bluesmanom. Ako sám hovorí: "Ľudia ma odsudzujú za to, že som skladateľ. Ale skladateľ nie je len mŕtvy Európan s napudrovanou parochňou. Ako vidíte, ja žiadnu parochňu nenosím!"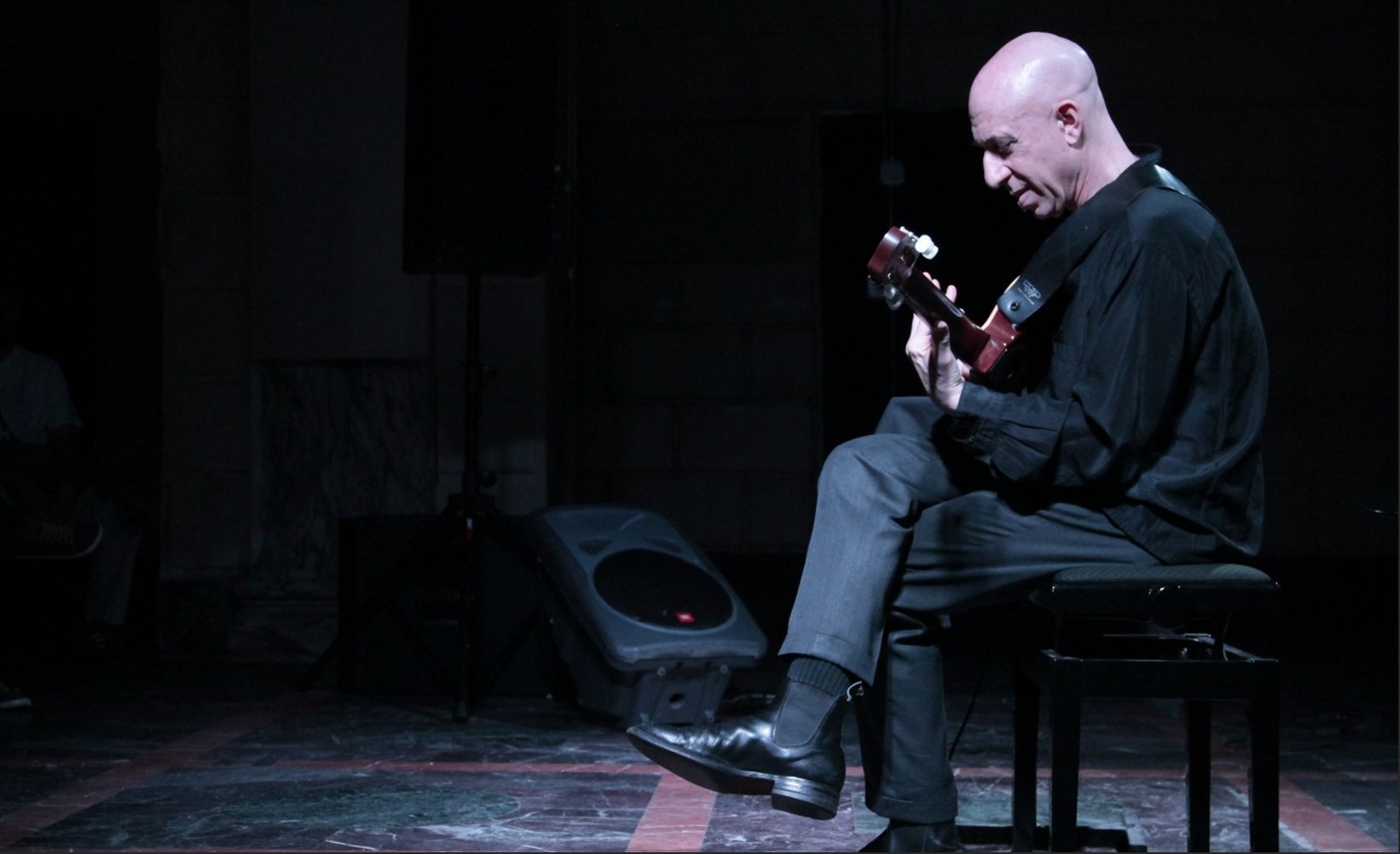 Jeho impozantná kariéra, v rámci ktorej kurátoroval monumentálnu zvukovú inštaláciu v MOMA PS1, získal Guggenheimove štipendium, či Berlin Prize in Musical Composition of American Academy in Berlin a spolupracoval so širokou škálou hudobných velikánov, sa začala v 70tych rokoch, na ktoré si v svojom memoáry IrRational Music spomína ako na obdobie, kedy žil z 35-centových trojuholníkov pizze a spával v chladných zimných nociach vedľa svojho elektrónkového zosilňovača, jediného zdroja tepla v jeho bytovke v East Village.
Hoci ho oslavujú ako hrdinu fanúšikovia experimentálnej hry na gitaru, Sharp nahráva aj tradičné blues (s kapelou Terraplane), píše pre komorné skupiny a dychové big bandy (Orchestra Carbon), spolupracuje s elektronickými zoskupeniami (napríklad kolaboratívnym Bootstrappers), vedie 13-člennú gitarovú armádu (All-Guitar SyndaKit) a spája sa s kreatívnymi pomocníkmi v hybridných projektoch, ktoré využívajú hudbu, text a obraz.
Elliott Sharp vystúpi v T3 – kultúrnom prostriedku v sobotu 24.9. o 18:00.
https://en.wikipedia.org/wiki/Elliott_Sharp
http://www.elliottsharp.com/
https://elliottsharp1.bandcamp.com/music
https://www.facebook.com/events/451343603570863
www.t3.sk
https://www.facebook.com/T3.kulturny.prostriedok
https://www.instagram.com/t3kulturnyprostriedok/
Zdroj: TS
Foto: Elliott Sharp at ISSUE Project Room by Bradley Buehring