Najväčšia hudobná udalosť roka! V Bratislave vystúpi spevák kultovej skupiny Rammstein! Charizmatický a neprehliadnuteľný Till Lindemann to roztočí 20. januára 2022 v Incheba Expo Aréne. V rámci Ich Hasse Kinder Tour 2022 predvedie Till nové aj staré piesne, brutálne videá aj špeciálne efekty! Príďte 20. januára do Incheby na vlastnej koži pocítiť neskutočnú energiu jedného z najlepších frontmanov rocku!
Líder najväčšej nemeckej skupiny Rammstein, talentovaný hudobník, veľký poet a fenomén na hudobnej scéne. To je spevák a skladateľ Till Lindemann, ktorý má neuveriteľnú charizmu, famóznu hlasovú silu a niekedy až desivú energiu. Milujú ho milióny fanúšikov na celom svete, ktorí si nenechajú ujsť ani jedno turné. Jeho koncerty sú pôsobivé ako sopečná erupcia, plné vizuálnych efektov a pyrotechniky. A vy ich 20. januára môžete zažiť na vlastné oči a uši!
"Sme veľmi radi, že sa nám v týchto náročných časoch podarilo dohodnúť vystúpenie Till Lindemanna v Bratislave. Veríme, že naša snaha bude ocenená vypredanou Incheba Expo Arénou," teší sa organizátor koncertu spoločnosť Ticketmedia s.r.o.
58-ročný Till si tentokrát so sebou na turné neberie svojho kolegu z projektu Lindemann, predstaví však skladby z oboch albumov. Lill Lindemann a Peter Tägtgren vydali v roku 2015 debutový album Skills In Pills, ktoré sa stretlo s vrelým prijatím nielen fanúšikov ale vďaka kontroverzným textom piesní a sprievodným klipom sa dostalo do povedomia širšej hudobnej verejnosti. Druhý hudobný počin s názvom F & M vyšiel v roku 2019 a obsahuje skladby Steh auf, Ich weiss es nicht a Knebel. V hlavnom meste Slovenska predstaví Till Lindemann svoje vlastné Ich Hasse Kinder Tour 2022. Fanúšikovia sa môžu tešiť na množstvo experimentálnych a nekonvenčných hudobných nápadov, pôsobivé videoprojekcie a pyrotechnické efekty. Nenechajte si ujsť jedinečný zážitok s Tillom Lindemannom, na tento večer určite dlho nezabudnete. Stretneme sa 20. januára 2022 v Incheba Expo Aréne a 22. januára 2022 v Tipsport Aréne v Prahe. Vstupenky na Ich Hasse Kinder Tour 2022 sú dostupné na https://ticketmedia.sk/performance/952/TILL-LINDEMANN
Dôležité upozornenie – koncert je určený osobám 18+. Organizátor podujatia sa rozhodol organizovať koncert v režime OTP a to podľa platnej vyhlášky č.241 vydanej ÚVZSR. Režim OTP oprávňuje vstup na podujatie pre osoby, ktoré spĺňajú aspoň jednu z týchto podmienok:
osoba je plne očkovaná alebo
osoba je otestovaná, pričom sa môže preukázať antigénovým testom nie starším ako 48 hodín od odberu alebo PCR/LAMP testom nie starším ako 72 hodín od odberu alebo
osoba, ktorá prekonala ochorenie COVID-19 v období pred nie viac ako 180-dňami.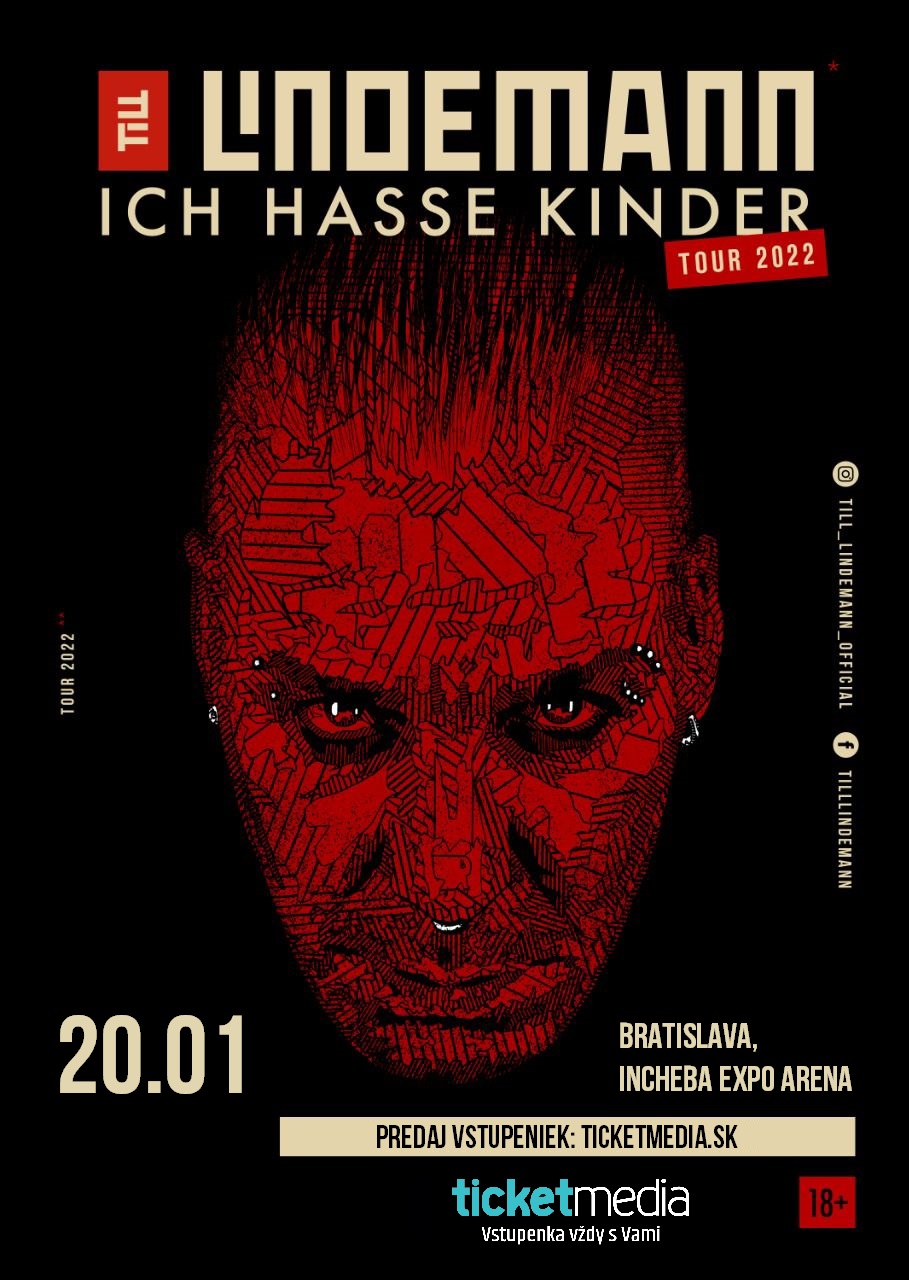 Zdroj: NK Factory