9. ročník medzinárodného Bratislavského knižného festivalu BRaK sa uskutoční od stredy 11. 5. do nedele 15. 5. 2022. Hlavná časť festivalu sa bude konať v priestoroch Novej Cvernovky. Program pre návštevníkov je zostavený zo zaujímavých tém, hostí, workshopov, divadiel či koncertov a nebude chýbať ani ústredná časť programu festivalu – predajná výstava kníh, v rámci ktorej návštevníci budú môcť osobne stretnúť 50 najmä českých a slovenských vydavateľstiev.
Nebáť sa nerásť
BRaK v tomto ročníku poukáže na zdanlivo nezastaviteľnú tendenciu sústavného rastu a pod heslom nebáť sa nerásť zorganizuje konferenciu profesionálov, kde sa bude pýtať, ako to všetko súvisí s knižným prostredím. Vydavateľka Barbora Baronová nazvala svoju umeleckú spoveď Nakladatelství nerůstua predstaví svoju úvahu o tom, prečo je dobré premýšľať o vydavateľstve ako o umeleckom laboratóriu. Environmentálne aspekty vydávania preberie Jiří Hlinka, zakladateľ Walden Press. Antoinette Koleva vedie bulharské vydavateľstvo KX Critique and Humanism a spolu s Davidom Piovesanom, ktorý sa dlhodobo venuje štúdiu európskeho knižného priemyslu a kníhkupectiev, prinesú na BRaK tému bibliodiverzity.
S témami, ktoré bude tohtoročný program zrkadliť, oboznámia návštevníkov vo svojich prezentáciách prekladatelia, editori, knižní dizajnéri a ilustrátori, ako aj ďalší odborníci slovenskej a českej scény, ktorí vystúpia v rámci úvodného warm-upového podujatia PechaKucha Night.
Fokus na Ukrajinu i Bielorusko
BRaK sa od svojho vzniku snaží prirodzene reagovať aj na spoločenské dianie, nebude teda chýbať ani ukrajinský aspekt. Festival tento ročník ponúkne predajný priestor ukrajinskému vydavateľstvu Vydavnictvo, ktorého majiteľka Liliya Omelyanenko utiekla pred vojnou do Bratislavy a v programe porozpráva o vydávaní kníh počas vojny. Téme súčasných disidentov či vnútorných migrantov sa BRaK venuje v spolupráci s neoficiálnou Ambasádou nezávislej bieloruskej kultúry, ktorá vznikla pri brnenskom divadle Husa na provázku. V programe vystúpia bieloruskí autori a autorky, ktorí majú osobnú skúsenosť s jednou z mála diktatúr v Európe. Medzi inými Sasha Filipenko, bieloruský spisovateľ, novinár a moderátor. Jeho knihy boli preložené do viac než 10 jazykov a kniha Bývalý syn (E.J. Publishing, 2022) bola v Bielorusku zakázaná, prezentáciu mala preto v Kyjeve. V roku 2021 PEN International prehlásil Filipenka za obeť cenzúry.
Významnou hostkou festivalu bude aj Nina F. Grünfeld, ktorej kniha Frida (Lindeni, 2021) je šokujúcim rozprávaním o strate, vojne a aj o pocite niekam patriť a tiež o hľadaní vlastných koreňov. Portugalská autorka a novinárka Isabela Figueiredo predstaví svoju oceňovanú knihu Tučná (Portugalský inštitút, 2022) s výraznými autobiografickými prvkami.
Reportážna literatúra
V rámci programu dostanú priestor rôzne typy reportáží od osobnej cez vojnovú, historickú a súčasnú až po autobiografickú. Jednotlivé body programu pripravil BRaK v spolupráci s angažovaným mesačníkom Kapitál, ktorý v máji predstavil celé tematické číslo venované reportáži.
Zo zahraničných hostí Bratislavský knižný festival navštívi japonská žurnalistka a reportérka Shiori Ito, ktorá priniesla do patriarchálnej a veľmi rigidnej japonskej spoločnosti skrz vlastnú skúsenosť znásilnenia tému me too. O svoj príbeh sa podelila v knihe Čierna skrinka (kapitalks, 2022). Katarzyna Surmiak-Domańska a Margo Rejmer sú autorky, ktoré prídu zastúpiť poľskú reportážnu literatúru. Surmiak-Domańska je autorkou kníh ako Ku-klux-klan. Tady bydlí láska (Absynt, 2017) či Kieślowski v detaile (Absynt, 2022) a druhá autorka spracovala Albánsko vo výnimočnej reportážnej knihe Bláto sladší než med (Větrné mlýny, 2021). Novozámočan Marek Hudec spísal históriu bombardovania Nových Zámkov vo svojej novej knihe Uzol(Absynt, 2022) a predstaví svoj prístup k jej zostavovaniu. K téme vojny na Ukrajine porozpráva francúzsky reportér a fotograf Guillame Binet, ktorý sa podelí o svoje zážitky a priblíži spôsob, akým sa dá v reálnom čase sprostredkovať to, čo sa deje vo vojnovom konflikte.
Výstava o Erike Mann
Bratislavský knižný festival pracuje s multižánrovým presahom a v spolupráci s Goetheho inštitútom pripravil v Zichyho paláci výstavu o živote a diele Eriky Mann, kabaretistky, vojnovej reportérky a spisovateľky, ktorá vysvetľuje jej boj za slobodu a demokraciu. S tým bude súvisieť aj kabaretné predstavenie v podaní divadla Na zábradlí. Sobotný večer bude patriť známej českej skupine DVA, no v programe sa návštevníci môžu tešiť aj na sférickejšiu hudbu v podaní hudobného telesa Havlovci.
V rámci diskusie o tvorbe Viktora Šklovského zaznie aj Sonáta pre violončelo od Vladimíra Godára, ktorý svojím doslovom prispel do knihy Zoo alebo Listy vôbec nie o láske (BRAK, 2022).
Divadelná premiéra i detský program
Návštevníci festivalu budú mať možnosť vidieť exkluzívnu premiéru tanečného kvinteta TETSU. Novovznikajúce dielo je inšpirované čínskym holistickým systémom wuxing (v Japonsku známy ako gogyō), ktorý pomenúva päť fáz, procesov, elementov a pohybov objavujúcich sa vo vesmíre, v prírode či v živote človeka. Za hudobného sprievodu sa tanečníčky a tanečníci naladia na spoločný rytmus pripomínajúci tlkot srdca.
V neposlednom rade BRaK prinesie aj bohatý detský program. Môžeme spomenúť divadlo Odivo či Divadlo ŠiBe, ktoré deťom spríjemní nedeľné dopoludnie predstavením Prešporské rozprávky. Deti sa môžu tešiť aj na čítanie z nových kníh Terezy Oľhovej Bubáci a Posledný permoník (BRAK, 2021), ktoré vznikli v spolupráci s Vladom Jančekom a ilustrátorkou Evou Škandíkovou. Taktiež sú pre nich pripravené zaujímavé workshopy, napríklad pri uvedení knihy Davida Böhma A ako Antarktída, či premietanie úspešného českého večerníčka o chutnom jedle Medvedie maškrtné príbehy (Bionaut, 2020).
Celý program nájdete tu: https://www.brakfestival.sk
Vstupné v hodnote 5 € platí na celý festival.
Víkendová predajná výstava kníh sa uskutoční v sobotu 14. 5. od 10.00 do 19.00
a v nedeľu 15. 5. od 10.00 do 17.00.
BRaK Bratislavský knižný festival 2022
Dátum: 11. – 15. máj 2022
Miesto konania: Nová Cvernovka, Račianska 78, Bratislava
Web: https://www.brakfestival.sk
Facebook: https://www.facebook.com/brakfestival
FB event: BRaK 2022
Festival z verejných zdrojov podporil Fond na podporu umenia – hlavný partner festivalu.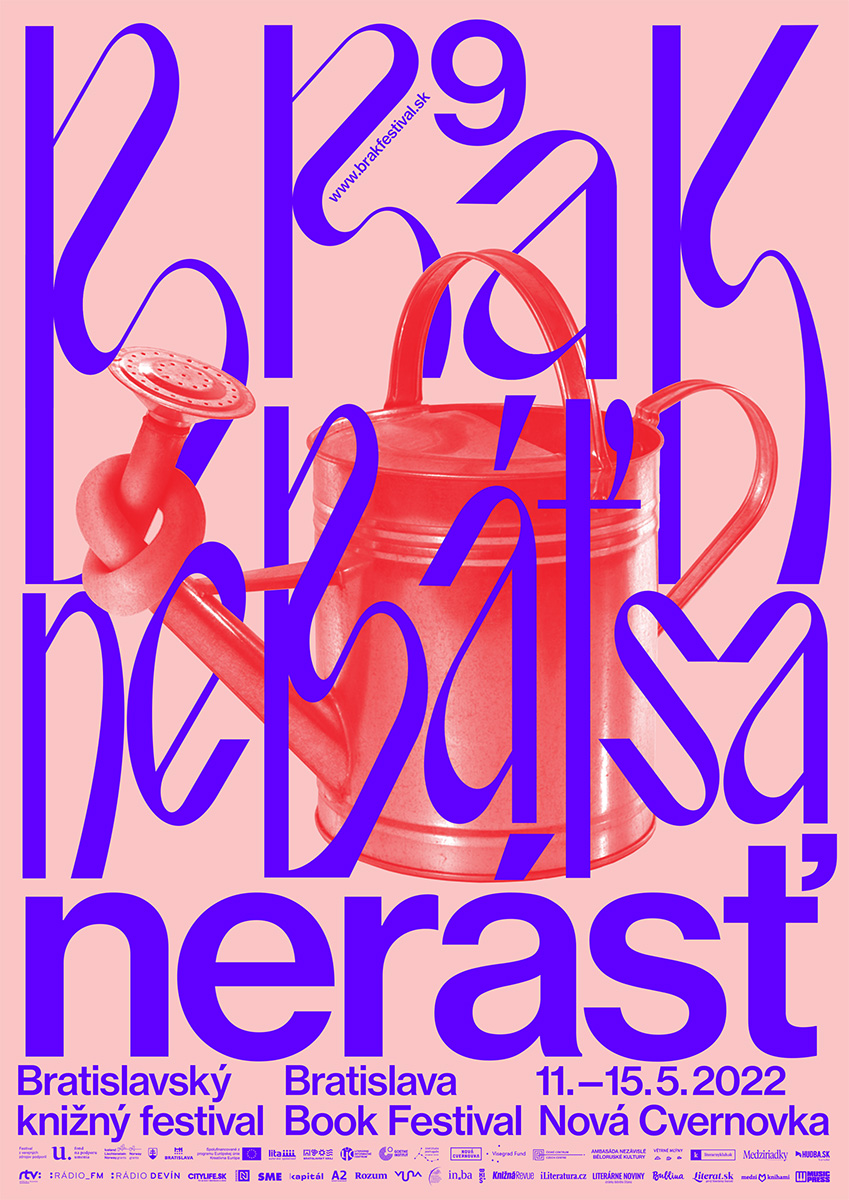 Zdroj: TS