Workshop, pop-up, diskuse, koncert a happy birthday party: Jing. Edward. Leafar Legov. Map.ache. Dwig. Elli. Janina. DJ Dustin. Konstantin. Výmarský kolektiv Giegling potřetí obsadí továrnu, v níž vystaví odlišnou realitu. Deset let jeho působení se v Praze slaví během 11.–15. března 2019.
Giegling je kolektiv přátel sídlící v německém Výmaru a letos po celém světě slavící kulatiny. Svou tvorbou mění ducha míst, a právě pro danou příležitost v nich vytváří Gesamtkunstwerk, zprostředkovávající syntézu všech druhů umění, zážitek, jenž se nelimituje výhradně audiovizuálním, stírající hranici mezi estetickým útvarem a realitou. Posledně v tomto duchu pod jeho rukama v MeetFactory vyrostl jakýsi lustr či posuvná zeď, architektura prostoru se v průběhu večera postupně proměňovala, proudila jím omamná vůně a v mlhách tančily i květiny. Kolektiv má svérázný postoj k tomu, jak lze vnímat skutečnost a přistupovat k ní. "Giegling chápeme jako víru v to, že jsme lepší jako celek než jako jednotlivci. Je to sdílení přesvědčení, že umění, které vytváříme, bude více smysluplné, bude mít větší dopad a přetrvá déle, pokud ho vytvoříme jako kolektiv," pronesli svorně před lety.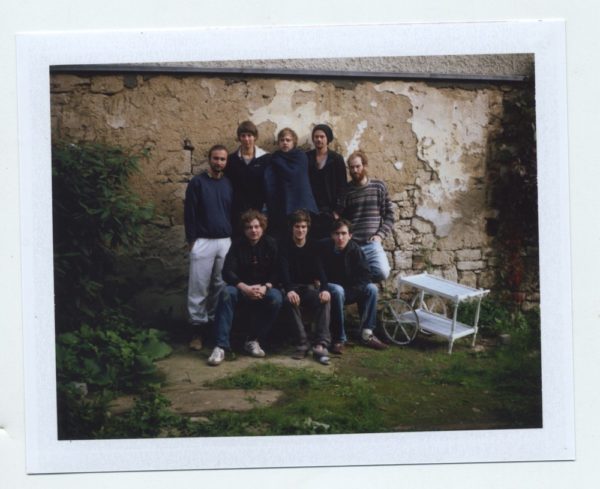 Týden s Giegling, který je jedním z deseti po celém světě, začne v továrně pondělním workshopem 2D Unity. Dílna představí, jak o tvorbě kolektiv uvažuje. Sdílení metod, jak připravit nahrávky jako celek, a know-how, jak vytvořit celou koncertní scénu, vede k podílení se příchozích na výsledné podobě narozeninové oslavy. Během úterního otevření pop-up restaurace Songs x Soup proběhne společný neformální oběd, k jehož účasti jsou instrukce kolektivu prosté: s sebou jednu ingredienci a skladbu, kterou byste chtěli slyšet. Středeční večer Collective Sketching, neboli náčrt kolektivní utopie, má za cíl se společnými silami dobrat toho, jak vytvořit svoje svébytné místo ve světě, jehož podstata nám jednotlivě uniká. Sympozium lze takto vnímat jako sebezpytující reakci na dřívější kauzu týkající se genderového rozložení sil na hudební scéně.
Do středy probíhající program je volně přístupný. Čtvrteční koncert Transforming Hierarchies je pak věnován interakci mezi zvukem a obrazem, vystupujícím a divákem. Giegling si ten večer klade otázku, zda je možné zavedené paradigma změnit a prolomit pomyslnou zeď. Páteční večer The Happy Birthday Party uvede vydatnou sérii jmen: Leafar Legov (live), Map.ache (live), Dwig (live), Edward (live), Jing (live), Sateq (live), tzn. sa pa + ateq, Janina, Schaaly, Elli, Konstantin, DJ Dustin, Birds & Tapes. Jejich vystoupení vyústí ve společnou noc s pražským klubem Ankali. Podrobnosti k tomuto večeru budou odhaleny teprve v závěrečný den oslav.
Zážitek přirovnatelný pocitům nastávajícím při sledování západu slunce, jak kdysi líčil charakter tvorby Giegling jeden z jeho členů, uvozuje nadpis článku časopisu Vice nadále výstižně: I Went To Planet Giegling and Never Want To Go Home. Kdo chce po týdnu v továrně ponořené do snu střízlivět?
Více:
giegling.net
facebook.com/Giegling-199483106732919
wave.rozhlas.cz/vymar-od-bacha-az-po-giegling-2-dil-vymarskych-velikanu-a-bujara-oslava-vyroci-7770010
"Fungování tohoto německého vydavatelství se točí okolo aktivit jakési – poměrně uzavřené – hudební rodiny, která se začala formovat před deseti lety ve Výmaru. Několik studentů se tehdy ve městě Goetheho, Schillera a Liszta rozhodlo pořádat večírky v klubu nazvaném Giegling. Po jeho uzavření a následné demolici promotérská činnost kolektivu pozvolna vyústila v tvorbu vlastních skladeb. Jejich autoři (…) je začali vydávat pod jmény jako Konstantin, Leafar Legov, Ateq nebo DJ Dustin." – A2 kulturní čtrnáctideník
Předprodej:
300–500 Kč na stránkách giegling.net/tickets/xprague, od pondělí do středy vč. program volně přístupný
Zdroj: TS