THY ART IS MURDER a WHITECHAPEL společně vyrazili na turné. Prvně jmenovaným právě vyšla nová deska "Godlike", druzí se do české metropole vrací po více než pěti letech. Obě deathcore ikony na turné navíc doprovází FIT FOR AN AUTOPSY a SPITE, takže se koncert z Roxy musel přesunout do většího klubu SaSaZu.
Ambasadory zhouby z Austrálie THY ART IS MURDER není třeba představovat. Po loňském zrušeném turné, navíc s novinkou "Godlike" na kontě, se vrací dobýt další území. Aktuálně žhavým tématem je vyhození zpěváka CJ McMahona, jehož zpěv na nové desce kapela dokonce nechala přezpívat.
Těžkou úlohu frontmana převzal Tyler Miller, zkušený borec z Aversions Crown, což momentálně už potvrzuje na probíhajícím turné (viz video). Fans tak o budoucnost deathcore hybatelů, kteří si své místo již dávno urvali několika skvělými alby a drtícími koncerty, nemusí mít strach.
Čelo deathcorového pelotonu okupují i druzí v sestavě turné: WHITECHAPEL!
Kapela pojmenovaná po čtvrti východního Londýna, kde Jack Rozparovač spáchal sérii vražd, v čele s Philem Bozemanem od r. 2006 vydala sedm studiovek, které se vyznačují vysokou úrovní technické zručnosti i zvukové produkce, což jim v obsazení se třemi kytarami umožňuje vytvářet jedinečné a působivé skladby jako ty ze stále aktuální desky "Kin" (2021).
FIT FOR AN AUTOPSY, parta okolo kytaristy a producenta Willa Putneye, se s každým dalším hudebním počinem posouvá nad svou předešlou hranici, čímž ve svém žánru přerostla většinu kapel.
Zatím poslední počinem je album "Oh What the Future Holds" z r. 2021, které je často považováno za to nejlepší, co FFAA dosud udělali. Jako by si většina z nás už tak nebyla vědoma, co všechno je v dnešním světě špatně, je tahle deska brutálním probuzením, které má inspirovat ke změně a popohnat k osobní zodpovědnosti.
SPITE se proslavili svým temným, agresivním a destruktivním stylem, který je charakterizován kombinací deathcoru, metalcoru a hardcoru. Jejich texty se často zabývají tématy jako bolest, hněv, nenávist a zoufalství, což jejich hudbě dodává pohlcující odér.
SPITE jsme tu viděli na podzim na putovním Never Say Die festivalu, kde zastínili i samotné headlinery. Jejich místo je v sestavě oprávněné.
THY ART IS MURDER, WHITECHAPEL, FIT FOR AN AUTOPSY, SPITE
10. 10. 2023 – Praha, SaSaZu
FB event: https://fb.me/e/PQCTNQrI
e-TICKET: https://obscure.cz/cs/tickets/detail/id/586
Nejlevnější vstupenka na Obscure.cz, předprodej dále v sítích Ticketmaster a GoOut.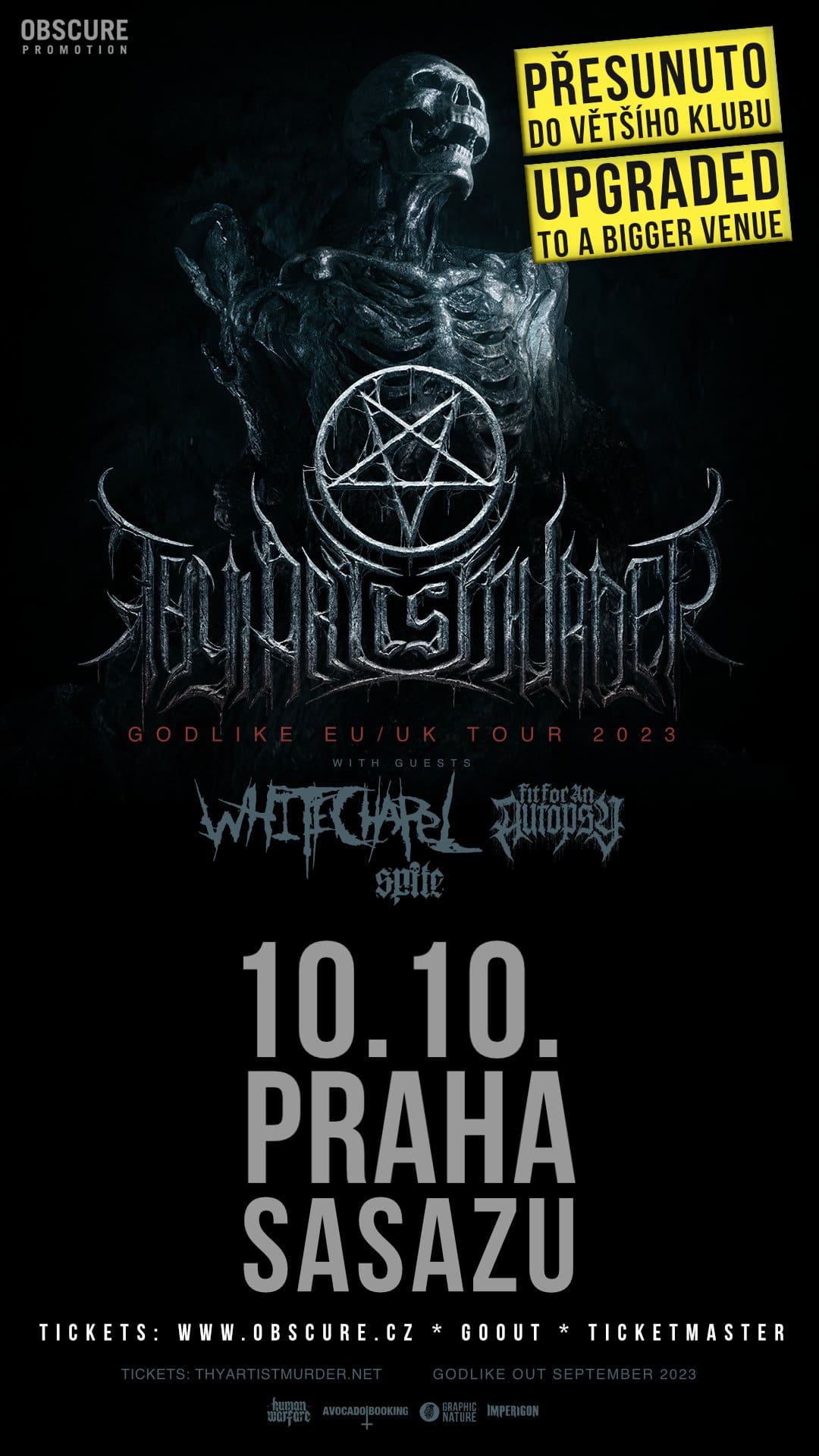 Zdroj: TS