Živé akustické techno TooT Ensemble a maďarská inštrumentálno-elektronická kapela Freakin' Disco pozývajú všetkých na bláznivú psychadelickú tanečnú párty! V rámci svojho spoločného marcového turné vás obe kapely zvú 24. marca do bratislavského PINK WHALE.
Svoje turné TooT Ensemble (CZ) a Freakin' Disco (HU) začnú koncertom v Prahe. Pokračovať budú v Bratislave a turné zakončia na legendárnej lodi A38 v Budapešti. Obe kapely hrajú hudbu pre dušu i nohy, ale každá trochu inak:
TooT Ensemble je brass band, ktorý sa vymyká očakávaniu. Jedná sa o deväťčlennú kapelu hrajúcu inštrumentálnu tanečnú hudbu. Inšpiráciu čerpá z rôznych štýlov EDM, alebo podobne zameraných kapiel, ako sú Meute, Moon Hooch alebo Too Many Zooz. Nečakajte však žiadne covery – všetky skladby sú originály. Zvuk skupiny určuje šesťčlenná dychová sekcia a nemilosrdná bubenícka trojica. Ich hudba je bujará a skvele tanečná pre ľudí všetkých vekových kategórií, vyznania a farieb.
"Keď sme po prvý krát počuli Freakin'Disco, hneď nám došlo, že vlastne máme veľa spoločného. Na koncertoch sa snažíme v poslucháčoch docieliť podobný trans a psychadelický efekt. Máme asi rovnaký cieľ, ale veľmi odlišné prostriedky, čo z nás robí ideálnu kombináciu. Keď sme sa prvý krát navzájom počuli, hneď sme v backstagei riešili, že niečo musíme spoločne podniknúť, tak som veľmi rád, že sa to teraz konečne darí," popisuje David Lomič, kapelník, saxofonista a skladateľ kapely TooT Ensemble.
Freakin' Disco hrajú inštrumentálnu elektroniku, ich hudba je hlboká, psychadelická a groovy a živelná sila ich živých vystúpení vystreľuje publikum až do vesmíru. V Českej republike už vystúpili na festivaloch ako sú Beseda u Bigbítu, Všudybud a Šraml. Kapela pracuje na svojom treťom albume TOTEM, na ktorom sa čiastočne podieľal i niekoľkonásobný držiteľ ceny Grammy, producent Steve Dub, ktorý produkoval i väčšinu hudby The Chemical Brothers, ale spolupracoval i s The Prodigy, UNKLE a mnohými ďalšími.
"S TooT Ensemble sme sa zoznámili na jednom z českých festivalov, kde sme hrali minulý rok. Ich hudba je dosť zábavná a sú to naozaj skvelí chalani. V backstagei sme sa bavili o tom, že by sme spolu niečo spravili, a teraz sme tu, robíme toto miniturné. Veľmi sa na tie koncerty tešíme, zahráme si s nimi v Prahe, Bratislave a Budapešti." – vraví Ágoston Szabó Sipos, bubeník Freakin' Disco.
Obe kapely vytvorili dva spoločné playlisty so svojimi najznámejšími pesničkami a videoklipmi. Checknite ich pred koncertom!
YouTube playlist: https://youtube.com/playlist?list=PL2i_eSRo7TnSKU8Nn8n_0xv3GhWkEEnJ4
Spotify playlist: https://open.spotify.com/playlist/2Vl2AYvA61VFC2CbOTGIgN?si=03f01012bb0848b9
Facebook udalosť: https://www.facebook.com/events/606655254638044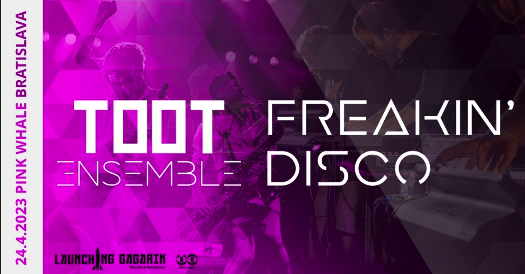 Zdroj: TS