Kultová česká undergroundová kapela The Plastic People of the Universe prichádza premiérovo do Bratislavy na pozvanie festivalu Konvergencie s programom "Co znamená vésti koně", ktorý sa uskutoční 11. septembra o 19.00 v Mestskom divadle P. O. Hviezdoslava v Bratislave. Pôjde o špeciálny predkoncert, festival bude pokračovať od 16. do 24. septembra 2019.
Projekt "Co znamená vésti koně"z roku 1981, ktorého umelecký tvar definovala dvojica výrazných osobností kapely, basgitarista Milan "Mejla" Hlavsa (hudba) a Vratislav Brabenec (poézia, spev), dostal v roku 2014 novú podobu vďaka orchestrálnym aranžmánom Michala Nejtka. "Po hudobnej stránke znesú "Koně" porovnanie s vrcholnou tvorbou vtedajších západoeurópskych progresívnych kapiel, na rozdiel od nich však majú úplne špecifickú a originálnu atmosféru, ktorá prestupuje celým hudobným i textovým materiálom. Atmosféru stiesnenosti, duchovného útlaku, ale tiež zvláštnej archaickosti a pátosu," hovorí o projekte, ktorý je venovaný 30. výročiu Nežnej revolúcie, hudobník, skladateľ a aranžér Michal Nejtek. Na úvod bratislavskej premiéry projektu bude premietnutý dokument o vzniku tohto nadčasového spojenia hudby a poézie v podaní legendárnej kapely a Filharmonie Brno pod taktovkou Pavla Šnajdra. Vstupenky na koncertu sú už dostupné v sieti Ticketportal.
"Konvergencie sú výrazom hľadania zmyslu hudby v napätých životoch postmoderných ľudí. Hudba je tu miestom stretávania a komunikácie. Hudba je správou z cesty, tušením toho, čo ešte len príde." Juraj Kušnierik
Medzinárodný festival komornej hudby Konvergencie, ktorého zakladateľ a umelecký riaditeľ a violončelista Jozef Lupták pomenoval podľa kultového albumu súboru Collegium musicum Mariána Vargu, oslávi túto jeseň dve dekády svojej existencie. Za ten čas sa z nadžánrového podujatia, ktorého ťažiskom však aj naďalej ostáva komorná hudba v podaní renomovaných domácich a zahraničných interpretov, stala jedna zo stálic bratislavského hudobného života patriaca medzi najvýznamnejšie udalosti klasickej hudby na Slovensku. Konvergencie sa od iných festivalov líšia "dramaturgiou vytváranou na mieru", ktorá poskytuje priestor pre spoluprácu domácich i zahraničných umelcov a prezentuje menej známe diela, ale tiež veľké klasické opusy v prekvapivých a nových kontextoch. Medzi dramaturgické akcenty patrí od vzniku festivalu uvádzanie tvorby slovenských skladateľov a hudba 20. storočia. K poznávacím znameniam Konvergencií patrí príjemná neformálna atmosféra – "konvergenčný efekt", ktorý počas festivalových dní vytvorí z hudobníkov a návštevníkov festivalu komunitu priateľov s vášňou pre hudbu. Aj tento rok spojí renomovaných domácich i zahraničných umelcov a hudbu rozličných žánrov, sa uskutoční od 16. do 24. septembra 2019.
Návraty
SúborBrodsky Quartet zažiaril v roku 2016 na Konvergenciách s kompletom sláčikových kvartet Dmitrija Šostakoviča, o dva roky neskôr na festivale uviedol neskoré kvartetá Ludwiga van Beethovena. Obidva projekty patrili medzi najsilnejšie momenty v histórii festivalu. Britské sláčikové kvarteto je pomenované po slávnom ruskom huslistovi Adolfovi Brodskom, známom zo spolupráce s Piotrom Iľjičom Čajkovským. Brodsky Quartet vznikol v roku 1972 a po vyše 40 rokoch pôsobenia má na konte viac než 3000 koncertných vystúpení a 60 nahrávok. Účinkovanie súboru sa neobmedzuje len na prestížne pódiá v Európe a USA, Brodsky Quartet koncertuje aj v Ázii, Austrálii a v Južnej Afrike. Hudobníci pravidelne spolupracujú s BBC, od roku 2012 nahrávajú pre spoločnosť Chandos Records. Ich umeleckej činnosti dominujú uvedenia kompletných cyklov kvartet Beethovena, Schuberta, Čajkovského, Brittena a Schönberga, ocenené prestížnymi cenami, no vďaka spolupráci s P. McCartneym, Björk či Elvisom Costellom je súbor známy aj mimo klasickej hudby. Dvadsiaty ročník Konvergencií otvorí súbor Brodsky Quartet 16. 9. 2019 koncertom vo Veľkom koncertnom štúdiu SRo koncertom z diel Šostakoviča, Brittena, Barbera, Coplanda a Elgara. Na festival sa vráti aj vynikajúca talianska mezzosopranistka Romina Basso, ktorá v sprievode súboru Solamente naturali v roku 2017 očarila Katedrálu sv. Martina áriami barokových majstrov. Na aktuálnom ročníku Konvergencií sa predstaví 20. 9. 2019 v Koncertnej sále Klarisky spolu so známym talianskym gitaristom Albertom Mesircompiesňovým recitálom. Večer v Klariskách symbolicky uzavrie Messiaenovo Kvarteto na koniec časov.
Bratislavská noc komornej hudby, Soft November Music a 20 rokov festivalu
Bratislavská noc komornej hudby (19. 9., design factory), sled niekoľkých koncertov počas jedného večera, patrí k stabilným a obľúbeným súčastiam festivalovej dramaturgie. Tento rok bude symbolicky venovaná 100. výročiu narodenia legendárnej osobnosti violistu, pedagóga a muzikológa Jána Albrechta (1919 – 1996), ktorého spomienky na intenzívne pestovanie komornej hudby v Bratislave v 19. a v prvej polovici 20. storočia boli pre Jozefa Luptáka dôležitým inšpiračným zdrojom pri vzniku Konvergencií. Tento rok na Bratislavskej noci komornej hudby vystúpia prvý violista Slovenskej filharmónieMartin Rumans klaviristkou Alenou Hučkovou s dielami Alexandra Albrechta, Rebeky Clarke a Ľubice Čekovskej. V rámci večera zaznie tiež Klavírne trio c mol, op. 101Johannesa Brahmsaa Klavírne kvinteto Es dur, op. 44Roberta Schumanna. Dvesté narodenie klavírnej virtuózky a skladateľky Clary Schumannovej si festival pripomenie výberom z jej piesní, ktoré zaznejú v interpretácii v Poľsku pôsobiacej slovenskej sopranistky Ingridy Gápovej. Súčasťou Bratislavskej noci komornej hudby sú už tradične predkoncertné rozhovory, ktoré budú tentokrát venované spomienkam na Jána Albrechta.
Veľkým klasickým dielam bude patriť slávnostný koncert 22. 9. 2019 vo Veľkom evanjelickom kostolena Panenskej ulici, ktorý otvorí Brittenova Suita pre sólové violončelo č. 3, op. 87 v podaní Roberta Cohena. Známy britský violončelista, patriaci k najvýznamnejším umelcom 2. polovice 20. storočia, patrí k dlhoročným priateľom festivalu Konvergencie. Program doplnia Dve skladby pre sláčikové okteto, op. 11 Dmitrija Šostakoviča a OktetoEs dur, op. 20 Felixa Mendelssohna Bartholdyho. Špeciálnym koncertom z diel slovenských skladateľov (Berger, Zeljenka, Matej, Burlas, Varga) si 21. 9. 2019 Konvergencie v Primaciálnom paláci pripomenú 30. výročie Nežnej revolúcie. Ako obvykle sa možno na festivale opäť tešiť na elitných komorných hráčov. Za všetkých si zmienku zaslúži účinkovanie v zahraničí pôsobiacich huslistov Igora Karškaa Petra Bieleho,vystúpia tiež popredné slovenské klaviristky Jordana Palovičováa Nora Skuta, i klarinetista Ronald Šebesta, poslední dvaja umelci boli s festivalom Konvergencie od začiatku jeho existencie.
Hudba bez hraníc
"V hudbe nemá význam hrať sa na nemennosť hraníc," povedal v knihe rozhovorov s Petrom Uličným O cestách, ktoré nevedú do Ríma Marián Varga, ktorý bol priateľom Jozefa Luptáka a častým hosťom Konvergencií. Do tejto skupiny ťažko zaraditeľných, no rozhodne zaujímavých projektov, bude patriť premiéra adaptácie Bartókovej opery Hrad kniežaťa Modrofúzaautorského kolektívu Eva Šušková, Peter Mazalán, Jonatán Pastirčák, Ján Šickoa Peter Pažickýv Primaciálnom paláci (18. 9. 2019). Hudobným dobrodružstvom, ktoré uzavrie 20. ročník festivalu bude koncert fenomenálneho izraelského mandolinistu Aviho Avitala (24. 9. 2019), ktorý na festivale debutoval s mimoriadnym úspechom v roku 2017. Na koncerte, ktorý v Slovenskom rozhlase spojí svety klasickej hudby a world music s Avi Avitalom vystúpia aj vokalistka Loire Cotler a 4-násobný držiteľ Grammy, perkusionista Glen Velez. Súčasťou 20. ročníku festivalu bude aj koncert pre deti, o ktorý sa tentokrát postarajú Tomáš Boroša Ivan Šiller a premiéra dokumentu o festivale. Dvadsať rokov Konvergencií, retrospektíva i pohľad vpred, množstvo priateľov a nekonečno zážitkov, tešíme sa na Vás!
VSTUPENKY sú dostupné v sieti Ticketportal.
FESTIVALOVÁ PERMANENTKA je v predaji za špeciálnu uvádzaciu cenu (v limitovanom počte) zakúpite tu: http://bit.ly/permanentka_KONV2019
Podujatie sa koná pod záštitou primátora hl. m. SR Bratislavy Matúša Valla.
Podujatie je zaradené do programu v rámci 44. ročníka festivalu Kultúrne leto a Hradné slávnosti Bratislava 2019, ktorého organizátorom je BKIS.
Viac informácií o festivale možno nájsť na www.konvergencie.ska Festival Konvergencie
FB event: http://bit.ly/Konvergencie2019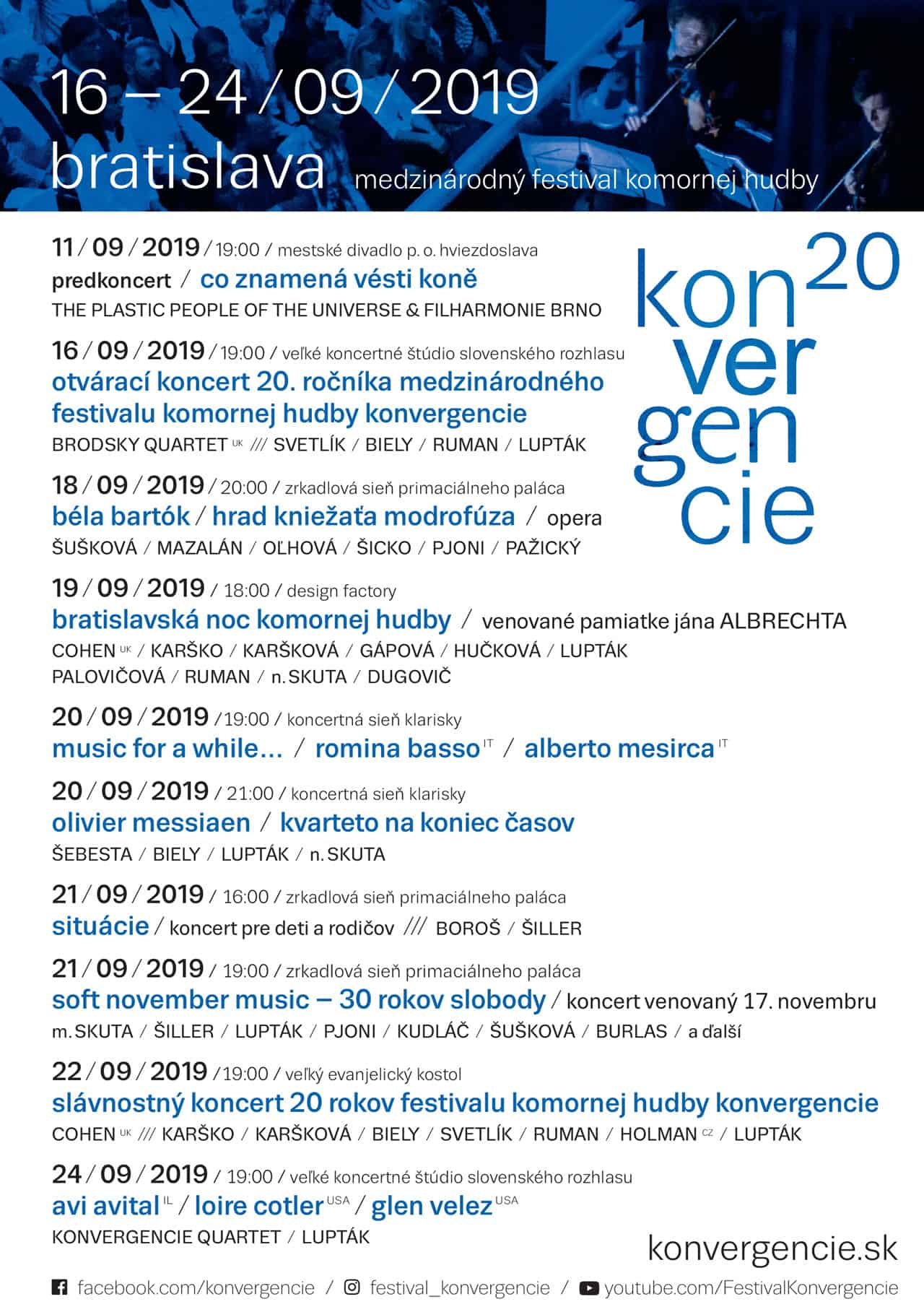 Zdroj: TS