S loňskou albovou novinkou Jedna nula už Tata Bojs stihli získat Cenu Anděl 2020 v kategorii Skupina roku a hned dvě sošky ve fanouškovské anketě Žebřík, konkrétně za první místo mezi kapelami, resp. za druhé místo v kategorii Album roku. Koncertní křest své desáté řadovky plánovaný v pražské hale O2 universum však Tatáči museli s ohledem na situaci odložit, a tak album zatím pokřtili alespoň OnLive v rámci živě přenášeného únorového koncertu z DOX+. A právě s live klipem z DOX+ ke skladbě 220 Travoltů, na který se můžete podívat zde, kapela posílá jednoznačný vzkaz všem fanouškům: "Koncert bude!" Stane se tak v novém termínu 30. 11. v O2 universum a určitě to nebude koncert jen tak ledajaký…
"Deska Jedna nula vyšla v listopadu 2020, takže nám přijde docela symbolické, že po dvou odkladech se slibovaný koncert u příležitosti vydání alba uskuteční přesně po roce. Sice jsme ji už jednou pokřtili scannerem na OnLive koncertě v DOX+, ale říkali jsme si, že to musíme udělat ještě i před živým publikem. Navíc kdy se vám podaří křtít už pokřtěnou desku, že jo… No i takovýhle kouzla umí covid," říká ke koncertu frontman Tata Bojs Milan Cais.
Tata Bojs se během léta představili na řadě samostatných koncertů i festivalů. Krom toho vymysleli a odehráli společně s DEKKADANCERS původní audio-vizuálně taneční představení Velký třesk ! v Azylu78 a teď chystají další velký koncert do O2 universum. Těšit se můžeme – jak je jejich dobrým zvykem – mimo jiné i na originální scénu dle návrhu Milana Caise.
"Nestává se tak často, že naše kapela 'lokálního významu' hraje podobně velký koncert. Prostor O2universa je poměrně velkorysý a po Sportovní hale s Nanoalbem a Foru Karlín s A/B mám aspoň scénograficky zas o čem přemýšlet. Když jsem se tam byl před pár měsíci očkovat, už jsem si to všechno představoval. Budeme tentokrát pracovat se zalomenou ledkovou stěnou a novými chytrými světly, která trochu jiným způsobem modelují prostor na scéně," prozrazuje Milan Cais a Mardoša doplňuje: "Velké koncerty nás trochu znervózňují, ale zároveň značně motivují! Jsou vzácné a speciální. I když před samotným vystoupením bude asi každý z nás, podobně jako subwoofer v naší písničce, 'trochu rozechvělý', uděláme vše pro to, aby večer byl 'fakt skvělý'!"
Ostatně je poměrně symbolické, že na koncert TB lákají live klipem k jedné z nejhybnějších skladeb z alba Jedna nula z OnLive koncertu v DOX+, který vznikl v době, kdy si mohli fanoušci s kapelou zatančit a zazpívat maximálně ze svých obýváků. Nic to ale nemění na tom, že i tak se režisérovi klipu (i celého OnLive koncertu) Ondřeji Urbancovi společně s Milanem Caisem ve střižně podařilo skvěle zprostředkovat energii v mnohém jedinečného "lockdownového" koncertu. "S Ondrou se mi dobře spolupracuje, je dost intuitivní a rychlý. A musím říct, že mě zase překvapilo, jak moc se dá hrubý střih postprodukcí ještě vylepšit a zdynamizovat." dodává Milan.
Pověstná tatáčovská dynamika a energie se však bude v případě O2 universa díky přítomnosti fanoušků jistě ještě mnohokrát násobit. A to určitě nejen během tónů pecky 220 Travoltů, která stejně jako řada dalších skladeb z novinky Jedna nula nebude chybět v setlistu tohoto koncertu. "Kromě našich už v podstatě stálých hostů Tomáše Neuwertha na druhou bicí sadu a backvokalistek Simony a Denisy Katzer alias 20 Minutes se jako předem prozrazený tajemství ukáže též Emma Smetana."odkrývá Milan Cais další píseň z playlistu s názvem Tajemství. Ta zazní s hostující Emmou živě před publikem vůbec poprvé.
Společně s kapelou můžete přijít 'definovat tanec' 30. listopadu i Vy! Vstupenky v cenových kategoriích od 790,- do 1090,- Kč pořídíte v předprodeji sítě Ticketmaster zde: https://www.ticketmaster.cz/event/tata-bojs-vstupenky/35967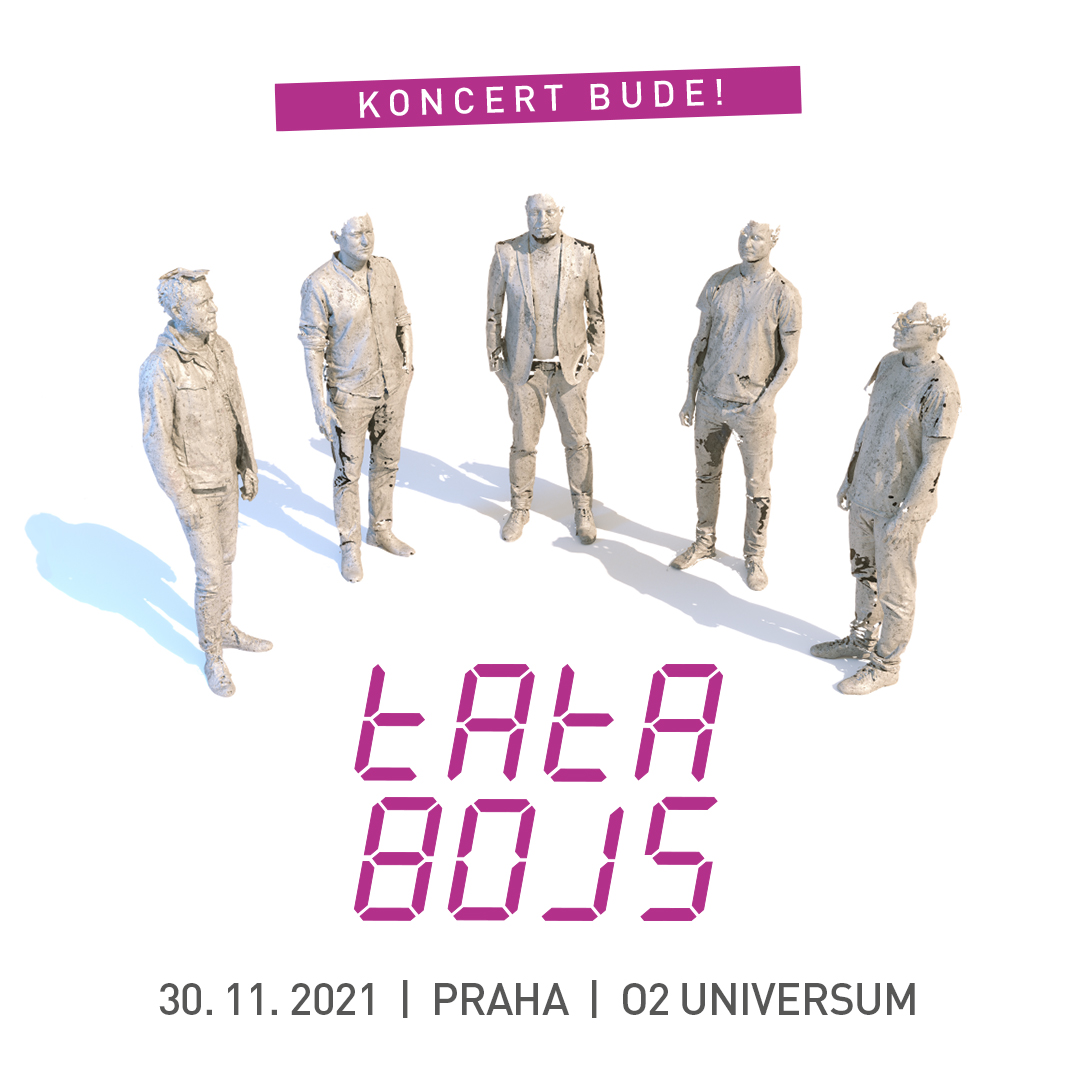 Zdroj: TS